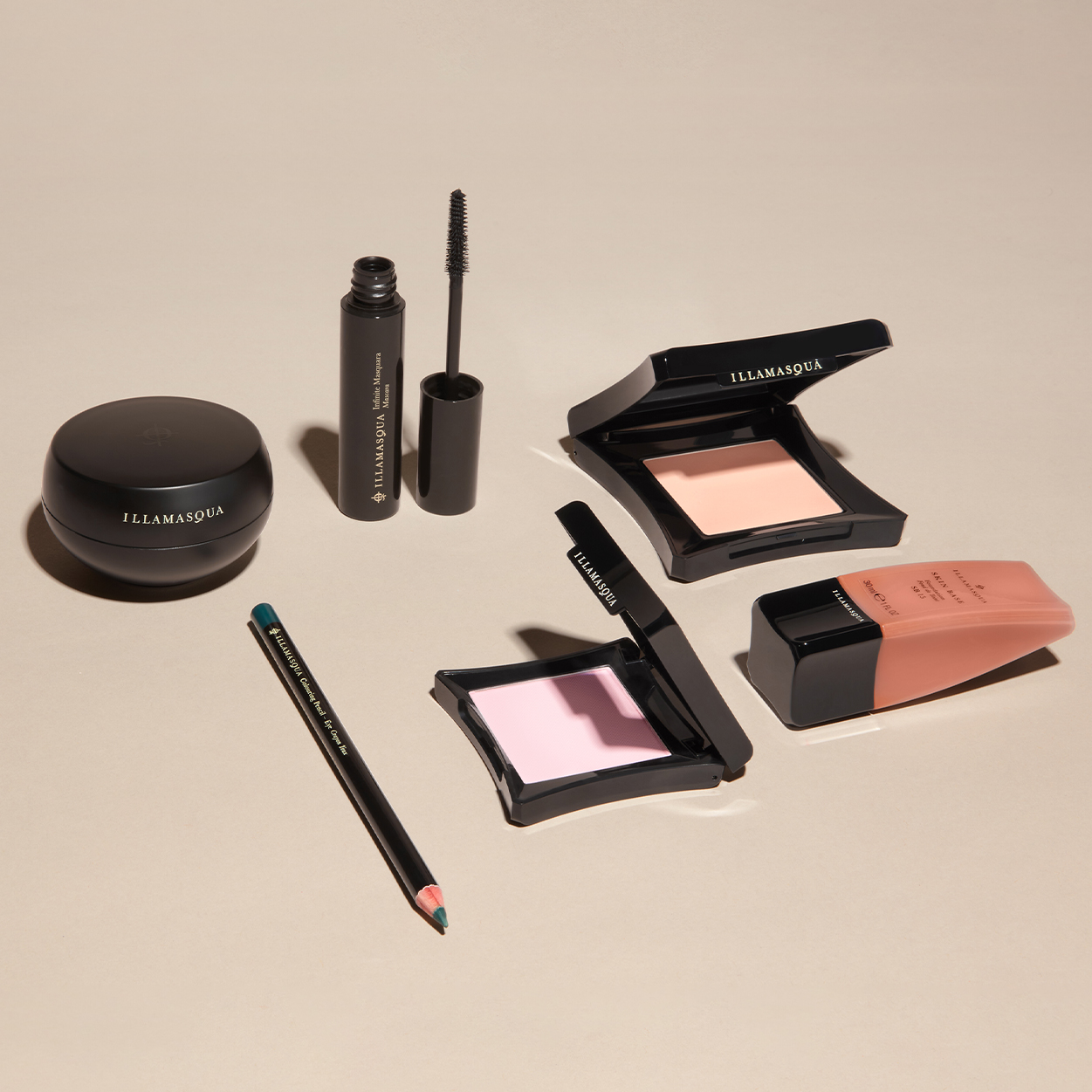 Self-expression is necessary if you want to stay true to your personality. Makeup gives you a chance for creativity and self-expression, improving your self-esteem and mental health. Illamasqua sells professional-grade makeup products with cruelty-free ingredients, including foundations, blushes, eyeliners, and eyeshadows. We'll examine Illamasqua reviews from customers, its top-selling makeup products, promotions, and more to help you decide if its beauty essentials are worthwhile.
About Illamasqua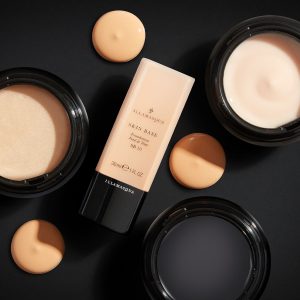 Julian Kynaston spent his career aiding to build other beauty brands until; he started his own company in 2008. After studying makeup and working with some of the leading beauty companies in the world, Kynaston realized that most of these brands offered uninspiring and predictable products.
Kynaston then put "theater on the counter" and developed a line that encourages women and men to explore makeup. Illamasqua's products inspire you to be creative and express your true self. Its line of dramatic lashes, whimsical chromatic glitters, and vibrant eyeshadows offer true experimental potential.
This brand also offers a blog that covers unique makeup-related topics and questions to heighten users' creativity. Pablo Rodriguez, the Director of Artistry, leads the team at Illamasqua. Its products are professional-grade, but they are also accessible for all the average makeup wearers to have a whale of a time.
Numerous notable publications have featured this brand, including Hello!, Allure, The Guardian, Tatler, WWD, Marie Claire, Yahoo Style, The Sun, Daily Record, and Forbes.
According to The Guardian, the name of this brand fuses two words: illusion and masquerade. Illamasqua boasts 433k Instagram followers and over 302k followers on Facebook.
Before we delve into Illamasqua reviews to find out what users say about this cruelty-free makeup brand, here are its pros and cons.
Pros
They offer an expansive collection of professional-grade makeup products, such as blushes, foundations, eyeshadows, and eyeliners

The brand's products feature cruelty-free ingredients

Customers enjoy numerous promotions and discounts throughout the year

A continuously expanding vegan line

Loads of positive customer reviews

The company ships internationally
Cons
Some makeup products are not 100% vegan

Customer support is not available 24/7

Some users report overly expensive pricing
Illamasqua Products Review
Headquartered in London, England, Illamasqua's premium products are color-true, color-intense, and long-lasting. We'll look at some of the brand's top-selling makeup products.
Illamasqua Foundation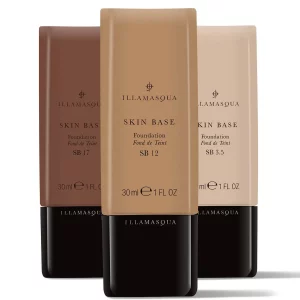 Illamasqua offers foundations that create a blank canvas ideal for makeup application. They also even out skin imperfections and cover skin blemishes, leaving you with a healthy glow and smoother finish.
Beyond Foundation (Various Shades) is an ultra-lightweight foundation that gives you a glowing, bright glass-skin finish. This Illamasqua foundation is available in 25 shades, including dark, medium, and light. The range makes it easy to navigate between cool, neutral, and warm shades, and there is a shade ideal for every skin tone.
Illamasqua reviews show that users love Beyond Foundation because of its vegan and cruelty-free formula. Infused with vitamin E and hyaluronic acid, this foundation is designed to draw water to your skin's surface while keeping your complexion conditioned and refreshingly hydrated throughout the day. Available at $37, the ultra-silky texture blends allow this foundation to blend seamlessly and give you a healthy-looking, glowing complexion.
The award-winning Illamasqua Skin Base Foundation is ideal for those looking for a flawless complexion. This foundation is lightweight and blends easily to soften, smooth, and condition your skin.
Suitable for most skin types, this Illamasqua skin base foundation provides users with the ultimate skin realism effect. It's available in 26 shades, meaning finding your perfect match with their AI-powered Shade Finder is a breeze. This foundation enhances your skin while improving the appearance of uneven textures, blurring dark spots, and masking blemishes for a perfect-looking complexion.
Coverage
The Skin Base Foundation is buildable, allowing you to achieve the level of coverage your desire. The product provides a matte finish, and it's the ideal base to use before applying the rest of your makeup.
The product contains Butylene Glycol, an emollient and humectant that hydrates your skin by adding moisture topically and pulling it up from your skin. It also features hydrogenated polyisobutene, which acts as a lubricant on the surface of your skin and provides a soft, smooth feel.
For the ultimate application, pair the Skin Base Foundation with Illamasqua Foundation Brush. You can add this foundation to your daily makeup routine for $37.
Illamasqua Powder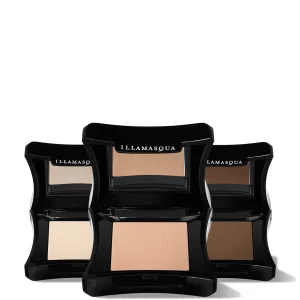 The brand offers setting powders in loose and pressed form. You can use these powders to set your makeup onto your skin and keep everything looking flawless.
The Skin Base Pressed Powder is an ultra-fine pressed powder that comes in six shades. This product can help you absorb shine and blur imperfections, and it blends with ease to set base makeup and leave you with perfected skin all day.
This ultra-fine pressed powder contains dimethicone, which helps fill in wrinkles and fine lines. It also features zinc stearate, an ingredient that enhances the texture of this product to make its application more enjoyable. Additionally, Illamasqua Skin Base Pressed Powder contains Phenyl Trimethicone, a type of silicone that helps trap moisture within your skin, giving it a hydrated dewy appearance.
The Loose Powder – 010 allows you to set your makeup and achieve the perfect finish you have always wanted. Perfectly matt and finely milled, this product is soft and lightweight.
It fixes your makeup flawlessly and holds it in place while you're turning heads. For only $37, the Loose Powder – 010 could be yours.
Illamasqua Pressed Powder – PP 010 is a soft, silk-pressed powder that allows you to set your makeup and achieve a shine-free and velvet-smooth finish. The product used to go for $37, but it's now on sale, and you can get it for $18.50.
Illamasqua Primer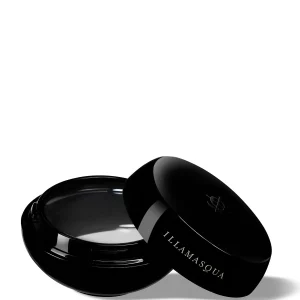 Illamasqua's primer category consists of unique and innovative formulations ideal for all skin types. Adding their primers as a base makes a difference to the texture, longevity, and overall finish of makeup.
Illamasqua Hydra Veil Primer is partly primer and partly hydrator, allowing it to create a dewy, smooth base. The product's self-leveling, futuristic clear gel formula features vitamin C and B3 and microalgae, which work together to maintain your skin's hydration levels and create a balanced, healthy-looking finish.
The plant extracts in this product provide a refreshing and calming feeling, leaving your skin prepped to apply complexion products. Retailing for $45, the Hydra Veil Primer also features chlorphenesin, an ingredient that helps prevent the development of micro-organisms on your skin.
The Matte Veil Primer preps your skin to create a flawless matte base for makeup application. Available at $45, this mattifying cream-gel formula is lightweight and will help to hydrate your skin all day. It also creates a shine-free, smooth base for your makeup application while leaving you with a silky, soft finish.
The product contains butylene glycol, an ingredient with humectant properties that allows it to attract and bind water from deeper layers of your skin to the top layers. As such, it helps with keeping your skin moisturized and hydrated.
This Illamasqua primer also features Alcohol Denat, which helps the product to spread seamlessly and absorb swiftly. It also acts as a preservative and removes oil from your skin, allowing the other ingredients to penetrate better.
Illamasqua Eyes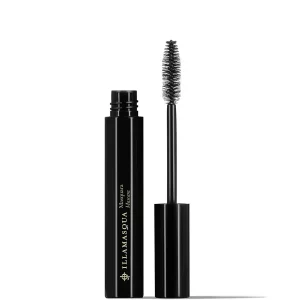 Eyes are windows to your soul, and eye makeup products are undoubtedly their well-dressed treatments. Eye makeup products go a long way in impacting how you feel and look.
This brand offers a wide range of eye makeup products that allow you to express yourself. The Illamasqua Unveiled Artistry Palette helps you to express your personality with 12 highly pigmented powder eye shadows that come in metallic shimmer and satin matte.
Each one is formulated to deliver a color-intense finish, which allows you to create multiple unique nude looks. The product is designed to blend and build upon seamlessly, and the nude Illamasqua palette gives users a chance to be the master of their creation. Unleash your creativity with this product for only $50.
Creating sharp eyeliner looks has never been easier with the Illustrator Pen. It comes with a skinny tip that allows for precise and effortless application. The super black, water-resistant formula provides users with the ultimate color pay-off.
Quick-drying and smudge-proof, this versatile tool allows you to create illustrative, detailed make-up detail. This Illamasqua Liquid Eyeliner is on sale, and you can now get it for only $14 instead of $28.
The Pure Pigment is a metallic, high-shine, color powder that comes in eight shades. You can mix this product with a blusher or eye shadow. Alternatively, you can use it alone for an intense effect.
It's formulated to highlight your brows, cheeks, and eyes. Bring out your bold side with the Pure Pigment for only $$15.40 and save $6.60.
Illamasqua Lips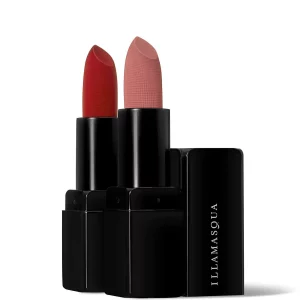 Bold lips speak for themselves. Your lips are among the first things that people notice when talking to you. Illamasqua offers a range of products you can apply to your lips to make them stand out and look beautiful.
The Sheer Veil Lipstick comes in twelve mouth-watering tints and costs $22. The super-wearable shades are available in various cream peaches, ripe mahoganies, and pale terracotta. These are perfect for gloss lovers looking for an additional hint of lip color but without a sticky finish.
The balmy, oil-infused texture will drench your lip with a thin coat of bright color that seamlessly blends with your natural lip color. The lipstick features vitamin E and macadamia oil, which conditions, nourishes, and protects your lips.
The Ultramatter Lipstick is an ultra-matte lipstick with an intense color and a no-shine lip finish. It features ten powerful shades with an impressive color payoff, and it can help you create that intense and bold lip look.
The Ultramatter Lipstick offers a wide range of natural tones and bold hues and includes an intense violet hue, hot magenta, warm flushes of orange, and dusty pinks. That means you'll find an attention-grabbing shade that suits you for only $22.
The Loaded Lip Polish is a non-sticky formula formulated to deliver pigmented color and a high-gloss finish. Available in 14 high-shine shades, this product contains vitamin E and almond oil, which instantly nourish your lips, leaving them soft and smooth.
The formula is cruelty-free and 100% vegan, and you can get the Loaded Lip Polish for only $14.70.
Illamasqua Reviews from Customers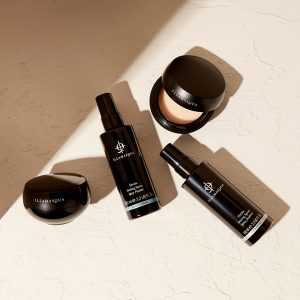 We searched the web for Illamasqua reviews to see what customers think about their cruelty-free products. Our team visited the brand's website, Trustpilot, Amazon, and Influenster, and found that most customers love their makeup products.
On the brand's site, its best-selling products have received a 4.5-or-5 star rating. Users are thrilled about the longevity, pigmentation, and color options available. With that in mind, here is an overview of some of their most popular makeup products.
Illamasqua gel sculpt scored 5/5 stars from 4 reviews
Beyond Foundation (Various Shades) received a rating of 4.36/5 from 14 reviews
 Loose Powder – 010 had 4.8/5 stars out of 5 reviews
Matte Veil Primer scored 4.67 from 3 reviews
Popular Alternatives to Illamasqua
On Amazon, the Illamasqua Hydra Setting Spray – Dew had an overall rating of 4.6/5, and most customers loved how this lightweight mist locks makeup and leaves them with a flawless skin look and a dewy finish.
On Influenster, Illamasqua Skin Base Foundation had an overall rating of 4.5/5 stars out of 274 reviews. Users stated they love this foundation because it has a natural finish and a flawless application.
The brand had a 4.4/5-star rating, with 82% of the customers rating it Excellent. Most customers love their products because they are cruelty-free and apply seamlessly.
Some customers complained about their overly expensive pricing. A couple of users complained that some Illamasqua products are not 100% vegan. Overall, customers are happy with the brand's makeup products.
Sign Up for Illamasqua
To sign up for Illamasqua, visit its website and click on the Account button. Select the Register option on the drop-down menu and provide your basic details.
New customers will get 30% off their first purchase when they use the code SUMMER30 at checkout.
Where to Buy
You can buy Illamasqua products directly on their website Illamasqua.com. Some of its makeup products are available at select retailers, including Amazon, Selfridges, BeautyBay, SkinStore, LookFantastic, and Revolve.
Illamasqua Shipping and Return Policy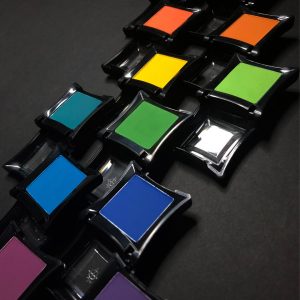 Shipping:
The company ships worldwide, and it offers the following shipping options:
International takes between 10 and 14 business days and costs $15
Premium takes 1 to 2 business days and requires $20
Express takes between 2 and 3 business days and needs $10
Standard takes 7 to 11 business days and needs $4 or free on orders worth over $50
Return Policy:
If you are unsatisfied with your order, Illamasqua accepts returns. To initiate the return process, reach out to their support team with your order number and a picture of the product you would like to return. The company will cover the shipping costs if there is a problem with your order.
Promotions & Discounts
Here are some of the discounts and promotions available on Illamasqua's website.
New users get 30% off their first order when they use the code SUMMER30 during checkout
Get $10 off your next purchase when you refer a friend
Sign up for their mailing list and get 20% off your first purchase when you
Free standard shipping on orders over $50
Check out their Final-Call.List page for products on sale
10% off Illamasqua kits and bundles and
Contact Illamasqua
Contact the Illamasqua customer support team if you have questions about their products. You can reach out to them via the following methods:
Message system on your account
Live Chat function on Illamasqua's site
Phone (203) 367-6000
Illamasqua Reviews: Editors' Verdict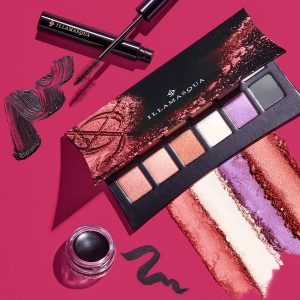 Based on the numerous positive Illamasqua reviews our team saw online, we find this brand and its professional-grade makeup products worth checking out. We loved how this company inspires women and men to have a whale of a time with their makeup. The brand helps people to express themselves creatively through its makeup collection.
The brand is cruelty-free and working toward expanding its extensive collection of vegan makeup products. The company also offers promotions and discounts to help you try out their makeup.
We recommend Illamasqua to men and women looking for highly-pigmented professional-grade makeup products.
The most popular foundation brands you should also read about are Beauty Blender, Vapour Beauty, Cover FX, and Beauty Bakerie.
Illamasqua FAQ
Is Illamasqua cruelty-free?
Yes. The company does not test its makeup products on animals. They also work with suppliers who support these principles.
Is Illamasqua vegan?
The brand is not 100% vegan, but they have an expansive collection of vegan makeup products. It is also planning to expand its collection of vegan products.
Is Illamasqua clean beauty?
Illamasqua products are made without synthetic chemicals and ingredients, such as oxybenzone, parabens, and phthalates. That means they cannot irritate your skin or harm your body.
Where are Illamasqua products made?
Most of their products are manufactured in the UK, where the company has its headquarters.