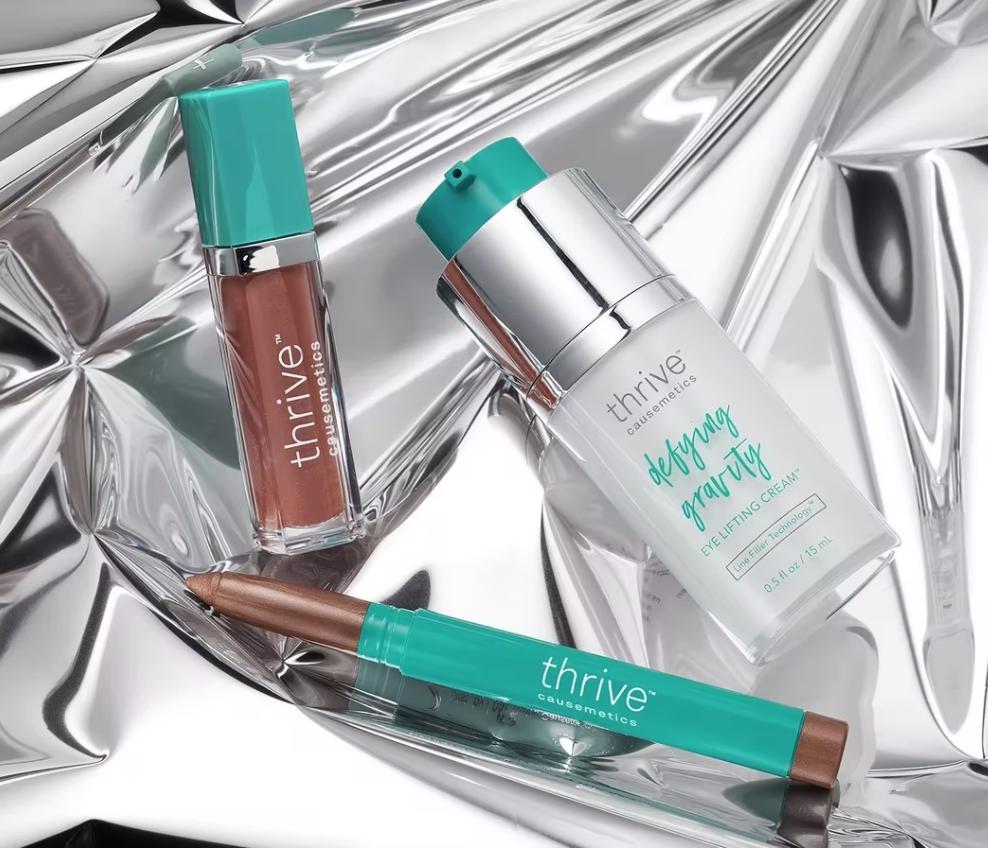 If you're looking for vegan and cruelty-free beauty products that give back, Causematics seems to offer everything you could wish for and more. Not only are their products consistently on the receiving end of raving customer reviews, but the brand also appears to be dedicated to giving back, with numerous campaigns and promotions claiming to donate products or profits to charities supporting women in need. We'll be looking into all of these in our Thrive Causemetics reviews.
But, as with any brand that looks too good to be true, we always think it's worth diving a little deeper to ensure you're really getting the benefits that are being advertised.
In this Thrive Causemetics review, we're going to look at the brand as a whole to understand how they operate and how you can benefit. We'll also break down some of their top-selling products to uncover what they've done right to win over 545K Instagram followers and multiple awards.
About Thrive Causemetics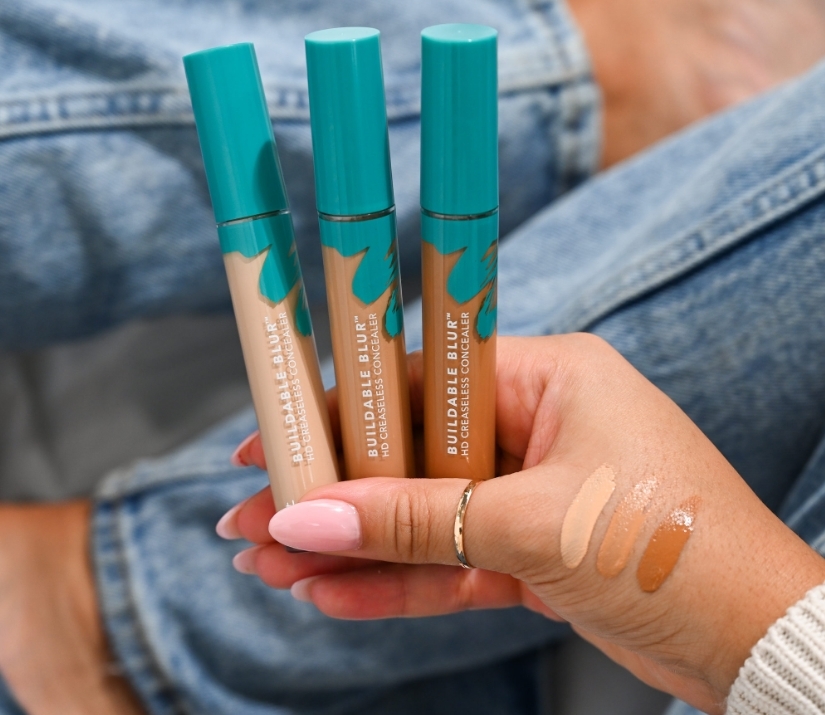 We can't help but fall in love with the story behind Thrive Causemetics. This do-good beauty brand was born from a story of friendship and loss when makeup artist and product developer, Karissa Bodnar, lost her best friend to cancer, aged just 24 years old!
The loss of her compassionate and vivacious friend inspired Karissa to build a beauty brand that "goes beyond skin-deep" and would work to empower women in any way it could. This philosophy translated into the Thrive Cosmetics Bigger Than Beauty™️ mantra, and led the brand to donate a product or profits "to help a woman thrive."
This ethos started as a simple, 'any product you buy we'll donate the same one to a women's charity.' However, over time, the brand developed a more reactive process, ensuring that the Giving Partners receive donations they need… This could be the same product, a product they need more, or a monetary donation.
But Thrive Causemetics isn't just a force for good! It's also vital that the cosmetics and skincare products are up to scratch if you're going to spend your hard-earned money with the company.
Demonstrating a genuine love for the business, Karissa herself is still involved in every part of the business, and it's clear that they put plenty of time, love, and science into developing the best products. Every item is 100% vegan and cruelty-free, and we particularly loved the alphabetical list of all ingredients (they also include details on the equipment used in product development!).
What's more, Thrive is also brilliant for listening to customers! For example, during the creation of Glossy Lip Hydrating Serum™, customers were actually asked to contribute when picking the available colors. You can also get involved by nominating charities and causes for Thrive Causemetics to partner with, and so much more.
Pros
Every product is clean, vegan, and cruelty-free.
Donations or products or profits are made for every purchase.
Customers are able to get involved with product development and Giving Partners selection.
Offers a good selection of cosmetic and skincare products, including single items and bundles!
Monthly subscriptions available so you never run out of your favorite items!
Cons
Some Thrive Causemetics reviews mention overpriced and/or underperforming products.
Thrive Causemetics Product Reviews
So far, we've established the company is dedicated to high-quality, vegan ingredients with a give-back ethos that's easy to get behind. But how do the products actually perform? After all, there's no use in buying a Brilliant Eye Brightener that doesn't result in brighter eyes, no matter how compelling the brand story might be!
In this section of our Thrive Causemetics review, we're going to look at some of the company's biggest, best, and best-selling products to see whether they're worth the hype.
Thrive Causemetics Mascara Review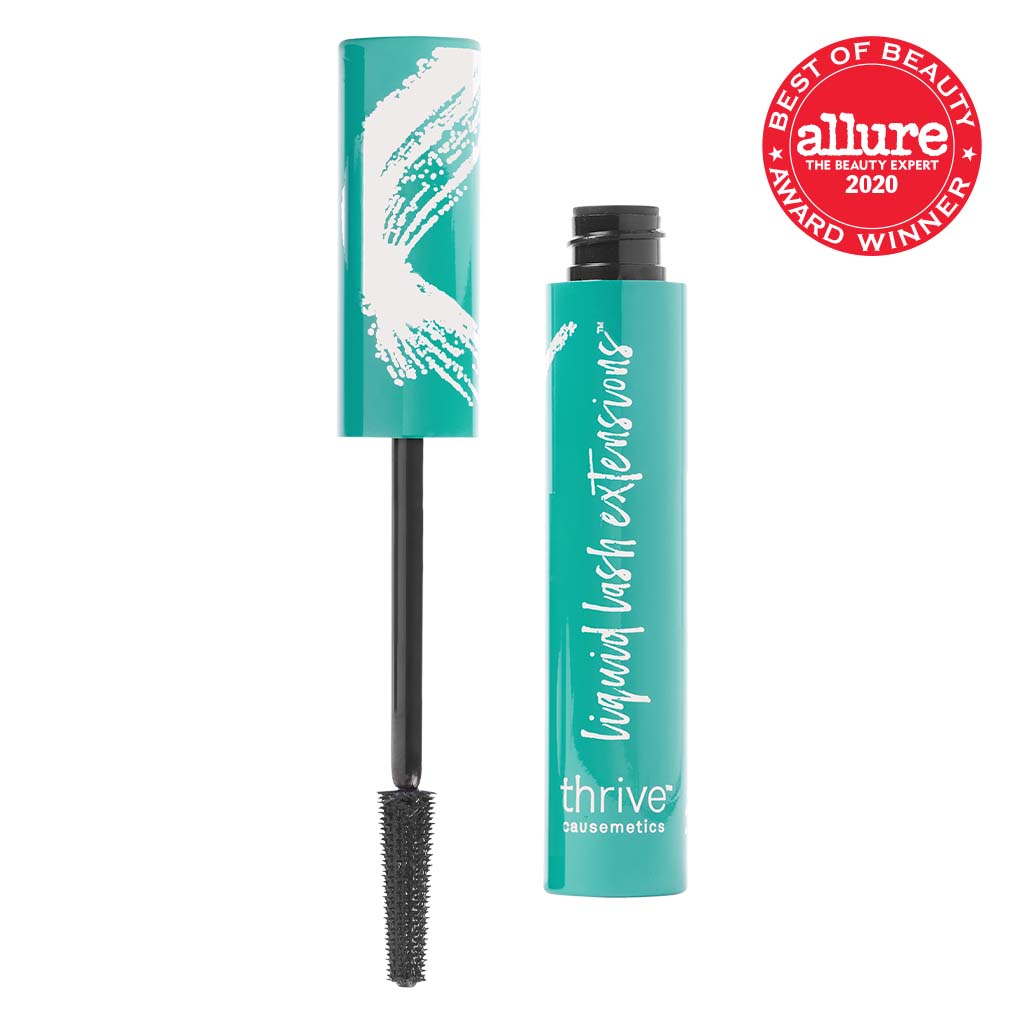 Thrive Causemetics' Liquid Last Extensions Mascara is an award-winning mascara that comes in three shades – rich black, deep blue, and brown-black. The Mascara is designed not to clump, flake, or smudge and uses Flake-Free Tubing Technology™ to immediately and dramatically lengthen every eyelash "from root to tip."
The Thrive mascara is fully tested and approved by dermatologists and ophthalmologists and has been clinically proven to be safe for contact lens wearers or those with sensitive eyes.
In addition to Orchid Stem Cell Complex™ that supports longer, healthier lashes, the Liquid Last Extensions Mascara also contains conditioning ingredients like shea butter and castor seed oil, so you can feel confident that your eyelashes don't just look great while you're wearing the mascara, but you're actively being treated to a deep conditioning treatment!
The Thrive Liquid Lash Extensions Mascara reviews from customers are really impressive, with over 4-stars (out of 5) across 22,980 customer reviews. One Thrive Causemetics review asks how they ever wore anything else, and another rave about the mascara brush that keeps every eyelash long and separated.
Thrive Causemetics Overnight Mask Review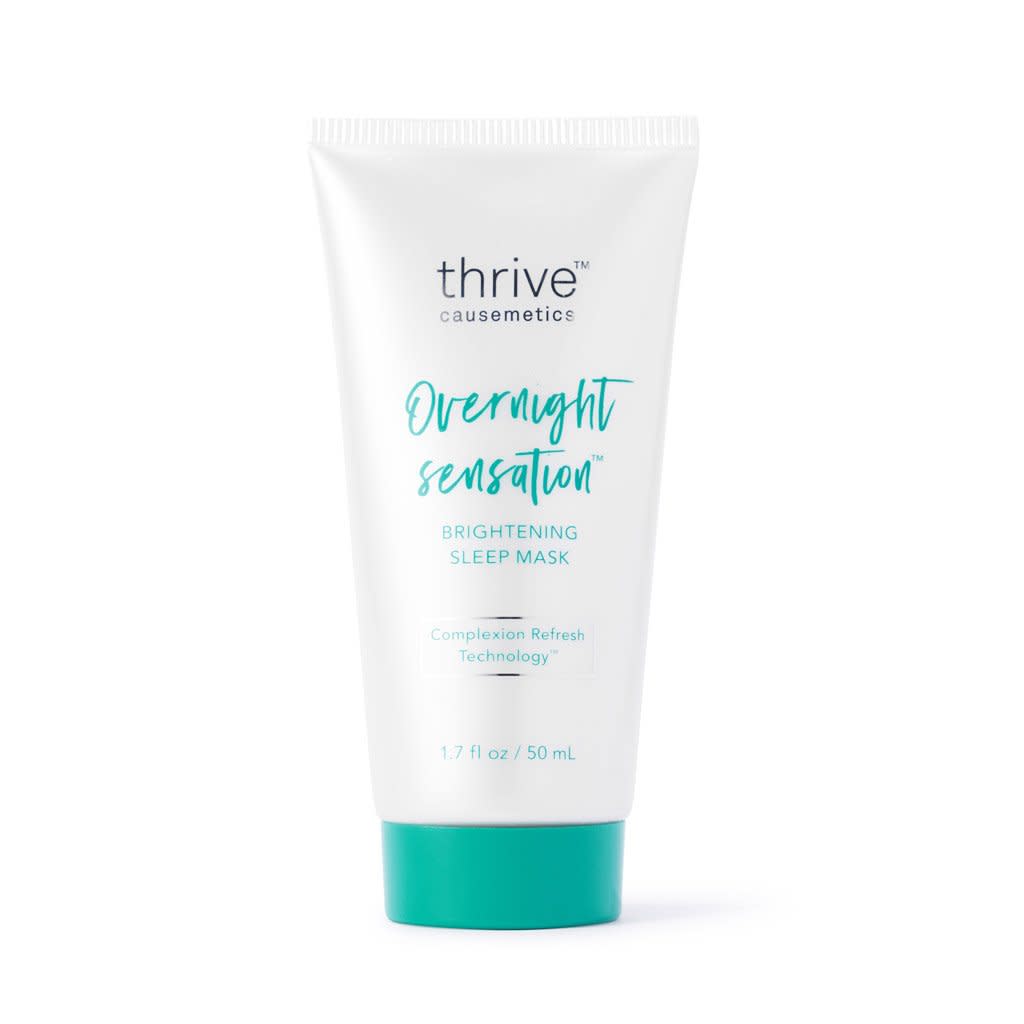 Thrive Causemetics' Overnight Sensation Brightening Sleep Mask™ is another best-seller, albeit not quite as famous as the Liquid Lash Extensions Mascara quite yet!
The Overnight mask is inspired by spa treatments and absolutely packed full of antioxidants and carefully-selected ingredients that reinforce the skin's healing and renewal abilities while you sleep, neutralize free radicals and help smooth any skin discoloration, so you can wake up to renewed and more radiant skin.
As always, for our Thrive Causemetics Overnight Mask review, we took a good look at real customer reviews to ensure the product consistently provides great results, and we weren't disappointed! In fact, one Thrive Causemetics Overnight Mask review is even entitled "Everything it claims to be," which is high praise indeed!
Thrive Causemetics Brilliant Eye Brightener Review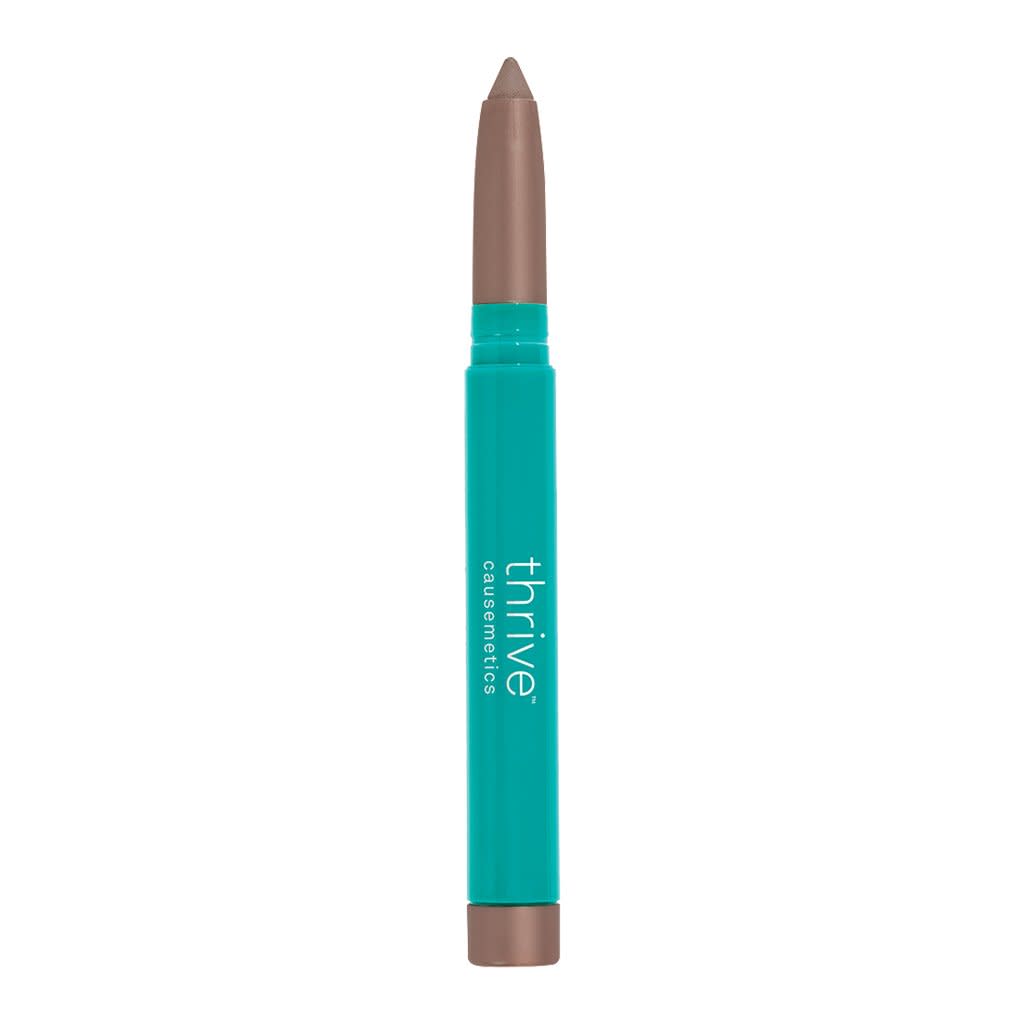 Thrive Causemetics' Brilliant Eye Brightener™ is another big winner when it comes to the Thrive Causemetics range, with almost 8,000 reviews and a 4.5-star rating!
The versatile highlighter stick uses a cream-to-powder formula to illuminate and awaken the eyes and is available in an impressive range of colors to suit any skin tone or look. We particularly liked the inclusion of images showcasing how the different color options would look on different skin tones, as this made the purchase feel far less risky! Plus, there's even a handy "how to use" video you can click on and follow for the best results.
We've come to expect products by this brand to be tested and approved by ophthalmologists and dermatologists, and the Thrive Brilliant Eye Brightener is no exception! The formula is powered by Ring Light Technology™ to provide an instant illumination effect when applied to the eyes, while natural emollients including macadamia and meadowfoam seed oils provide a deep hydration boost to actively smooth fine lines instead of just covering them up.
The slight shimmering properties also do more than look great. The product uses light-reflecting pigments that flatter every face to boost radiance and diffuse the appearance of fine lines without creasing. The product is also waterproof, non-irritating, and safe for contact lens wearers.
The 7,866 Thrive Causemetics reviews for the Brilliant Eye Brightener are also overwhelmingly positive, with customers confirming the product stays put (even without primer) and can be used to create bold or subtle shades easily. Who can argue with those reviews?
Thrive Causemetics Triple Threat Color Stick Review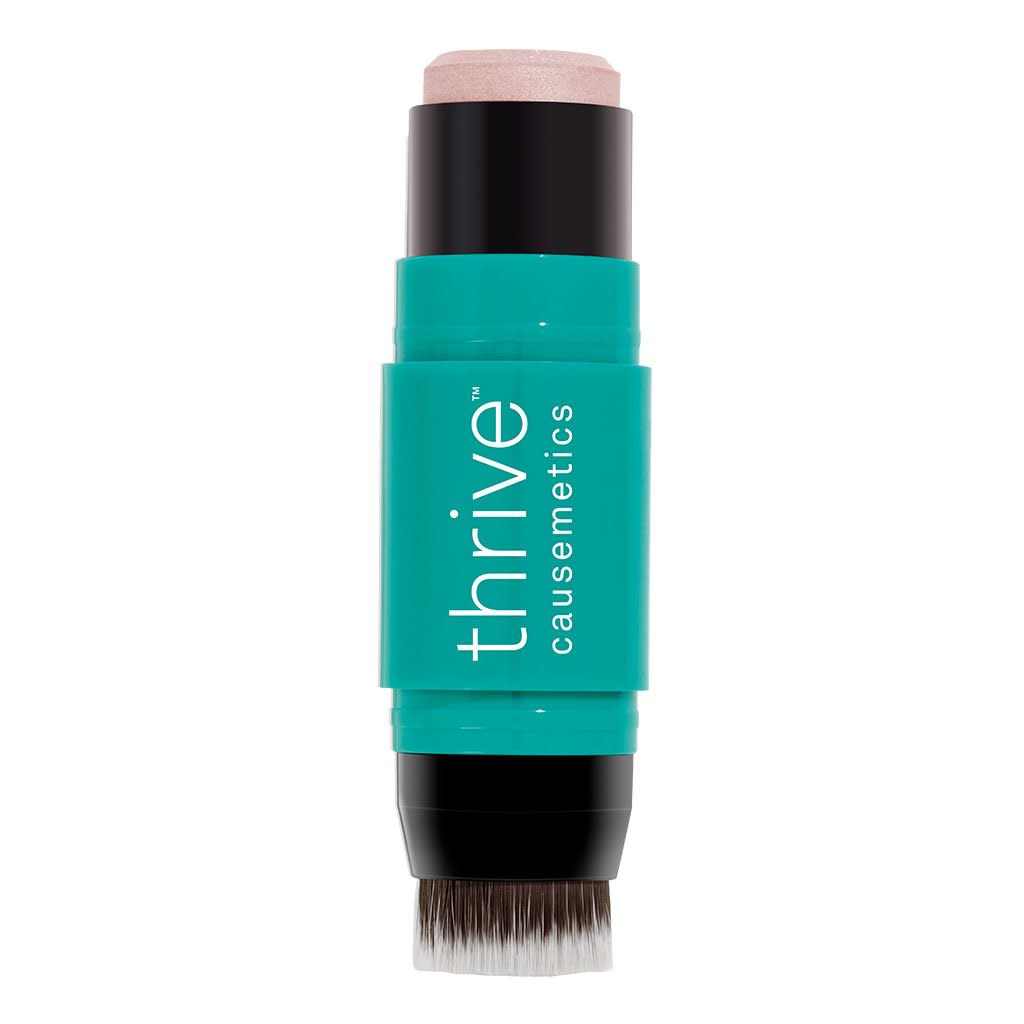 Any beauty product labeled "Triple Threat" needs to be powerful, effective, and premium quality in our opinion… And the Thrive Causemetics Triple Treat Color Stick™ certainly seems to live up to these expectations!
The cream color stick melts effortlessly into the skin to provide a gorgeous, waterproof, hydrating flush of color to your lips, face, or body with a weightless, silky-smooth feel that lasts all day long.
Not only are the available colors gorgeous and flattering on any skin type (or body part), but the Triple Threat Color Stick is formulated to be skincare-first, infused with Vitamin E, evening primrose oil, and sunflower seed oil that conditions and hydrates the skin, resulting in a healthy, natural glow with or without makeup!
The 2,598 Thrive Causemetics reviews on the Triple Threat Color Stick are as positive as we've come to expect from this brand, with many customers particularly raving about the included brush that makes it simple to apply and blend. The more negative reviews tend to state the product was a bit too shiny/sparkly for the face, which could probably be solved with a different shade.
Thrive Causemetics Buildable Blur CC Cream Review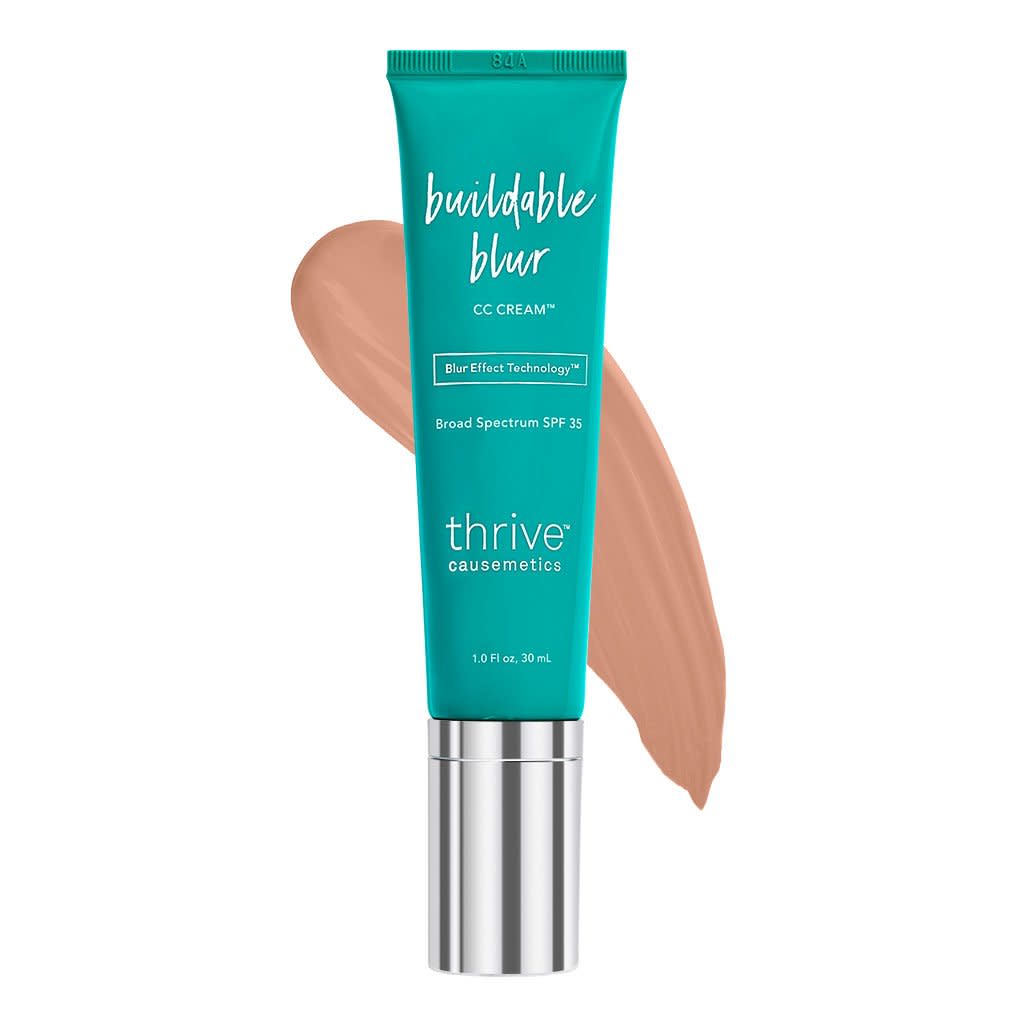 Let's face it, BB Creams have been everywhere over the last few years, but it's still pretty unclear what makes them so special! Well, Thrive Causemetics' Buildable Blur™ CC Cream makes no secret about it's ability to act as a skin-perfecting foundation, moisturizer, and SPF 35 sunscreen in one handy bottle!
The multi-tasking cream is available in an impressive 18 colors from Fair to Deep Espresso. One aspect we particularly liked is that the colors also mention the undertones (plus they've included a handy guide if you're not sure what this means) to help you find the right shade.
The Blur Effect Technology™ used gives this CC Cream its name, working hard to diffuse and blur the appearance of skin imperfections while providing naturally flawless coverage… Think of it like a photo filter!
In addition to Blur Effect Technology, the Thrive Causemetics Buildable Blur CC Cream is also infused with Smart Pigment Technology™ that brightens and revives dull complexions, soothes redness, brightens uneven skin tones, and so much more. The multipurpose cream even includes Broad Spectrum SPF 35 to keep your skin safe from UVA/UVB rays, sunburn, and photoaging.
There are over 2,000 Thrive Causemetics Buildable Blur CC Cream reviews on the website, most of which mention immediate, visible results with imperfections totally covered and an overall improvement to their skin health over time.
Thrive Causemetics Reviews from Customers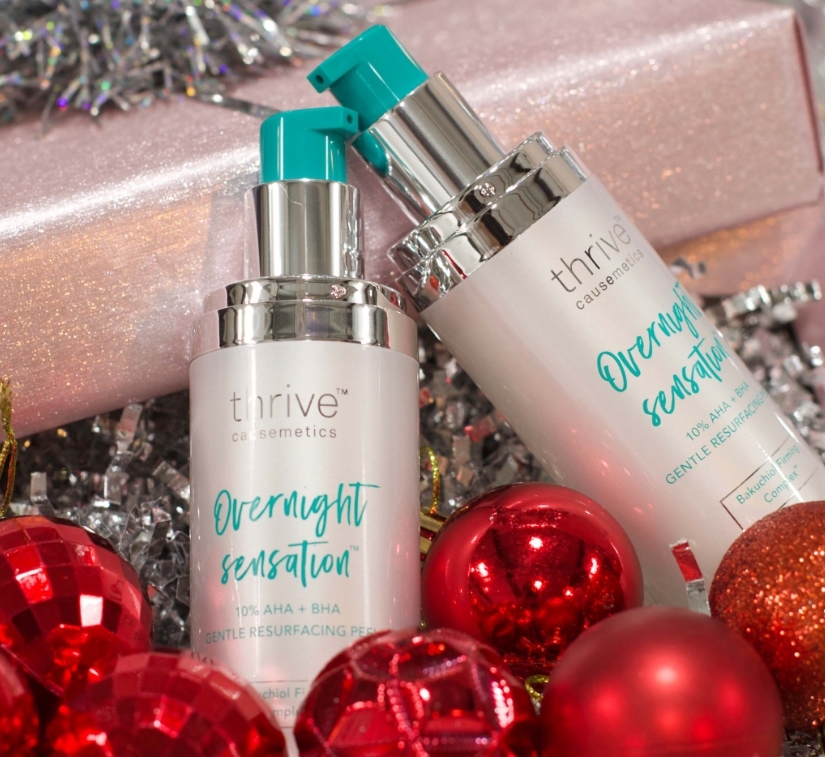 We've scoured the internet for Thrive Causemetics reviews from real-life customers to ensure the brand receives a consistent reputation. Although we don't like to admit it, we're all well aware that some businesses will manipulate customer reviews on their own website, so it's always good to check elsewhere before buying!
From what we've seen, there are numerous articles online raving about Thrive Causemetics. From their powerful ethos to charitable partners, people love a do-good brand. And the products seem to be top of the range with plenty of pretty, shimmery items that combine cosmetics with skincare for long-lasting effects that make you look and feel great in every way.
However, we were given pause for thought when checking the Thrive Causemetics reviews on Trustpilot. Instead of the rave reviews we found everywhere else, Thrive Causemetics has only managed a 2.7 out of 5 stars… Considerably lower than we were expecting!
Now, we did notice that Thrive Causemetics only claimed its Trustpilot page in June 2021, and since then, the customer service team has been working hard to address concerns raised on this platform, and we feel confident that this rating will improve. In fact, at the time of writing, all reviews have been responded to, in detail, by the customer service team.
It's also worth pointing out that when we were researching Thrive Causemetics reviews, there were only seven reviews on Trustpilot.com, as opposed to 58,276 on the brand's own website!
The only negative customer review we would take into account is regarding the eyelash curler… Just buy one from your local drugstore and put the $25 towards a lip liner or other product!
Sign up for Thrive Causemetics
Of course, you can complete a purchase without a Thrive Causemetics account. However, by providing a few details, you can easily sign up and receive Rewards Points on every purchase.
You'll receive a generous 100 Thrive Causemetics rewards points just for signing up. They also offer a Refer a Friend Scheme. This gives your friend a $10 Thrive Causemetics discount on their first purchase (over $50), plus you get $10 in points for every successful discount!
What's more, you'll receive an extra 1,000 points on your birthday as a Thrive Causemetics member, and you might even be asked to contribute with exciting new product development ideas.
Where to Buy Thrive Causemetics
Currently, Thrive Causemetics products are available exclusively at thrivecausemetics.com.
Although you won't find these cosmetics and skincare products in physical stores, the brand does have a dedicated team of Beauty Advisors who can help you find the perfect product/shade and learn how to make the most out of your shopping.
Thrive Causemetics Shipping and Returns Policy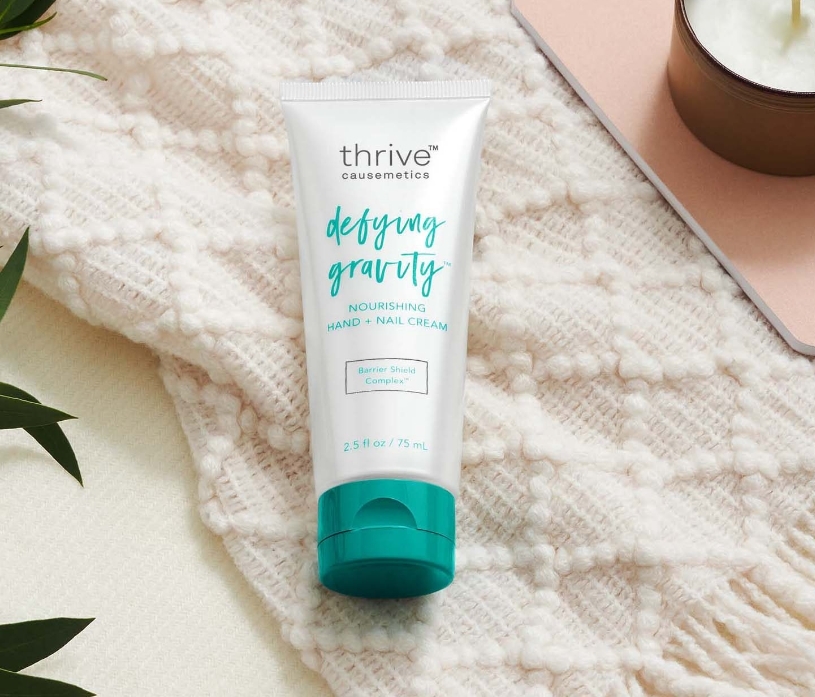 For US customers, most orders are processed and fulfilled within 1-3 business days. You'll receive an email confirmation as soon as your order has left the warehouse.
Standard Shipping: Free on purchases over $35, otherwise $5.95. 3-7 business days.
Priority Shipping: $7.95 on all US purchases. 2-4 business days.
International shipping costs are calculated based on weight, and you'll be provided costs and times at checkout.
If for any reason you don't love your Thrive Causemetics purchase, you can contact the customer support team within 60 days for returns. During holidays or other special exceptions, this can even be extended to 90 days!
Alternatives To Thrive Cosmetics
Thrive Causemetics Promotions & Discounts
Sign up to the mailing list to receive a Thrive Causemetics coupon for money off your first order, or create an account to take advantage of the awesome referral program and earn points on every purchase!
Thrive Causemetics also provides plenty of special offers and promotions throughout the year. We're researching this Thrive Causemetics review just before Christmas, so there are plenty of holiday offers and discounted gift sets to check out.
If that's not enough, the Subscribe & Save Thrive Causemetics discount is also worth mentioning. This auto-replenishment service is built to take the stress and hassle out of your beauty routine, and ensures you never run out of your favorite products! You can choose the frequency of shipments and cancel at any time. Plus, all subscribe & save purchases qualify for free shipping, no matter what the total order value.
Contact Thrive Causemetics
Reading Thrive Causemetics reviews at thrivecausemetics.com and further afield, we have absolute confidence that the customer service team for this brand is high-quality and dedicated to genuinely helping customers find the perfect products. Every response from this team is detailed, well-researched, and helpful.
In addition to being on the ball at replying to reviews, Thrive Causemetics also offers multiple options for getting in touch with the team:
Fill out the online email form to receive a response as soon as possible.
Contact the team via Live Chat.
Text (310) 620-1535
Call (888) 804-4318
The customer support team is available 7am-7pm PST, 7 days a week.
Is Thrive Causemetics Legit?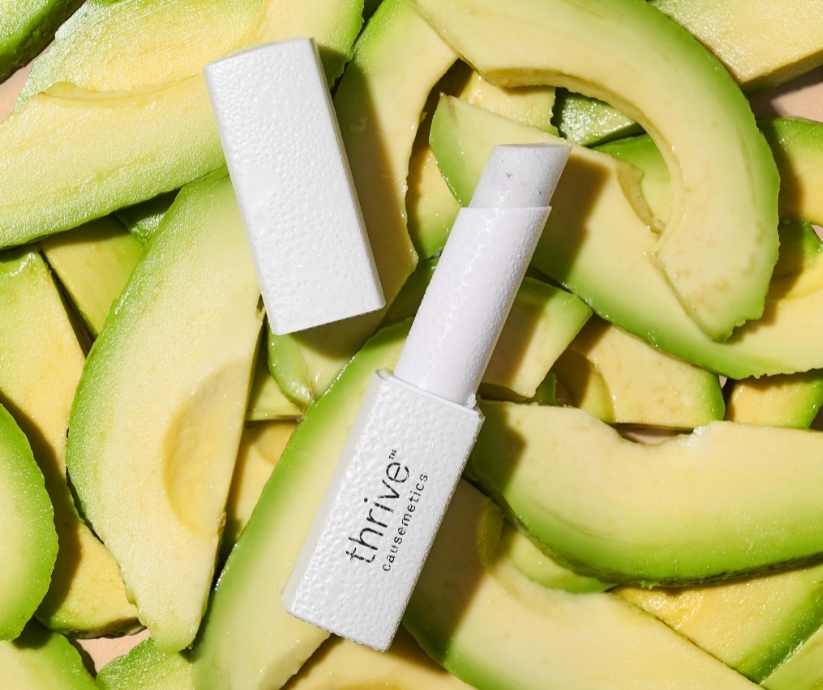 A beauty brand that combines skincare with gorgeous cosmetics that helps improve the quality of your skin while you wear it… plus it's 100% vegan and cruelty-free, free from nasty chemicals like parabens and sulfates, plus the company gives back for every purchase made… Honestly, when we first heard of Thrive Causemetics, we thought there has to be a catch somewhere!
However, no matter how hard we looked, we struggled to find anything other than raving Thrive Causemetics reviews, plenty of positive publicity, and a customer service team that appears to be alive and engaged on virtually every platform.
And sure, there are some more negative Thrive Causemetics reviews, but from what we've seen, these seem to come from picking the wrong shade or shipping delays. And the customer support team is always ready with genuinely useful information (including details on how to return the items) that really fills us with reassurance that this is a brand that might actually be what it says it is.
If you're interested in other great beauty brands, check out our reviews of Vapour Beauty, Cover FX, Cult Beauty, and Beauty Bakerie. 
Thrive Causemetics FAQ
Are Thrive Causemetics cruelty-free?
Yes, all products by Thrive Causemetics are 100% vegan and cruelty-free, always. The brand is certified by Leaping Bunny and is part of PETA's Beauty Without Bunnies Program… Proving you can create great cosmetics without harming animals!
Are Thrive Causemetics products gluten-free?
Although Thrive Causemetics doesn't use any ingredients that contain gluten, the brand is not certified as gluten-free. This is due to the raw materials and equipment used during manufacturing.
How does Thrive donate their products?
Thrive Causemetics partners with multiple different organizations to help women who are surviving domestic abuse, fighting cancer, or even veterans. Each time you purchase a product the nonprofit organization either receives the same product or receives a monetary donation, depending on their individual needs.
Can I use the face sleep mask every day?
Yes, you can use the sleep mask daily as your last step in your nightly skincare routine. In case you are using it on a daily basis, Thrive recommends wearing an SPF the next day to protect your skin. SPF should be applied on a daily basis regardless of what products you have used before.

Does Thrive send out samples? If so, how can I get samples products?
Thrive does not offer any samples at the moment. After purchasing any of the products and trying them out, if you are unhappy you can just return the product within 60 days of purchase and you'll receive a refund. They are also happy to recommend products in case you are unsure what to purchase.