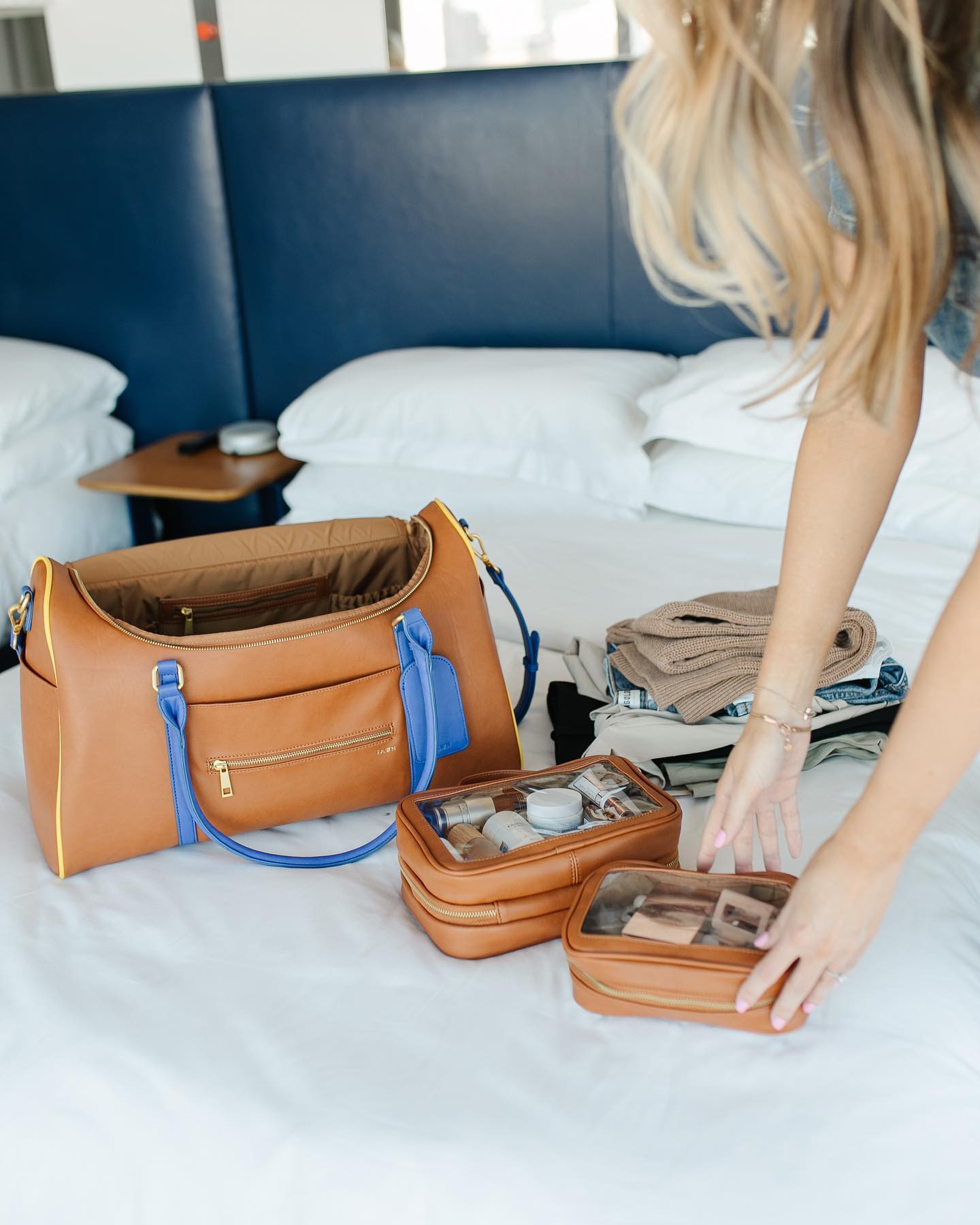 Mothers are always on the run, trying to get everything accomplished. Motherhood is a beautiful journey, and you can create wonderful memories with Fawn Design bags made for first-time mothers. If you want to spice up your motherhood journey but are wondering: Are Fawn Design carriers for me? This Fawn Design bag review will examine the company's bestsellers, customer testimonials, discounts, history of the brand, and more; this will save you the trouble and help you determine if its bags and accessories are worth purchasing.
About Fawn Design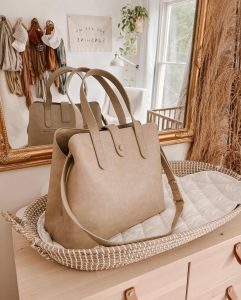 Jenny Wecker founded Fawn Design in 2014, and he is the CEO of this company. Jenny had the desire to create unique diaper bags that make motherhood fun and memorable.
At a young age, he learned the art of sewing from her mother; this encouraged her to pursue do-it-yourself projects, and she eventually started sewing diaper bags. She opted to use easy-to-clean vegan leather instead of genuine leather. 
Fawn Design bags are stunning because they have gold hardware details. This feature made the bags extremely popular. Currently, the company offers seven designs and various accessories.
When they started, the bags were hand-made by Jenny. The numerous demand has seen the company produce the bags in China from premium faux leather. The brand does not use lead, BPA, or PVC. 
Fawn Design continues to grow and has something new for its customers every season. Many notable media outlets have featured this company, including Forbes and People.
The brand also boasts a large social media following, with over 345k followers on Instagram and over 57k on Facebook followers who love its beautiful lifestyle photos that also give them outfit inspiration. 
Before we delve further into our Fawn Design bag review, here are some pros and cons of this company.
Pros
Aesthetically appealing diaper bags and cool accessories

Their bags have several zippered pockets

The brand has unique bags with comfortable straps

Free domestic shipping on orders worth over $50

The company offers a 90-day warranty on all its bags

They offer outlet items at a lesser price
Cons
Their bags are less spacious compared to other brands

The bag's interior pockets are made from faux leather, which does not stretch

You can only carry one child's items
Fawn Design Products Review
Fawn Design simplifies the life of new parents with its stylish, functional diaper bags. The company has a variety of accessories and carriers in different designs, sizes, and colors. Here are the brand's best-selling products.
Fawn Design Original Diaper Bag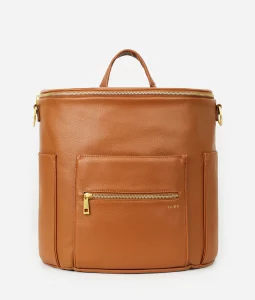 The company has an enormous collection of beautiful diaper bags. The Fawn Design Diaper Bag collection has a wide variety of stylish bags for new mothers. The brand understands motherhood is a thrilling journey, and they want to make every step memorable.
The Fawn Design the Original Diaper Bag collection is ideal for all working moms; this is the go-to bag for corporate moms who want to rush somewhere with their baby. The bag has impressive features to make you look stylish.
It has six leather interior pockets and six exterior leather pockets. The backpack straps are detachable, and it has an interchangeable messenger strap. The top hand is convenient for a quick grab. The finishing of the bag features gold details and premium pebbled faux leather. 
With 13*13.5*7 dimensions, this bag has enough space to fit all your stuff. It has ten different colors, and each bag is worth $179.99.
The Ultimate Motherhood Bundle features the original diaper bag, stroller hooks, paci case, a bottle bag, and changing the clutch. The changing clutch has a change mat, making it easy to change your baby's diaper anywhere. 
The stroller hooks help you to roll in style with your favorite Fawn Bag. The bottle bag keeps the items clean and cool. You can get this bag for only $259.99.
Fawn Design The Diaper Pack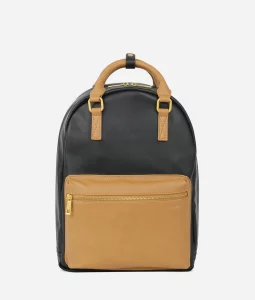 The Fawn Design Diaper bag collection presents the Anthropologie; this collection has different types of cool diaper bags that will make you and your baby stand out.
Anthropologie Diaper Pack is a classic silhouette. The bag features two-tone colors like sand/tan. It is made from premium faux leather, which makes it easy to clean. The bag has two interior bottle pockets and three exterior pockets for storage.
From the exterior, you will see two top grab handles and adjustable backpack straps. It also has D-strings to attach to the stroller. 
The exterior has a large front zipper pocket where you can put items you need to use frequently; this bag is small compared to the Original Diaper Bag. It has dimensions of 12*8*15, and you can get it for $159.99.
The Anthropologie collection also has the ultimate bundle diaper pack. The ultimate bundle has a diaper pack, stroller hooks, pacifier case, changing clutch, and a bottle bag. The changing clutch has a changing mat which you can use for a diaper change.
The pacifier case is well insulated to keep your items clean and cool. You can use the bottle bag to keep your baby's milk cool despite the hot weather. This bundle collection comes in black/tan, sand/tan, and tan/sand. You can get it for $239.99.  
Fawn Design Square Diaper Bag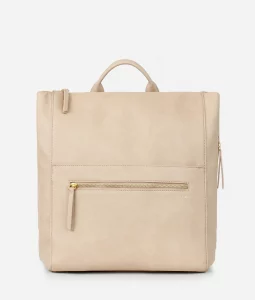 Sometimes, you might bring your baby to a playdate after work but don't have time to get belongings from home. That's where the Square Diaper Bag section comes in: it has an expansive collection of diaper bags and accessories suitable that will make your life easier. 
The Nordstrom Square Diaper Bag is designed for the modern mom. It has a minimalist design that is spacious for all your storage needs. The square bag features five exterior pockets and seven interior pockets that are perfectly insulated. The entire bag is made from faux leather, making it an easy-to-clean bag.
You can use the convenient top handle or the adjustable and detachable backpack straps to carry the bag around. The interior of the diaper bag is made from nylon which gives it abrasion resistance and makes it strong. Available for $179.99, this diaper bag comes in three colors: beige, black, and brown.
If you have a square diaper bag and are looking for matching accessories, Fawn Design has got you covered. The Changing Clutch is available in 9 colors, including brown, beige, and black. 
Like other Fawn Design products, the bag is made from vegan leather, which makes it easy to clean with water and a soft piece of cloth. The changing clutch comes with a portable mat to help you change diapers anywhere and anytime. 
It also has a leather wristlet, so you don't have to worry about losing or accidentally dropping it. With dimensions of 12*7.5, it is spacious to fit all the essentials. The changing clutch would typically cost you $39.99. 
Fawn Design Satchel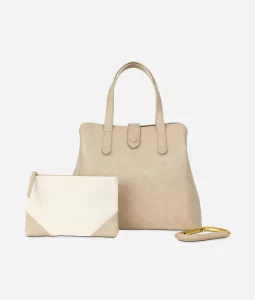 The Satchel Bag collection has a wide range of unique and classy diaper bags for the modern woman. The bags are available in different colors to suit your preferences.
The Mandi Nelson is a beautiful bag to carry all your little one's essentials; the bag comes in three colors: black, brown, and taupe. Thoughtfully designed for the modern-day mom, this classic silhouette features a minimalist approach.
The diaper bag is made from premium vegan leather for easy cleaning. You can carry it as a handbag or use the detachable messenger strap to carry it on the side. 
The bag has multiple zippers with seven interior pockets. The interior is divided into two compartments secured with a zipper to keep all your items safe and intact. You can also carry this bag to the office, and no one will notice it's a diaper bag. Get this stunning bag for only $139.99.
Fawn Design is all about making motherhood easy and enjoyable. The Stroller Clip is one of those accessories that make your life easy. It is available in black, brown, and taupe. The clip is wrapped in faux leather with the name fawn. This accessory will make you stroll in style when paired with a classy fawn diaper bag. It is worth $19.99.
Fawn Design Mini Backpack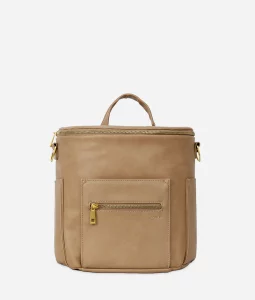 Available in different designs, the Fawn Design Mini Backpack comes in various colors. These include fern, dusty blue, citron, birch, tan, oat, leopard, and warm blush. 
The Fawn Design mini diaper bag is quite similar to the original diaper bag, but the only difference is that this bag is more visually appealing and compact. With a dimension of 11*5*10.5, this bag is spacious enough to carry all your essentials. 
The bag features a half-round zipper that can open wide to allow you to reach what is inside. You can carry it as a backpack because it has detachable backpack straps or as a messenger bag. The wide variety of colors will make you spoilt for choice on what to buy. For only $99.99, this top-notch diaper bag could be yours.
The Cinch Backpack comes in six different colors; it is a classic backpack made from faux leather, and it features hanging cinch cords attached to the fold-over flap. The bag also has three interior pockets where one is zippered. 
The adjustable backpack straps make it easy to carry around, especially on a night out. You can also use the convenient top grab handle to carry it around. You can look classy and fashionable with this backpack for $119.99. 
Fawn Design Bag Reviews from Customers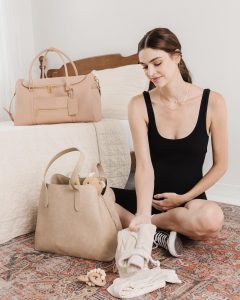 Our Fawn Design Bag review combed the web to see what customers think of their bags. Most buyers love Fawn Design bags because they are made from high-quality faux leather.
Customers left feedback on each bag and accessory on the brand's site, with the products scoring high ratings. Many shoppers are generally pleased by the impressive design of the bags and how they are easy to clean. 
One customer left a review on the Satchel Diaper Bag and stated she loves it because it is convenient for carrying a few diapers, wipes, and an extra set of clothes. The Original Diaper Bag is a top-selling bag with a five-star rating from over 259 reviews. Many customers praise it for its perfection. One of the buyers said she was skeptical about spending so much on a diaper bag, but she does not regret her decision. 
Popular Alternatives to Fawn Design
However, one or two customers complained about the bag's quality and the company's refund policies. Some customers think the bags are expensive, yet they are not spacious enough to fit items like bottles and other accessories that mothers love to carry. Other customers complained that the diaper bags only allow them to carry belongings for one child.
Overall, most buyers think Fawn Design's invention has excellent aesthetics and stated they would recommend their products to other moms. 
Sign Up for Fawn Design
If you want to be part of the Fawn Design community, visit the company's website and click on the Account button. Since you are a new user, click Create One and fill out the registration form. Once you receive a confirmation email stating your account has been activated, you can start shopping for your favorite diaper bags and enjoy faster checkouts.
Where to Buy
All Fawn Design Products are available on their website FawnDesign.com. You can also buy their products from authorized retailer partners, including Nordstrom, buybuy Baby, and West Coast Kids. 
Fawn Design Shipping and Return Policy
Shipping:
Fawn Design processes and ships all domestic orders within 2 to 3 business days. Depending on your location, shipping can take an extra 3 to 5 days. International orders can take up to 30 days to ship. 
Once your order is shipped, the company will send an email with a tracking number. For domestic orders, they use USPS, UPS, OR FedEx. The company offers free shipping on orders worth more than $50. 
Return Policy:
If you change your mind about Fawn Design, you can return your item within 30 days from the date of purchase. The item must be unused and submitted with the original email confirmation. Once the 30 days have elapsed, the company will not be liable for any refund or exchange. 
Promotions & Discounts
This review discovered several promotions and discounts available for Fawn Design customers. They include:
Buyers enjoy free shipping for domestic orders above $50

Customers will get 10% off their next order if they subscribe with their email address

You will get 35% off the back-to-school offer if you use the Fawn Design discount code BACKTOCOOL at checkout

You'll receive 15% off when you use the Fawn Design coupon code FAWNSMS15 at checkout
Contact Fawn Design
Fawn Design is a company that is customer orientated, and they would love to hear your feedback. If you have any questions about their products after reading our Fawn Design bag review, you can reach out to them through their email at [email protected]. You can also contact their customer service representatives, who are available from Monday to Friday, 9 a.m. to 5 p.m. MST. 
Alternatively, you can send a direct message to the Fawn Design Instagram or Facebook page.
Fawn Design Bag Review: Editor's Verdict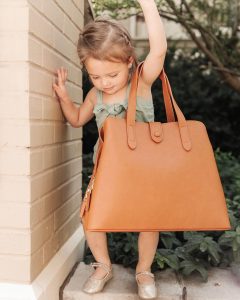 To conclude this Fawn Design bag review, we think the brand is worth the hype. The company's products are attractive because they are made from premium vegan leather and have shiny gold hardware. We also found tons of positive customer reviews online.
Fawn Design is the go-to place for moms looking for a classy bag and stunning accessories. This review recommends their products to any modern mom who wants to redefine motherhood by looking elegant and stylish.
For other famous brands that design bags and accessories, check out our honest Fashionpile, Fawn Design, Dooney and Bourke Review, and Von Holzhausen Review.
Fawn Design FAQ
I'm having issues with faux leather
Fawn Design uses high-quality faux leather to manufacture all its bags. Like any other material, faux leather is prone to damage. You should be careful when around sharp and rough objects to avoid damage. Fawn Design does not offer a warranty on scratches, wear, and peeling of the bags.
I think my zipper is bad
A tough zipper is a common problem, especially with new bags. Fawn Design uses strong zippers, which may be tough when new. If your zipper is tough, try to open and close it several times; this will make it relaxed and smooth.
If you notice the zipper is not closing to the end as it should, do not fret. Try to pull the zipper all the way open and close it a few times. If the zipper is still tough, do not hesitate to contact the Fawn Design customer support team for assistance.
How do I care for a Fawn Design Bag?
Fawn bags are made from vegan leather. To clean the bag, wipe using a damp piece of cloth. Don't clean with any alcohol-based products. You can also clean the interior with a wet piece of soft cloth. Faux leather is water resistant but now waterproof. It is not advisable to clean Fawn bags using a washing machine.
Does Fawn Design have a warranty?
Yes. Fawn Design bags have a 90-day warranty. The warranty covers defects and hardware issues of items bought through the company's website or authorized dealers.