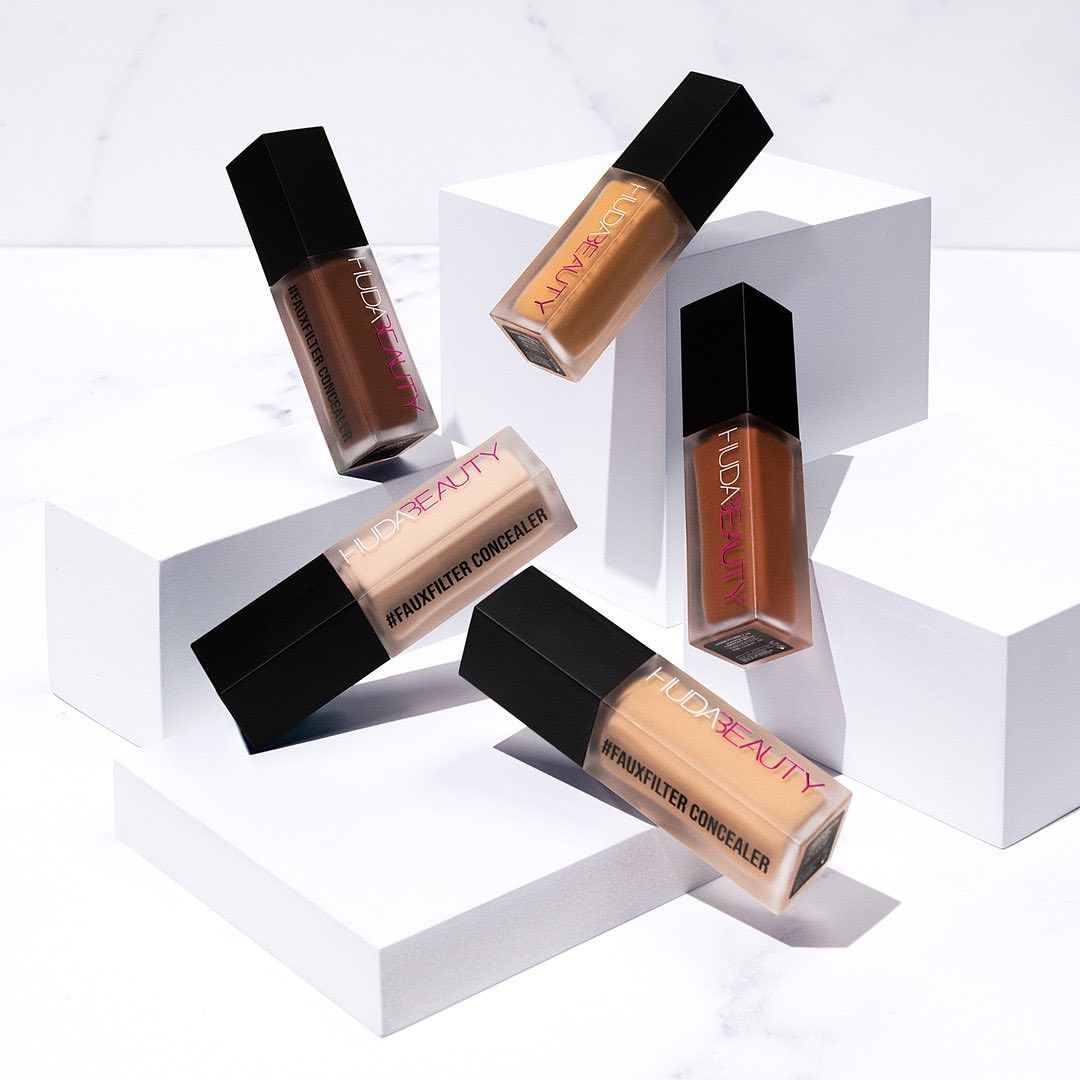 As a pioneer of the beauty blogging phenomenon that's taken over in recent years that has since transformed into a successful beauty brand, we couldn't wait to finally write a Huda Beauty review.
From the popular Huda Beauty Naughty palette to the brand-new "Wishful" skincare line, we're going to dive deep into this brand to find out whether it's worth your attention and (more importantly) money. We'll be looking at the background of the brand, a handful of the best Huda Beauty products, and real Huda Beauty reviews from across the web, all so you can complete your beauty shopping with all the confidence of that perfect red lip.
About Huda Beauty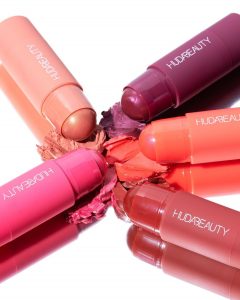 Huda Beauty was founded by Huda Kattan and her sister in 2013, when they launched their first collection of Huda Beauty lashes. But Huda Beauty wasn't their first project… Huda Kattan was actually one of the earliest successful beauty bloggers, so she spent plenty of time researching and understanding what really makes people tick and glow when it comes to beauty before launching this popular brand.
In fact, by the time of the first launch, Huda was an experienced and sought-after makeup artist with celebrity clients and even royalty under her belt. Combined with her in-depth knowledge of the beauty industry and her inquiring mind, she was in a fantastic position to expand the product range, including everything she felt was missing from the beauty industry.
Since then, innovative Huda Beauty eyeshadow palettes, liquid Huda Beauty lipstick products, and many others have emerged to fill gaps in the market and become instant worldwide bestsellers.
Huda is proud of her background as a beauty blogger and strives to not only listen to customers through social media channels but to use her knowledge of the industry to be the first to get on board with new trends and create products that could be missing from peoples' repertoire.
Pros
The founder's beauty blogger background means she is well placed to understand the particular needs of social media photography and styling.
Clear information about the vegan and cruelty-free status of products.
Wide range of products which is constantly expanding.
Gift sets are available.
Good product photography, showing results on a range of skin tones.
Cons
Lackluster customer service when buying products directly.
Some customers experience unexpected reactions from certain ingredients.
Unresponsive to negative reviews on third-party sites.
Some customers claim negative reviews and comments have been removed from official social media pages.
Variable quality control, resulting in customers receiving damaged, partially empty, or dried-out products.
Huda Beauty Products Review
Now we know a little more about how Huda Beauty came about, it's time to take a look at what really matters… The products!
Huda Beauty is most famous for its makeup, even though the Huda Beauty range now contains many skincare products and accessories that are worth taking a look at.
To help you make an informed choice, we're going to look at a sample of the most popular and best-selling Huda Beauty products. We'll give you a rundown of how they fit in the collection, as well as what customers really think when their deliveries arrive.
Huda Beauty Eyeshadow Palette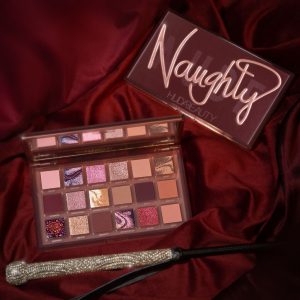 There's so much to choose from when selecting a Huda Beauty palette and we've decided to look at this stand-out product in the Naughty-Nude.
The Huda Beauty naughty palette is a smokier and deeper version of the Huda Beauty eyeshadow palette in classic nude shades. A richer, more fearless, and confident combination of shades to make the after-hours you really shine.
With 8 mattes and 5 metallics in classic Huda Beauty powder form, 3 reflective marble creams, and two innovative colors, one of which has never been featured before in a Huda Beauty eyeshadow palette, you'll have everything you need to create a stunning night-time look.
Customer reviews are mostly positive about the shades themselves and the quality of the products when everything works as expected. However, we've seen a lot of negative reviews which don't even discuss the products, overwhelmed by shocking levels of customer service and incorrect or damaged orders.
Even when customers do receive their products, there seems to be a lot of variability in quality as some have received Huda Beauty eyeshadow palette products with wells only partially filled, missing colors, or damaged cases.
Huda Beauty Lipstick Power Bullet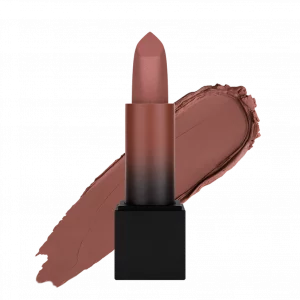 With a huge range of gorgeous colors and beautiful swatches showing the results on a range of skin tones, Huda Beauty lipstick has got you covered no matter what look you're going for.
The 'power bullet' design promises to deliver unparalleled quantities of pigment for a plush and velvet-smooth matte finish that lasts all day.
Once again customer reviews are split between positive reviews for products that arrived in good shape and negative ones dealing almost exclusively with customer service and logistic problems.
The vast majority of customers who received their product found the shades to be a good match for those shown online and found the coverage and sticking power satisfactory. Many customers, however, received a different shade of lipstick from the one they ordered, received broken products, or didn't receive a product they paid for at all and have resorted to leaving negative reviews when unable to get answers from customer services.
Huda Beauty Mascara Legit Lashes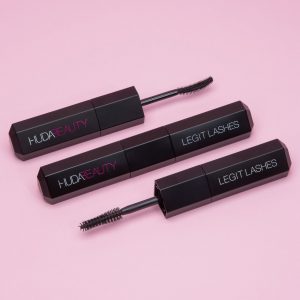 The 'Legit Lashes'' Huda Beauty mascara is an innovative two-in-one mascara product shipped as a single, double-ended bottle.
The volumizing side is equipped with numerous soft bristles and applies the volumizing formula for maximum lash visibility.
The other end of the tube sports a curved brush with stiffer bristles for applying the lengthening formula once you have built up to your desired volume, curling and setting the lash into the perfect, fluttery shape.
Customers with shorter, fluffier lashes get the most out of this product as it really adds volume and length in a way that many other products can't. For customers with longer or straighter lashes though it seems to cause problems with weighing down the lash too much to curl, resulting in marks and smears under the eye.
Once again, many of the negative reviews for Huda Beauty mascara discuss poor customer service and quality issues, rather than problems with the product itself. It's always concerning when customers have resorted to leaving a poor review because they can't get their issue resolved through the usual routes, and it's a shame to find otherwise quality-looking products scoring poorly because customer support has let the brand down.
Huda Beauty Setting Powder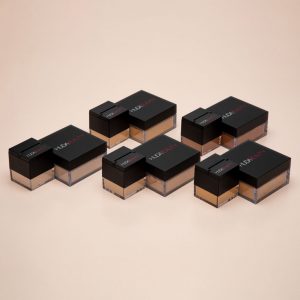 The easy-bake line of Huda Beauty setting powder products is easily one of Huda Beauty's most popular products. Families with many customers rave about the 'as good as photoshop' results and state they can't live without this essential.
Easy-bake powder works by itself for a selfie-ready, shine-free finish on bare skin, or combine with your favorite Huda Beauty primer and other products for a flawless look from start to finish.
You won't be surprised to hear that the majority of issues customers have mentioned in negative reviews are, once again, concerning poor customer service or damaged deliveries. But we did also spot a few people who found the powder made them itchy or even brought on a rash. As with any new makeup product, we'd advise you to test it on a small area first to make sure you don't react.
Huda Beauty Eyeliner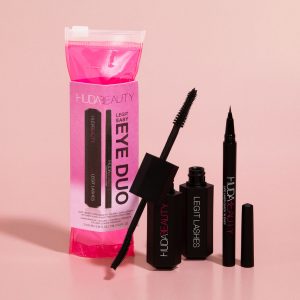 The Legit Easy Eye Duo pack is the quick way to get your Huda Beauty eyeliner and mascara needs covered in one convenient package.
The limited-edition set is supplied with a durable branded ziplock bag, ready to slip into your makeup bag or purse for on-the-go touch-ups or even to create a brand new look when you're rushing straight from the office to an evening drinks date.
The mascara in this set features their innovative double-ended Huda Beauty mascara design for optimal lash volume and curling while the Huda Beauty liquid eyeliner pen has a super-fine tip for precise, single-swipe application.
This is a great package for customers who enjoy using both the Huda Beauty double-ended mascara and liquid eyeliner products. Or, it could be the perfect solution for anyone trying out a new eye-makeup regime without searching out individual products.
Huda Beauty Concealer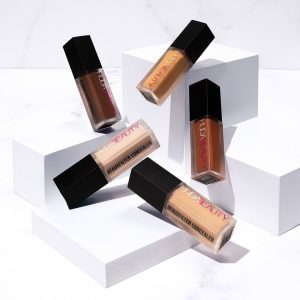 The Huda Beauty concealer range comes in an impressive variety of shades to suit any skin tone and promises full coverage from the 31% pure pigment in the ingredients And let's not forget the added soothing magic of green tea and Jericho rose!
Developed with an on-the-go lifestyle in mind, overachiever concealer will conceal tired eyes, redness, and dark circles (as well as a multitude of other sins!) without drying out your skin or leaving nasty buildup after multiple applications.
Lots of customers swear by this concealer with a few even saying they tend to buy in bulk to avoid their preferred shade selling out. That said, some seem to find the Huda Beauty concealer cakey, or struggle to choose a shade to match their skin.
Finding the right makeup can certainly involve a lot of trial and error. You can avoid some common mistakes by checking for reviewers with similar skin tones or issues (such as level of oiliness) to yourself to see how the product worked for them.
Huda Reviews from Customers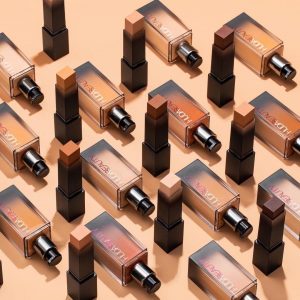 Nearly every Huda Beauty review we saw discussing the products has great things to say about the quality of Huda Beauty makeup and cosmetics themselves. Many customers rely on Huda Beauty products for both their daily makeup needs and to create unique looks to stand out from the crowd. Several Huda Beauty reviews even complimented the brand on its packaging!
However, it's not all compliments and rave reviews for Huda Beauty.
Multiple negative reviews on the Huda Beauty website describe ongoing issues that customers have been unable to resolve through the usual channels. Issues include lengthy delays in dispatch, promised refunds never arriving, last-minute cancellations, website stock not reflecting actual availability, and damaged or empty products.
We recognize that issues like this confront any company from time to time. But when customer services are on the ball, these types of complaints can usually be resolved long before the customer is upset enough to leave a negative review. Many of the reviews we saw for Huda Beauty were from customers who had been waiting months for a response to a simple query or who experienced large delays with no communication.
Digging deeper we found that, although Huda Beauty has claimed their Trustpilot profile, they haven't responded to any of the hundreds of negative reviews, nearly all of which concern the problems mentioned above.
It's clear from Huda Beauty reviews around the internet that they have lost many otherwise loyal customers from lack of communication – the majority of customers understand that mistakes happen but it's amazing how much difference the right response can make to whether customers will give a brand a second chance. And a lack of response on even the simplest customer support inquiries certainly isn't going to be winning this brand any points!
Sign Up for Huda Beauty
To make the most of your Huda Beauty shop, you're going to want to sign up and become a Huda VIP. This will allow you to earn points with every purchase from the Huda Beauty website, as well as other bonuses such as a gift on your birthday, something special to celebrate your sign-up anniversary, plus a range of other exclusive rewards that are unlocked by moving up through the tier-based rewards system.
You can earn extra points from one-off sign-ups to affiliated brands and social media platforms as well as for every review you write of a Huda Beauty product.
Where to Buy Huda Beauty
You can shop for the full range of Huda Beauty products on the website as well as through a range of third-party online suppliers and marketplaces, including Sephora, JC Penney, and many more. You can find a full list of stockists in the website FAQs
Huda Beauty Shipping and Return Policy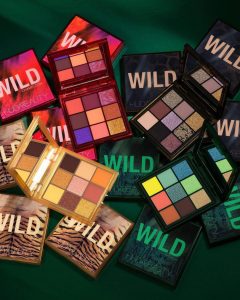 Huda Beauty shipping is calculated at checkout and is based on your address, the items ordered, and the preferred courier for your location. Orders over $60 ($70 for some addresses) will qualify for free shipping.
Mainland US shipping is expected to take 3-5 business days, but: be warned! Many customers report that this doesn't reflect actual delivery times and they can vary massively for certain products.
The Huda Beauty return policy includes a pre-paid returns label with most US orders, allowing you to return unwanted or incorrect items for free.
Simply fill in the attached returns slip, re-package your items, affix the prepaid returns label, then drop the package off at any UPS pickup point.
A full list of which items are or are not eligible for return is available in the website FAQs. If you're not sure, contact customer support for more information.
Huda Beauty Promotions & Discounts
The best way to make sure you're the first to hear about promotions and discounts is to join Huda's VIPs points program. It can also be worthwhile following the brand on social media and affiliated influencer accounts.
A full list of current promotions and discounts is available on the website FAQ. But keep an eye out for flash sales for some really impressive savings!
Contact Huda Beauty
Huda Beauty has a live chatbot that can resolve some simple issues right in your browser when visiting the website.
For more complex queries there is a contact form allowing you to fill in your contact details and provide a more detailed description of the issue or question.
Huda Beauty Review: Editors' Verdict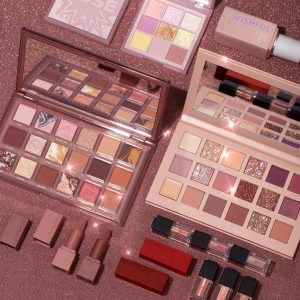 Our editor's verdict from this Huda Beauty review is that, while the products certainly seem to meet the standards of today's social-media star, the customer service and logistics leave a huge amount to be desired.
The company continues to innovate, and the founder's background as a beauty blogger means Huda Beauty is often the first to jump on a new trend, or even pre-empt one before it hits Instagram.
Great products are only half the story though, and the quality doesn't mean much if you can't deliver them to customers in one piece or resolve the usual logistic issues that confront any supplier of products in a timely fashion.
Based on the Huda Beauty reviews we've read for this analysis, Huda Beauty's customer service simply doesn't meet the standards we'd expect from an international company or one that considers itself a supplier of high-end products. A real shame, when many of the products do seem worthy of attention.
In our opinion, if you want to check out the Huda Beauty range of cosmetics and beauty products, it may be beneficial to look for the items from a stockist you trust. This way, you can benefit from a customer support team that actually has your back, and don't need to get stuck with faulty or non-delivered orders.
Perhaps if Huda Beauty commits the same time and thought to retaining customers and delivering consistent standards as it has in innovating, our review might be different. But for now, we'd suggest you shop the Huda Beauty collection, but not directly via Huda Beauty.
If you're looking for other makeup brands to add to your collection, read our reviews of Morphe Brushes, Elf Skincare, Barry M, and Fenty Beauty.
Huda Beauty FAQ
Is Huda Beauty cruelty-free?
If you've spotted a product you're desperate to try then you may be asking yourself "Is Huda Beauty cruelty-free?"
Huda Beauty states that, while they are not certified as cruelty-free, they do not test any products or ingredients on animals themselves or commission any studies using animals.
Are Huda Beauty products vegan?
There is a full list of which parts of the Huda Beauty range are considered vegan friendly in the website FAQs and individual products will clearly show if they are vegan friendly on the webshop.
Are Huda Beauty products Halal?
Huda Beauty's founder states that she is working on achieving official Halal status, but that none of their existing products contain pork or pork derivatives.
Some products contain alcohol in tiny quantities and of a different structure to alcohol intended for consumption by humans. While this is not explicitly banned in Muslim scripture, some customers may feel uncomfortable using any product including alcohol and should check the ingredients carefully.
Where can I check Huda Beauty product ingredients?
Every product on the Huda Beauty website has an ingredients tab listing the ingredients as they were at the time of publication.