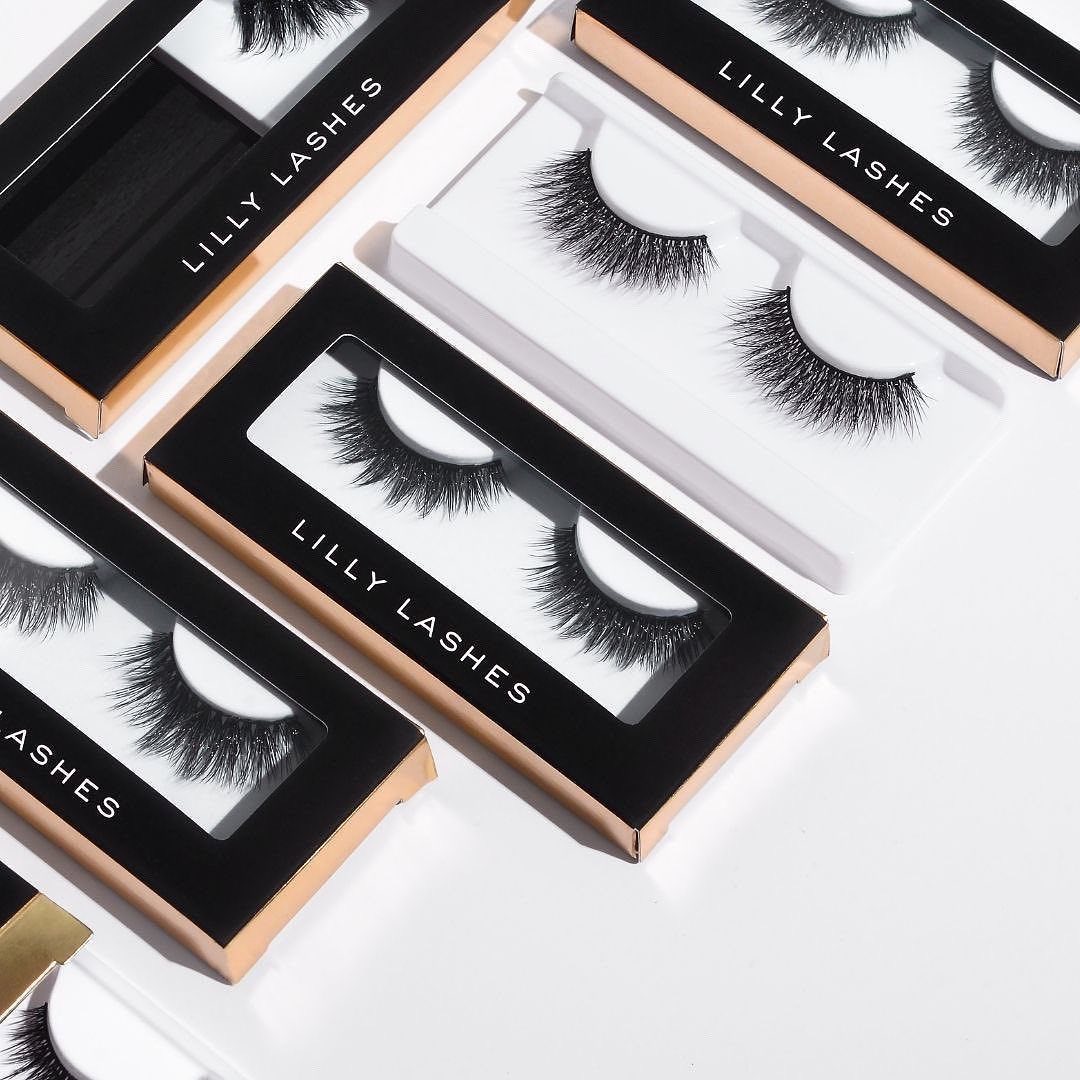 Nothing proves the success and popularity of Lilly Lashes better than some of the biggest Hollywood stars wearing Lilly Lashes on red carpets. According to the company's website, "Jennifer Lopez, Kim Kardashian, Kylie Jenner, Rihanna, and Lady Gaga are just a few of the A-List celebrities that have rocked the red carpet in their Lilly Lashes. " However, we are still curious to find out more about the brand and its products. In our Lilly Lashes review, we are going to look at the company from every possible angle.
We will take a close look at the brand's history, and mission, we will look behind the products and production, uncover the company's shipping and return policy, and see how the customer service team usually responds to customer issues. And as we always do, we will look at customer reviews too and share some perks on how to save money on your order. We hope you're ready because we've got a lot to share with you today!
About Lilly Lashes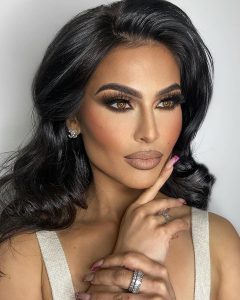 The history of Lilly Lashes goes back to 2013 when reality star and glamazon Lilly Ghalichi founded the company. By creating 3D Lashes, Ghalichi revolutionized the world of false lashes. Previously, if you wanted to achieve an ultra-glam, fabulous look, you needed to stack multiple strips of lashes. Ghalichi was on the mission to change this and offer a more innovative solution. She was inspired to create dramatic lashes that are not only flattering but comfortable and easy to apply too.
Today, Lilly Lashes offers 3 successful collections of lashes, including the  3D Mink Lashes, 3D Faux Mink Lashes, and Luxury Mink lashes. The brand is led by a mission to constantly maintain and increase product quality, implement innovative technologies, and dictate style. Being one of the most famous false lashes brands, Lilly Lashes is highly popular among famous make-up artists and A-list Hollywood celebrities.
But before we dive deeper into our Lilly Lashes review, let's take a quick look at the most significant pros and cons we collected:
Pros
High-quality lashes that are reusable for up to 50 times

Wide variety of styles, volumes, and effects from natural to bold

The possibility to be a subscriber which allows you to save money in the long run

The company offers makeup products specially developed to complement lashes

Taking into consideration that the lashes are reusable, the prices are quite affordable
Cons
Shipping can take longer than expected

Based on customer reviews, you might need some extra patience to get hold of the customer service team

No returns or exchanges
Lilly Lashes Products Review
In the next section of our Lilly Lashes review, we are going to select some products offered by the brand and take a close look at them. So if you're interested in how Lilly Lashes are made, what previous customers say about them, and what is the price point, we've got some exciting information to share with you!
Lilly Lashes Magnetic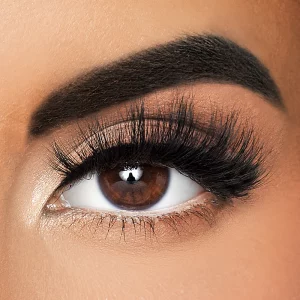 Applying your lashes can be challenging. At some point, it can even seem impossible to get them to the right place and achieve the look you expect. Lilly Lashes Magnetic was created to make things easier. These click magnetic lashes offer medium to maximum volume, a wide variety of effects from lite to bold, and what's even better, they are reusable for up to 50 times! There is quite a decent selection of lashes you can choose from. Each pair is carefully designed to add length, volume, and a bit of spiced-up seduction to any look. But more importantly, these lashes are made to be comfortable and extremely lightweight, so you can wear them all day and night long without any discomfort.
The price of all magnetic Lilly lashes is $30. If you're one of the subscribers, you can purchase them with a 20% discount and you will also get free shipping.
Lilly Lashes Mykonos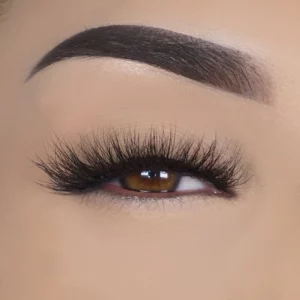 Lilly Lashes Mykonos is another popular product we need to mention in our Lilly Lashes review. This pair of lashes is ideal for round eyes or larger eyes. Being 16 mm long, these round-shaped lashes offer maximum volume and a bold, full-body effect. Like other Lilly lashes, the Mykonos lashes too are made of 3D Mink that creates the perfect finishing touch on a luxurious, ultra-glam look. When you take a closer look at the lashes, you will notice the interlacing V-shaped design. This adds more drama to your look and creates a full, flirty finish that blends with your natural lashes.
A previous buyer mentions: "Mykonos lashes are my favorite go-to for work and play. I wear them fitting the day to work and they transition perfectly to night when I am hitting the town. I receive compliments every time I wear them, which is every day." Price-wise, the Mykonos lashes can be purchased for $30. However, if you choose to subscribe, you can buy them for $24.
Lilly Lashes Goddess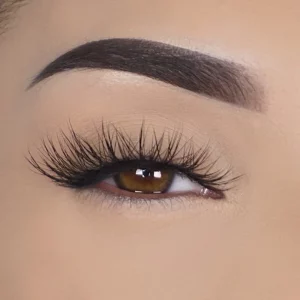 According to the website, the Lilly Lashes Goddess is "a favorite everyday lash among Hollywood's biggest stars". Undoubtedly, these lashes offer a mesmerizing look that is hard to ignore. Made of 3D Mink, the Goddess lashes feature a beautiful round shape and provide a natural volume, which makes them ideal for hooded eyes and mono lids. When it comes to the overall effect, they offer a full-body, wispy effect. They are 15 mm long and reusable for up to 15 wears.
The brand used a unique cross pattern of high-quality mink hair to mimic natural lash formation. This feature makes them perfect for everyday wear, as they offer a lightweight, comfortable look. You can dress them down with minimal makeup or put them on as a final touch of a Hollywood glam look. For a one-time purchase, the Lilly Lashes Goddess cost $20, for subscribers it is available for $16.
Triple X Mascara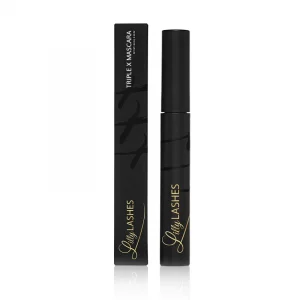 Now let's take a look at The Triple X Lilly Lashes mascara. This product is a specially developed mascara that complements the glamorous look provided by the lashes. This innovative and sleek mascara offers a dramatic look. The fiercely dark formula is easy to apply to your lashes and can be worn with or without Lilly Lashes. However, if used with your favorite Lilly Lashes, get ready for an extra volumizing, extra lengthening, and extra bold effect. Price-wise, the mascara costs $24, but at the time of writing it is available for $6.
On the Lilly Lashes website, the mascara has a 4.9 rating out of 5. People are more than happy with the result this mascara gives. Most customers say that the mascara gives them a flawless look, the formula is high-quality and the effect is fabulous even on naturally straight lashes. The only issue previous customers mention is that the mascara is not waterproof, so in case you plan to jump in a pool, you might want to wear something else.
Lilly Lashes Faux Mink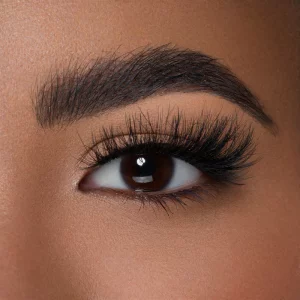 Last, but not least, before we continue our Lilly Lashes review with customer reviews, here's another popular product. The Lilly Lashes Faux Mink comes with Photolash™ technology, which replicates both the look and the feel of natural mink lashes. If you're after an Insta-worthy glam finish and Hollywood lashes, this ultra-wispy set of lashes won't disappoint you.
Looking at the collection, you've got quite a decent selection of lashes to choose from. Each pair of lashes are named after a world-famous city, like Miami, Rome, Milan, NYC, Mykonos, Paris, or Doha. Feature-wise, they all come with a black cotton band, are 100% vegan, and are reusable up to 20 wears. When it comes to effect, there are differences. For instance, the Rome in 3D Faux Mink offers a fluttery, wispy effect, while the Paris in 3D lashes provides a more natural, lite effect.
When it comes to the price tag, all lashes in the Faux Mink collection cost $28 for one-time shoppers. If you subscribe, you can purchase them for $22.40.
Lilly Lashes Review from Customers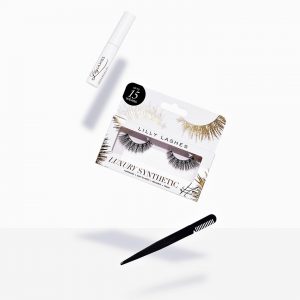 To give you a better insight, we have also looked at customer reviews from multiple sources. First, we visited the official Lilly Lashes website and collected ratings and feedback from previous customers and subscribers. On the website, people can use a 5 out of 5 rating system to rate the Lilly Lashes product, they can leave comments and what's the best feature, and they can attach pictures of the products they purchased. The majority of lashes and makeup goodies have a 4.9 to 5 rating out of 5.
Popular Alternatives to Lilly Lashes
Here are some of the things customers say about Lilly Lashes:
"I'm obsessed with these lashes!! These are my absolute favorite lashes I own. They are so fluffy and beautiful!"
"Can not express how much I love these lashes. Perfect like all of this brand's lashes. I wore these 3 days in a row."
"These have been the best lashes I have ever worn, so light and beautiful!"
"All of the Lily lashes are just so wonderful. The highest quality. So easy to apply, and stay on throughout the day and even overnight. These are just natural and elegant, perfect for everyday use."
"Super sexy, fast shipping, the lashes are very full. I received many compliments."
On Trustpilot, the brand has got a 3.8 rating out of 5 which is categorized as Great. Here, 63% of customers say that Lilly Lashes is an Excellent option, 6% rate it as Great, 4% as Average, 6% as Poor, and 21% as Bad. Obviously, we were most interested in what that 21% has got to say. What we found are reviews mentioning how good quality the lashes are, however, the same cannot be said about the customer service. People who rated the company as Poor and Bad complain about issues with shipping and the customer service team. They either experienced difficulties when trying to contact Lilly Lashes or their shipment was late.
Sign Up for Lilly Lashes
To create a user account on the Lilly Lashes website, you should click on the Sign-Up button. This you will find on the right part at the top of the homepage. Complete the user form by adding your personal and contact information such as your first name, last name, and email address. Once you're signed up you can enjoy further user features. These include a faster checkout process, adding multiple delivery addresses, order tracking, and many more.
Where to Buy
You have multiple options to purchase Lilly Lashes products. The most convenient option is to visit the brand's official website at www.lillylashes.com and place your order. Unfortunately, there is no official Lilly Lashes store you can visit. However, if you prefer shopping in-store, many popular retailers are selling Lilly Lashes products. For instance, you can find Lilly Lashes on the shelves at Target, Nordstrom, Sephora, or Ulta Beauty.
Shipping and Return Policy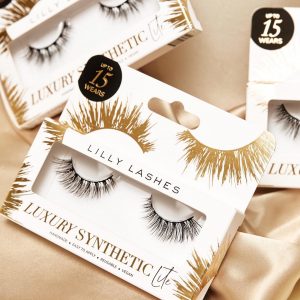 We have also looked into the Lilly Lashes shipping and return policy. When it comes to shipping, you can choose from 5 different types of shipping methods:
USPS First Class (5-7 Business Days): $5.99
USPS Priority Mail (2-3 Business Days): $12.99
FedEx International Economy 5-7 business days: Rate based on delivery address
FedEx International Priority 3-5 business days: Rate based on delivery address
FedEx Overnighted 1-2 business days: Rate based on delivery address
According to the Lilly Lashes website, orders are shipped from Monday to Friday. Generally, the order processing time can take up to 1-2 business days. The company ships to almost all countries worldwide, except Mexico, Russia, Iran, Iraq, Pakistan, and Afghanistan.
In terms of returns, you must know that due to the nature of their product the company does not offer any refunds or exchanges. The only exception is when the received product is damaged. In this case, you should send a picture of the damaged product, as well as the shipment box to [email protected]. You have 30 days to ask for a replacement or refund.
Promotions & Discounts
As part of our Lilly Lashes review, we collected some tips and tricks on how to save money on your online order. The best way to benefit from the perks offered by the company is to subscribe to their email list. This will allow you to receive VIP discounts. Also, if you subscribe to receive your lashes on a regular basis, you will get other benefits. Here are some of the perks included that make shopping at Lilly Lashes more affordable and joyful:
20% off on lashes each month
Free shipping with every subscription order
You can change your style anytime, modify or pause your shipments, or cancel the subscription
Contact Lilly Lashes
If you want to contact the Lilly Lashes customer service team, you have 2 options to choose from. You can get in touch with a Lash Expert from Monday to Friday between 9.00 AM and 6.00 PM PST via phone at (424)-398-7111. Also, if you prefer to contact them via email list and re, you can send an email to [email protected].
Lilly Lashes Review: Editor's Verdict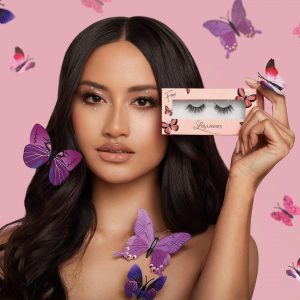 Now that we got to the end of our Lilly Lashes review, at this point, you must be pumped to find out our final verdict about the company. What we liked the most about the company is that they offer a wide variety of lashes. From the lite-effect, natural-looking lashes to the bold, full-body, 100% glam lashes, Lilly Lashes has got you covered. We also appreciate the company's effort to create vegan and cruelty-free products and make them reusable. With proper care, some lashes can be reused up to 50 times, which is a massive advantage both from the environmental point of view and budget-wise.
As you could see, customer reviews are very positive also. People, in general, are delighted with their purchases. They say that the lashes are high-quality, offer a flawless, flattering look, are easy to apply, and most importantly, are good to be reused as promised. Based on all that we learned about Lilly Lashes, we can confidently say that this company is legit, trustworthy, and well worth your money. No matter if you want to try lashes for the first time or if you're already familiar with faux lashes, Lilly Lashes is definitely a go-to brand for everyone.
Are you looking for other makeup and beauty brands? Check out our reviews of MAC Cosmetics, Natasha Denona, Ciate London, and Jeffree Star Cosmetics.
Lilly Lashes FAQ
What is the most dramatic Lilly Lash?
According to the brand, the most dramatic Lilly Lash is the "Carmen", which you will find in the 3D Mink Collection. These lashes will give you glamorous and bold looks.
What is the most natural Lilly Lash?
If you're after a natural look, the most natural Lilly Lash you can opt for is the "Goddess" in the Luxury Collection. This lash is comfortable to wear on a daily basis and it can offer a natural everyday look.
How do I care for my Lilly Lashes?
On the company's website, you will find a step-by-step tutorial on how to care for your Lilly Lashes. According to this, you should always store your lashes in their original storage box in order to keep them clean, dry, and protected from getting damaged. In case your lashes have buildup on them, never get them wet to clean them, as this will ruin the lashes.
Use a clean mascara spoolie instead to gently brush off any buildup. To remove leftover glue on the band of the lash you can use tweezers. If you follow the company's care instructions and properly care for our Lilly Lashes, you can reuse them up to 20-30 times. Also, to increase longevity and maintain the original style of your Lilly Lashes, never apply mascara directly on them. Instead, apply mascara to your natural lashes first, then, after they are dry, apply your Lilly Lashes.
Do Lilly Lashes come with glue?
No, Lilly Lashes do not come with lash adhesive. You can use any kind of temporary lash adhesive to apply your lashes.