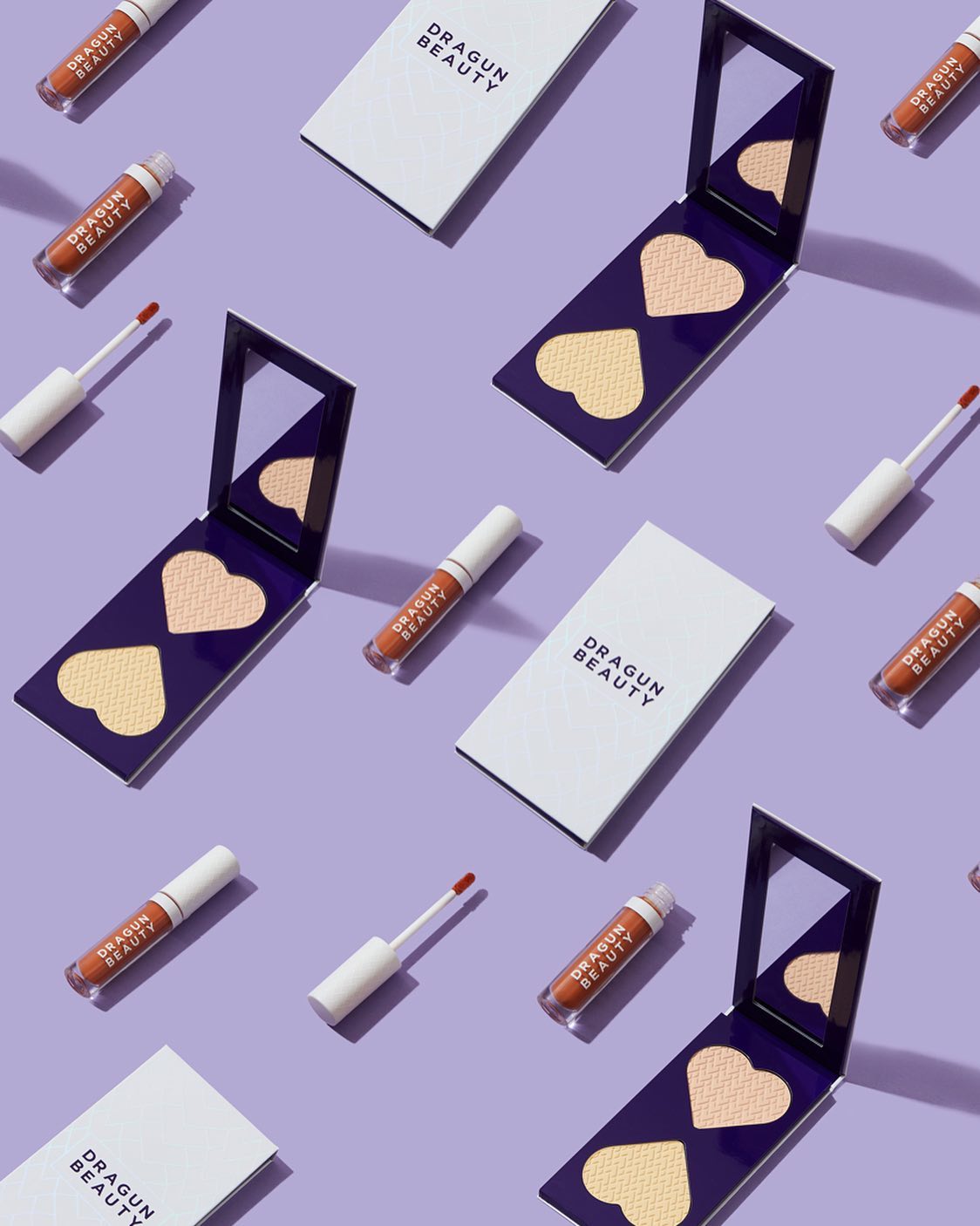 A beauty brand that caters to needs outside of the mainstream, there are plenty of reasons Dragun Beauty has been on the rise in recent years… And we've been very excited to get started with our own unbiased and thorough Dragun Beauty review – the perfect opportunity to take a closer look at an upcoming brand and its flamboyant creator!
CEO Nikkita Dragun is not only a social media celebrity but has hit the headlines outside of the Twittersphere – though not always for the right reasons. In our Dragun Beauty review, we'll find out whether this brand is just a gimmick, riding on Nikkita's social media fame, or whether it's on track to be the next big thing in the wonderful world of beauty.
About Dragun Beauty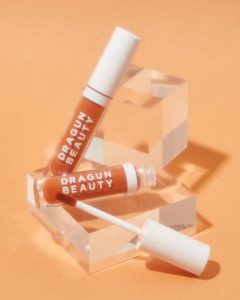 Dragun Beauty was founded by trans icon Nikita Dragun. Like so many beauty business founders, Nikita started Dragun after becoming frustrated by mainstream makeup companies not catering to her needs.
As a mixed-race trans teen growing up in Virginia, Nikita struggled to find the right products for her needs and had to learn for herself how to best compliment, enhance, and even completely change her features. Social media became an outlet for her passions, as well as a way to show off her supportive family and share the knowledge she had gained.
After gaining a massive social media following, both as a result of her openness to sharing her transition journey and some of the controversies she embroiled herself in, the natural next step for Nikita was to start making her own makeup and beauty products and provide the things she went without for others.
Dragun Beauty aims to cater to people of all ages, sizes, identities, races, and genders. Nikita began her own journey by learning how makeup can transform the shape of your face, and many Dragun Beauty products are designed to simplify and streamline this process.
More about the brand
Dragun Beauty is proud to be the first trans-woman-run major beauty brand. However, in this Dragun Beauty review, we'll aim to find out if this brand REALLY brings something new to the table, or whether it's simply riding on the social media coattails of its founder.
It's certainly refreshing to see such a wide range of people showing off looks made with Dragun Beauty products compared to some of the suspiciously one-dimensional modelings we see on some other websites. But with so many paid promotions and sponsored influencers it can be difficult to tell how much of the final result is from the makeup and how much is skill, lighting, or even post-process effects. Let's get into our extensive Dragun Beauty review!
Pros
Trans woman run and owned company.
WOC run and owned company.
All products are certified vegan and cruelty-free
Extensive collection of tutorial videos.
Designed to be fully inclusive.
Cons
Multiple controversies surrounding the creator.
Suspicious lack of non-5-star reviews on the website.
No scores, reviews, or claimed profiles with independent sources.
Small quantities of some products at a high price point.
Dragun Beauty Products Review
Many of us would be delighted to find a beauty brand where we can support the LGBTQ+ community and know our money isn't going to some faceless international conglomerate. But nobody wants to stick with a brand that can't deliver the goods.
Now that we know a little more about the brand and its creator, it's time to take a closer look at some of the most popular and best-selling Dragun Beauty products.
Dragun Beauty Color Corrector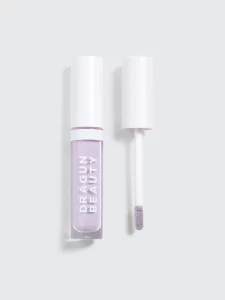 The Dragun Beauty color corrector is available in three shades to conceal blemishes and dark circles on any skin tone and blend seamlessly for the first step in your beauty regime.
The Dragun Beauty lavender color corrector is particularly great for hiding yellow and/or dull undertones in your skin, providing you with a perfect, flawless base for the rest of your makeup.
Simply use the included applicator to dab a small amount of product anywhere you need to correct undertones or conceal dark spots then blend with a soft brush before applying your next layer.
Only 5-star reviews are shown on the Dragun Beauty website with many calling the product a game-changer. Elsewhere reviews remain mostly positive with most customers finding the product met expectations and just a few saying it is a little thin and difficult to blend. Overall, it seems the Dragun Beauty color concealer does its job wonderfully.
Dragun Beauty Setting Powder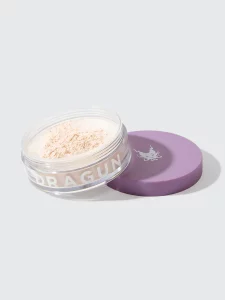 Dragun Beauty setting powder is available in a wide range of shades to suit any look or skin tone. The invisible variant is designed for maximum transparency to let your hard work and cosmetic genius shine through the powder (without any actual shine on your face – let's be honest, nobody wants a shiny selfie!).
The incredibly light and loose powder is made from special hexagonal particles designed for maximum skin adhesion and minimum color cast. Simply apply evenly with a soft puff and allow to bake to set your look for all-day hold. And, thanks to a compact design, you can even carry the handy package with you to refresh your look and reduce oiliness at any time of day.
Again, the reviews for Dragun Beauty powder on their website are all five stars and brimming with compliments for this light and non-cakey powder. Reviews on third-party sites mostly agree, with a few finding the strong smell of the powder overwhelming.
Dragun Beauty Transformation Powder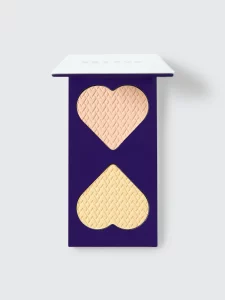 Dragun Beauty transformation powder is the ultimate last step in your makeup routine with millions of light-refracting particles that provide unparalleled brightening and lift to undereye areas (it also makes your highlights really pop).
Perfect for use by itself, this Dragun Beauty powder can also be mixed into other colors to produce your own unique sunkissed shade. To apply, simply brush the powder from the middle of your face, wherever the sun would hit outside, for that ultimate summer fantasy.
Dragun Beauty reviews on the website feature the usual 'life-changing' and 'game-changer' comments, with many reviewers claiming that this set is like carrying a photo filter in your purse.
Elsewhere, many customers were disappointed to find this Dragun Beauty powder simply didn't work well with their skin tone as there is only a single version available – which is a little surprising for a brand that claims to be so inclusive. Others have commented that you receive a very small amount of each powder and they felt they were paying more for the name and packaging than the product itself.
Dragun Beauty Lipstick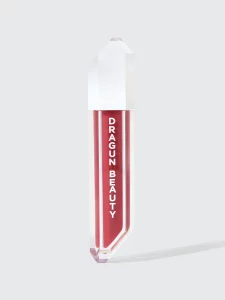 Available in a delicious array of fantasy shades and with a tempting light vanilla scent, Dragun Beauty lipstick is a moisturizing liquid product that produces a soft matte finish: the final essential piece to complete anyone's signature look.
The DragunGlass lipstick range is provided in a stylish crystalline bottle with a precision applicator built into the lid to help you get the perfect pout every time.
More hydrating than a typical liquid lipstick product, Dragun Beauty lipstick needs a little time to dry – Why don't you use the time to finish your look with a matching Dragun Beauty LipJob liner?
Rave reviews on DragunBeauty.com notwithstanding, this seems to be a tricky product to use correctly and doesn't work for everyone. While customers agree that it's more moisturizing than competing products, a common complaint is that it never dries down completely, which can be a pain if you're looking for a lip shade that lasts you from dawn till dusk (or dusk till dawn for that matter!).
As well as the long dry-time meaning it's difficult to achieve a truly matte finish, this lipstick transfers easily and may need to be reapplied multiple times throughout the day, with the dry time to deal with all over again.
Dragun Beauty Lip Gloss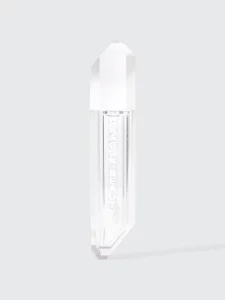 Dragun Beauty lip gloss is the high-shine part of the DragunGlass lip range and is designed to pair perfectly with Dragun Beauty lipstick – letting you top off your lips with a crystal clear shine – or use it by itself for a hint of color and a high-gloss glow.
A small amount goes a long way with the special precision applicator. Simple swipe onto bare lips or over your favorite Liquid Lip shade.
Dragun Beauty lip gloss seems to suffer from the same issues as the liquid lipstick product, with long drying times and frequent reapplications leading to disappointed customers who expected to get more use out of a product in this price range.
Dragun Beauty Reviews from Customers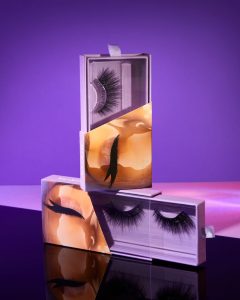 As we've seen above, there's something a little suspicious about Dragun Beauty reviews on the brand's own website – they've apparently never had a disappointed customer!
We know from experience that even the most switched-on company with the best customer service can have a bad day and that issues outside of the company's control can cause occasional problems. But when we can't see customers who've had these experiences, it does cause concerns about whether Dragun Beauty's customer service team is actually on the ball, or simply sweeping complaints under the rug.
Popular Alternatives to Dragun Beauty
We weren't able to find any profiles on independent sites such as the Better Business Bureau or Trustpilot, claimed or otherwise, and the only place where we saw a believable range of reviews for Dragun Beauty products was where they are sold on third-party marketplace websites such as Amazon.com or on Google Reviews.
In reality, not all customers are as happy with Dragun Beauty products as the brand would have you believe. And, when you look further afield, the usual range of issues experienced by makeup companies becomes apparent.
Not all makeup brands and formulations work for everyone and many people like to see and hear about results on skin types similar to their own. The lack of diverse customer reviews on DragunBeauty.com makes it much harder for customers to do their research without splashing out on an expensive product that might not be right for them.
When we turn to social media, however, we might find some explanation as to why Dragun Beauty restricts reviews on its website. Very few comments here discuss the brand's products or customer experience and instead focus on controversies surrounding the founder, Nikkita Dragun.
Sign Up for Dragun Beauty
You can sign up for Dragun Beauty shopping to earn exclusive rewards, speed up checkout, and use the streamlined subscription service to ensure you never run out of your essential products.
You can also enter your mobile number on DragunBeauty.com to receive on-the-go updates from Haus of Dragun.
Where to Buy Dragun Beauty
The entire Dragun Beauty range is available online and the official website is where you will find the latest drops and exclusive sales.
Dragun Beauty products are also available from third-party online marketplaces and a range of stockists internationally, such as:
Amazon
eBay
Beauty Bay
LookFantastic
Dragun Beauty Shipping and Return Policy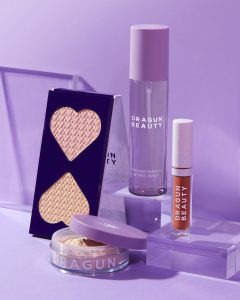 The company offers free shipping on US orders over $60. For orders which do not meet the free shipping threshold, standard domestic shipping is $10.45 and takes3-7 business days after processing. Premium ships in 1-5 business days and costs $13.95.
International, military, and outlying state shipping is available and full details are available in the website FAQs.
Dragun Beauty does not offer returns or exchanges and all sales are considered final. For damaged or incorrect orders you can contact su[email protected] within two weeks of receiving your order.
Dragun Beauty Promotions & Discounts
As well as signing up for email or text updates on promotions as they start, you can check the website regularly for exclusive one-time offers including codes to enter at checkout for free products and flash sales.
Subscribe to founder Nikita Dragun's social media accounts to be the first to hear about new products and developments and be in with a chance of willing discounts and free products through affiliated competitions.
Contact Dragun Beauty
Dragun Beauty has a detailed FAQs page that may answer your questions and an email address is provided for any other queries.
Dragun Beauty Review: Editors' Verdict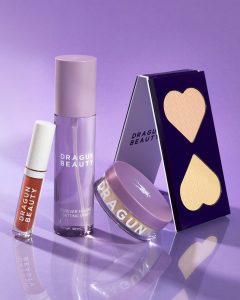 Although they've been trading for several years, there's not a lot of information from customers about their experience with Dragun Beauty online and social media posts usually focus on founded Nikita Dragun rather than the quality of her products.
Nikita has a massive social media following and, like many social media stars, has been at the center of a number of very public controversies. In some ways, her celebrity status means that her behavior 'off the clock' is held to higher standards than many other CEOs. It's up to the individual customer to decide if her public persona means they don't want to patronize her business.
While we'd like to think that not seeing a single negative Dragun Beauty review on their website means the products are perfect in every way, the few we've seen elsewhere make us more inclined to believe that these reviews have been filtered – with only the very best making the shortlist of Dragun Beauty reviews featured on the website.
Especially with products as personal as makeup, it's important to be able to get a fair idea of how well it works on different skin types and tones. The lack of honest reviews and no way to view or sort reviews by skin type makes this particularly difficult for Dragun Beauty products.
Final verdict
That said, while the reviews are more varied outside DragunBeauty.com, there's none of the desperation to get in touch with customer services or endless complaints about logistic issues that we so often see with companies new to the international scene. Most customers seem happy with their products and we think allowing some of the negatives to appear on the website would actually increase customer confidence when trying something new.
Overall we think Dragun Beauty is producing some fantastic products (the innovative hex-particle setting powder is one to watch) and have tons of respect for the founder's journey and desire to share her knowledge with others. However, we'd advise caution if trying this brand out for the first time.
Still looking for other beauty brands? Check out our reviews of Jeffree Star Cosmetics, Benefit Cosmetics Review, Natasha Denona, and MAC Cosmetics.
Dragun Beauty FAQ
Is there a limit to how many products I can purchase at one time?
Some limited-time or exclusive products may limit the number of units in a single purchase to discourage reselling and ensure more people have the opportunity to buy.
How often does Dragun Beauty restock?
Restocks vary between products but you can sign up for email or text updates to make sure you're the first to know when your favorite products are back in stock.
Keep an eye on Dragun Beauty and Nikita Dragun's social media streams for exclusive first looks as new product drops.
Does Dragun Beauty® test on animals?
All Dragun Beauty products are PETA-certified vegan and cruelty-free. This means that no product or any of its ingredients are tested on animals and they contain no animal products or derivatives.
And is Dragun Beauty gluten-free?
Several products in the DragunBeauty range are certified gluten-free including the entire transformation powder range.
How do I use Dragun Beauty products?
Dragun beauty shows a range of looks you can achieve with each product right on the product page. The brand also provides an extensive collection of vlogs and video tutorials throughout the website to help you find your dream look.
Nikkita Dragun and affiliated social media streams regularly use Dragun Beauty products and you can follow related accounts and hashtags for all the latest techniques and ideas.