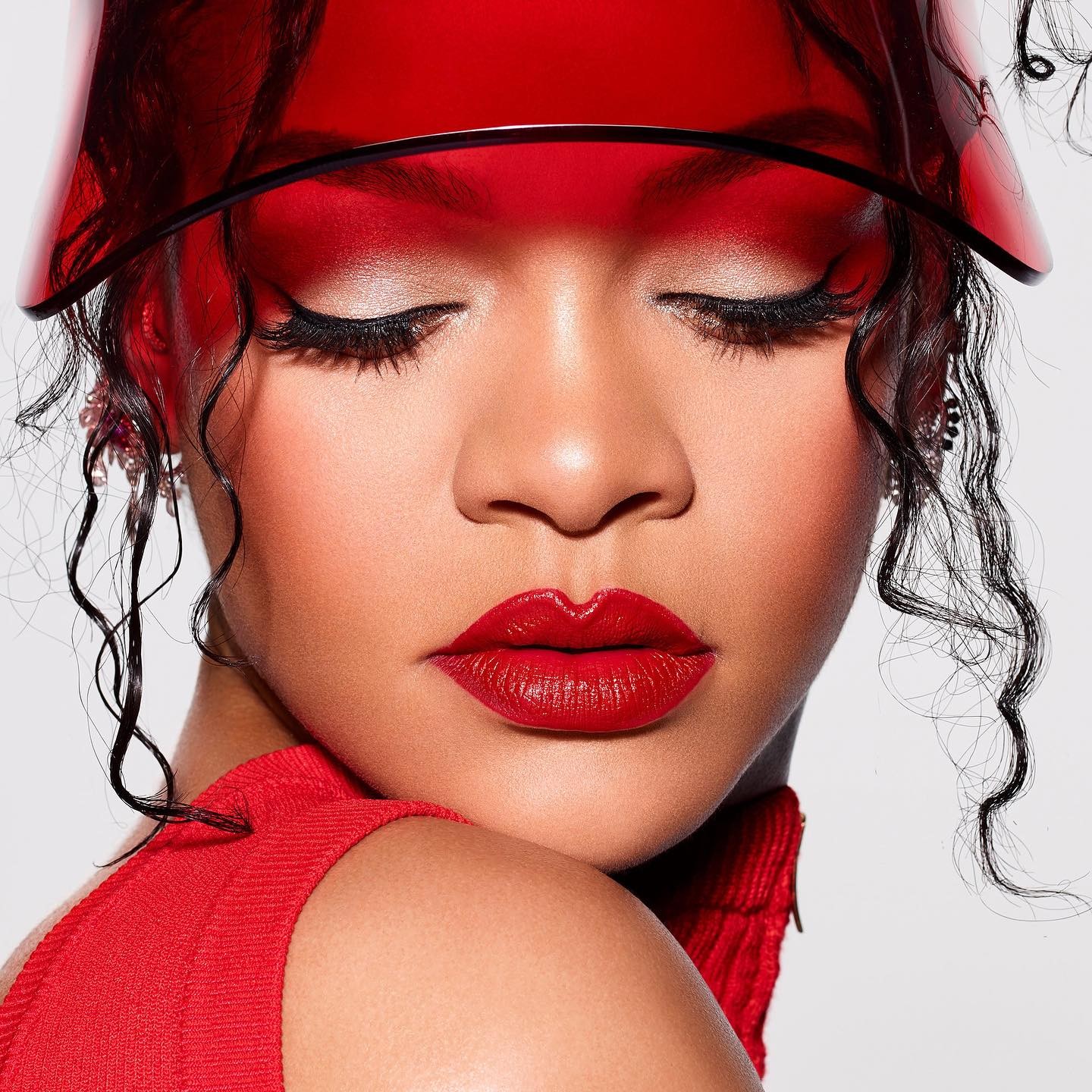 We have all heard about Rihanna by now, she needs no introduction. Rihanna is famous for her music first and foremost, winning over 9 Grammy Awards, 12 Billboard Music Awards, and many others. But RiRi has been quite busy with other aspects of her life. Which brings us to our Fenty Beauty review.
Fenty Beauty is Rihanna's baby (well, until she got pregnant) and she's made billions from it. She created the brand to empower women, to be more inclusive than other makeup and beauty brands. Her idea of makeup is: 'makeup is there for you to have fun with'. Rihanna's Makeup line is definitely famous and she's constantly coming out with new products. Sure, she had a huge social media following that helped with marketing, however, are people buying the products because Rihanna is the face of it or because the products are that good?
In our unbiased Fenty Beauty review, we'll find out if the products are as good as the hype around them. Getting into the customer reviews, ingredients, and shade ranges. Let's start! 
About Fenty Beauty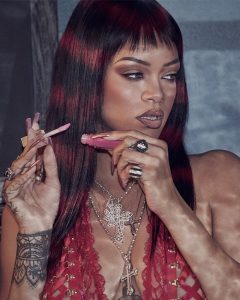 Rihanna launched Fenty Beauty in 2017 after deciding to take a break from creating music. Her last album was released at the beginning of 2016 and Fenty dropped on the market in September 2017. She wanted to take a break from the music industry, which serves her right since she's been in the business for over a decade. 
Her vision with Fenty was to provide people with products available for all skin tones and shades. If you check online the brands with the most shades, Fenty is on the top of the list with two high-quality products containing 50 shades. 
The first-ever products were the foundation, face primer, and gloss bomb. She launched the line in hopes that people all around the globe would find a match for their skin type and wear makeup proudly. Fast forward to today, the brand has different types of foundations, concealers, primers, powders, and so on. You can do a full face of either natural or full-beat makeup with these products. 
Fenty Skin launched in 2020 with just three products and these were not disappointing either. The products are clean, vegan, cruelty-free, and with quality ingredients. 
The vision is definitely there, we see what Rihanna was trying to achieve with both of her brands. Let's see what customers have to say about the products! 
Pros
High-quality products for affordable prices

Good range of shades in face makeup

Ingredients carefully selected

Earth Conscious brand

Cruelty-free, never tested on animals

Available worldwide
Cons
Not 100% vegan, although they have vegan-friendly products
Fenty Beauty Products Review
Now that you are familiar with the brand, it's time for us to review their products. As mentioned before, Fenty prides itself on being inclusive and coming out with a wide variety of shades for all skin types and skin tones. Furthermore, there are many fun makeup products that will make you look fabulous, such as the Fenty Beauty Diamond Bomb. Let's see what these products can do for your skin and beauty routine. 
Fenty Beauty Foundation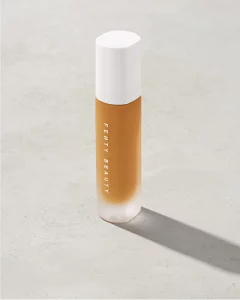 It's no wonder we're starting the review with the Fenty Beauty foundation. Since the launch, there are a few different foundations available:
Pro Filt'r Soft Matte Longwear Foundation (50 shades) 

Eaze Drop Blurring Skin Tint (25 shades) 

Pro Filt'r Soft Matte Powder Foundation (50 shades)

Pro Filt'r Hydrating Longwear Foundation (50 shades)
What about the price range? Well, the cheapest one is $32, which is a skin tint and the rest retails for $38. You can, however, buy bundles which would reduce the price of the foundation. For example, the Soft matte complexion consisting of the foundation, primer, and brush retails for $83 and has a value of $106. 
All 4 of the foundations have an overall review of 4.4/5 stars. The soft matte long wear one received more than 8000 reviews from customers all over the world. 
Some of the reviews are: 
"I absolutely love this product. Provides full coverage but still doesnt look like I have on makeup!!"
"This is great foundation and probably one of the best I've used. It's provides a beautiful matte finish. I was using the hydrating foundation for a long time but my skin changed and started finding it too shiny so switched to this and I'm so glad I did. Recommended it to my sister and she loves it too."
Fenty Beauty Concealer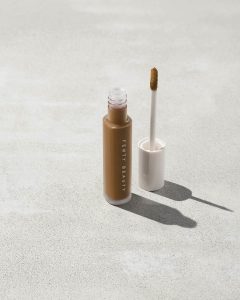 No flawless base is complete without concealer. The Fenty Beauty concealer is another product praised by customers. Unlike the foundations, they only brought out two different formulas. 
Pro Filt'r Instant retouch concealer (50 shades)

Bright Fix Eye Brightener (16 shades) 
Pro Filt'r concealer has a creamy finish and it is creaseproof, with a medium to full coverage. They have a soft matte finish just like the foundation and it's supposed to cover up dark circles and reduce redness and dark spots. It retails for $28 and the ratings from customers are 4.5/5. 
The second concealer, the bright fix eye brightener only has 16 shades as it's not supposed to match your exact skin color. But it does promise to hydrate, brighten and conceal. Moreover, the coverage is buildable and it's a sweat-resistant and long-wear formula. The Fenty beauty concealer is easily applied with a finger or brush. This one retails for $26 and it's rated at 4.3/5. 
Speaking of brushes, the pro filter concealer is available in a bundle with the precision concealer brush for only $41. Alternatively, if you do not wish to apply your products with a brush, there's a small precision sponge duo retailing at $18. 
Fenty Beauty Lip Glosses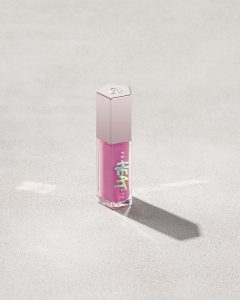 At this point, we can just say that Fenty is famous for pretty much all of its products. There isn't really anything that Riri creates and people don't like. The Fenty Beauty lip gloss and the lip plumper are customers favorites. For example, a few of the glosses are Allure and Glamour award winners. The Gloss Bomb Universal lip luminizer in 'Glass Slipper' received 4.8 /5 stars from over 4500 reviews. That really says something. These lip glosses are available in 7 different shades. 
They are not sticky and are more or less hydrating. The wand was created in an XXL size and it has shea butter in the formula so when you apply it can act as a lip balm too. This particular gloss retails for $20. 
Another one of the famous Fenty Beauty lip gloss is the Gloss Bomb Cream Color Drip Lip Cream. It's available in 6 shades. They have more of an opaque color and are universal shades. Meaning it looks good on every skin color! On the Fenty website, this is their #1 gloss that offers a beautiful shine and creamy color. It retails for $21. 
Fenty Beauty Highlighter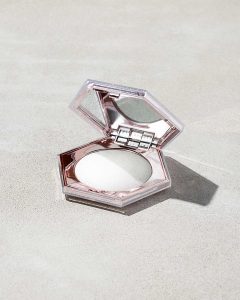 Although the beauty community reduced their need to over highlight their cheeks and whole body, we still love and need a good highlighter in our lives. If anything, Fenty is definitely known for creating some of the best highlighters on the market. The famous Fenty Beauty Diamond Bomb is one of a kind highlighter. According to their website it 'applies like a 3D glittering veil, delivering pure, show-stopping sparkle all over the face and body'. 
It comes in three different colors and needless to say, the 'Pure Platinum Sparkle' is the most famous one of the Fenty Beauty highlighter sets. It received 1137 reviews on the website and customers are rating it 4.6 stars. The highlighter retails for $40. 
Another famous powder highlighter you are probably familiar with is the Killawatt Freestyle Highlighter. This comes in 9 different shades and retails for $38. But while with the previous Fenty Beauty highlighter you get one pure color, this one has two shades. With all sorts of different shades and colors, your cheeks will be glowing! 
Fenty Skin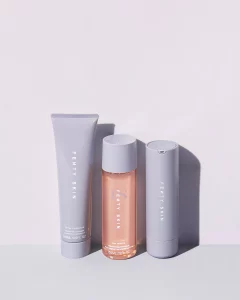 Lastly, we have to mention Fenty Skin. It was only natural that Rihanna came out with ground-breaking skincare products. But how good are they? One of the popular ones is Fat Water. It sounds funny, but if you look at the consistency the water is really thick and well, fat. What does this promise? It's supposed to refine the look of pores, reduce dark spots, and evens out skin tone. 
This 2-in-1 toner and serum combo should be a game-changer. It has a fragrance-free formula, it's clean, cruelty-free, vegan, gluten-free, and non-comedogenic. Basically, everything you wished for in serum and toner. The price is also pretty reasonable, retailing at $30 for 150 ml/5 fl. oz. The main ingredients are Niacinamide, Barbados Cherry, Australian Lemon Myrtle, Witch Hazel Water, Japanese Raisin Tree, Cactus Flower, and Green Tea & Fig. It does look beautiful! 
The best way to try out some of the Fenty skin products is by purchasing the travel size starter set. It costs $43 and contains the Fat Water, Hydra Vizor, and the Total Cleans'r. The set is not only suitable for traveling, but at the same time, you'll be able to try out the most famous products from Fenty Skin. The value set received 4.6 stars from 10896 reviews. 
At the time of writing, Rihanna also recently brought out the Cookies n Clean Whipped Clay Detox Face Mask. This looks really amazing and it has salicylic acid and charcoal. There aren't many reviews of this yet as the product is hot on the market, but make sure to try it out if you're already a fan of the rest of the stuff. It retails at $32. 
Fenty Beauty Review from Customers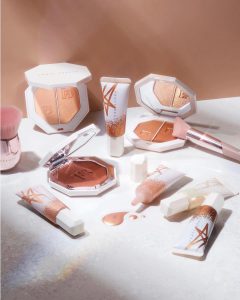 Our Fenty Beauty Review would not be complete without customer reviews. We have already included the ratings in our products breakdown, as seen under the Fenty Beauty foundation, concealer, and other makeup. There isn't an overall review page of the brand on their website, so we had to look for other reviews online. 
Surprisingly there are very few reviews on websites such as Trustpilot or Sitejabber. We are really wondering why. Fenty is available worldwide, sold by most the beauty stores yet most of the reviews are directly on their website. 
Sephora also has many great reviews. Anything that includes shipping is not countable as that is an issue of Sephora and not Fenty. 
Since we couldn't go by the 130 Trustpilot reviews we just went back to the main website to check what negative comments customers might have. 
Popular Alternatives to Fenty Beauty
The pro filter soft matte foundation had the most reviews, over 8000, and with 4.4 stars. One-star reviews complain about the texture, wrong shade, too watery, and doesn't sit nicely on the skin, and so on. As far as the wrong shades, it can be confusing to pick out your shade. Often times it's best to get help from a professional in-store. We couldn't find many bad reviews of the foundation as far as texture and how long it lasts. 
So overall, the brand probably has a rating of 4.5 at least if not more. Customers seem to love it and not only because Rihanna is the face of the brand, but because they genuinely like the products. And what's the difference between Rare Beauty vs Fenty? Read our review about it!
Sign Up for Fenty Beauty
If you want to sign up as a customer, just head over to their Sign in/Sign up section. You'll get exclusive offers by signing up for the newsletters. Online-product drops will be available through email, as well as in-store events and beauty tips from the queen herself. 
Of course, by creating an account you'll be able to track your orders easily.  
Where to Buy
Where to buy Fenty beauty? It would probably be easier to answer where you cannot by Fenty. It is available everywhere. Firstly, you can get it from fentybeauty.com. It is available in most countries, you can just simply google Fenty Beauty and some stores will bring out the goodies.
In the US you'll find them in Sephora (both online and in-store), Ulta Beauty, JCPenny, and Kohl's. In the UK, find them in your local Boots or Harvey Nichols (again, both online and in-store). 
Shipping and Return Policy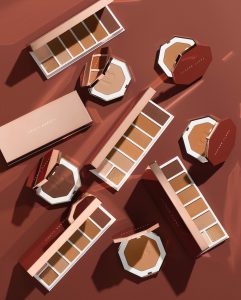 Fenty Beauty is generous when it comes to shipping. There's free standard shipping on all orders within the USA. This will take 4-8 business days to process and receive your order.
At the same time, you have the option to get free 2-day shipping for orders over $75, this is excluding taxes. 
Fenty also ships to Hawaii and Alaska within 1-2 days, however, they cannot ship restricted items. 2-day shipping costs $10.95 while 1-day shipping costs $16.95.
You didn't enjoy your Fenty products? No problem, they allow you 60 days from the purchase date to return your product. This is free of charge, meaning you will not pay any shipping or handling fees. However, you will not get back the shipping fee once the refund is processed. Liquid items are not allowed to be returned after they have been opened. 
International orders can be returned within 60 days of the purchase. Understandably, the additional fees and shipping charges will not be refunded to you. In this case, it is better to purchase Fenty from an authorized seller within the country you're in. 
Promotions & Discounts
We were not disappointed when we saw the Fenty Beauty sales. Thre's a separate section for this and plenty of items on sale. For example, at the time of writing, you'll find some of the pro filter hydrating foundations on sale. Only a few selected colors. You'll also save on bundles and even the Body Lava luminizer is on sale. It's definitely worth checking out! 
Contact Fenty Beauty
Did we not answer a question in our Fenty Beauty Review? You can contact their customer services via:
Email: [email protected]

Phone: 1-855-440-7474, Operating hours are from 7 am – 2 am EST, 

7 days a week, excluding holidays

Live chat is available from 7 am to 11 pm Eastern Time. 
Fenty Beauty Review: Editors' Verdict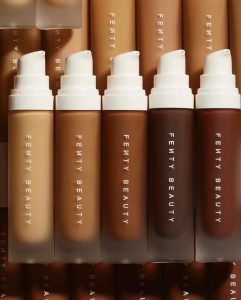 Still curious about our verdict? After reading the comments, experiencing the hype of the brand over social media as well as analyzing the prices, shipping, and customer service, we would say that Fenty Beauty is worth it. 
It is unquestionable that Rihanna made an effort when she launched these products. Some celebrities just put their name on a product without being involved in the process of creating it. She is clearly involved in everything and using her products at the same time. 
There are always going to be people who will not like it and will not find the foundations or other face products suitable for their skin. With that being said, the majority of customers do enjoy using Fenty and there have been very few complaints across review websites. 
At the end of the day, it is your decision in which brand you wish to invest in. There are plenty of other beauty brands offering the same types of products and maybe even more affordable than this one. 
Interested in other makeup brands? Check out our reviews of Benefit Cosmetics Review, Dose of Colors Review, Benefit Cosmetics Review, and Makeup Geek Review.
Fenty Beauty FAQ
Is Fenty Beauty cruelty free?
If you're asking yourself 'Is Fenty Beauty cruelty free?' - the answer is, yes it is! Both the makeup and skin products are cruelty free and have never tested on animals.
Is Fenty Beauty vegan?
Fenty is not considered to be a vegan line. There are a few products that are vegan which you'll see under the products description. Fenty skin on the other hand is fully vegan.
Do Fenty Beauty products contain parabens?
Both Fenty Beauty and Skin are free of parabens and phthalate too.
What is the shelf life of Fenty Beauty products?
The shelf life will change from product to product. It's recommended to check the label and keep to it, do not use it more than the recommended. This is usually displayed on the back of the product with a small logo containing 12 or 24, but sometimes even 6. This indicates the months it should stay fresh from the moment of opening.
How do I know if my purchase is authentic?
If you purchase from the main website or authorized sellers then your product will be authentic. Check the 'Where to buy' section to find out which are the authorized sellers.