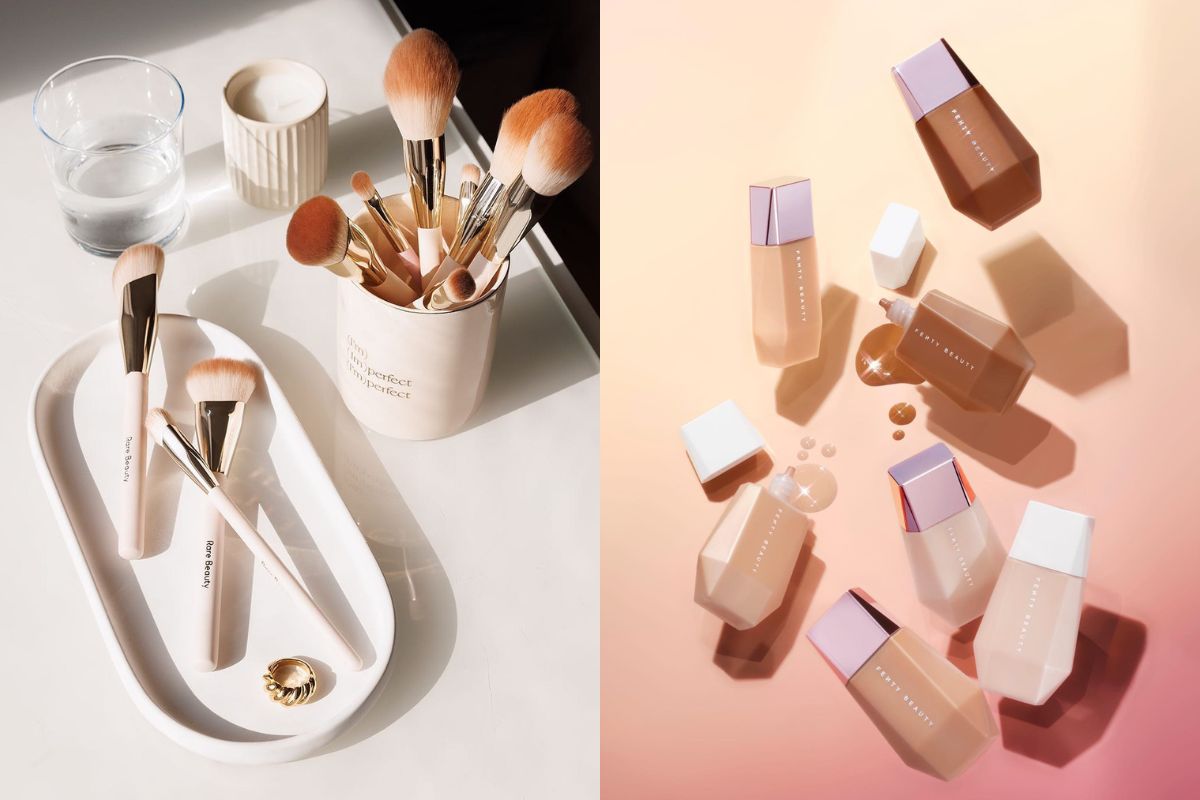 Rare Beauty vs Fenty is a true clash of the titans in the makeup world, and we'll be digging deep to find out which of these big names gives you the best bang for your buck. Both companies are headed by a well-known celebrity, but the similarity ends there; with different priorities driving varied ranges with quite different target looks.
From Fenty highlighter to Rare Beauty blush – we'll take a closer look at a wide range of products from these two big names. And dish the dirt on what customers really think and what goes on behind the social media screen.
Rare Beauty vs Fenty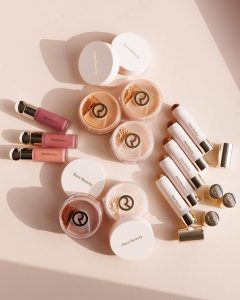 Just like when we're building a house, the best place to start our Rare Beauty vs Fenty review is with the foundation. So, we're taking a closer look at both Rare and Fenty foundation products.
Rare Beauty blush and foundation are only available in liquid or creme block form, with a single non-tinted setting powder available to work across all shades.
Fenty offers a somewhat wider range of foundation products, with colored powders available in a similar range of shades as its liquid foundation offering. There are also many more images available on the Fenty website of individual shades on matched skin tones.
Rare Beauty shows each shade painted onto arms in various skin tones, but Fenty also displays faces wearing the selected color alongside faces wearing adjacent colors from the chart. We think this is a really helpful way of giving customers a better idea of whether they've chosen the right shade for their own skin tone.
While both companies have a shade finder to help customers find the right color for their skin, we found Fenty's more comprehensive as it asked some interesting questions, such as what color jewelry suited our skin tone best and what color the veins on our wrist appeared. This might be extra helpful for customers who aren't sure about the terminology for undertones or can't identify their skin tone beyond light, medium, or dark.
Rare Beauty vs Fenty Pros and Cons
Rare Beauty
Pros
Easy to navigate range designed to make everyday, natural looks a breeze.
Provides substantial support to mental health charities.
Cons
A limited selection of products in some ranges.
Can be difficult to find the right match for certain skin tones.
Fenty
Pros
Huge range of products and shades.
Inclusionist philosophy with a heavy focus on traditionally hard-to-match skin tones.
Cons
Some shades don't match those displayed on the website as well as expected.
Logistic and packing issues mean products may arrive damaged and need to be returned.
Rare Beauty vs Fenty Makeup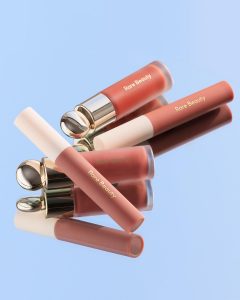 We've taken a closer look at Fenty foundation and Rare Beauty foundation products, so it's time to examine some of the other makeup offerings from both companies. It's not always the company with the greatest range of choices that takes the prize – if a smaller range is better made or has more effective integration between products, then it's often simpler to stick with the less complex option.
Comparing Rare Beauty vs Fenty mascara is a bit more of a like-for-like comparison, with just one product in this category for each company. Rare Beauty mascara is designed to build easily to create the right amount of lash for your look, and the special hourglass-shaped brush provides lift with every stroke.
The major difference with the Fenty product is in the brush, as Fenty mascara is provided with a double-ended brush to load and lift with the fat end and define curls with the narrow one.
It's the same story as the foundation with lip gloss, with Rare Beauty offering a single lip gloss product in five sumptuous shades. Fenty lip gloss, on the other hand, is available in a dazzling array of styles and colors.
Package and sustainability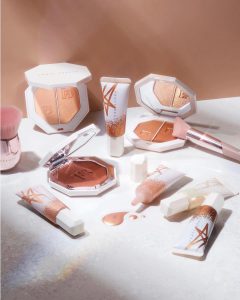 Rare Beauty vs Fenty is a close call on package and sustainability as both companies care about the environment and contribute to pet projects and issues. However, they take a different approach to the idea of sustainable packaging, and which you prefer will depend on your priorities.
When you receive your Rare Beauty bronzer stick, lip gloss, and any other products you purchased, the entire order will arrive in post-consumer recycled packaging, which can itself be easily recycled with other cardboard.
Environmentally friendly, water-based inks are used wherever possible, and the foam used to stabilize products inside the packaging is made from corn and can be dissolved in water or broken down in garden compost bins.
For Fenty, it was important to retain some of the luxury and aesthetics of a more complex and detailed packaging for certain products, and the company has opted to go down a refill and reuse route to allow customers to keep their bottles and containers for as long as they last.
When things do wear out, and for items provided in simpler packaging, Fenty provides a detailed breakdown of the packaging materials and how they can be recycled on each product page.
Product types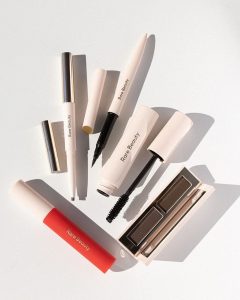 As we've mentioned elsewhere, there's certainly a larger overall range of products available on the Fenty website, with multiple options for some product types and a lot of variation to suit notoriously hard-to-match skin tones (one of Rhianna's stated goals when creating the range).
However, if you're looking for a simple mix and match system that can have you looking your best in the minimum of steps (and you're lucky enough to have a skin tone that matches easily with commonly available shades), then Rare Beauty has you covered for a wide range of fresh, natural looks.
Rare beauty concealer is a single no-fuss product in a range of tones that are designed to be gentle enough to use anywhere on your face to hide unwanted blemishes. Fenty has gone in the opposite direction, with a wide range of products intended to target specific issues, such as Fenty highlighter and eye brighteners which will conceal as part of their job, as well as both liquid and solid concealer products. 
Fenty Beauty foundation also comes up when you search for concealer on the website as the powder and liquid forms can be spot applied to provide extra coverage in problem areas. 
A Rare Beauty highlighter is available in the form of the Positive Light Luminizer range, available in 8 captivating, glittery shades to give you a pop of sparkle without piling on the layers.
Quality
Both companies produce quality products and make the ingredients and sources readily available on their respective websites. While we have seen the occasional review stating that they achieved the same effect with drugstore makeup, most customers don't have any problems with the quality of what they receive for their money.
Rare Beauty concealer received a lot of compliments in reviews for the quality of the provided applicator, which is a great money-saver when we often find the provided tools have cut corners.
Fenty skin tint gets a lot of compliments from customers as one of the highest quality tinted moisturizers they have used, but we noticed that many people in the reviews section found the color chart a bit off for this one and ended up wishing they'd selected a shade lighter or darker.
When they're such an easy way to add some summer warmth to the most wintery complexion, a Fenty or Rare Beauty bronzer stick might be the next purchase on your list. They're neck and neck on quality as far as customers are concerned (with personal preference obviously playing its part), but we can't help but notice that, once again, the range of available shades is much more impressive for Fenty than Rare. And if you have a harder-to-match skin tone, then Fenty might make it easier to find your perfect shade.
More about Rare Beauty and Fenty
We've mentioned the difference in shade availability for Rare Beauty and Fenty lip gloss above, and see a similar story with the rest of the range. With so many products to choose from, there's bound to be a variation in which works better for different skin types and tones. 
With any makeup product, it's important the consider if criticisms of the quality of a particular product are completely valid or simply reflect an incompatibility between that particular product and the customer's skin. 
Customer review ratings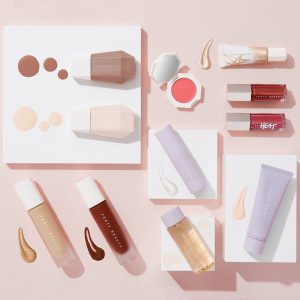 We've already looked at some customer reviews of specific Rare Beauty vs Fenty makeup products, and we've noticed that the ratings for individual products, such as Rare Beauty blush, match up well between the company websites and independent sellers like Amazon. This is usually a good sign that the company isn't cherry-picking reviews, and you can trust those shown on the website.
Looking at more general customer reviews, we found something of a mixed bag on the go-to review and complaint aggregators Trustpilot, SiteJabber, and Better Business Bureau. Perhaps surprisingly for such big companies, neither had a large enough number of reviews on Trustpilot or Sitejabber for us to feel the overall rating meant much.
Looking at Better Business Bureau, Fenty received a substantial number of complaints compared to Rare, but customer services have responded to all of them. And while not every customer is happy, the process appears to be transparent (if not particularly fast).
Rare Beauty vs Fenty: Editor's Verdict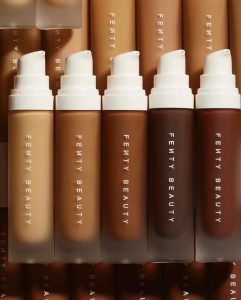 Our editor's verdict is that if you're going for a more natural look and you have a skin tone that you generally find easy to match to makeup, then you won't find many better brands than Rare Beauty to achieve that.
While there are fewer overall options, products like the Rare Beauty tinted moisturizer and Rare Beauty mascara have cult followings among people for whom they achieve the desired look. With the added bonus of supporting mental health charities with every purchase, Rare Beauty is a great choice for those of us who have a no-muss, no-fuss approach to makeup.
If you fancy trying something a little more adventurous or if you have difficulty matching skin tones though, then the Fenty range is unparalleled in its level of choice, and company founder Rhianna has made it her mission to make products to match traditionally difficult skin tones and make every look accessible to everyone. We love diversity, and we can't help but want to support a company that aims to include everyone!
Check out our other reviews of the best makeup brands such as Charlotte Tilbury, Huda Beauty, Illamasqua, and Freck Beauty.