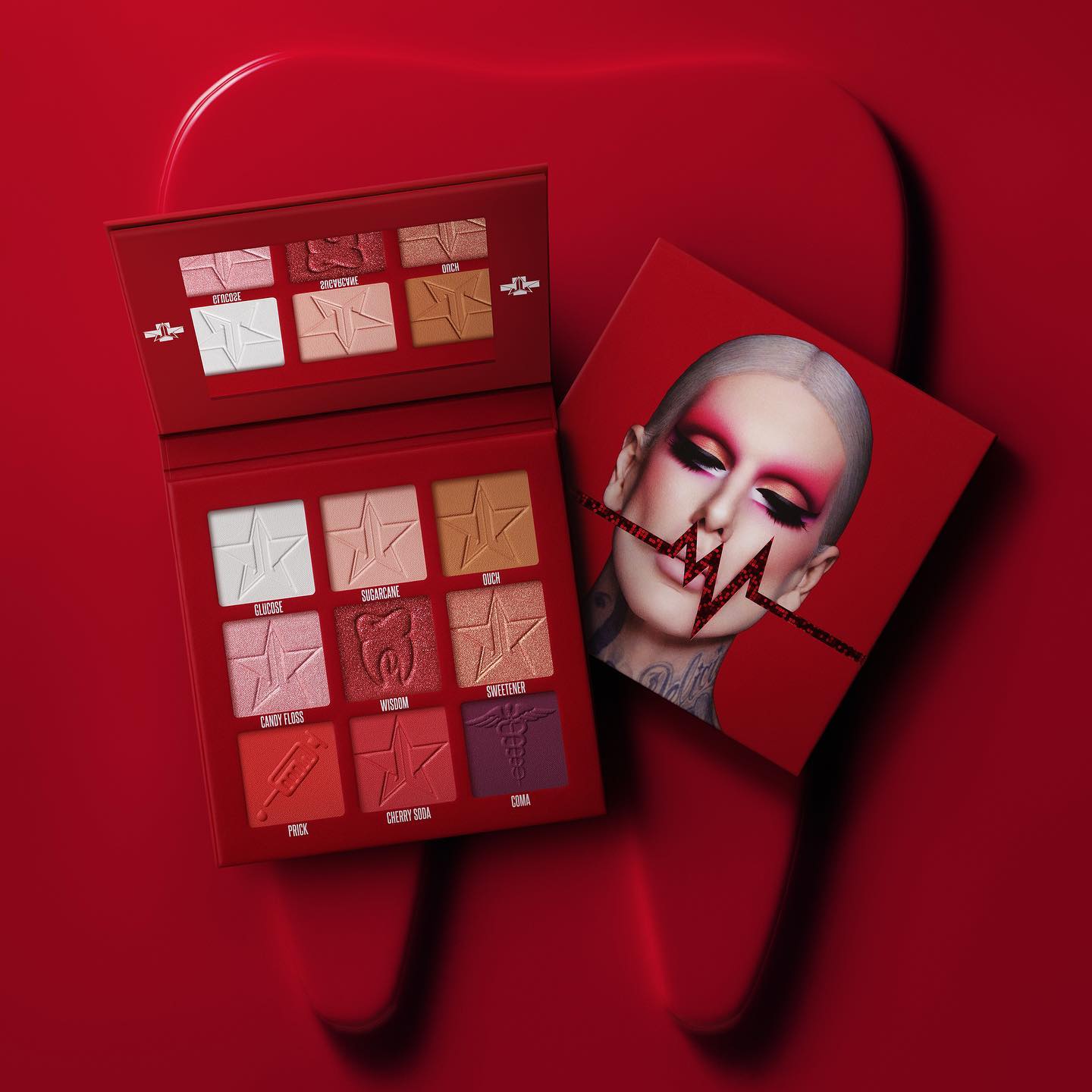 You might have heard about Jeffree Star by now, either from the music days or as an influencer/Youtuber. Jeffree is now famous for his very successful brand called Jeffree Star Cosmetics. They sell premium makeup products that are between drugstore and high-end prices. Recently, Jeffree also came out with a skincare line and we cannot wait to dive into our unbiased Jeffree Star Cosmetics review to find out more about the products.
If you love colorful makeup, big eyeshadow palettes with shimmers, mattes, or different colored highlighters, then this brand is for you. Besides that, Jeffree Star cosmetics also sells merchandise and toys for pets. They are really cute! Let's get into our Jeffree Star Cosmetics review.
About Jeffree Star Cosmetics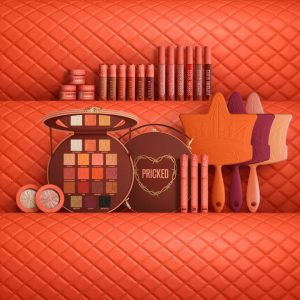 We have to go back in time to find out where Jeffre Star Cosmetics came to the surface. The brand was founded in 2014 by Jeffree who was then very much into the music world. He has been making music since 2006, releasing it on MySpace and earning enough money from it to start his own makeup company. He did get some help from his business partner Jeff Cohen and together they own Jeffree Star Cosmetics.
The cosmetics line dropped with three liquid lipstick colors and they were a winner. Soon the brand expanded to even more colors, then highlighters, eyeshadows, and other makeup products.
Jeffree star is cruelty-free and vegan, it always has been. It skyrocketed when the brand dropped its first eye shadow palette called "Beauty Killer" which was inspired by the name of his only studio album.
After this successful eyeshadow palette, he continued to drop more and more of them with names that related to his own life or music career. For example, in 2017 Androgyny, or "Blood Sugar", "Alien", "Blue Blood" and a few others.
Today Jeffree Star is loved by millions of customers all over the world. The products are high-quality, pigmented, and most importantly fairly affordable considering how much product you get. True fans are probably even happier today as the beauty line extended further into skincare and toys for everyone's lovely pets.
Why did he start his own line of Pet accessories? Well, Jeffree has always had Pomeranians and he wanted to share the love for his dogs with everyone else.
The brand was featured in great publications as Vogue Business, Makeup Muddle, and Holr Magazine. As an experienced influenser, Jeffree also gained a lot of social media followers for his brand on Instagram, Twitter, Facebook.
Curious to find out about our honest Jeffree Star Cosmetics review? Continue reading for an in-depth product review!
Pros
Wide variety of colorful and bold makeup (over 80 shades of lipstick)

Highly pigmented eyeshadow palettes

New skincare line

Affordable prices

Iconic deals - bundles, promotions, and more

Available worldwide
Cons
Issues with customer service
Jeffree Star Cosmetics Products Review
It's no secret that Jeffree Star's makeup is high quality and people love them. Well, at least the ones who are still into full-face makeup or colorful eyeshadow palettes. Although Jeffree didn't come out with a lot of complexion products such as foundation or concealer, there are definitely a few to mention.
Jeffree Star Cosmetics Eyes
The eyes are the star of the show when it comes to Jeffree Star Cosmetics. These palettes are one of the most iconic ones created all in LA.
If we filter by best-selling products, the number one is the Blood Sugar Palette and we can see why. First of all, the packaging is unreal. It comes in a sturdy pan that locks into place and keeps all of your eyeshadows intact. One thing to know about Jeffree Star's eyeshadows is that they are big. You get plenty of products to last you for months.
The Blood Sugar palette has a total of 18 shadows and pressed pigments. You'll see matte, metallic, and foil shadows. At the time of writing, it is on sale for $25, however, normally it is $52. Even with the full price, one eyeshadow comes just under $3, which is very affordable.
If you are more into dark and cool tones, the Cremated Artistry Palette is for you. This retails for $58 and comes with 24 eyeshadows. It's a mixture of matte and metallics and it's also supposed to compliment any skin tone. It is truly beautiful, especially if you're a makeup artist, you'll surely see the beauty in it.
Other bold palettes that are worth trying are Blood Lust which is a mix of purples and pinks, Blue Blood is filled with different shades of blue. Then you have Jawbreaker, a truly unique palette featuring colors of the rainbow.
The newest edition of Jeffree Star cosmetics is the Banan Fetish Palette. This one is a mix of browns and gold and yellows with only two pops of colors: pink and blue. The palette retails for $52, and includes 18 shades of mattes and metallic shimmers.
Jeffree Star Cosmetics Highlighters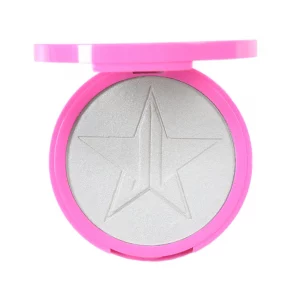 Highlighters are another top-selling product of the Jeffree Stars Cosmetics range. And these ones are really here to turn heads. We have to say that today the makeup world is all about natural-looking skin, with more cream products than powders.
Regardless of that, we can never forget those years when blinding highlights on the cheekbones, the tip of the nose, inner corner, and top lip were a thing. Jeffree probably added to this craze by coming out with the best highlighters.
The most famous one is Skin Frost in "Ice Cold" or "Peach Goddess". The first one is an extreme highlighter which can be used both on the face, eyes, and body. If you wish to add more intensity, it can be used with a wet brush. It is truly blinding.
Peach Goddess is a beautiful addition and can also be applied as a blusher, but bear in mind, it is shimmery! The Skin Frost highlighters retail for $29 and you get a 15g/0.53 OZ product. If you know your powders, then you'd know that's a lot of product!
Along with Skin Frost, Jeffree also came out with Extreme Frost and Supreme Frost highlighters, as well as highlighter palettes. They are every makeup lover's dream!
Jeffree Star Cosmetics Lips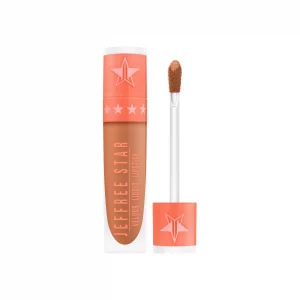 If you're in love with matte liquid lipsticks, Jeffree Star definitely has some of the best ones on the market. The famous Velour Liquid Lipsticks come in a total of 87 shades! Looking at the website, very few of them are sold out. You'll find everything from pinks, and nudes, to blue, purple, and even green.
These are so fun to wear, they dry completely matte and will stay on for hours. As all of the products are vegan and cruelty-free, you can even use them on your eyes as eyeliner. These retail for only $18.
Jeffree Star Cosmetics also prides itself with a range of lip scrubs. There are a few different flavors to select from, such as Banan Split, Banana Cream Pie, or Rainbow Sherbet. Under the liquid lipstick description, it's recommended that you use the Velour Scrub before applying the lipstick. The lip scrubs retail for $12.
Thankfully Jeffree does not disappoint as you can buy lipstick bundles and try out loads of different shades. Look for the Mini bundles in Nude, Green, Red & Pink that retail for $52. You'll get a total of 8 lipsticks in a beautiful box.
Jeffree Star Skin Care Review
If you've been following Jeffree Star on Youtube for a while, you know that he is very much into skincare, so it was only a matter of time until he came out with his own skincare line. This is everything we imagined it would be. From the packaging down to the products and its ingredients. Let's check out the Jeffree Star skin care products.
Jeffree Star Skin Care Bundle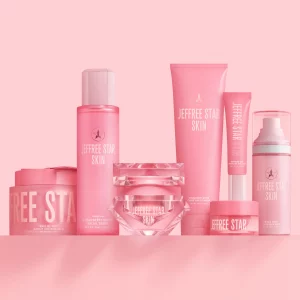 If you want to experience the products altogether, then it's best to buy the complete Jeffree Star skin care bundle. Besides, some of the singular products are already sold out. This bundle retails for $155 and it includes 7 items. If you think about it, that's a very affordable price.
Many high-end brands sell one moisturizer for $100 and you'll be getting 7 items in one. The skincare bundle includes the following products:
'Make Me Melt' Makeup Removing Balm
Strawberry Water Clarifying Cleanser
Strawberry Water Facial Toner
Magic Star Hydrating Moisturizer
Morning Dew Hydrating Eye Cream
Magic Star Glow Face Mist
Repair & Revive Lip Mask
It doesn't say whether you'll be receiving full-size products or not. It does seem like it, the products in the photos are shown in full-size.
Looking at the ingredients list, we must say it's pretty impressive. The moisturize's active ingredients are made up of:
Niacinamide 5%
Squalane (sugar derived) 3%
Rainbow Algae 1%
Red Algae 2%
Jeffree Star Night-Time Bundle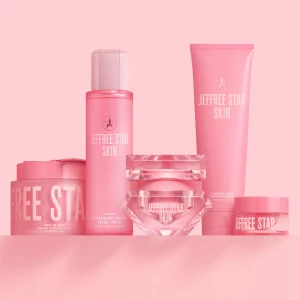 So far the Jeffree Star skin care bundle for daytime looks pretty good. Let's check out the nighttime bundle to see the difference.
This bundle consists of only 5 products and not much has changed compared to the previous one. It is a simplified skincare routine which is perfect for the night. And it retails for only $112. The products are:
'Make Me Melt' Makeup Removing Balm
Strawberry Water Clarifying Cleanser
Strawberry Water Facial Toner
Magic Star Hydrating Moisturizer
Repair & Revive Lip Mask
So if you still want to try out Jeffree Star skin care without purchasing too many, then the nighttime bundle might be a better option for you. The makeup-removing balm also has amazing active ingredients, such as:
Jojoba Seed Oil 1%
Raspberry Fruit Extract
Apple Fruit Extract
Jeffree Star Cosmetics Review from Customers
We cannot complete our Jeffree Star Cosmetics review without honest customer feedback. Looking at the website, there's no possibility to review products. Therefore, our team researched sites like Sitejabber, Trustpilot, and Influenster.
First, on Sitejabber there were only 57 reviews from customers. And the overall review was 3.9/5 stars which are quite low. Some people said that they were "living for it", meaning the products were really good. While others mentioned "terrible customer service".
On Trustpilot, the reviews were no better once again. Out of 517 reviews, the brand is rated 2.2 stars. Some customers complained that the products are not what they used to be and that the customer service team did not even exist. There were, however, quite a few positive reviews saying that the makeup is of amazing quality.
Thankfully, Influenster saved the day as we found over 100k reviews of Jeffree Star Cosmetics.
One of the most reviewed products is the Velour Liquid Lipsticks, with almost 40k people rating it an overall 4.7/5. That must count for something! Sarah tried Human Nature and said:
"These are my go to lippies! There is a huge variety of shades, which is nice. The consistency is nice. The lippies are not drying ony lips. It lasts for hours with out any transfer. Highly recommend these lippies!! The shade in the picture is Human Nature."
Popular Alternatives to Jeffree Star Cosmetics
Further customer reviews
While another reviews Unicorn Blood:
"These are my favorite lippies hands down! The packaging is beautiful. They last all dang day, and the color doesn't fade! I love the applicator! I get so many compliments!"
A recent purchaser of the lipsticks also mentioned:
"I have mixed feelings. I love the application, the pigment and the beginning feel of these lipsticks. However I find them cakey and pilling after I eat something, like my lips, or a long day of wearing it. Don't find it lasts long, and I'll have a weird outline of the product. Otherwise love these lipsticks, but just didn't hold long."
The rest of the products all had over 4-star reviews and customers clearly like them with a few exceptions that don't enjoy certain colors. Customer service might not be the best, however, the makeup section is still of amazing quality.
Sign Up for Jeffree Star Cosmetics
Sign up for Jeffree Star for faster checkout, tracking orders, and changing shipping addresses. All you have to do is register your new account.
Where to Buy
Have you made up your mind regarding Jeffree Star Cosmetics? If so, then head over to jeffreestarcosmetics.com to purchase the products.
In the USA you can only purchase them through the main website or by ordering Beatylish.
Other websites in different countries include Beauty Bay, Beauty Bliss, Black Swallow, BPerfect Mega Store, Douglas in most European countries, and Zalora in Singapore,  Hong Kong, and the Philippines.
Jeffree Star Cosmetics Shipping and Return Policy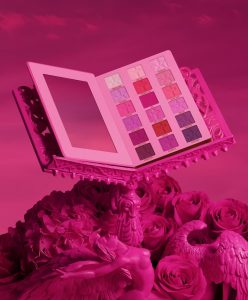 Jeffree Star always ships from Los Angeles, California. Shipping is free for over $125 on all US orders and free for international orders above $175.
You have to pay any customs fees when ordering internationally. When you check out, you can select your preferred shipping method and can have a better estimate of the price.
Shipping will usually take about 7-10 business days for domestic orders but can take less if you opt for Priority Mail or FedEx.
You are allowed to return your product if you didn't love it within 14 days of purchasing. No exchanges are allowed. Simply return them to the address:
20630 Plummer St, Chatsworth, CA 91311
You'll be notified via email when the team received the products and you'll probably have to wait about 3-5 business days once the refund was submitted.
Promotions & Discounts
Jeffree Star Cosmetics always has some sort of deals running. Although the products are already affordable, if you want to indulge in some of them for a lower price, simply check the "Iconic Deals" section.
For example, at the time of writing, there's an amazing deal for the Rainbox Palette Bundle which includes 6 palettes for only $169. That is amazing considering that one palette usually costs $52.
Besides this bundle, nearly all of the eyeshadow palettes are on sale for $25. If you're a makeup artist or someone that does creative makeup, this is definitely a steal!
Contact Jeffree Star Cosmetics
Do you still have questions after reading our extensive Jeffree Star Cosmetics review? You can reach them by filling out a contact form with your request. There's also a chat button option for the customer service team and they will usually reply in a few hours.
Jeffree Star Cosmetics: Editor's Verdict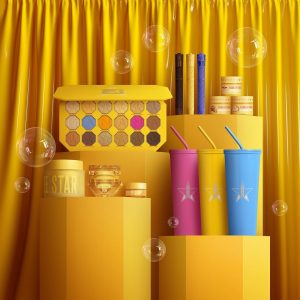 Ready to read our final thoughts on this Jeffree Star Cosmetics review? Overall the brand has definitely lost its charm since the launch date. Although the products are still top quality, the customer service department doesn't get as much praise.
We also can't help but wonder why Jeffree Star Cosmetics doesn't have individual reviews on their main website. Our final verdict is that these products are worth the try, especially the lipsticks. If you're someone who collects makeup or does really colorful looks, then you should definitely buy one of the eyeshadow palettes. On the other hand, if you love a natural makeup look, there are plenty of brands on the market that do better in this department.
Are you interested in other brands that have amazing eyeshadows like Jeffree Star? Check out our reviews of Kevyn Aucoin, Natasha Denona, Ciate London and Pat McGrath. 
Jeffree Star Cosmetics FAQ
Are Jeffrey Star Products cruelty-free?
Yes, everything that Jeffree Star releases is cruelty-free and completely vegan.
Is Jeffree Star skincare gluten free?
Absolutely. All of the skincare products are gluten free!
Are Jeffree Star products good for sensitive skin?
The brand has clinically tested the products and dermatologists approved that they are non-irritant and suitable for sensitive skin.
Is the packaging recyclable?
The boxes the products come in are all recyclable. The only thing that you cannot recycle is the cap and the spatula that is attached to a magnet.