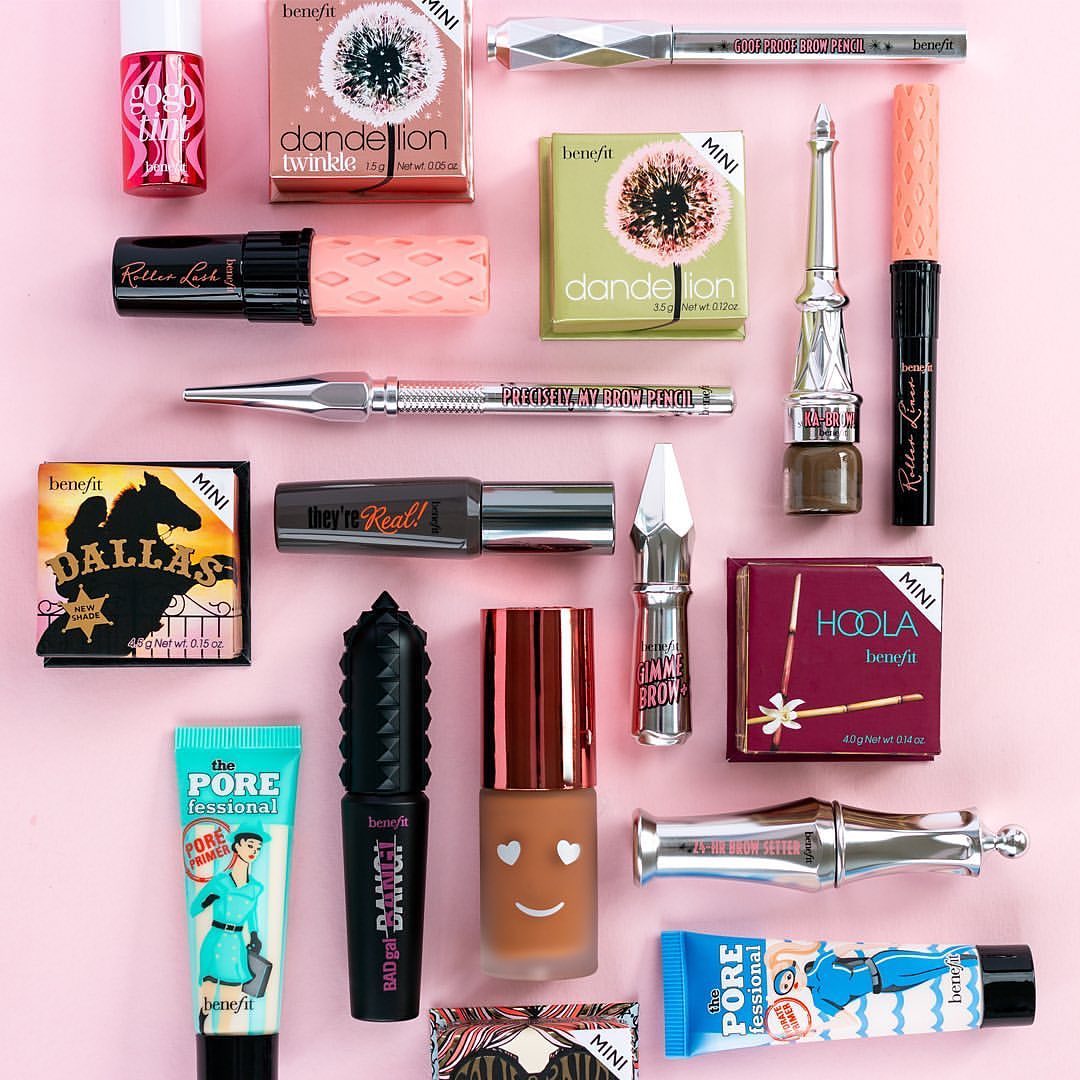 Benefit Cosmetics are not new in the market. The brand has an exhaustive line of cosmetics from foundation to primers, concealers to contours, highlighters to lip and cheek balms, mascara to brow gels and pencils. In short, whatever makeup product you need, they have; hence this Benefit Cosmetics review.
In this review, we'll take a deep dive into this brand to understand its mission and vision. We'll review their best-selling products and answer questions you'll likely need answers to. If that's what you're looking for, then keep reading.
About Benefit Cosmetics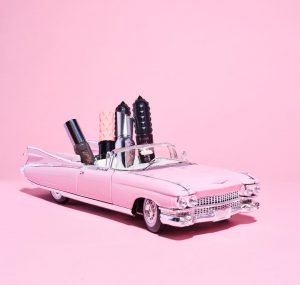 In 1976, the Ford twins, namely Jane and Jean Ford were just two Indiana farm girls turned successful models and makeup artists. They wanted more to life than just that, so they went to San Francisco to open up either a casserole cafe or a makeup shop.
Heads or tails?
Luckily, they landed on tails and they started a small beauty and makeup store called "Face Place" which then changed to Benefit Cosmetics in 1990. They wanted Benefit Cosmetics to be about adding laughter and confidence in every woman as they were in the feel-good business rather than simply selling cosmetics.
While still at the mission district, at the Face Place, they manufactured their first product called the "Rose Tint" (now famously known as "benetint"). As the product picked up, they developed "lip plump" in the 80s then in the 90s they moved to New York City to open their first Benefit counter at Henri Bendel.
After years of hard work, the brand has now become a global brand with their daughters and nieces, Maggie & Annie Ford Danielson widely marketing the brand. As of today, the brand is sold in over 50 countries across five continents and has over 3,000 Brow Bars and 85 Boutiques worldwide.
Pros
Variety: The brand sells a range of cosmetics for the eyes, brows, lips, and face in general.
Experience and Expertise: The company has been in the market for over four decades, hence they must know a lot about the industry.
Widely Available: Benefit Cosmetic products are present in over 50 countries and many more locations.
The brand offers both products in the cosmetic line and services such as waxing, makeup application, and virtual consultations.
They offer 60-day returns.
Loads of promotions and discounts.
Cons
Many customers complain about shipment delays.
Benefit Cosmetics Products Review
The Benefit Cosmetics line covers just about every facial element, from the eyes, lips, cheeks, brows, lashes, and general facial skin. Let's review some common makeup products.
Benefit Cosmetics Mascara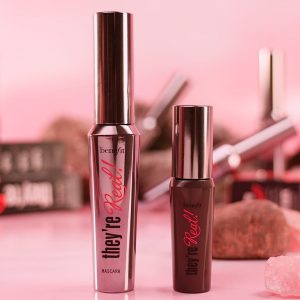 The Benefit Cosmetics mascara is a lash enhancer that lengthens, lifts, volumizes, and curls your lashes in one go. The product has a custom domed-tip brush to allow for a better definition of your lashes, and also add flair and volume to the lashes without it feeling lumpy or too heavy on the lashes.
The mascara is formulated to add color and visibility, as well as offer long-lasting results. The product is available in full and mini sizes and also comes in two shades: jet black and beyond brown.
To use the mascara, hold the wand and wiggle it against your lashes from side to side, base to tip. Continue with this motion for additional volume, lift, and length. For curls and separation, use the wand vertically and stroke your lashes upwards.
Lastly, if you'd like more definition on your lashes use the mascara and the Benefit eyelash primer together. And, if you only want to curl your lashes, opt for the Benefits Cosmetics roller lash curling mascara instead.
Benefit Cosmetics Porefessional Primer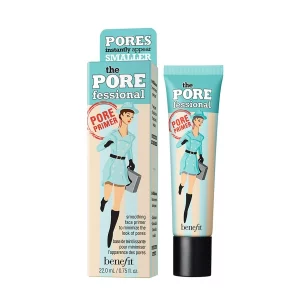 This brand doesn't just offer makeup products, they have a Benefit skincare line that includes moisturizers, makeup removers, cleansers, exfoliators, the Benefit Cosmetics serum for anti-defying, and the Benefit Cosmetics primer called Porefessional Primer Pro Balm.
The Benefit Cosmetics Porefessional Primer works as a makeup and skincare product where you can apply it before makeup to smoothen your skin and matte the appearance making it less shiny. And as a skincare product where the primer helps minimize the appearance of pores for better setting of your foundation.
The face primer is formulated silky thin as a lightweight non-comedogenic and translucent balm that helps to complement your skin tone while helping the makeup stay on for long. It is formulated with vitamin E derivatives that act as antioxidants that protect the skin against free radicals and pollution that may hasten the aging of your skin.
That said, besides minimizing the appearance of pores, the product can also be used to smoothen out fine lines and wrinkles. For best results, apply a thin layer of the primer on clean and moisturized skin. Pat gently from the center and spread outwards with your fingers. Apply the primer before and after your makeup.
Lastly, the primer is available in mini, full, and value sizes.
Benefit Cosmetics Eyebrow Gel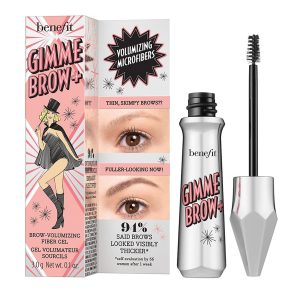 The Benefit Cosmetics eyebrow gel works similarly to the mascara, in that, it's used to volumize the eyebrows using a fiber gel. The tinted eyebrow gel has tiny microfibers that easily adhere to the hair on the brows and the skin around to help create a fuller brow that appears natural and stays on for long.
Available in a mini, value, and full size, the brow gel kit contains a tiny custom tapered brush that's precise to allow for an easy, messy-free application. What's more, the gel comes in a variety of shades ranging from light brown to dark brown, black to black-brown, and cool grey shade.
Finally, the brow gel is water-resistant so as soon as you fill in and lay down the eyebrows, you can expect to stay with the product even when it's raining or as you sweat.
Do note, that the product has potential allergens. Seeing as you'll be applying the product to your face which is quite sensitive, be aware of mica and the Titanium dioxide in the gel.
Benefit Cosmetics Precisely My Brow Pencil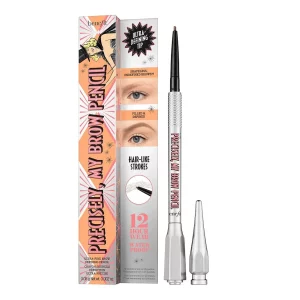 If you don't like to apply gel to your eyebrows, you can opt for the Benefits Cosmetics Precisely My Brow Pencil which is just like any other pencil you would use to draw or write, but this brow pencil is ultra-fine to help with defining your eyebrows.
The brow pencil is available in many shades such as light blonde, brown, black, and cool grey and you can purchase the full or mini variant.
To use the pencil, start at the base of your brows and draw upwards to create tiny hair-like flicks on the brows. The strokes should be short and light to imitate the direction of your natural hair growth. This way, the result will be as natural-looking as possible.
What's great about the product is that the brow pencil is designed to last 12 hours without any budge.
Benefit Cosmetics Blush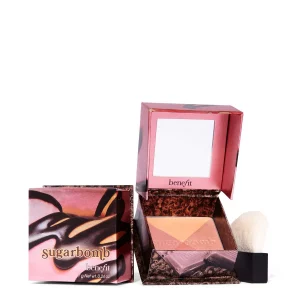 The last product review we'll take a look at is the Benefits Cosmetics blush which is a Sugarbomb Rosy Pink blush that helps highlight and add instant radiance to your cheeks.
Available in a full and travel mini size, the blush also features additional three bold colors to add lush to your cheeks for a perfect complexion.
To use the product, swirl the blush on your cheeks with a makeup brush to achieve the flush you'd like.
Benefit Cosmetics Reviews from Customers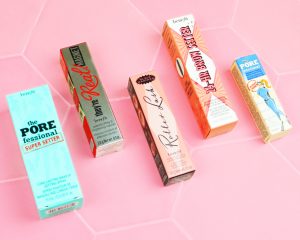 Benefit Cosmetics has a rather low customer rating from sites like Trustpilot and Sitejabber. Nonetheless, the brand still excels in many elements such as quality of products, customer service, returns, and value for money.
Shoppers are primarily impressed with the variety and quality of makeup they offer, plus its effectiveness. Many are happy with the color options available that suit a large customer base and how easy it is to apply these makeup products.
Popular Alternatives to Benefit Cosmetics
One positive review reads, " I love how natural their makeup looks on my skin. I use this every day and I feel safe with its ingredients because I never had any irritation. Big fan here."
Unfortunately, as with any other business, there are highs and lows. Some customers expressed their concerns over how long delivery took plus how pricey the products were. Here are two negative customer reviews.
"The biggest annoyance was the shipping time. It took forever to ship and by the time they used the slowest mailing service (smart post) it took almost 3 weeks to arrive. The customer service lady constantly talked over me when I tried to inquire about my package. When it arrived, it didn't even come in a box. It came in a bubble mailer with light padding despite there being blushes and other sensitive items."
" I wouldn't recommend it. I purchased some items for a birthday present and paid for a 2-3 delivery. It's 8 working days later and they still haven't arrived. By this point I've already had to buy another present – waste of time, wouldn't recommend."
All in all, the brand received a lot of positive reviews over negative reviews which means the brand is still worth a try and with a few tweaks, they could be at five stars. Read all about our review of the Balm vs Benefit Cosmetics.
Sign Up for Benefit Cosmetics
Create a new account with Benefit Cosmetics by simply adding your details like first and last name, email address, and password. As a subscriber, you get all the updates on offers, events, and news about the brand. Plus, you get first dibs on new products and online purchases.
Where to Buy Benefit Cosmetics
You can purchase their products directly on their website. From their website, you can also find a store closest to you seeing as they have tons of stores in many countries. What's more, you can get their products from other stores such as Sephora, Walmart, Macy's, and Ulta Beauty.
Lastly, you can easily book a service at their boutique.
Benefit Cosmetics Shipping and Return Policy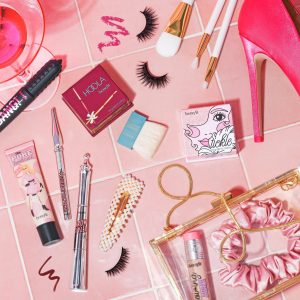 Benefit Cosmetics offers free shipping on orders over $50 with estimated shipping days ranging from 3 to 10 business days including processing and carrier transit time. For orders less than the threshold ($50) you'll pay a shipping fee of $5.95 and if you'd like 2nd day or overnight deliveries, you'll have to pay $9.95 and $16.95 respectively and wait for 2 to 4 business days for delivery.
Note that if you want your order to be processed the same day for either the 2nd day or overnight deliveries, you must place your order before 1 pm US Pacific Time. Also, there are no expedited shipping methods to Hawaii, Alaska, P.O. Boxes, or APO/FPO/DPO addresses. Instead, you'll have to wait for 5 to 7 business days or more for delivery.
The brand also ships to military and diplomatic addresses via USPS and the estimated delivery time is 4 to 7 days for local shipments and 7 to 10 days for international shipments.
Lastly, for deliveries to Hawaii, Alaska, or across international waters, the brand can't ship some cosmetics like mascara since the U.S. The Department of Transportation requires some exports to only ship via ground transportation.
Returns
As for returns, first note that if your order is shipped via forwarding companies, there can be no returns if the product is lost, damaged, or defected in transit. The brand will therefore not replace nor refund any product.
If you'd like a refund, you can only return a product 30 days from the shipping date. The refunds will be credited to your original mode of payment less other fees like shipment, handling, and wrapping charges. Non-returnable goods include used products, products not bought directly from their online store, and sale items or gift certificates.
For all your returns, you'll first have to fill in the return form present in your original order. Then place the form inside the returns package alongside your return merchandise, the original receipt,  and contact information like phone number and email. Send the return to:
 Benefit Cosmetics
Attention: Online Returns
11500 80th Avenue
Pleasant Prairie, WI 53158
For easy tracking and insurance purposes, ship your return with a service that offers to track.
When your returns arrive at their warehouse, you should receive a confirmation email after which you'd have to wait for 2 to 3 weeks for the refund to be credited to your account.
Benefit Cosmetics Promotions & Discounts
Just like many other brands, Benefit Cosmetics has seasonal offers such as weekend sales, Valentine's sales, Christmas and Easter offers, plus many more.
They also offer student discounts of 10%. The student discount, also known as student Beans allows you to use a discount code at checkout to get 10% off your order. To qualify for this discount, you'd have to register and verify your student status with Student Beans for free.
Contact Benefit Cosmetics
You can contact Benefit Cosmetics Customer Service via email at  [email protected] or via call at 1-800-781-2336. Call times are actively Monday to Friday from 10 am to 6 pm EST.
In case of other questions or inquiries, you can reach to PR and social media via the contact form on their website, and you can also contact the North American wholesale store at [email protected]
Benefit Cosmetics Review: Editor's Verdict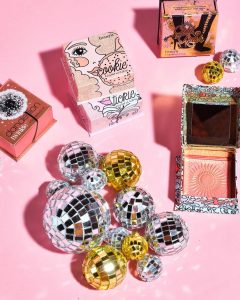 From the in-depth benefit cosmetics review above, we can say that the brand is worthwhile spending on. They offer great beauty solutions by developing authentic products that are both innovative and customer-oriented.
Being in the industry for over 40 years, they have become leaders in the industry which makes them well-accepted by customers. Even with its downsides, the brand continues to offer high-quality products, great customer service, and excellent returns and shipping policy, plus they're readily available in over 30 countries.
If you want to buy a product from them, we should highly advise you to do so as it will be value for your money.
Looking for more ways to build your makeup routine? Check out these cosmetic reviews of Charlotte Tilbury, Beautycounter, Cover FX, and Beauty Heroes.
Benefit FAQ
Does Benefit Cosmetics Offer Discounts/Samples for Makeup Artists?
Yes, the brand has an exclusive program called Benefit PRO where beauty professionals like makeup artists, aestheticians, and cosmetologists can get samples and discounts on their products. More information about the program such as the available discounts, membership applications, and much more is available on their website.
Are Benefit Cosmetics Products Hypo-allergenic?
The brand doesn't test nor claims that their products are hypo-allergenic or non. If you may have allergies or an allergic reaction, be sure to first review the ingredients list on the product page and consult with your physician to determine if the product is suitable for your skin.
Are Benefit Cosmetics Products Gluten-free?
Gluten on cosmetic products is unlikely to cause adverse reactions to the skin nor have such reactions been verified to be true as gluten can't be absorbed through the skin. Nonetheless, the brand does have policies in place to reassure customers on the gluten issue.
First, they don't formulate their products with gluten as one of their ingredients and second, they only use high-quality ingredients derived from grain sources.
On the other hand, despite these policies, gluten may be present in the product as it's a constituent of some raw materials used to make cosmetics. Therefore if you're gluten intolerant, available products are derived from grain sources such as wheat (Triticum Vulgare, Secale cereale, Avena sativa, and Hordeum distichon).
Does Benefit Cosmetics Test on Animals?
No, Benefit Cosmetics doesn't test on animals.