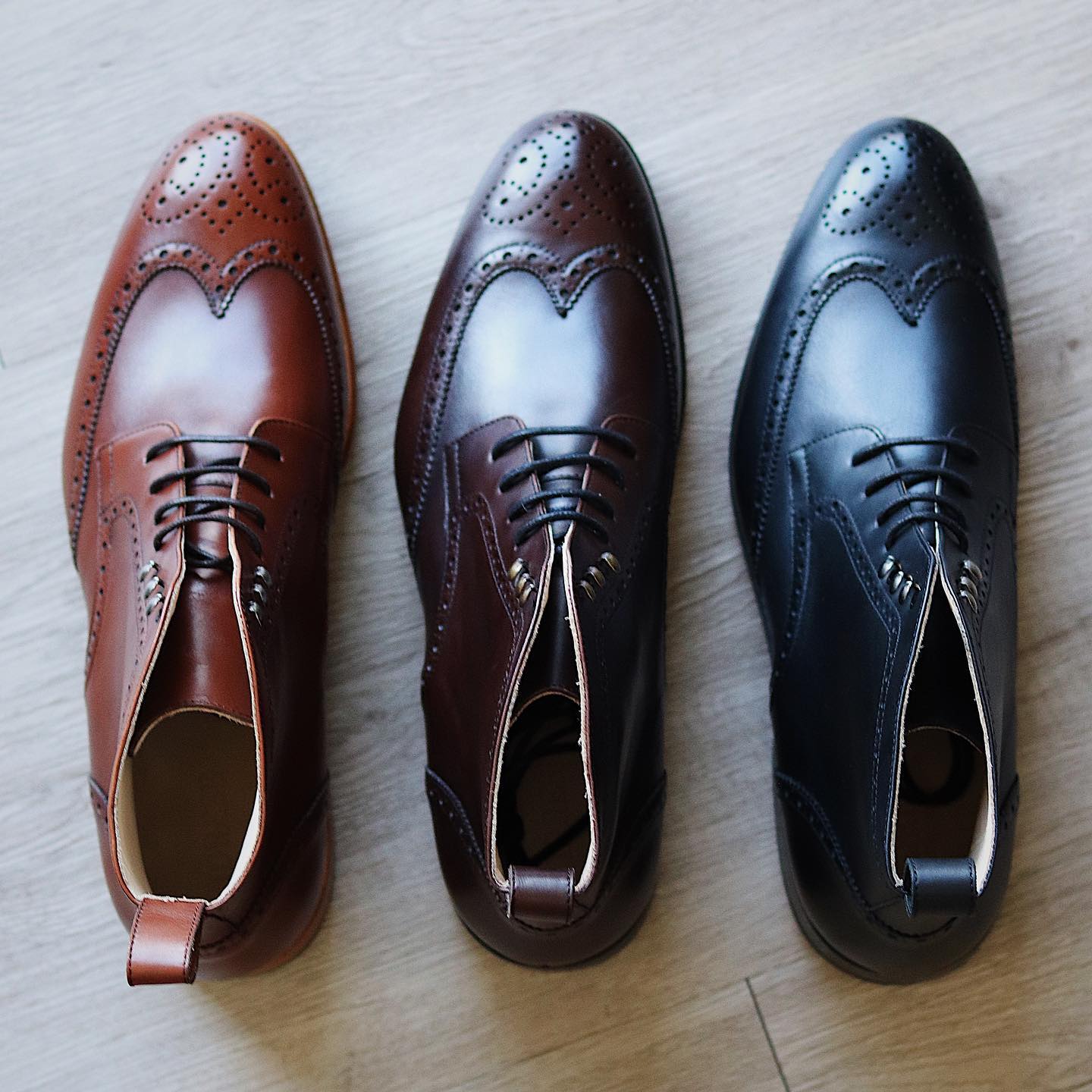 Despite repeated warnings not to judge books by their covers, appearances are often the main factor in first impressions. Furthermore, shoes are one of the first things people observe about appearances. Technically, people always look out for things they know best, and shoes are common enough that almost everyone recognizes quality. This is why mens dress shoe brands go out of their way to make the best footwear.
The way these brands (and fashion enthusiasts) see things, a stylish dress shoe completes the clean look/appearance after picking out a suit, shirt, or tux for an event. Many people look for answers in designer mens dress shoe brands, and they are not wrong to do so. Such brands represent the height of comfort and style. Unfortunately, these designer shoes always seem to be expensive. That doesn't go down well with us and some brands on our list. Therefore, we have collated a list of the best mens dress shoe brands for you to complete your look.
10 Best Mens Dress Shoe Brands
We have consciously tried to highlight brands with different approaches to the shoemaking business. Within our list, you'd come across mens dress shoe brands with different focuses; luxury, affordability, Custom-designing and fitting, etc. So read through, take note of brands that catch your fancy, and check them out when you need a new dress shoe.
1. Barker Shoes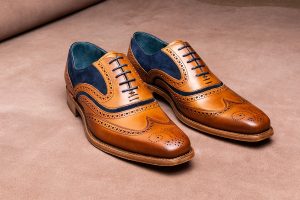 Oxfords, loafers, you name it; chances are Barker shoes have it, but the best part of their business is they are one of the most comfortable mens dress shoe brands. In other words, with barker shoes, you get quality, versatility, reputation, and comfort in one brand. But, of course, such a combination of business virtues takes years to develop, and Barker has nearly 140 years of experience to call on.
Founded in 1880 by6 Arthur Barker, the Barker brand started as a small family business. Still, innovative thinking and outstanding product quality have seen it become a global superpower in the shoemaking business. However, such a rise in fortunes and popularity hasn't disconnected the company from its roots. Barker is still based in Northamptonshire, close to where Arthur Barker's Journey originally started.
Today, Alan Pringle is the Barker CEO. However, the innovativeness that guided its rise is still the company's driving force. This is evident in the sustained durability and style of their shoes. Suppose you are keen to experience the quality of Barker's shoes firsthand. In that case, some good pieces to try are the Barker shoes Slip-on Loafers, the Calder Barker Boots, or the Oxford-style Winsford Barker shoes. Although their position in this article intends to highlight the quality of their men's shoes, Barker has female footwear on offer, and you would do well to check them out.
2. Clarks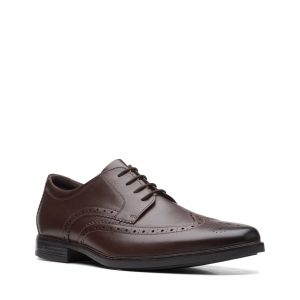 The quality of Clarks is rarely ever in question. They have been in the business of making shoes for so long that in a few years, the brand would be 200 years old. That's a long time in any business, especially in shoemaking (where trends change quickly). In that time, Clarks has learned a lot about catering to people's needs and developing the right Values. The former is why they are one of the world's top rated mens dress shoe brands, while the latter drives them to be sustainable.
There's a lot to digest on the sustainability front because everything is a valid consideration, from their attempts to facilitate increased diversity to their sourcing for eco-friendly leather. The company also partners with UNICEF to support the education of vulnerable kids.
Let's get back to shoes and how Clarks caters to the footwear needs of men, women, and kids. According to the company's website, its archives contain over 22,000 shoe styles. Obviously, that's too much for us to cover, but we do have some styles that should be welcome additions to the wardrobe of a modern man. These are the Oliver Wing Leather shoes, Pilton Strap sandals, the iconic Desert Boots, and the more modern Trigenic Flex shoes.
3. Magnanni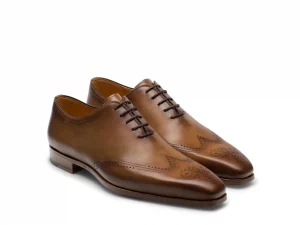 Magnanni sounds Italian, but the company is Spanish. Specifically, the company's roots lie in Almansa, Spain, where the company began operations in 1954. The Magnanni shoemaking business is a family enterprise through and through, with the founder (Sebastian Blanco) passing the reins on to his son (Pasqual Blanco Martinez). The latter has, in turn, passed it on to his children. As such, this is the third generation of Blancos to still own and control the Magnanni brand, a family operation through and through.
So far, the company has survived and thrived by sticking to its painstaking but crucial shoemaking process. This is the bedrock of their quality and why they are an expensive mens dress shoe brand. There has also been veritable adaptability over the years. What started as a small operation with five workers nearly 70 years ago is now a brand offering thousands of shoes in many different styles.
Having said all these, you can start your shopping from Magnanni by filtering for styles or collections. Some of the most prominent collections to exit the Magbnanni factories include the Artesano and Ottawa collections. Shoes within the Magnanni collections encompass many conventional styles and come in many colors. Alternatively, you can browse the company catalog and filter shoes for colors, primary manufacturing material, style, size, sole, etc.
4. Johnston & Murphy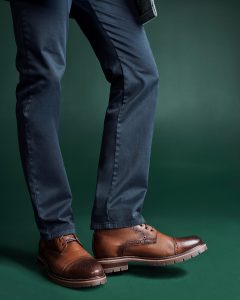 Johnston Murphy is another mens dress shoe brand that has been in the business for a long time. William. J. Dudley started the company in 1850 and named it after himself but James. J. Johnston and William. M. Murphy changed the name 36 years later after they took over. Impressively, they have the enviable distinction of having made custom-designed shoes for every POTUS since President Fillmore. The brand launched its first female collection in 2008 and went international in 2010. However, they are still most popular for men's shoes.
Evidence of their quality lies in the diversity of their collections and the brand's adaptability to whatever times they find themselves in. A prime example of these qualities is in the various designs they have made for past presidents and how those classic shoes differ from their more modern pieces. Some of their modern dress shoes to look out for are the Conard Saddle, the oxford-styled Melton Cap Toe, and the McGuffey slip-on.
All the shoes mentioned earlier are available in multiple colors, styles, and (in some cases) materials. As expected of a 150-year-old brand, with presidents among their clientele, Johnston & Murphy is a top-rated mens dress shoe brand worth trying.
5. Rockport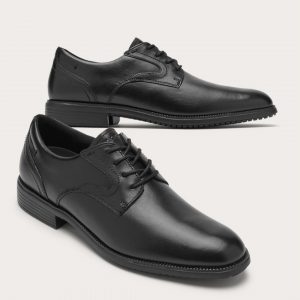 This is one of the best mens dress shoe brands, but like most of the others on this list, they deal in a variety of shoe types and styles. In fact, the Rockport website and online shop allow prospective buyers to filter shoes by style and occasion. Alternatively, you can check out their best sellers. The company sings the praises of its best sellers, pointing out their durability, style, and waterproof nature as reasons why they are so highly regarded.
In a way, the qualities they are so proud of in their shoes are present in the origin story of the company. Rockport can trace its beginnings to the Hubbard Shoe Company in 1930 New Hampshire. However, things were not always easy, and it took persistence from Saul Katz (the founder of Rockport) to get things rolling. Following the company's successes in the 70s and 80s, ownership changed hands quite a few times. Yet, despite all this and some financial problems, the quality of Rockport Shoes has never wavered.
Such quality is why Rockport footwear is still ideal for men (and women) looking to look good. The range of shoes they provide is also encouraging, and prospective buyers can consider some of their loafers, mules, sandals, or sneakers.
6. Idrese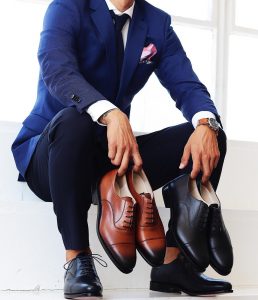 As with some of the mens dress shoe brands on this list, the Idrese story is one of disgust with retail markups on shoes. The brand agrees with the collective male love for luxurious footwear but disapproves of how most retail outlets exploit men in their chase of a clean, modern look. The solution, obviously, was to set up a more pocket-friendly brand. However, the approach stands out; visiting 30 independent European workshops in 6 countries over three years.
The fruits of the process have been the root of Idrese's success. The company boasts that it uses the best materials, eliminates extra costs, and provides quality shoes. In their words, no need for "flashy, celebrity-driven marketing campaigns" when the quality is obvious. Furthermore, they are committed to having everyone enjoy this quality and, to that effect, allow customers to custom-design their ideal shoes if they so wish.
Alternatively, you could purchase some of the shoes in stock. The Idrese best sellers are the Escobar Chelsea Boots, the Andre Loafers, the Morgan Monkstraps, the oxford-styles Arrington, etc. The first glance at the Idrese website tells you all you need to know about this brand; its rows and rows of quality dress shoes as you'd expect of a top mens dress shoe brand. However, Idrese also stocks up on footwear that facilitates a more casual look when necessary.
7. Allen Edmonds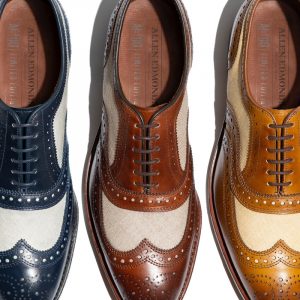 Allen Edmonds might be one of the more expensive mens dress shoe brands, but it certainly doesn't shirk from providing value. From selling shoes and making custom shoes to even helping with shoe care, the brand does everything to guarantee quality, long-lasting footwear for men.
Having been founded in 1922 by Elbert. W. Allen, Allen Edmonds came into the industry with innovation in mind. At the time, shoemakers used metal nails and shanks in footwear, but the company prioritized comfort and started using responsive cork insoles instead. This innovativeness still holds today, and evidence of that is present in the company's online journal.
The dress shoes for which they are on this list even possess a separate page of their own. You could admire (and purchase) some of their best sellers on this page, including the Park Avenue Cap Toe Oxford and the Strand Cap Toe Oxford. These shoes have been around for a couple of decades but are still best sellers.
However, as we pointed out earlier, you don't always have to be buying shoes; you could simply care for the ones you have. Allen Edmonds offers a range of shoe care products to that effect. In addition, if your shoes are too far-gone, and you can't buy brand new ones, there are also recrafted shoes to buy. In summary, Allen Edmonds has something for everyone, including Custom designed shoes, if those are what you want.
8. Oliver Cabell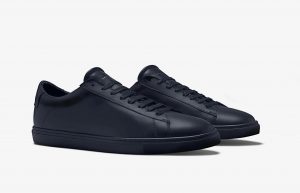 The first things you come across on the Oliver Cabell homepage are the names of respectable media publications to feature them. There is Forbes, GQ, Maxim, etc. The list is a silent endorsement of this footwear brand as a force in the footwear industry. Their presence in our list, however, is because they are arguably one of the most comfortable mens dress shoe brands in the business.
Considering the Oliver Cabell brand started in 2016, all of the media attention and sales success it has enjoyed so far is impressive. Even more impressive is that all of this came about despite the founder, Scott Gabrielson, lacking any fashion, retail, or start-up experience. Their success has proven to be our gain, and Oliver Cabell's shoes are quite affordable.
Affordability, though, hasn't detracted from the quality of the footwear on offer. The company claims to use high-quality materials, namedropping margom soles and eco-friendly Italian leathers to prove its point. Some of their current best sellers include the Low 1s and Vegan 481. If you move to purchase these fast enough, you could benefit from a promo code discount.
Luckily, all of this footy goodness isn't limited to the men alone; the brand also sports footwear for females. So this could be a nice choice for gifting a special (female) somebody even if you are not looking to purchase something personally.
9. Wolf and Shepherd
This particular shoe brand doesn't lack style but is clearly swinging for durability with its approach and pitch. According to the Wolf and Shepherd website, the idea behind the company was to provide professionals with quality footwear "that keeps up with them.". So how do they achieve this? They have two phrases for us: athletic innovations and Italian leather. We can't say we have ever seen both phrases share a sentence, but they sound interesting side by side.
If the description is anything to go by, wearing Wolf & Shepherd footwear is equivalent to rocking a dress shoe/sneaker hybrid. They guarantee that their materials are of the highest quality and are confident enough in their process to share a video of their manufacturing. However, when we started reading about instant memory foam and running shoe technology in mens dress shoes, they sealed the deal with us.
You can start with any of the collections on the website, but we found the Swiftknit Derby and Loafers quite intriguing. We feel like we should have a complaint to point out, but they have Gronk on their homepage, and he has swag. So, what else can we say?
10. Becket Simonon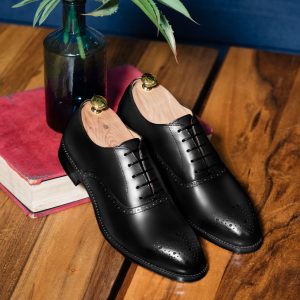 There are many companies and brands that started in their line of business to produce affordable goods, but few have origin stories like Becket Simonon. After seeing how retail stores overpriced the products from their leather goods business, this brand's co-founders decided to bring dignity and affordability back to the shoemaking and selling business. To do so, Becket Simonon manages all aspects of their production, works by order, and only sells online.
As a result of their approach, the brand is known for crafting high-quality handmade shoes to specifications. Manufacturing and selling n this way ensures that they have full control over the pricing of their footwear. The process for buying is simple; you visit the company's website, browse their catalog to select a design, and send in your order. Customers receive updates during the production process, and at the end, they get their shoes delivered straight to their doorstep.
The uniqueness of the Beckett Simonon approach is why they are one of the best men's shoe brands you can patronize, especially when you consider that they back it up with the promised quality and durability. Their best sellers so far are the Dean Oxfords, Hoyt Monkstraps, and Nolan Brogue Boots, among others. But, as we said, they have a catalog (that is still growing), so your options aren't necessarily limited to the above best sellers.
Best Mens Dress Shoe Brands: Editor's Verdict
Though some of the brands on our list have recent origins, they all have a reputation for producing quality, durable footwear. Those were our criteria for inclusion, and now the onus of making purchasing decisions falls on you. We hope this piece serves as a worthy guide and you look to upgrade your dress shoe game. Ciao!
Check out the best shoes for men like Thursday Boots, Birdies, Atoms, and APL.