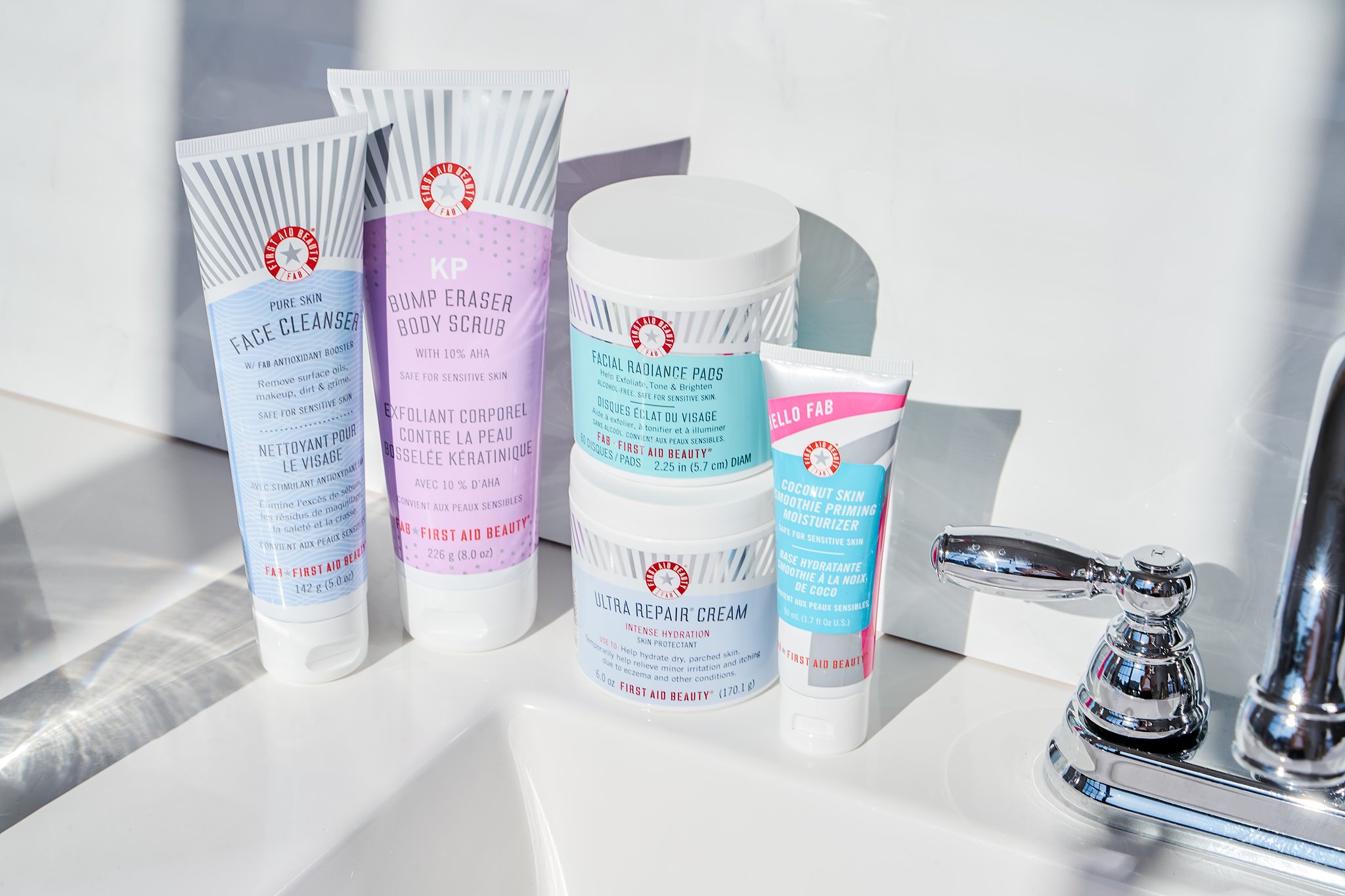 We could begin and complete this review by focusing on platforms that featured the brand, but that wouldn't do the products justice. A brand that has been featured by CNN, New York magazine, Vogue, and Allure, among others, has to have some merit to it. These First Aid Beauty reviews aim to determine whether these glamorous features are actually justified. To achieve this, we would be looking at the brand origins, some of their products, and what their customers have had to say about them. Keep reading to learn all there is about the First Aid Beauty brand.
About First Aid Beauty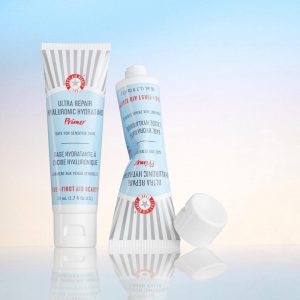 Lilli Gordon founded First Aid Beauty in 2009, but she had quite the career before then. She co-founded, worked, and been an important cog in multiple businesses and companies. It was only natural that she started her own brand, but Beauty products? Yes, that might not be the conventional idea of a businesswoman in her 50s, but she has proven her instincts to be spot on.
Since then, she hasn't been shy about the motivations of the startup. Apparently, she was one of many people who felt that smelling wonderful and having a nice texture doesn't equate to a good beauty product. However, rather than simply complaining like the overwhelming majority, she set out to do something about it. First Aid Beauty set out to effectively meet skin challenges and has largely achieved that.
Today, their products are available worldwide and are distributed in the US, Canada, China, Singapore, Malaysia, Australia, U.K., New Zealand, Hong Kong, Korea, and the E.U.
This prestige skincare brand has multiple collections to meet common skin challenges. Still, skincare was never intended to be the end game. In the last decade, much headway has been made in the skincare/make-up hybrid space. For its categorization as a luxurious skincare brand, though, First Aid beauty products are priced for affordability. It might help its sales that the acronym of the brand spells FAB. It is also regularly regarded as FAB by its founder and people associated with its products.
More about First Aid Beauty
From the beginning, the potential for success was obvious in FAB, and this contributed to distribution deals with prominent retailers like Sephora and QVC. In 2018, the brand was acquired for an estimated $250 million by Procter & Gamble. Lilli wanted to sell because of the benefits it could do to the reach of FAB. So far, so good; the decision has proven to be the right one. Investors were satisfied, she stayed on as CEO to keep leading the company, and the FAB brand continues to thrive.
Back in the beginning, FAB was able to boast of being among the first clean brands in skincare. Today, they are more than that. The company has grown, and many independent First Aid Beauty reviews proclaim it a leading skincare/make-up brand.
Pros
The brand has multiple collections to combat common skincare problems
First Aid products are free from common allergens
The company offers free standard shipping for customers in the U.S.
Cons
The company doesn't offer international shipping services
There have been reports of some customers suffering some adverse effects
First Aid Beauty Products Review
We have pointed out the recognition that FAB has gotten from many reputable brands and news outlets. First Aid Beauty's use of natural ingredients and solutions has been discussed. Now, it's time for our review to touch on specific products of the brand.
Below are some popular FAB collections. The reviews accompanying them would look at what makes the products within them effective, the effects they are intended to possess, and the notable ingredients of note they contain.
First Aid Beauty Moisturizers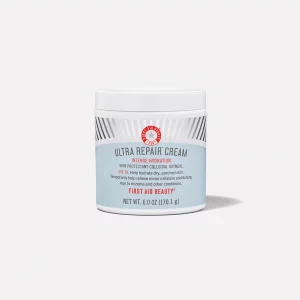 First aid beauty offers a moisturizing solution for many skin types. These solutions are advertised s being capable of softening skin. Of these solutions, the First Aid Beauty Coconut Water Cream and the First Aid Beauty Tinted Moisturizer are popular options.
Both moisturizers can be included in a skin regimen or used independently. In both situations, they represent a good choice for improving skin hydration. The coconut water cream also popularly incorporates coconut water into its formula for the nourishment of the skin. Some other FAB moisturizers use Cranberry, Vanilla, grapefruit, pear, plum, etc., to spice up the product.
First Aid Beauty Serums and Treatments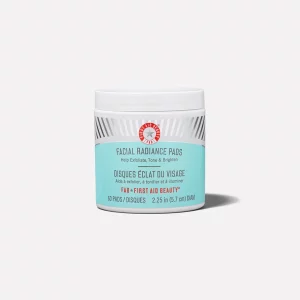 It's very hard to find a skincare product that effectively tackles specific skin issues without bringing with it some adverse reactions. These face serums aim to do exactly that with their formulations. They are intended to be appropriate for all skin types, including sensitive ones.
As regards ingredients, FAB face serums utilize ingredients such as colloidal oatmeal, retinol, Hyaluronic Acid, and Niacinamide. Niacinamide is especially present in the First Aid Beauty Niacinamide serum intended to help customers deal with dark facial spots. Other FAB face treatments are the Ultra Repair Hydrating Serum, Pharma BHA Acne Spot Treatment Gel, First Aid Beauty Anti-Redness Serum, etc.
First Aid Beauty Eye and Lip Care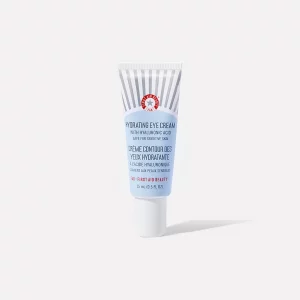 Protecting, nourishing, and repairing the skin is part of the FAB goals this brand preaches. But there are also products to help care for the lip and eyes. These products are intended to help with lines around the eyes, while those for the lips hydrate and nourish them.
Two of the First Aid Beauty Eye Creams are the 5-in-1 eye cream and the Eye Duty Niacinamide Brightening Cream. If lip care is your major concern, the Ultra Repair Lip Therapy and Ultra Repair Intensive Lip Balm. That said, there are other products in this collection worth checking out.
First Aid Beauty Make-up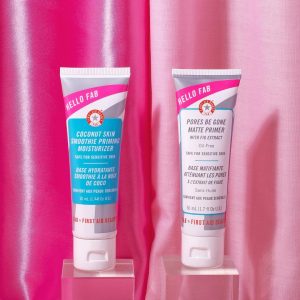 We pointed out that skincare is not the only area of importance for this brand. Some inroads have been made into the make-up space as well. The make-up collection includes the First Aid Beauty primer, tinted moisturizers, and other make-up prep products.
An example of a product in this collection is the FAB Coconut Skin Smoothies Priming Moisturizer. This, along with some of the others, help reduce oiliness and hydrate the skin in preparation for make-up application. There's also the 2-in-1 Cleansing Oil + Make-up remover to cleanse your face and help the skin breathe afterward.
First Aid Beauty Sun Protection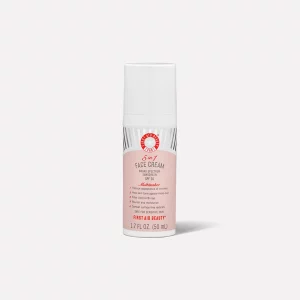 No skin routine collection is complete without sunscreen. First Aid Beauty strives to meet the needs of conscious customers, and they stock up on sun protection products for this reason. The 5-in-1 Face Cream SPF, for instance, combines sun protection with anti-aging.
However, another line of products that comes in handy for sun protection is the Ultra Repair Tinted Moisturizer SPF 30 line. Whichever First Aid Beauty Sunscreen product you settle for, protection from UV-A and UV-B rays has been promised.
First Aid Beauty Reviews from Customers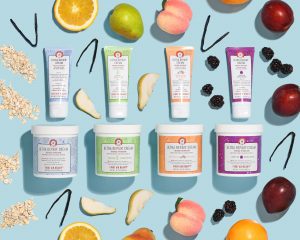 The products themselves seem okay on the surface, but we can't possibly try everything in every collection. The few we've laid our hands on have ticked many quality-related boxes, but we also have to hear from other customers to build a complete portrait. We delved into online customer reviews of other First Aid Beauty vegan products.
For starters, no product in the Face Serum and Treatments collections had average ratings less than 4 stars. That's something considering that the total reviews for that collection are well above 4000. The ratings for the moisturizer collections are also similar. In fact, all of their collections reviewed above are highly rated, with no product having less than 4 stars.
Specifically, the reviews generally pointed out that quality wasn't an issue. The most reviewed product of the make-up collection, the FAB Coconut Skin Smoothie Priming Moisturizer, was praised by most users. However, a few customers pointed out allergic reactions and poor performance. The allergic reactions were most likely due to uncommon allergens in the formulation. At the same time, the performance could have been affected by skin type.
Popular Alternatives to First Aid Be
Further customer reviews
The Ultra Lip Repair Therapy was the most ranked product of the Eye and Lip Care products. There was a lot of praise for its effects on chapped and dried lips. Some reviewers, though, pointed out inconsistencies in quality, and one particular customer complained of the product leaving a white residue behind.
The 5-in-1 Face Cream SPF 30 had 99 reviews among the sun protection products. Seventy-two of them were 5 stars, nine were 4 stars, and only seven were 1 star. Obviously, that's mostly positive reviews, but some buyers experienced breakouts and allergic reactions. In contrast, others felt the product was sticky and sometimes inconsistent in quality.
The same trend was seen across all collections and reviewed products. There were a lot of positive reviews and a few negative ones. Though the company puts a lot of effort into avoiding common allergens, the uncommon ones apparently caused issues for some buyers. More importantly, though, were inconsistencies in quality pointed out by repeat long-term customers.
Sign Up for First Aid Beauty
The signing-up process isn't a hassle and is rather straightforward. You need to provide a first name, last name, email address, and password. Along with signing up, you are also agreeing to their email newsletters. You would also be eligible to receive a 15% discount on your first order.
Where to Buy
If you're looking to buy any First Aid Beauty Products, your first port of call should be the brand website. However, you could also get these quality skin care products from any of the following retailers:
Sephora
Ulta Beauty
Look Fantastic
Amazon
Walmart
Skin Store
ASOS
Dermstore
Nordstrom
QVC
Alternatively, you could simply use the FAB near you option on the website to find the nearest approved retailer. The website currently lists 2317 approved stores.
First Aid Beauty Shipping and Return Policy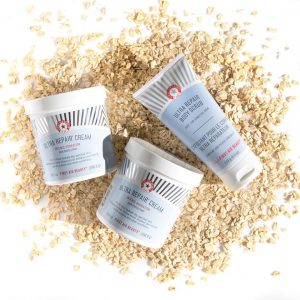 Shipping
First Aid Beauty shipping policies for the Domestic U.S. are as follows:
Purchase orders are processed from Monday to Friday every week
Orders made after 12:00 PM EST on active days would not be processed until the next business day
Standard shipping is free but takes 5 – 10 business days
Express shipping costs $15 and takes 3 – 5 business days for
Rush shipping costs $23 and takes 2 – 3 business days
Orders to Hawaii and Alaska are delivered within 8 – 12 business days, and the company doesn't provide expedited shipping to both locations. The same holds for orders to be shipped to Puerto Rico or any of the U.S. Virgin Islands (but such deliveries would incur a cost of $25).
As regards Canada, First Aid Beauty doesn't offer shipping services. However, Sephora does, and orders for FAB products can be made through them or at any of their physical retail outlets.
There are also no shipping services for international purchases. However, the brand website indicates that the company would help connect potential buyers with retailers that offer such services.
Return Policy
First Aid Beauty also offers a return policy on its products, albeit only those purchased from its online shop. Any products purchased from a retailer can only be returned to that retailer. The following are additions to the return policy:
You have time to return the items after 30 days of delivery
You cannot return individual items that come in kits, only the entire kit
If you have used up over a quarter of the products, it will not be eligible for return
Shipping and handling charges on the original purchase would not be refunded
Returns can be made via the buyer's preferred shipping method but at their expense
Articles and products lost during transit are not the responsibility of the brand
All returned packages are to be addressed to First Aid Beauty ATTN: RETURNS, 555 Gotham Parkway, Carlstadt, NJ 07072
Monetary refunds would be posted within 7 – 10 days after approval of the return
The brand reserves the right to validate or approve returns at their discretion
Finally, orders and refund status can be tracked through the website.
Promotions and Discounts
The following promos and discounts are currently on offer:
An opportunity to pay for an order in 4 interest-free installments, two weeks apart.
The choice to select 1, 2, and 3 deluxe samples alongside orders of $30-$74.99, $75-$99.99, and $100 or more, respectively.
Free shipping
Receive one full-priced scented 14 oz. Ultra Repair Cream Intense Hydration after making a purchase of the same item
Receive one full-size Hello FAB Coconut Skin Smoothie Moisturizing Primer (1.7oz) with orders totaling $65.00 or more
Use the promo code, CLEANSE, to receive a gift of a 2 oz. Pure Skin Face Cleanser with orders of $65 or more
Use the promo code, HYDRATE, to receive a gift of a 2 oz. Ultra Repair Cream with orders of $65 or more.
Before making a purchase on any of the above information, visit the website to check the terms and conditions of the promo.
Contact First Aid Beauty
Customer care is integral to ensuring a positive customer experience. With that in mind, First Aid Beauty is easily reachable by:
Leaving a message at 1-800-322-3619. You'll get a reply within 48 hours of the message.
Sending an email to [email protected]
Submitting a query on the brand's website. Such a query must include your name, email address, a topic, order number, and the comment or question you have.
First Aid Beauty Editor's Verdict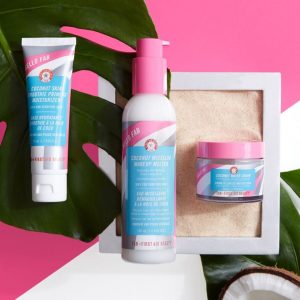 From the reviews and brand origins, it's easy to see that the brand is committed to quality skincare performance. Barring some hiccups and mishaps, they have delivered in line with their commitments. That said, we are rating them based on the following parameters:
Price: 7
Safety: 7
Quality: 8
Performance: 8
Overall rating: 75
Are you looking for other skincare brands that are reliable? Check out our reviews of Clinique, Blume Skincare, Maya Chia, and JLo Beauty.
First Aid Beauty FAQs
What is the philosophy of First Aid Beauty?
The philosophy of First Aid Beauty (aka FAB) is to combat common skin challenges for all skin types, even sensitive skin. This is done using head-to-toe essentials and feel-good solutions. These solutions are backed by FAB's scientifically-advanced, luxurious formulations designed to deliver immediate relief and long-term results.
Where is First Aid Beauty sold and manufactured?
First Aid Beauty products are manufactured in the United States. However, they are sold globally. The brand shop offers shipping services within the United States. International purchases would have to be made physically or via an order from FAB-approved retailers.
Is First Aid Beauty cruelty-free?
100%. The brand is a PETA-certified one and does not conduct animal testing. First Aid Beauty also doesn't do business with any ingredient suppliers or contract manufacturers that conduct or pay for tests on animals.
How First Aid Beauty remains cruelty-free if they sell in China?
With the help of PETA and regulatory experts, First Aid Beauty is allowed to sell its products within China without the need for animal testing. The following statement from PETA is confirmation of this fact:
"PETA is very pleased to have First Aid Beauty on our Cruelty-Free list, and we are happy to report that the brand will maintain its no animal test status as it expands to China. We've worked with the company to ensure that the products as manufactured and sold will not require tests on animals under Chinese government regulations." - PETA
First Aid Beauty products are gluten-free, oil-free, nut-free, or non-comedogenic?
Specific information about individual products is available on the product details pages. Additional questions on this issue can be addressed through an email to [email protected].