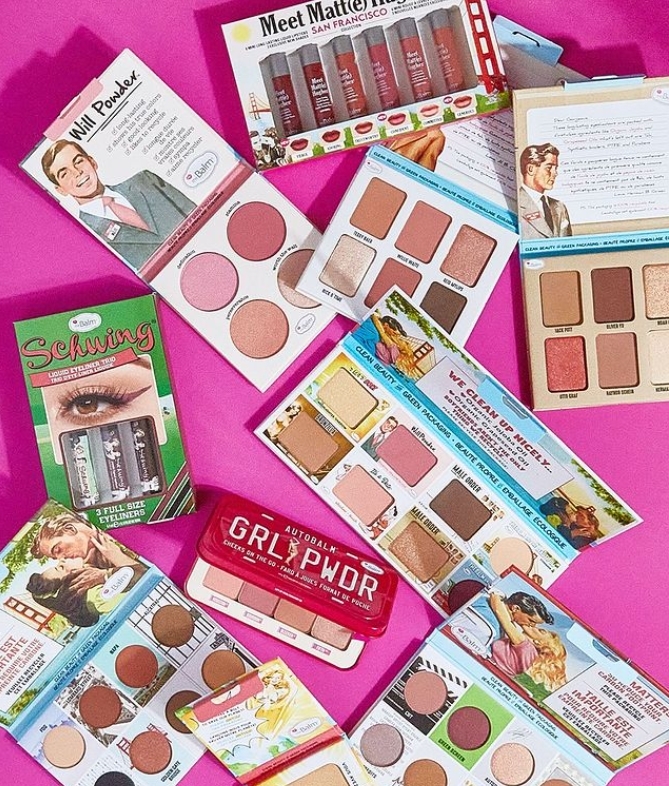 Located in San Francisco, CA, theBalm Cosmetics is a classy company with a slew of high-quality makeup, and its multi-use products have become the brand's calling card, ideal for women on the go. Reviews on the balm cosmetics show people love their products because they are effective, and the brand is known for its vintage-inspired packaging.
Since its inception in 2004, theBalm has been helping women look good within 5 minutes with its cruelty-free cosmetics that are gentle on their skins, eco-friendly, and don't contain animal ingredients. The philosophy of this company is to create makeup that inspires women to enjoy their lives while looking great, and the brand resonates with its clients by delivering cheeky messaging focused on women's empowerment.
Keep reading to learn more about theBalm Cosmetics to determine if its products are right for you.
About theBalm Cosmetics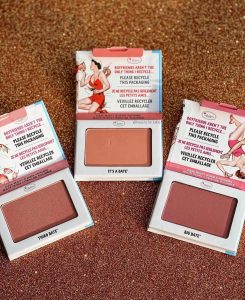 Marissa Shipman established theBalm Cosmetics after having trouble landing a job in the beauty and cosmetics industry. After realizing there were only a few simple products on the market that could make her look good all the time, she started by making products in her kitchen, with her first product being Plump Your Pucker.
She put the product in several stores, such as Kitson in Los Angeles, Fred Segal, and Henri Bend, and Cher purchased it, and InStyle featured it in its monthly women's fashion magazine as a result.
Today, Shipman's are sold in more than 100 countries in 3,000 brick-and-mortar stores, with two of them owned by theBalm — one located on Bedford Street in Stamford, Connecticut, and the other one in San Francisco. The company boasts a range of makeup, nail polish, hair care, and skincare products.
In a modern approach to beauty, the company has a first-of-its-kind tutorial service specializing in filming customer makeovers accessible online and an eye shadow bar that allows you to choose from a variety of palette designs and then customize the 9 or 16 shaded inside.
The company offers makeup with velvet textures, triple-milled pigments, rich colors, and anti-aging ingredients, and they are committed to creating superior cosmetics at competitive prices. The Balm makeup brand helps its customers to release their inner artists and makes them feel incredible. Keep on reading our reviews on the Balm cosmetics brand.
Pros
A wide range of cosmetics products to choose from
Their products apply well and smell nice
High-quality and affordable products
Cruelty-free products that don't involve animals during testing
Product names and packaging are fun and attractive
They offer a reward program that allows you to earn points
Cons
Not all products are vegan
Some international customers claim the delivery process is slow
You cannot return or exchange products you have purchased in bundles
They don't offer free samples
The Best Of The Balm Cosmetics
We investigated the best of the Balm Cosmetics products to find out their benefits, the ingredients they feature, and what makes them stand out from other products on the market.
Meet Matt(e) Hughes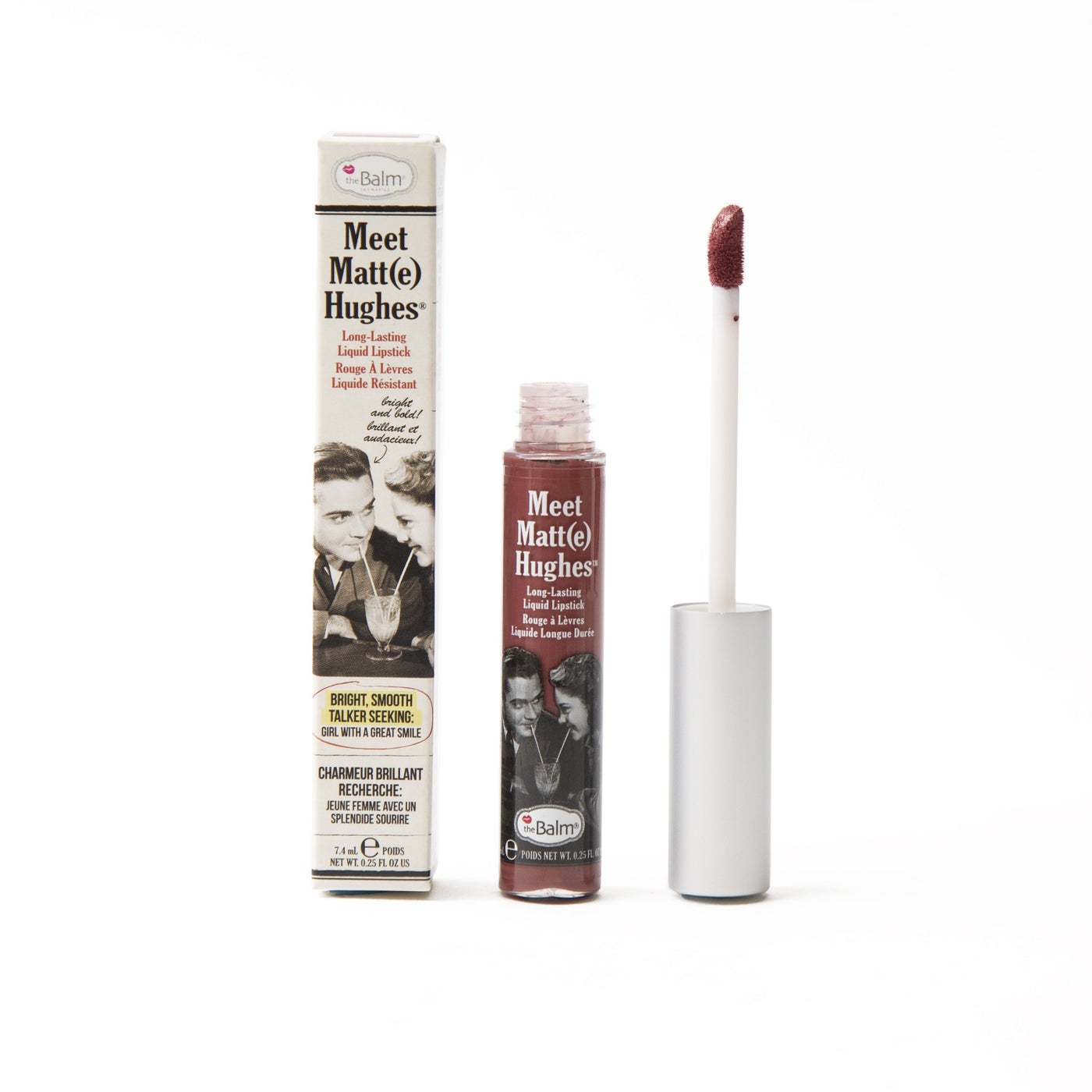 The Meet Matt(e) Hughes is a collection of liquid lipsticks available in 18 swoon-worthy shades. Online reviews on The Balm Cosmetics show that customers love its matte finish and long-lasting formula that makes you feel confident, particularly during special occasions, as you won't need touch-ups or frequently escape from other people in the room.
The product ensures your color stays true while helping you avoid being clingy. Meet Matt(e) Hughes also gives your lips a perfect look without using a lip liner, and it has high pigmentation that will give your lips an opaque look.
The product contains Isododecane, which helps create a matte finish, breaks down with ease for smooth application, and helps retain moisture; it also features Disteardimonium Hectorite, which provides excellent suspension for other ingredients in this product by preventing them from sinking.
Cyclopentasiloxane is another ingredient found in this liquid lipstick, and it improves the texture of its formulation and helps the product glide on evenly and smoothly. It also acts as a proactive barrier to your skin, protecting it from bacteria, allergens, and moisture loss.
Moreover, the product contains Isononyl Isononanoate, an ingredient that functions as a plasticizer, texture enhancer, and emollient. As an emollient, it softens your lips while acting as an occlusive agent to reduce transepidermal water loss. Trimethylsiloxysilicate makes this liquid lipstick long-lasting while polybutene dries and forms a thin coating on your lips and holds the ingredients together.
Available in 0.25-fl-oz bottles, The Meet Matt(e) Hughes features isopropyl myristate that strengthens your skin's natural moisture barrier to thicken the formulation, lock in hydration, and enhance the penetration of the other ingredients.
Mary-Lou Manizer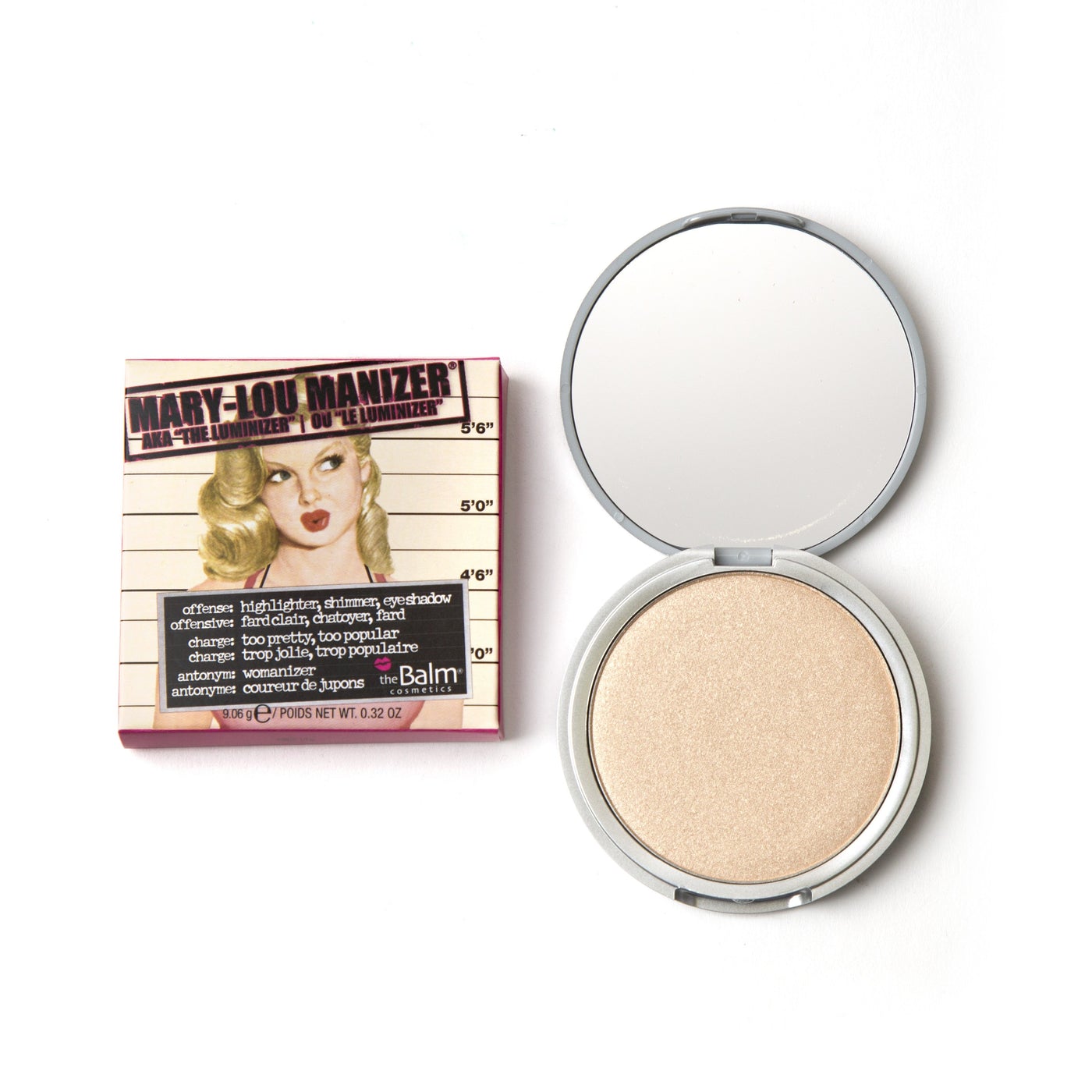 Mary-Lou Manizern is a blend of highlighter, shimmer, and shadow that makes your skin soft and gives you a more youthful appearance by enhancing your complexion and leaving your skin with a brighter, dewy glow. Reviews on the balm cosmetics reveal that customers like the product because it makes their eyes stand out and their cheekbones look more prominent.
The product contains mica, which creates a natural glowy look due to its sheer and light-reflecting properties that allows it to create the illusion of a softer, smoother, and more radiant skin tone. It also features Zea mays (corn) starch that provides a special powdery-dry, smoother skin after-feel, reduces perceivable stickiness, and helps control residual and immediate shine and oiliness.
Because it contains Kaolin, this ingredient absorbs sebum and prevents your pores from clogging by drawing out toxins and impurities from the pores. Additionally, Mary-Lou Manizer features Octyldodecyl Stearoyl Stearate, which increases the thickness of lipid in the product and slows water loss from your skin by forming a barrier on its surface.
The Boron Nitride found in Mary-Lou Manize has a hexagonal crystal structure that provides a good slip, silky and smooth feel, and excellent skin adhesion properties, allowing the product to stay on your face for long periods. It also contains Hexylene, a surfactant that helps moisturize and cleanse your skin and thins out the formulation to improve texture and absorption while allowing the other ingredients to work better.
Suitable for all skin tones, Mary-Lou Manizer is talc-free and paraben-free, and it is available in an 8-gram container with user-friendly packaging.
Schwing® Black Liquid Eyeliner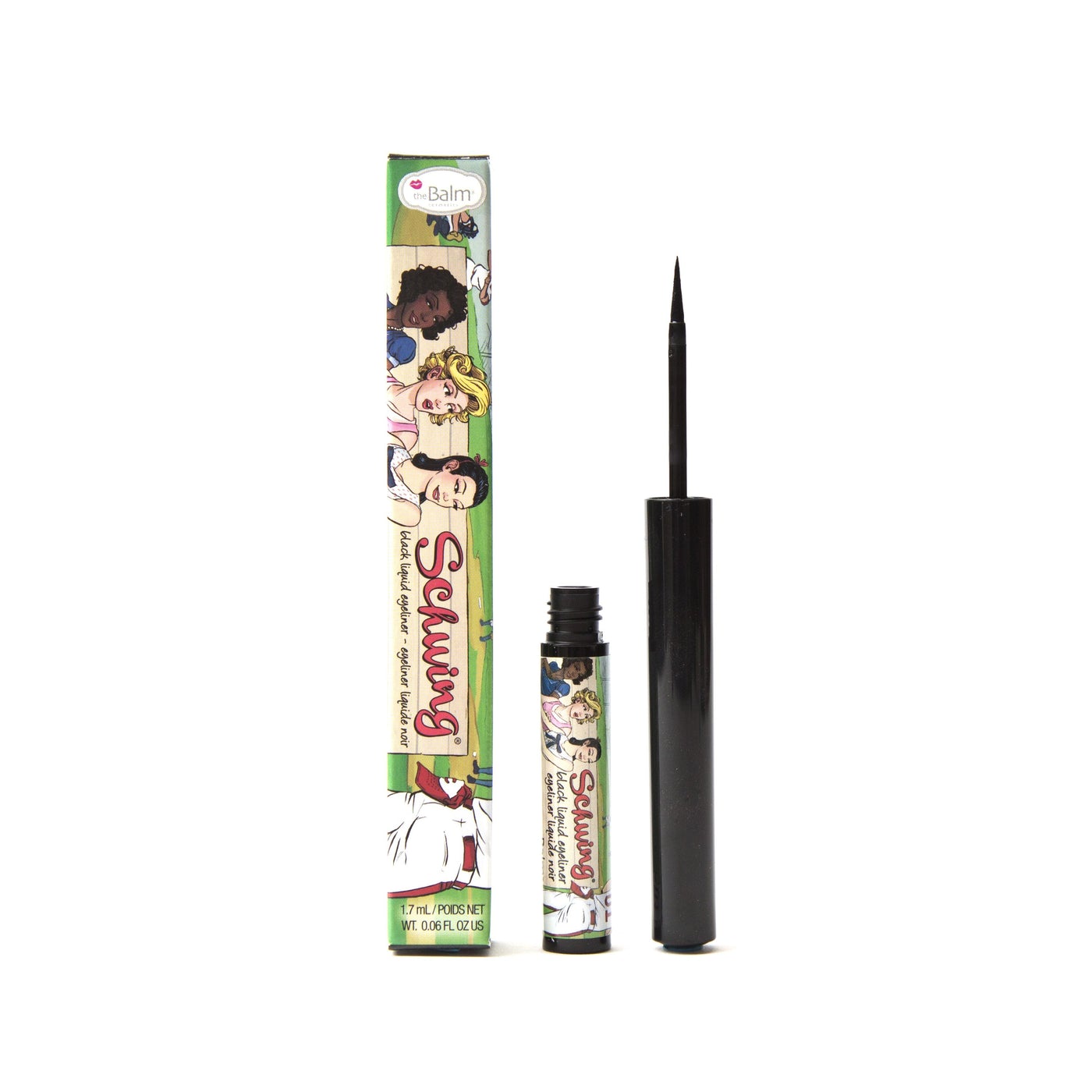 Built with a thin, tapered felt-tip applicator, Schwing Liquid Eyeliner gives users a sharper and intense look. This liquid eyeliner offers longevity because it is smudge-proof once it dries, which only takes 30 seconds to dry after application.
When it comes to Schwing Liquid Eyeliner, precision is a keyword as it can enhance the shape of your eye, leaving it looking lean without requiring shadow. You can also create a range of looks with this liquid eyeliner using your eyelid and below your eyes, and applying it is a breeze because it flows naturally onto your eyelids.
Schwing Liquid Eyeliner contains denatured alcohol, which can penetrate your eyelid and the surrounding skin, leaving a fresh, clean sensation. It also features glycerin, a substance that allows your eyelids to retain moisture and also relieves dryness, increases skin hydration, and softens and refreshes the skin on the outer surface of your eyelid.
Additionally, the product contains pullulan, an ingredient that provides an instant skin-tightening effect while adhering to the thin fold of skin covering your eye, as it can quickly form a thin film that improves the appearance and texture of your eyelid.
The xanthan gum found in this product binds together the other ingredients and moisturizes your eyelids. On the other hand, citric acid was used in this liquid eyeliner because it is safe for all skin types and helps your eyelids become smoother.
Available at a pocket-friendly price, Schwing Liquid Eyeliner comes in a 1.7-ml bottle, and it's suitable for those who want to create winning looks.
Anne T. Dotes Primer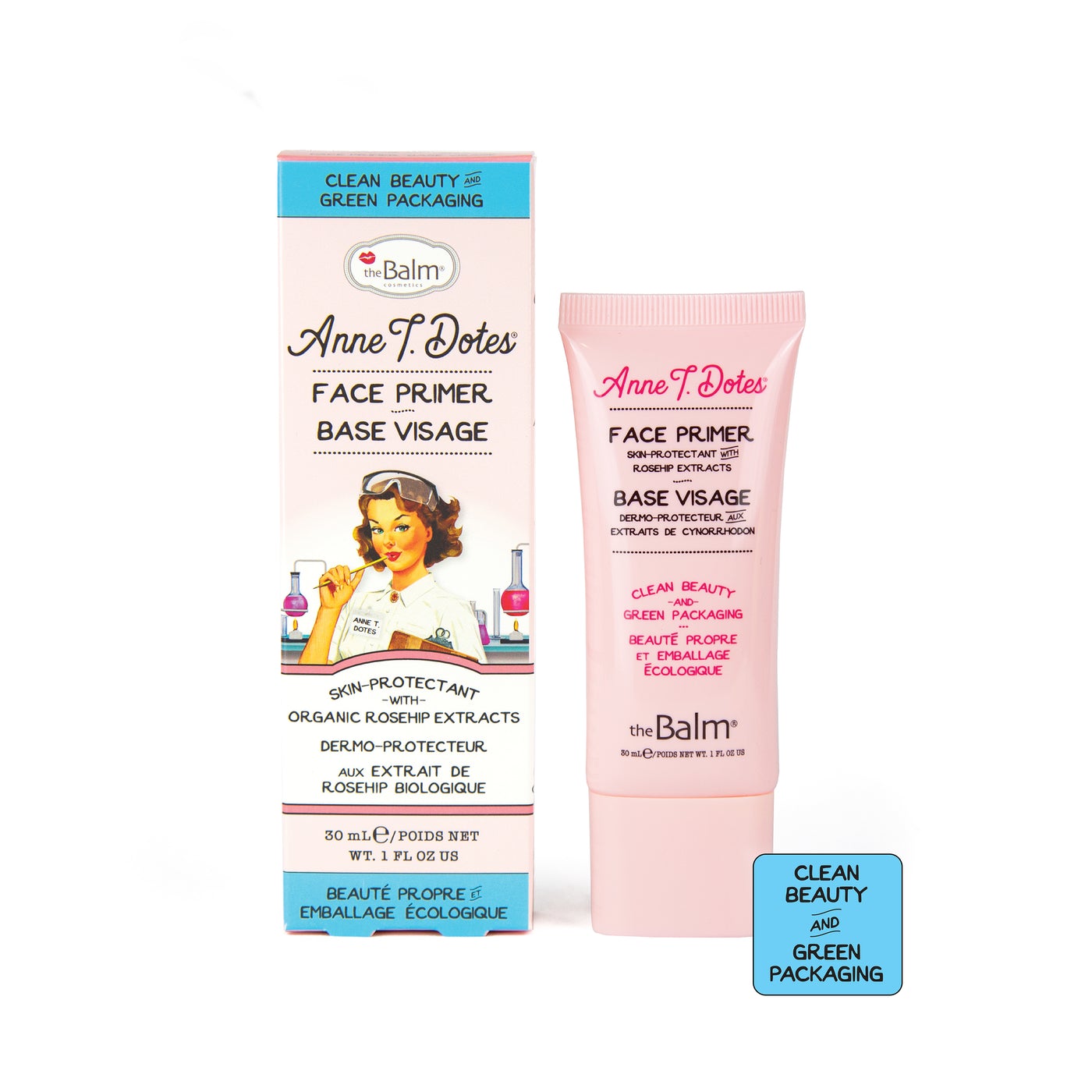 Ideal for locking in makeup while hydrating your skin, Anne T. Dotes Primer smoothes out wrinkles and fine lines, spots, uneven skin tone, dry patches, and open pores. The product also stops foundation from streaking, controls shine, and makes your makeup last throughout the day while leaving your skin visibly smoother and softer.
Anne T. Dotes Primer features organic rosehip oil, an ingredient rich in essential fatty acids and skin-nourishing vitamins. In addition to moisturizing your skin, the astringent properties in this ingredient brighten your skin and tighten your pores.
The product also contains cetyl alcohol, an ingredient that packs skin-softening effects and shields your skin from allergens and bacteria. Propanediol is another ingredient you'll find in Anne T. Dotes Primer, and it helps your skin absorb the other ingredients swiftly.
The Balm Cosmetics review found that this product features Hydrogenated Polyisobutene, a synthetic liquid that acts as an emollient and waterproofing agent. Because it contains Argania Spinosa kernel oil, Anne T. Dotes Primer has anti-inflammatory and antioxidant properties and anti-aging effects.
Caprylyl Glycol is another ingredient in this primer, and it attracts moisture and locks it into your skin to leave you with a plumper, smoother complexion. Moreover, the product contains hexylene glycol, which helps cleanse and moisturize your skin and thin out the formulation to enhance absorption while allowing the rest of the ingredients to work better.
Suitable for those who want to mask skin imperfections, the product comes in a 30-ml tube, and its packaging is environment-friendly and 100% recyclable.
TheBalmbina Face Palette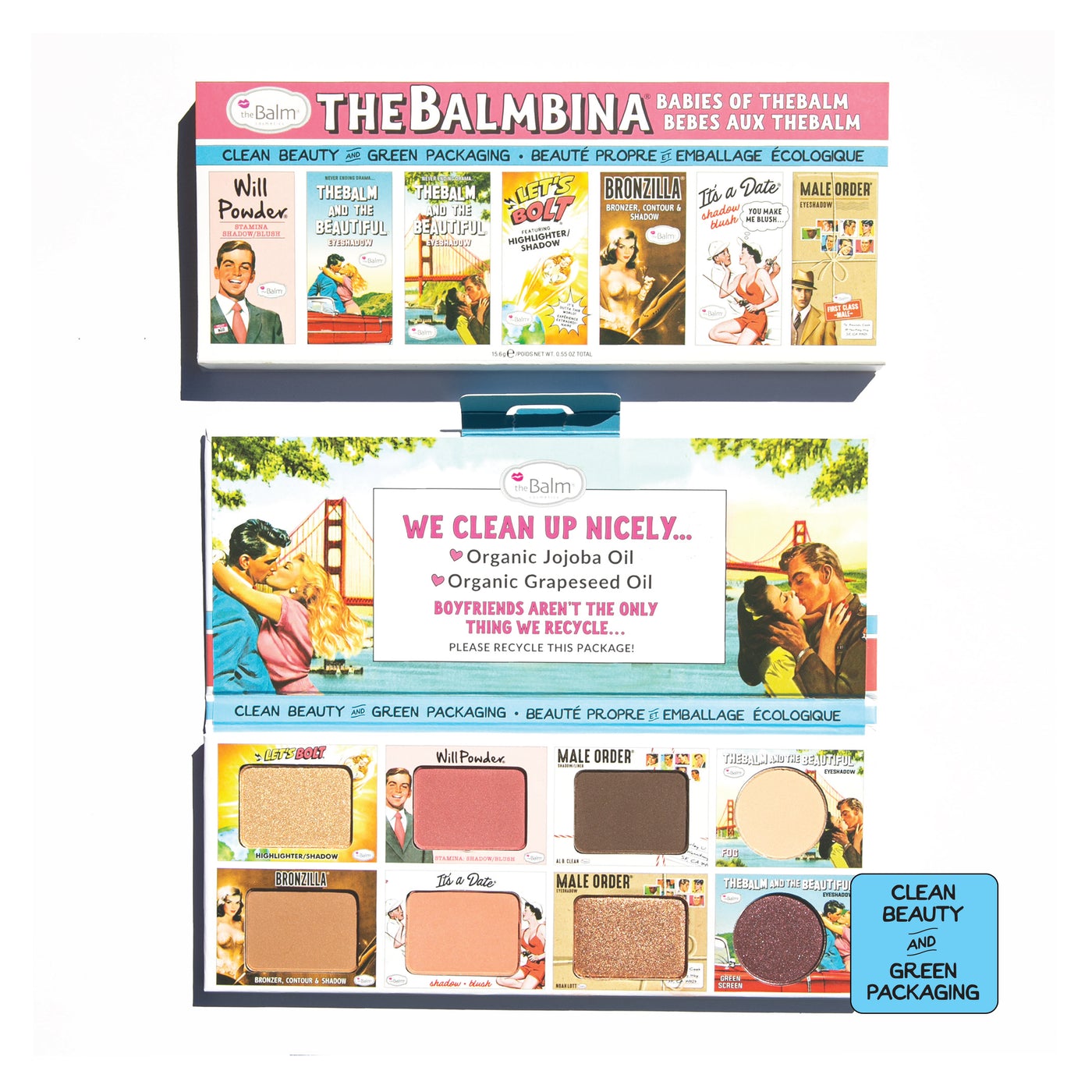 TheBalmbina Face Palette is suitable for those who want to streamline their makeup collection and always look good, and it comes in eight different shades to accommodate all skin tones. This face palette includes a matte bronzer, two stunning blushes, four blendable eyeshadows, and their latest highlight shimmer.
Because TheBalmbina Face Palette is talc-free, it is kind to sensitive skin types and less likely to result in irritation, meaning you can wave goodbye to inflammation, rashes, and other reactions. This multifunction product will also help you reduce the number of items you put in the bathroom or pouch. The versatility of each powder in this face palette means you can use them anywhere on your face.
Mica is one of the common ingredients in each powder found in this face palette, and it provides a glow to your skin due to its light-reflecting properties. The products in this palette also contain zinc stearate, which acts as a lubricant and thickener while binding the other ingredients together.
The powders feature Simmondsia Chinensis (jojoba) seed oil, which acts as a moisturizer for dryness because its active components mimic the natural oils in your body due to its waxy nature. Additionally, the products in the palette contain Vitis vinifera (grape) seed oil, which evens your tone and skin from free radicals and environmental factors like pollution, wind, and sun.
Customers Reviews on the Balm Cosmetics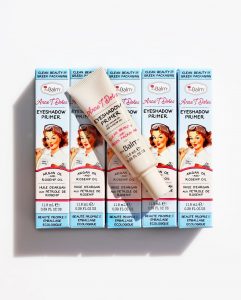 We checked reviews on The Balm Cosmetics to find out what their customers are saying about this brand and its products. The brand scored 4.7 out of 21669 reviews on its site, with 92% of reviewers recommending this company and its cosmetics products.
Most of the Balm makeup products on Amazon have a 4.5-average score, with a high percentage of buyers loving them and stating that they are effective. They are also the go-to products for people with sensitive skins as most of the customers who have used them say they are kind to skin and safe to use. Other customers like how their cosmetics have been made with a long-lasting formula, meaning that they boost their confidence and keep them looking great throughout the entire day.
There are also a few negative reviews on TrustPilot from international customers complaining that their products took a long period to reach them. Read our reviews of theBlam vs Benefit Cosmetics too!
Sign Up for theBalm Cosmetics
Sign up for the latest and greatest, and you will receive 15% off on the first order you make! Hit the I WANT IN button to get started and join the Balmers. The registration process is a cinch, as it will only take you less than a minute to complete.
You only need to provide a valid email address and name. You can then create a password that you will be using to log into your account every time you want to shop for their products. Once you sign up with theBalm Cosmetics, you can start browsing their products and find an item that interests you.
Where Do You Buy The Balm Cosmetics?
If you do not know where to find the Balm products, you can go to their official site thebalm.com. And if you are wondering: Where do you buy the Balm Cosmetics offline? You can get their products in more than 3,000 physical stores in over 100 countries. Two of these brick-and-mortar stores belong to theBalm Cosmetics: One is at 180 Bedford St, Stamford, CT 06901, and the other one is at 788 Valencia St, San Francisco, CA 94110.
theBalm Shipping and Return Policy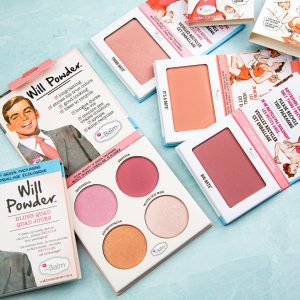 Shipping
The Balm Makeup brand ships its products internationally, with the international shipping fee being $30 or free for those who order items worth more than $75. Keep in mind that these fees don't include taxes and duties, and they may vary during promotional events and sales.
For domestic shipping, the Balm makeup brand offers free standard shipping, with the processing times ranging between 2 and 7 business days. However, this may vary during promotional events, holidays, and sales. Due to the COVID-19 pandemic, the delivery time may also be impacted by FedEx, USPS, and UPS delivery times.
Return Policy
If you are not satisfied with the product you have purchased, you can return it within 30 days from the day it was shipped. You can return unused products and get a refund of the purchase price or store credit to use it on any product of your choice. However, theBalm Cosmetics doesn't offer returns or exchanges on products you have purchased in bundles.
The company also doesn't honor exchanges on international orders, and they do not accept exchanges, returns, or refunds of products not purchased from their official site.
Additionally, they offer a 30-day Shade Match Guarantee that allows customers from the United States to exchange the product at no cost if they want a different shade. International customers also enjoy this Shade Match Guarantee, but they have to pay the shipping fee for the new product they want.
Popular Alternatives for the Balm
theBalm Promotions & Discounts
theBalm rewards program allows you to earn points by making a purchase, referring friends to join the site to buy makeup, and writing reviews on the products you purchase. If you have two accounts, you can combine your points and redeem the points for freebies, coupons, and special promotions. The company also offers a pro-discount to makeup artists who shop at their online store.
Contact the Balm Cosmetics
You can reach the support team using various contact methods. They have a live chat that you use to connect instantly with a customer support agent and get a quick response. The brand also has a phone number 1-888-747-2256, so you can call from Monday to Friday from 9 a.m. to 4 p.m. Pacific Standard Time.
the Balm Cosmetics: Editors' Verdict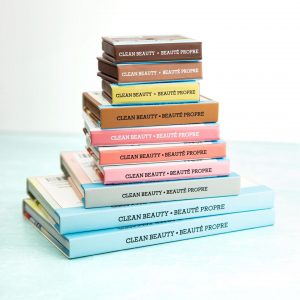 After checking out the reviews on The Balm Cosmetics, we recommend this company because it offers excellent value for money. While a couple of international customers did not like the time it took to receive their orders, their products received high praises from most people who use them.
In theBalm of your hand review discovered that customers can find all their best-selling products in one palette, which is an excellent way for you to try out what they offer. The balm cosmetics also has a responsive customer support team and uses state-of-the-art Secure Sockets Layer encryption to protect shoppers' data during transactions.
Looking for more cosmetics options? Check out our reviews of ColourPop Cosmetics, Thrive Causemetics, MAC Cosmetics, as well as Makeup Geek.
theBalm FAQ
Does theBalm offer free samples?
No, theBalm Cosmetics does not offer free samples.
Are theBalm Products Vegan?
Some of their products are 100% vegan, while others contain animal-derived ingredients.
Do theBalm offer a pro-discount for makeup artists?
Yes, makeup artists are eligible for 20% discount. All you have to do is send your resume, portfolio and any certifications you might have to [email protected]
Is theBalm cruelty-free?
TheBalm confirms that all of their products are paraben- and cruelty-free, however, they are not considered vegan.
Who owns theBalm?
The founder and CEO of theBalm is Marissa Shipman. Previously she was in the television industry.