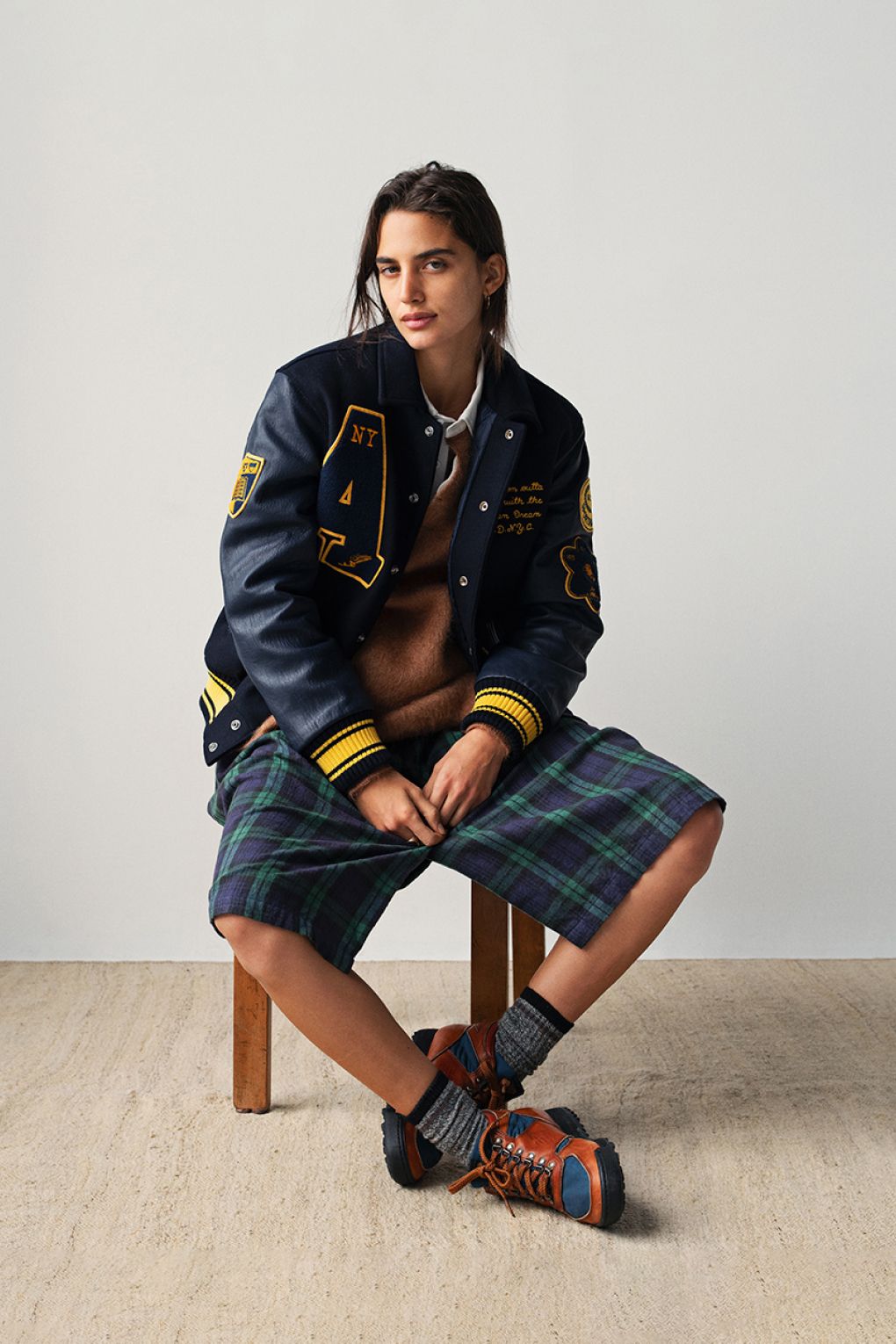 Do you often find yourself standing in front of your closet having absolutely no idea what to wear? We bet you do. But here's the deal: with the right clothes in your closet, it's almost impossible to lose precious time in the morning trying to put together a stylish outfit. To help you find the clothes you need we collected the best streetwear brands for women that are worth your trust and money. Why streetwear brands? Well, we genuinely think that this style is so versatile that once you buy some top-notch streetwear pieces, you can create many outfits effortlessly.
15 Best Streetwear Brands for Women
Undoubtedly, when it comes to streetwear brands, options for women's street wear clothing seem to be unlimited. Both fast fashion and slow fashion brands produce street-style clothing, some launching new pieces on a weekly basis. Needless to say, the level of pricing and quality varies, so you should ensure you get your money's worth. We picked these companies based on their brand values, product quality, customer reviews, and market reputation. But without further ado, let's take a close look at each of them!
1. Off-White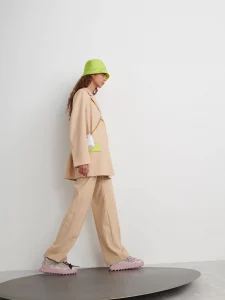 The history of the Milan-based Off-White brand started in 2013 when the founder, Virgil Abloh created his clothing apparel. According to Abloh, the name refers to "the gray area between black and white as the color off-white". This vision is strongly reflected in the diversity and versatility of Off-White clothes. The brand offers a large selection of dresses, tops, shirts, and denim, but they also offer outerwear, swimwear, and loungewear. The best part is that they are easy to mix and match, so you can create many outfits with only Off-White clothing.
Thanks to the versatile styles, these are streetwear outfits female and male shoppers both enjoy. These items are everything but not boring, as each piece has some kind of unexpected element that makes it outstanding. Looking at the clothes, you can immediately see that the company mainly targets millennials. Just like Abloh meant from the beginning, the Off-White streetwear outfits are revolutionary and refreshing. Price-wise, the brand falls in the luxury category rather than budget-friendly. Customers who appreciate designer fashion speak very well both about the products and the customer service.
2. Carhartt WIP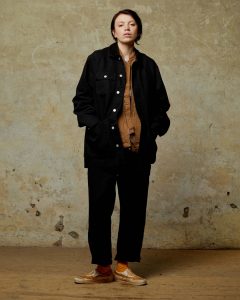 The next on our list of best streetwear brands for women is a more affordable option, Carhartt WIP. This company forms a division of the well-known American brand, Carhartt which was one of the first clothing brands to pioneer workwear in the US. Today's street fashion does not fall far from workwear and the company perfectly manages to blend the two together. They offer a large selection of pants, jackets, T-shirts, shorts, dresses, overalls, and shoes. Their underwear, sweat, and accessories categories are also worth your attention.
Do not expect anything too elegant, these clothes are mostly sporty that provide instant outfits that you can comfortably wear to work and on your way back home. To give you an idea about the price tags, the cheapest women's T-shirts cost $30-$45, while the cheapest shorts are $68. However, once you visit their website, you will be welcomed by tons of sales. So chances are, you might be able to purchase what you need for less money than you first thought.
3. Market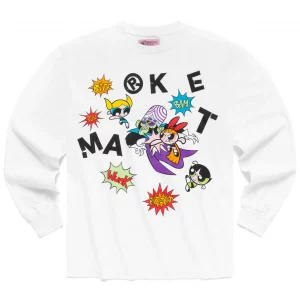 We put Market on our list of the best women streetwear brands for their affordable prices and fun designs. There's no question this brand is the most entertaining in our collection. With their bold and colorful designs, Market clothes will put you in a good mood instantly. They have T-shirts with huge smiley faces on, "Peace and Power" themed hoodies, or fun, loose-fit shorts ideal for vacations. The prices are attractive as well. T-shirts are priced between $40 and $50, while long-sleeved hoodies or sweatshirts cost less than $100. The most expensive tops are their jackets, with the most expensive one being $250.
The brand also sells a decent selection of accessories too. On the website, you will find a colorful selection of hats, socks, rugs, mugs, lifestyle items, and even jewelry.
4. BAPE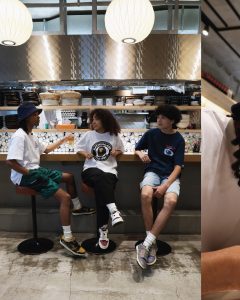 Another great example of female urban streetwear is Bathing Ape, or simply BAPE. This female Japanese streetwear fashion brand was founded in 1993 and since then it dictates street fashion trends. With its unique designs the brand targets fashion-conscious personalities that enjoy outstanding streetwear. The company specializes in selling branded clothes, hats, tops, shirts, hoodies, and shoes, everything you need to look cool and trendy.
You may not know this, but there's an interesting story about how BAPE got its market reputation in the US. Being a Japanese brand founded by Nigo (Tomoaki Nagao), the company was going strong in Japan, but it wasn't famous in the US until 2003. In 2003, Nigo became friends with Pharrell Williams who backed the brand and introduced it to the American hip-hop world.
Looking at the BAPE clothing, the very first impression is that there is a little bit of everything. You can find printed blouses, colorful crop tops, skirts with lace detail, and feminine knitwear. But then there are sporty dresses, oversized jackets, hoodies, and loose-fit t-shirts, too you can choose from. In terms of pricing, the clothes are expensive. Women's tops for example cost around $100, but you can find crop tops with a $339 price tag, too. However, the unique style might justify these prices as it usually does in the luxury fashion industry.
5. Boys Lie Clothing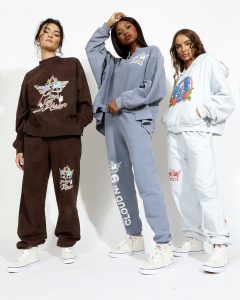 Boys Lie Clothing has earned its spot on our list of the best women streetwear brands for multiple reasons. First, we must mention their mission to empower and uplift women by boosting their confidence. The brand was founded by the Tori Robinson and Leah O'Malley duo in 2018 when the girls were going through a painful breakup. To ease the pain, they started to work on their apparel, and the rest is history.
Today, the company offers chic, trend-led clothing with the message to women to not lose their style after a heartbreak. You can find hoodies, sweatpants, tees, hats, and many other clothes that offer an effortless and comfortable style. Despite being sporty items, all clothes are feminine. So if you are after blush pink sweatpants or a cute baby tee, Boys Lie Clothing is your go-to place. We have also looked at the fabrics the company uses to create its apparel. Hoodies for example are made of 100% cotton which makes them extremely comfortable and soft to wear.
In terms of pricing, hoodies and sweatpants cost around $150, but for the price, you will get a state-of-art-piece that will put you in a better mood instantly.
6. Palace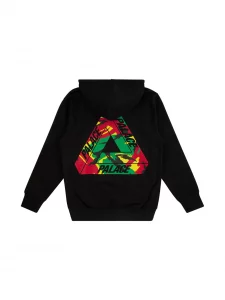 Not all best streetwear brands for women offer all pink and baby blue clothing. Palace is a very good example of how versatile street fashion can be. Girls who prefer loose-fit, relaxed clothing that fall on the sporty side. If you are into this type of streetwear that allows you to move freely and eventually, hop on a skateboard on your way home, you will instantly fall in love with Palace.
The company offers a decent selection of skateboarding-inspired clothing such as jackets, hoodies, tracksuits, tops, shirts, footwear, etc. You can really find everything here you need to build the coolest outfit. Shorts are priced between $96-$108, while the price for hoodies starts at $108 with the most expensive hoodie being $188.
7. Stüssy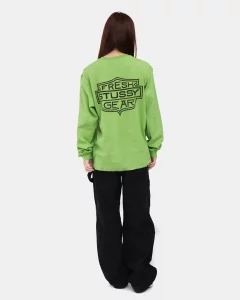 Stüssy is one of the most famous American streetwear brands selling both man and woman streetwear. Their collection made for women is quite small, yet versatile, which makes it easy for ladies searching for sporty clothing to find something for their taste. Looking at the clothes the very first impression is that all designs are laid-back, focusing on comfort and free-spirited style.
But let's see what ladies can choose from when it comes to the women's collection. Well, first of all, let's take a look at tops. In this category, you can find some colorful options of mesh tanks for $80, knit crew-neck sweatshirts for $100, 100% cotton t-shirts for $50, striped silk shirts, vests, hoodies, and jackets just to mention some. As for bottoms, the brand offers loose-fit, lightweight beach pants for $120-$140, but you can also find cotton shorts for $90. Speaking of beachwear, you can find sporty one-piece swimsuits that will allow you to move freely in the water and enjoy yourself at the beach.
8. Prix Workshop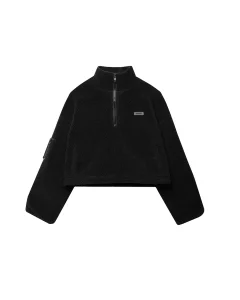 Prix Workshop is one of the best streetwear brands women that prefer flirty designs adore. The company was created in 2018 by Esther Ng, an Auckland-based creative founder who got her fashion inspiration from her experience at YEEZY. The designs take you to the world of video games, where clothing is revolutionized. One thing is sure, in the Prix Workshop, you won't find any ordinary, boring garments. All pieces are conversation starters and they most likely will make heads turn after you.
Their Knight Catsuit or Knight Bodysuits for example are not some regular pieces you see every day on the streets. You might have to put some thought into where to wear these pieces. The same is true for the Yuna Mohair Tie Top which can be tied multiple ways. However, the top is completely sheer. It can definitely be a precious piece in your closet, just make sure you find the appropriate way to wear it.
Price-wise, the items are budget-friendly. To give you some examples, bodysuits cost $50, tank tops are $30, while dresses and skirts cost between $45-$70. The company also sells cropped jackets that come with a $75 price tag.
9. Brain Dead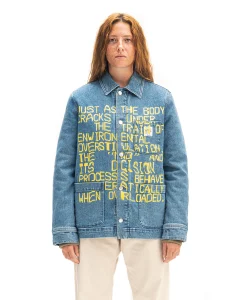 If you have some precious clothes in your closet that you constantly rotate to create outfits, you will like Brain Dead. The company offers street wear for women that appreciate effortless, comfortable clothing. With their disruptive, graphic-led fashion approach, Brain Dead gets the inspiration from post-punk, underground comics, and the spirit and style of subculture as a whole. As the company defines itself: "Brain Dead is not one person, nor is it one idea. It sits in the space between people. Brain Dead is a creative collective of artists and designers from around the world." This vision is strongly reflected in the designs. Once you visit their website, you will be welcomed by tees, hoodies, sweatshirts, sweatpants, hats, and swimwear like you have never seen them. Colorful prints, fun designs, and loose fit are what truly define this brand, so get ready for some truly unique pieces.
Price-wise, the company offers the items for a quite affordable price. Hoodies with graphic prints on them cost $140, but you can purchase 100% cotton t-shirts for $54.
10. MISBHV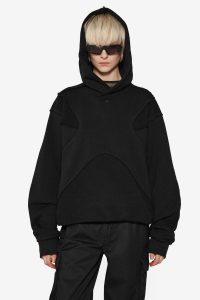 When it comes to female streetwear, MISBHV is a leading brand in the US. The company offers a broad range of sportswear, beachwear, and other essential apparel like tops, jackets, and bottoms. If you are looking for quality and flattering activewear, their sports section is definitely worth your attention. MISBHV offers sports bras, active t-shirts, long-sleeved quarter-zip tops, cropped tops, long sleeve tops, leggings, bikers shorts, and many more. What makes them truly feminine besides the cut and design is the beautiful colors. All activewear is available in flattering dusty pink, mint green, and black-and-white, which needless to say, puts your beautiful feminine silhouette in focus.
11. Aime Leon Dore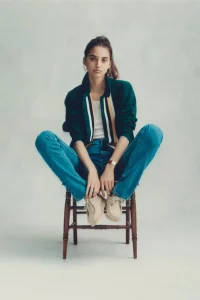 The next company on our list of the best streetwear brands for women is the Queens-based Aime Leon Dore. This brand was created to bring freshness and some artistic features to street-style fashion. The designs the company uses on their garments are simple, yet powerful. To quote them, Aime Leon Dore as a fashion brand is "driven to create timeless work by portraying an aesthetic that is uniquely our own". With that in mind, take a look at the garments and you will immediately understand what it is about.
The Aime Leon Dore has t-shirts, hoodies, sweatshirts, and bags with beautiful printed designs featuring famous Robert De Niro Sr. paintings. If you are familiar with his paintings such as the Nude Woman, Green Parrot, Woman in Red, or Josephine Baker, you will instantly fall in love with this brand. However, even if you never heard about these paintings, thanks to their delicacy and genuine beauty, you most likely will appreciate the garments.
The brand also sells footwear like loafers and sports shoes that go well with their casual and sporty style apparel. If you're into sweatshirts and sweatpants you will find many high-quality options available in a broad range of colors.
When it comes to the price tags, we think that items are reasonably priced. Taking into consideration the high quality the brand offers and the unique designs, the price tag justifies itself. Most clothes are made of 100% cotton and you can see on the stitching and tailoring how well-made each piece is. To give you an idea, graphic tees for example cost $85, but for this money, you will truly get a state-of-the-art that you won't really see on many other people.
12. Sorella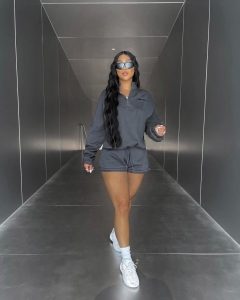 Who says that female streetwear lacks femininity? Sorella, a women-run fashion brand is here to change the vibe about streetwear fashion. The brand encourages working women to be strong and independent regardless of age, color, or size. Their apparel is very inclusive, with sizes available from XS to 3XL. They've got flirty dresses, flattering tops, and chic sets that focus on one thing only: putting the feminine energy in the spotlight. Looking at their product categories, they have everyday essentials like tops, dresses, bottoms, swimwear, sweatsuits, bodysuits, and many more. You will find here basically anything you would need in your closet, no matter whether you are heading to the gym or a party.
And if you are on a budget, here's the good news: Sorella is a budget-friendly brand with unbelievable prices! Dresses start at $10, while even the most expensive dress is under $100. The cheapest Sorella top costs $5, which is mindblowing. An interesting category is the sweat sets category, where you can find ready-to-wear tops and bottoms you can easily mix and match.
13. Noah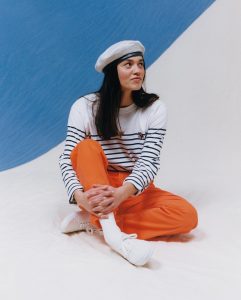 "Create the best possible products that inspire our staff, partners, and customers to seek adventure and actively engage in the world around them." This is the mission leading Noah in their approach of creating man and woman streetwear. The brand is well-known for its exceptional efforts to take a firm stand against appalling, yet unfair practices of the fashion industry. They are also very active when it comes to charitable initiatives in areas like human rights or disaster relief.
Looking at their apparel, diversity best defines their designs. Scrolling through the t-shirts for example you will see simple t-shirts with the Noah logo and beautifully embroidered tees with flower details too. The flower is a repetitive element in their designs, you will find it on Noah's many items from shorts to jackets. We're sure you are interested in prices too, so here's the deal: there's a little bit of everything when it comes to pricing. The cheapest round-neck t-shirts cost $48, while a pique polo costs $108. Embroidered tees are $88.
14. I Am Gia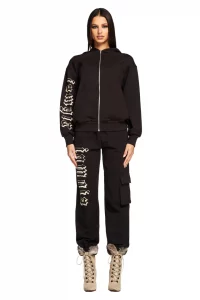 Soon we're wrapping up our collection of the best streetwear brands for women, but before we do that, we must mention a brand that will take you right in the middle of hot summer days. The company is based in Australia and it targets millennials and Gen Z individuals. I Am Gia offers a curated collection of statement wardrobe essentials that are bold, feminine, and flattering. Their apparel is based on the "It girl" trend and embraces fashion with an edge.
If you are looking for stylish, chic trans-season additions to your closet, this company has got you covered for sure. From knit dresses and tops to matching sets with lace detail, I Am Gia has got it all. They have swimsuits, covers, headwear, and anything you could need for a hot summer day by the beach. And the best part is that the prices are quite affordable with tops starting at $40. There is also a Sale section on the official website, so if you want to save some money on your order, make sure to check that out.
15. Ambush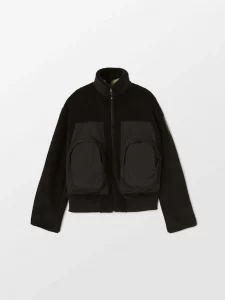 The last on our list is Ambush, a brand famous for its ready-to-wear men's, women's, and unisex apparel. The company first started as an experimental jewelry line, then quickly expanded into the luxury fashion industry. Brands like Dior, Louis Vuitton, Moet, Nike, Bvlgari, or the earlier mentioned Off-White collaborated with Ambush. At this point we think you have guessed: this is not a budget brand. However, we have to say, the quality is guaranteed. The company uses durable, innovative fabrics and high-quality materials that not only elevate your look but will stand the test of time.
To give you some idea about the pricing of Ambush streetwear, the cheapest jacket costs $250. This is a Nike X Ambush futuristic jacket. The most expensive item in this category is a 100% cow leather vest with 50% rayon and 50% cotton lining. This $2,826 white asparagus vest is one of the most expensive pieces sold by the company. Dresses are priced between $926-$1,120. However, there are frequent sales that help you save a significant amount on your orders. For example, at the time of writing this article, the $1,120 Off Shoulder Jumpsuit, which is an instant outfit for many occasions, is available at the special price of $672.
Best Streetwear Brands for Women: Editor's Verdict
Based on their market reputation, customer feedback, and product quality, these were the best streetwear brands for women we wanted to share with you today. While some are budget-friendly, others might have steep price tags that make them exclusive and luxurious. In terms of style, streetwear is so rich that it includes everything from cotton T-shirts to lace party dresses. The most important thing is to find the brand that matches your style and makes you feel at your best. After all, your time is too precious to lose hours trying to figure out what to wear.
Are you looking for other fashion brands? Check out our reviews of Carve Designs, 686 Clothing, Sisterhood Clothing, and Cos.