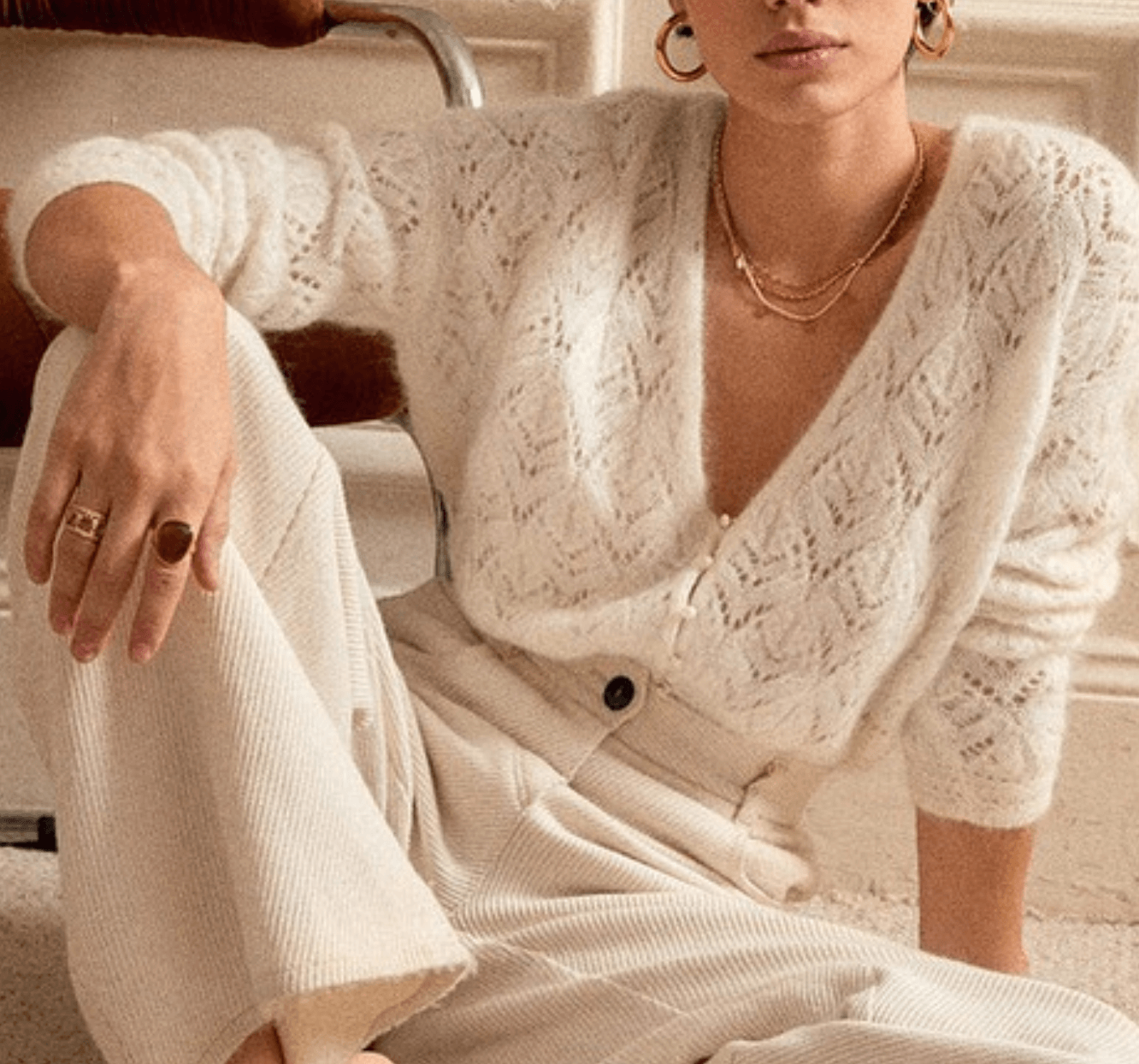 At one point we wished to look like those stylish and chic dressing French women in movies walking the streets of Paris. This fashion style was always highly rated and only women with exquisite taste could pull off these looks. Today we have a few hundred brands offering comfortable, Parisian style clothes to make you feel like you are in an episode of 'Emily in Paris'. If you have not heard about Sezane -the French brand – then you are probably not into fashion much. With these Sezane reviews, we want to help you understand the brand and see if they are really what they say they are. 
Sezane seems to have revolutionized the internet with its vintage-looking clothes, promising to offer high-quality and perfectly cut pieces to last for a lifetime. Although they are considered an affordable clothing brand, a simple jumper can cost $125. Their clothes are truly one of a kind, the website looks aesthetically pleasing and the pictures are color coordinated! 
So why would you want to buy jumpers and blouses costing over $100, which you could probably find somewhere else for cheaper? Are the clothes really made to last forever, thus making the price point worth it? Well, in this unbiased Sezane reviews we want to answer all of your questions before you decide to spend your cash on this chic French brand. Let's dive in! 
About Sezane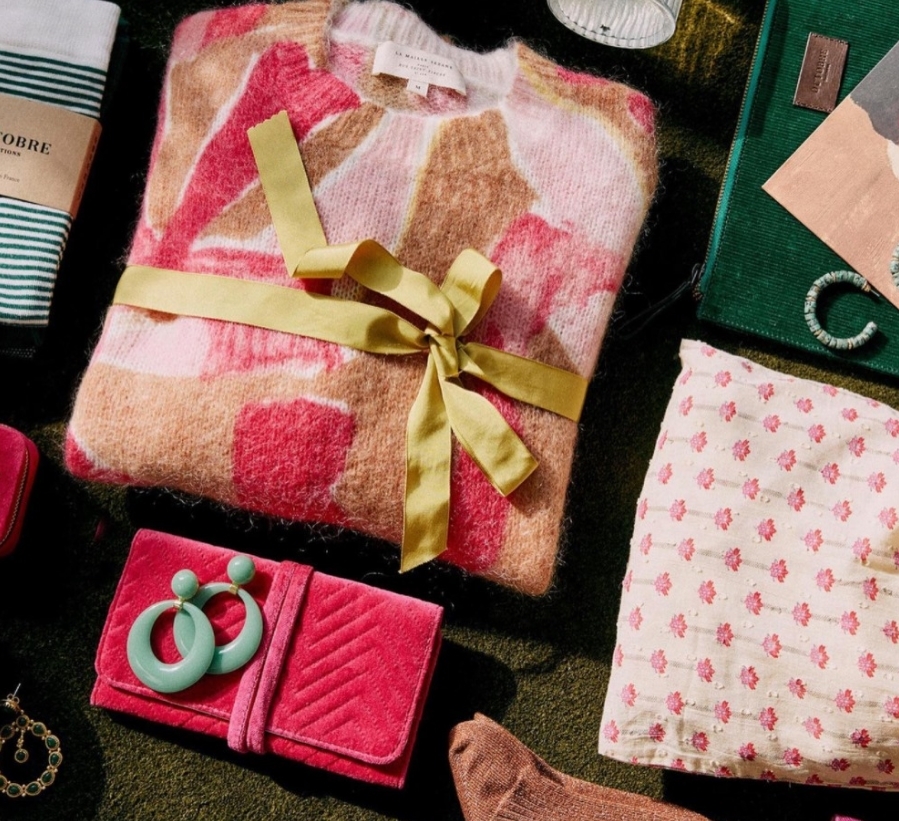 You can probably guess from the name and the clothing styles, Sezane was born in France. The mastermind behind this brand is Morgane Sezalory who once stumbled upon a suitcase full of vintage clothing. Her first thought was to adjust these pieces and sell them on the internet, under the name 'Les Composantes'. 
Morgane shortly became famous in France with her frequently customized items and realized she could offer much more to the world. But Sezane isn't any fast-fashion brand you have heard of before. They claim to be ethical and sustainable, designing clothes that you should wear forever and not just for one season.
With that being said, Sezane also has seasonal collections as well as weekly drops and restocks. Their items tend to sell out pretty quickly, meaning you would have to get on a waitlist if you really want to put your hands on a certain piece. 
They take pride in becoming B Corp certified. What does this mean? Sezane uses about 65% sustainable materials, ensuring that working conditions are ideal for their employees, carefully choosing the factories, and forever striving to help the environment.
There is, however a controversy on how transparent Sezane is about their choice of materials and suppliers. Even so, they seem to be doing a great job in creating timeless fashion pieces that fit into your wardrobe. 
Pros
Unique pieces

Most of the clothes are designed within Europe

Express delivery within the USA

15 days return policy

Possibility to recycle previously owned Sezane items

Free delivery on orders over $200 in the USA

Free returns in the USA
Cons
Pricier items, although considered affordable-luxury brand

Bad reviews about customer service

No exchange service
Sezane Clothing Review
What can you find when browsing Sezane clothing? Besides their seasonal drops, you can also find a great variety of clothes on their website. Everything from tops, knitwear to coats and denim, you can create many outfits by simply buying a few statement pieces. If you are unsure how to style some of the clothing, you can always find inspiration on their website or social media. It's among the best eco-friendly brands out there.
One thing we admire about Sezane is that with every order, you receive a fully recyclable cardboard box. They encourage you to send unwanted Sezane clothes and send them to their address in France. If you send clothing from other brands, you can receive a 10% reduction for Charity Boutique purchases. And if that wasn't enough, you can create a capsule collection with Sezane clothing. Let's check their pieces! 
Sezane Dresses Collection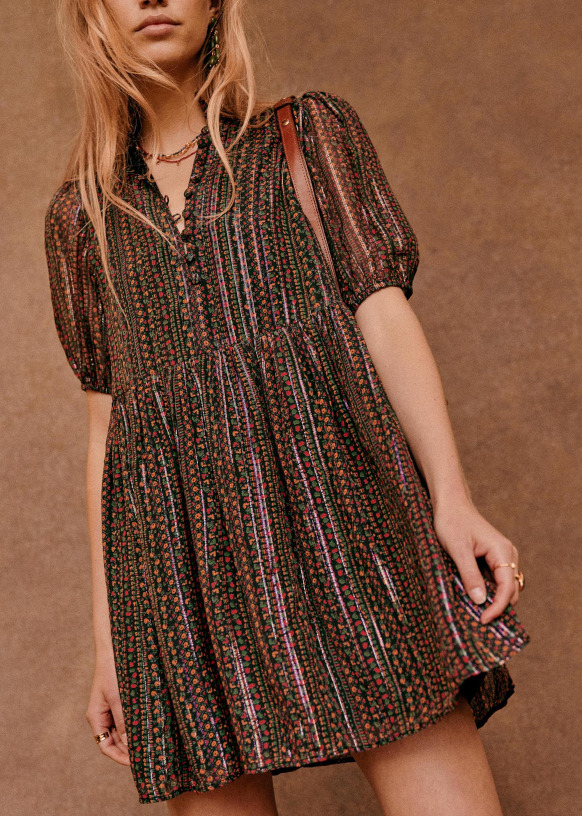 The first collection we would like to talk about and have a closer look at is the Sezane dresses. They have seven different sizes when it comes to dresses and all are beautifully divided on the website. Sizes range from XS to 3XL which makes Sezane an even more favorable brand for women. If you're wondering about Sezane sizing and how clothing fits, go with your usual size unless you are in between sizes. Whether you're looking for summer dresses or casual ones for a date night, Sezane has all of it. 
We were sad to see that although Sezane offers even size 18, most of the models are size S and M, so you are not able to see how the dresses look like on a model who wears XL. 
Under each dress, you will find a detailed explanation of the fabric, length, if you can recycle it and where it was made. Prices range from $170 to $200 for a dress.
Seems quite a high price to pay considering women tend to wear dresses only on a few occasions, but that is the whole reason behind the brand. To make women wear these dresses for a longer period as they will remain trendy as the years pass by. 
Sezane Sweater Collection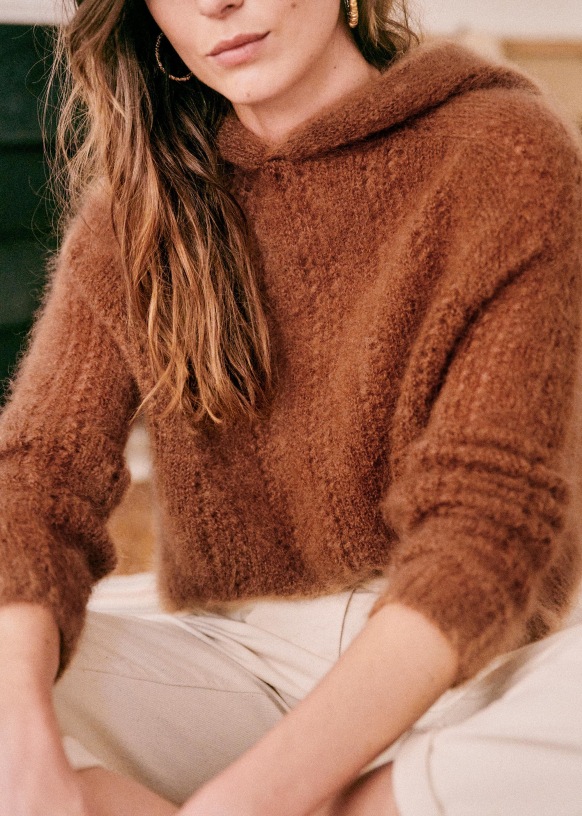 Depending on your location, a sweater is much needed for cozy fall and winter days. But here comes a twist. Sezane sweater collections aren't just your usual long sleeve and baggy sweaters, these come in different chic styles, even short-sleeved tops. It's one of the Sezane pieces you should have in your wardrobe.
Some of the styles are beautifully designed, looking good on every skin color and size. The knitwear collection has basic tops like a black sweater, but also fun colors, patterns, and textures to dress up any outfit. 
Their sizes run from XXS to XXXL in every single piece on the website. Although it does not tell you what size does the model wear, the 'sizing' tab recommends which size to go for. Prices range from $90 to $125 and after looking at many sweaters, we are starting to understand why this brand is so unique. 
Sezane Denim Collection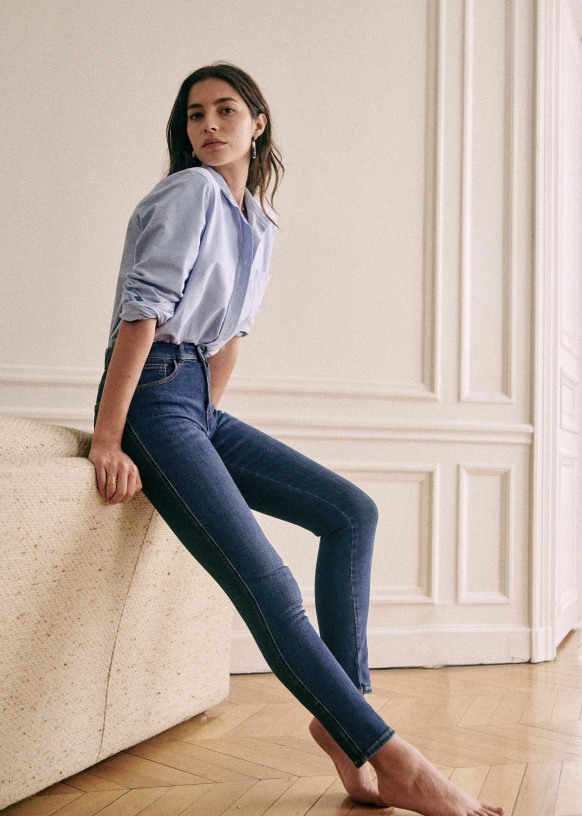 Let's talk Denim. Their Denim collection comes with two different styles of jeans and one jumpsuit collection. The Brut Sexy is here to enhance your curves and give you a nice lift.
Then we have The Slim & The Slim ⅞ which looks perfect with some Chelsea boots. Sezane also blessed us with some classic Denim trousers to go with their white linen shirts. Their jumpsuits are long-sleeved with a straight leg available in light blue and black denim. You can mix and match the colors to your own personal style.
As per the sizes, their jeans run from size 23 to size 30 and the jumpsuits from size 6 to size 18. We do have to mention the largest sizes seem to be out of stock, however, the website lets you create an alert when they are back in stock.
The prices? Jeans are usually around $125 and jumpsuits cost $200. Quite pricy if you ask us, but they do seem to be made of long-lasting materials.
Sezane Shoes Collection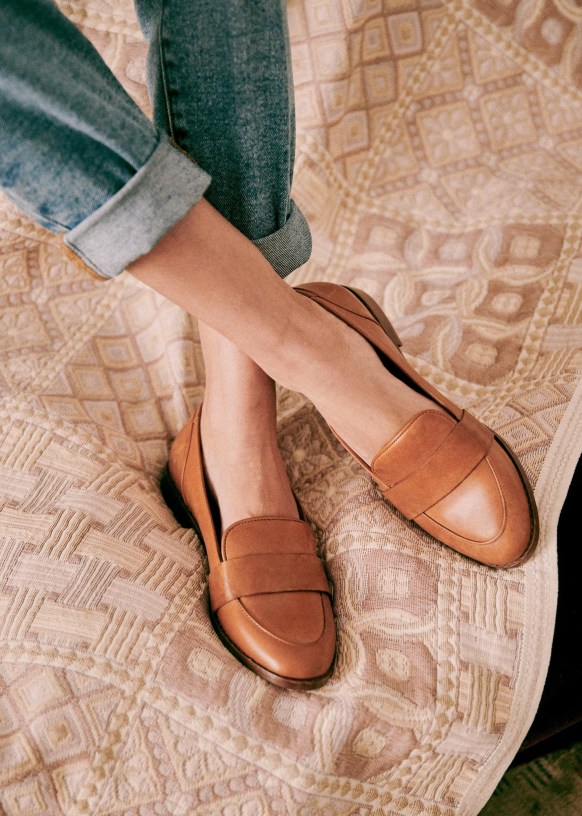 Every woman loves shoes. We hope we can all agree on this. Sezane shoes are classical items made with quality materials to really last a lifetime. In the shoe category, we have three different choices.
Sezane boots, pumps/loafers, and sneakers. Their boots have some amazing prints and styles to pump up your Parisian outfit, or any outfit for that matter. To compliment your Sezane shoes, they also created high-quality socks.
What about prices? As you can imagine these are made of leather so they run closer to $250, while the sneakers and pumps can be bought for roughly $170. Sizes run from size 2 up to size 8 and they seem to be mostly in stock. 
Sezane Bag & Wallets Collection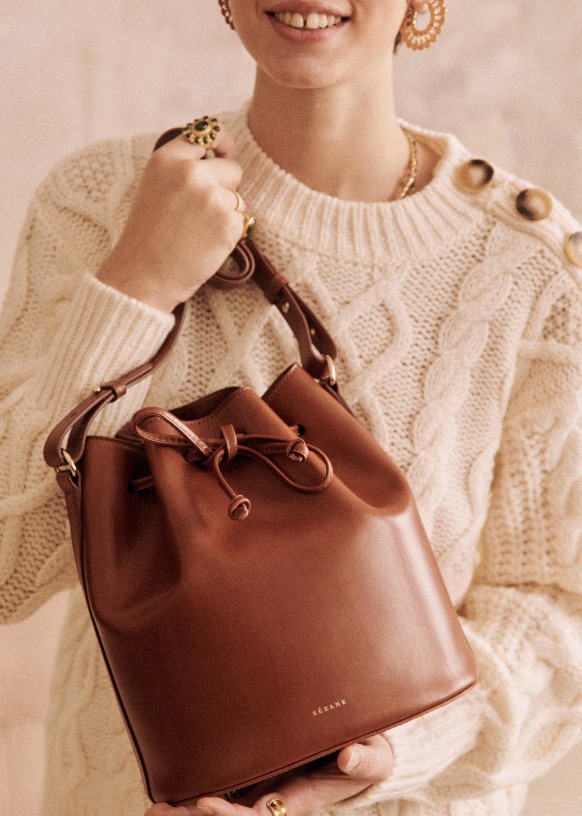 Besides purchasing their fabulous clothes, another statement piece you need in your wardrobe is a Sezane bag. We are very impressed with their bags and wallets. The Farrow Bag which retails for $275 comes in 5 different colors.
The Mini Farrow Bag, retailing at $250 has 8 different unique colors. If someone loves to collect bags, we would suggest looking into buying at least one Sezane bag to add to their collection.
Sezane only has 5 different types of wallets, and quite frankly, that is all you need. From the smallest size suitable for coins to the larger Victoria Wallet made for your cards and cash. On the website, you can also find leather bags and wallets for men, a perfect gift for any occasion. 
Sezane Size Chart
We have been including Sezane sizing while talking about their collections and were quite impressed with the size range they offer for each of the items. Most of the sustainable brands will only create sizes through S and XL, leaving out a huge number of women who would love to wear their products.
Thankfully Sezane has thought about being inclusive and caring about plus-sized women too. 
Although under every clothing item they suggest to you whether you should stay true to your size or size up, their Sezane size chart makes it even easier to decide which one to pick, so it's worth having a look at if you are still unsure what to choose. After all, you should have clothes that fit perfectly.
We would like to mention again, that we have not found any pictures on their website or social media with models wearing XL and larges, which is truly a shame. 
Sezane Reviews from Customers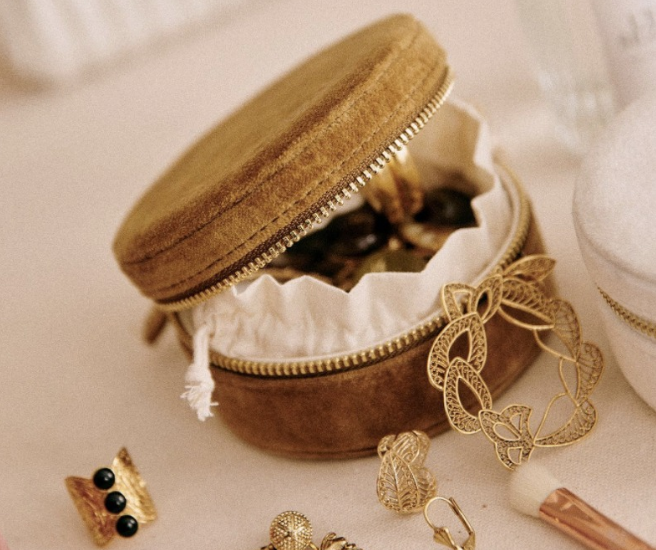 Sezane seems to be a great brand, sustainable, and ethical, with creative designs and a fair price point. What do their customers say? After going through many websites the reviews are not the best. On Trustpilot, they received 3.9 stars between 2,664 reviews and the majority are about their customer service.
Some comments say 'customer service as beautiful as the clothes' or 'beautiful clothing, amazing experiences', while others mention 'great products, poor customer service'. They also praise the good quality of the clothes. 
Many complaints are about customers not being able to return the items easily. Sezane does reply to each individual on Trustpilot and points out that they have not logged into their account to initiate a return. 
Popular Alternatives to Sezane
Seems like either customers are not reading the FAQ for returns or it's just simply a difficult procedure to return an item. From the replies, they genuinely try to assist each customer, so we can't help but wonder why the reviews are so low.
This is just something the brand will have to work on harder if they want more people to enjoy their quality products. 
Sign Up for Sezane
Creating an account with Sezane is not only easy but is a must if you want to keep track of your orders. You can easily log in with Facebook, Google, or Apple or register with your email address. By creating an account, you'll be able to manage your deliveries and return items if needed. 
Within your account, you can create a wishlist with all of your favorite items saved for later. While collections run out quickly, by creating an alert on certain pieces you will be the first to receive the news of when the items drop. 
Where to Buy Sezane
In case you are wondering where you can find Sezane items you can simply go to sezane.com and scroll through the 'Our locations' tab on the footer. There are boutiques in Paris, Lille, Aix-en-Provence, Bordeaux, London, and New York. 
Thankfully, you can purchase the items online on their website directly if you do not happen to be or live in any of these locations. If you are passing by these cities, do have a look at Sezane boutiques, you will not be disappointed! 
Sezane Shipping and Return Policy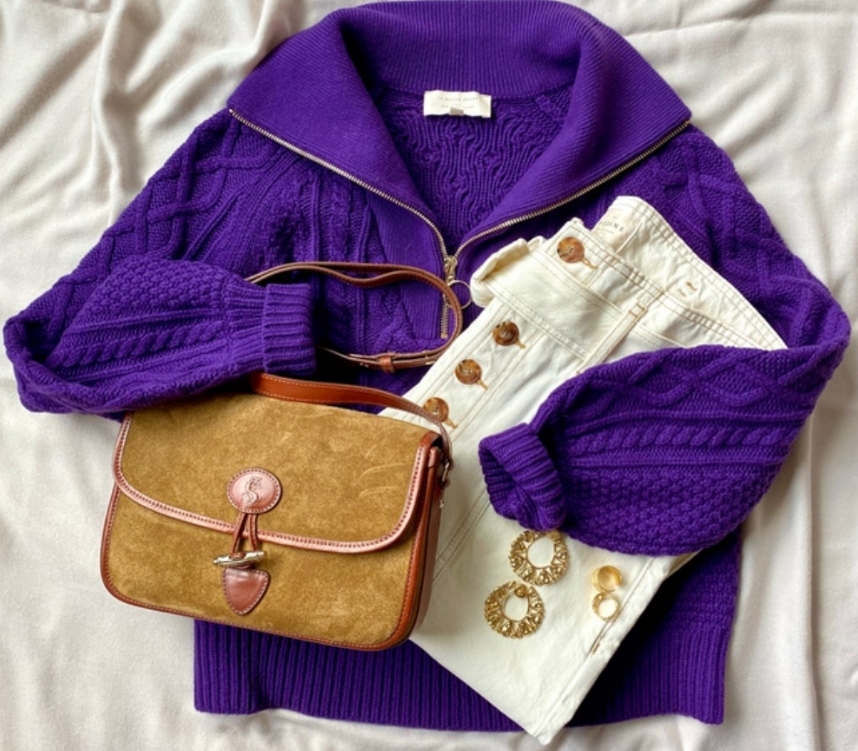 Sezane shipping and return policy are pretty self-explanatory on their website. You get answers to your questions and in case there isn't an answer, you can always contact their customer service via email, Whatsapp, or Instagram. 
Delivery Details
To find out whether Sezane delivers to your house or not, all you have to do is enter the country name at 'Countries, shipping methods, durations, and fees' and it will bring up all this information.
For example, anyone who orders to US California, they can choose between Standard FedEx and Express FedEx delivery. The first one is $8 and the second $15, 2 to 4 days and 24 hours delivery service.
They also offer free delivery on all orders over $200 within the US and also within other European countries. Once you select where are you ordering, the website will automatically update itself and reveal the information. 
Return Details 
Now, this is where customers were struggling, so we would like to give you a clear answer on how to return items. Just like the rest of the website, this is also split into sections as it seems like they have various offices within the world where Sezane receives returns.
For Sezane returns in other countries besides the ones clearly stated on the website, they inform that you have 15 days to return a selected item and receive a refund. You must be signed in to your account and register your request under the 'My account' section.
Customers instead emailed their customer service team and expected a refund, however, they mention that you need to be logged in. Need to return an item? Simply register your request for a return. 
Another point to make about returns is that they do not exchange any items. If you have selected the wrong size, you will have to place a new order and you will receive a refund on your previous one. 
Sezane Promotions & Discounts
After searching through the internet, we are sad to say that we did not find a Sezane discount code or any promotions on their website. Their prices seem to be fixed and never on sale. Although there is an option to enter a discount code at checkout, however, nothing seems to show where to get one.
What they do have is an E-gift card, which you can order and choose to be sent to anyone via email. The minimum spend is $50 and the maximum is the customer's choice. 
Contact Sezane
How to contact Sezane? Very easy, there are 3 ways to contact them:
Sezane Reviews: Editor's Verdict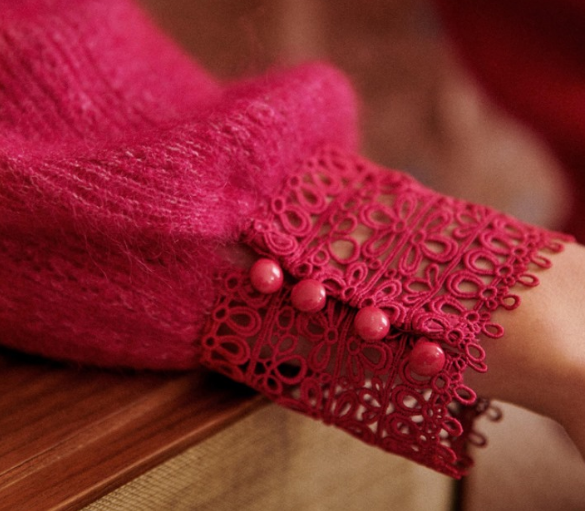 If you have been a reader for a while, you must know we always have an editor's verdict and you are probably curious what we think after reading the Sezane reviews. Well, despite all of the bad reviews around customer service, Sezane seems to be an amazing brand with creative and unique products on its website.
The website itself seems to be user-friendly, the clothing looks like a dream and they promise to fit every skin color and size. We also love the fact that they are sustainable, they care for their employees.
The materials they choose are based on four criteria: strength and durability, price, and environmental impact. According to their website, currently, their materials are 77% eco-friendly and they aim to increase this number to 80% in the upcoming year.
So the verdict? Yes, we do think Sezane is worth the hype. Despite reading about the bad reviews on their customer service, these pieces are truly timeless, with carefully selected materials and designed to last you a lifetime. Maybe even your children will wear them one day.
If you are a fashionista and can not imagine your life without beautiful clothes, make sure to take a look at our reviews of Lulus, Reformation, Romwe, and Stitch Fix.
Sezane FAQ
Does Sezane use eco-friendly materials? If so, which ones?
Sezane claims that ⅔ of their collections are eco-friendly materials. This means that their clothes have minimal impact on our environment.
Where are Sezane collections made?
Some of the items are made in Europe. For example, their leather goods are made in Spain, Italy, and Portugal. Their suits, coats, and blouses are all made in Eastern Europe.
Where does Sezane stand on materials derived from animals?
Sezane does not use fur or the skins of exotic animals and endangered ones. At the same time, Sezane is transparent and clearly states that they cannot trace the entire production chain.
Whatever materials they use, they always make sure it is ethical and it goes through strict verification processes.
Do Sezane sizes run small?
Sezane offers a good range of sizes, from XS to XL. It is recommended though for some items to size up, for example for sweatshirts. If you like a more fitted look then you should stay true to size.