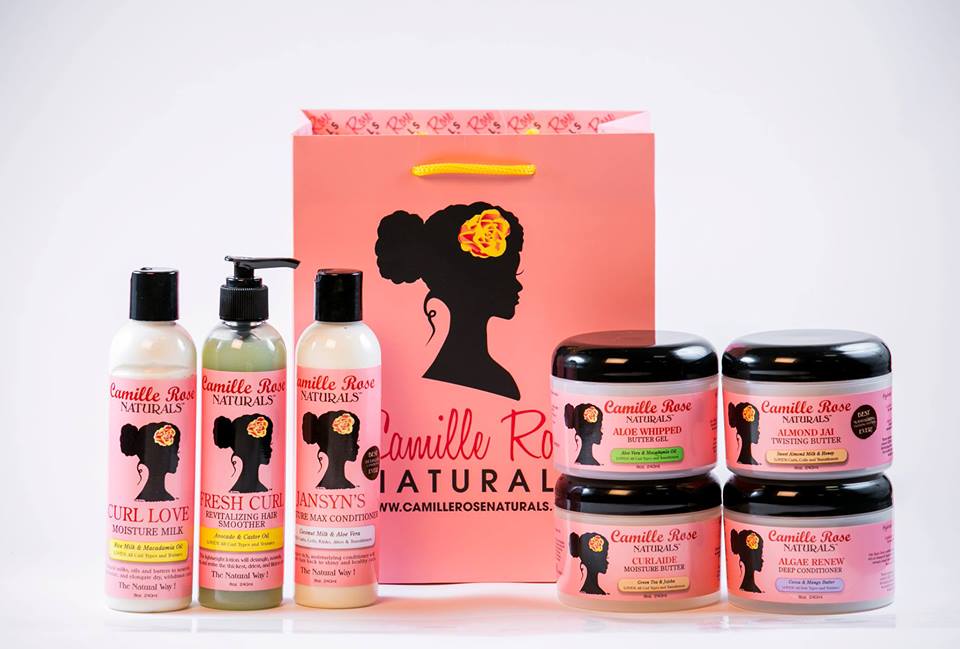 Hair maintenance products help women and men to maintain healthy hair free from damage. If you are looking for hair products that are vegan, cruelty-free, and chemical-free, Camille Rose sells shampoos, conditioners, oils, and hair serums. We'll highlight Camille Rose reviews from customers, its best-selling products, shipping and return policies, promotions, and more. Read on to decide if its products are the right choice for your hair. 
About Camille Rose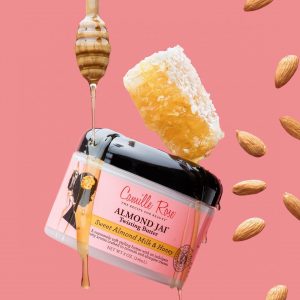 Camille Rose is a hair company that sells organic and freshly mixed hair and skin products. The company offers a wide range of products suitable for different hair types.
The founder and CEO of this company is Janell Stephens, an entrepreneurial expert who is one of the individuals at the forefront of revolutionizing the hair industry. She is an iconic pacesetter from the time she started Camille Rose.
The idea to start Camille Rose began when Janell was in the kitchen preparing her favorite concoction made from food-grade ingredients and gourmet blends. These ingredients became the formula used in manufacturing Camille Rose products.
Janelle's entrepreneurial journey is an inspirational tale that speaks of determination and grit. She is a mother of five kids and is always passionate about research and developing solutions to her children's eczema.
In about eight years, her vision, self-motivation, and ambition have seen Janelle rise to the top and build a multi-million dollar company. Camille Rose is one of the leading hair companies with a strong base of support from retailers and online influencers.
It is encouraging to hear the motivating story of Camille Rose. Initially, Janelle planted seeds that she would use to grow her brand. As a loving mom, a Louisiana native, and a dedicated vegan, Janelle lives by the mantra that whatever you apply to your body should be as good as what you consume.
More about the brand
Camille Rose's beauty standards make it a unique company, unlike many beauty brands that use harsh chemicals and unhealthy substances. 
Janelle did her research and realized that many industries are out to make a profit, and they don't care about the consumer's health. She made it her duty to produce organic and chemical-free products, which were not available in the market. 
She started making the products for her family and later graduated in commercial production in 2011. In 2012, she opened Camille Rose's website, and within a short time, she witnessed an explosion in sales. After a while, the founder added more products like conditioners and moisture milk, which are still popular to date.  
Today, the Camille Rose brand stands out as a company dedicated to achieving natural beauty and mentoring women of color in business. Numerous media outlets have featured the brand, including InStyle, Teen Vogue, Vegetarian Times, ELLE Magazine, Ebony Magazine, Black Enterprise, and Huffington Post. Camille Rose has 407k Instagram followers and more than 77k followers on Facebook.
Before we get to Camille Rose reviews from customers, here are the brand's pros and cons.
Pros
They offer a range of products for different skin and hair needs, including hair oils, conditioners, and cleansers

Promotions and discounts are available

They do not test their skin and hair products animals

Their products are available in over 300,000 locations

The company offers vegan products

Their products have a lovely scent and soften the hair while promoting shine
Cons
Some customers complain that certain products don't work for them

The company charges a reshipping fee of $8.00

All sales are final
Camille Rose Products Review
Camille Rose offers a wide range of hair products you can use on different hair textures. Their products are vegan and cruelty-free. Just the perfect products you should get in a self care subscription box. Here is an overview of their bestsellers.
Camille Rose Naturals Cocoa Nibs Honey Ultimate Growth Serum Reviews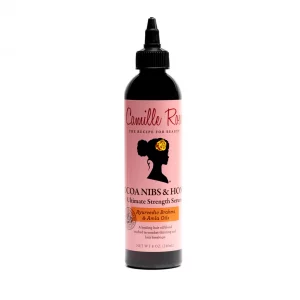 It is common to lose 50 to 100 hairs every day. The more hair you are shedding than required contributes to the overall thinning of hair. Unlike general hair loss, thinning hair will not cause baldness. But it will leave you with sparser spots on your hair. 
If you have thinning hair, use the Camille Rose Naturals Cocoa Nibs Honey Ultimate Growth Serum to combat thinning and reduce hair breakage. This Camille Rose oil is specially formulated to restore your strands.
It is a restorative oil made from a cocktail of oils like amla oil and Brahmi herbal infusions designed to open blocked hair follicles and improve blood circulation for optimal hair strength. 
According to Camille Rose Naturals Cocoa Nibs Honey Ultimate Growth Serum reviews, customers love this product because of the natural ingredients it features. The active ingredients used to manufacture this serum are virgin Amla oil, which strengthens hair follicles and improves general hair health. 
Brahmi herbs are also used to thicken and nourish the hair, promoting overall hair growth. Additionally, it contains jojoba oil for moisturizing hair.
The Ultimate Growth Serum is light and not oily. To use it, apply a generous amount to your scalp daily. The ingredients used will leave your scalp moist, and you will no longer itch. 
It is also lightweight for easy absorption, leaving your hair soft but not oily; the serum has an inviting cocoa smell perfect for staying fresh the whole day, and you can get one for $16.00.
Camille Rose Naturals Curl Love Moisture Milk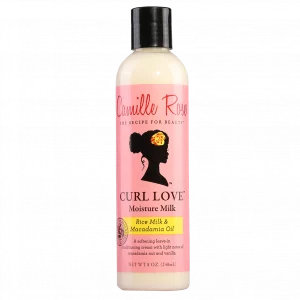 Every woman desires to have soft and flexible hair. To achieve this, you are required to use a conditioning cream immediately after shampooing your hair. Hair conditioners smoothen out hair cuticles, provide a protective layer on hair strands, and reduce split ends. 
Camille Rose Naturals Curl Love Moisture Milk is a softening leave-in conditioning cream. Camille Rose reviews show that users praise this conditioner because it has a nice fragrance that comes from vanilla and macadamia nuts.
If you have curly hair and want the curls back, check out the Curl Love Moisture Cream. It is a softening leave-in conditioning cream containing silky rice milk and droplets of warm macadamia oil. These ingredients are blended to hydrate hair follicles and elongate hair strands.
The gourmet ingredients used in this cream are rice milk, which contains vitamin A, D, and B12 to promote hair growth. Another active ingredient is macadamia seed oil, which seals strands and aids in breakage prevention. Additionally, it contains slippery elm bark that detangles and smoothens the hair shaft.
One bottle of this conditioner costs $15.00. To use the product, apply a generous amount to your hair after washing it with the Camille Rose Shampoo. You can use the conditioner with the Camille Rose Naturals Curlaide and Aloe Whipped Butter Gel.
Camille Rose Naturals Leave In Collection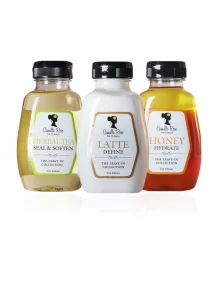 Leave-in products protect hair from damage, provide extra moisture, and help detangle the hair strands. The Camille Rose Naturals Leave In Collection is a perfect combo formulated to protect and moisturize the hair. The leave-in condition is specially formulated to hydrate, moisturize, define, seal and soften tresses after cleansing. 
The gourmet ingredients featured in this product are olive fruit oil, a powerful antioxidant, and Vitamin E, which moisturizes your hair and protects it from damage. It also contains honey, which softens, smoothens, and transforms the hair into a natural emollient. Aloe leaf juices are also absorbed in the hair for maximum moisture, promoting healthy growth from the rich essential fatty acids. 
Use the Leave In Collection Wash and cleanse your hair with a good shampoo. Apply honey on the hair using your fingers to ensure every strand is moisturized. To achieve a fine defining texture, divide the hair into four parts while still wet. Then, apply latte and style as desired.
Next, add a few drops of herbal tea to your hands and apply them to the hair to seal the moisture. You can use the collection together or apply them separately to achieve the required hair needs. You can buy this set from the company's website for $42.00.
Camille Rose Naturals Caramel Cowash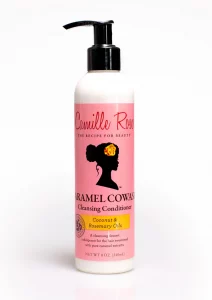 Formulated to sweeten the hair with pure caramel extract, the Camille Rose Naturals Caramel Cowash is a cleansing conditioner made with witch hazel, which reduces breakage by calming and smoothening frizzy ends.
It also contains caramel, a spice that naturally softens and aids in loosening and detangling hair strands. Additionally, it contains sorbic acid, which removes mineral build-up from hair. 
The Cowash is made by mixing pure aloe leaf juice into organic coconut, argan oil, soybean, and safflower seed. Caramel is added to the mixture for conditioning, which smoothes the hair. To finish off, an infusion of rosemary and witch hazels is added for cleansing and hydration. The ingredients used are suitable for all types of hair. 
Massage your scalp with the Cowash, and your hair will absorb the rich ingredients, leaving you with soft and healthy hair. The caramel Cowash goes for $14.00.
Camille Rose Naturals Curl Maker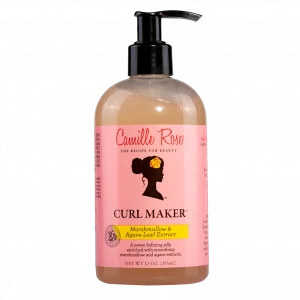 Curly hair is prone to frizz, unlike other types of hair. Curls always look beautiful when they are well managed. It is essential to use the right kind of product to align your curls.  
The Camille Rose Naturals Curl Maker is a sweet defining jelly enriched with agave extracts and smoothing marshmallows. The gourmet ingredients featured in this product are nettle root, which stimulates hair growth and encourages length retention. 
It also features aloe juices, which supply intense moisture while promoting healthy hair growth. Marshmallow root is also used to smoothen, define and detangle hair strands.  
You can use the Curl Maker on any hair type; it defines hair curls, leaving you with soft and moisturized hair. Camille Rose curl maker will not leave your hair with flakes.  
It also has a sweet smell infusing the hair with Vitamin B12 and E, leaving the hair with soft, luscious curls. You can get your hair under control for only $22.00.
Camille Rose Reviews from Customers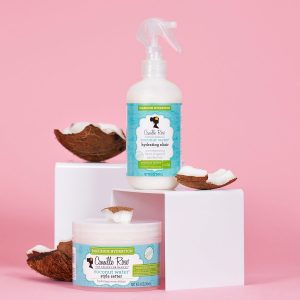 This Camille Rose review checked what customers say about this brand and its products. The company has received many positive feedbacks on its website and other online platforms. Camille Rose Deep Conditioner is one of their hair products with high ratings. 
Customers who have also used the brand's Curl Love Moisture Milk love the product. Most people who use this product have 3c and 4a hair textures. They praised it and said it's an effective moisturizer that refreshes their hair, leaving it feeling super soft and healthy-looking. 
Most of the products have a 5-star rating on the company's website. The majority of customers are happy and content with their products. They raved about how the products left their hair hydrated and moisturized. Most users also loved their elegant fragrances like caramel. Others stated they loved how the company offers a wide range of products that are easy to use on all hair types. 
On Amazon, most of their products scored 4 or 5 stars, with most customers stating that they love the products because they are vegan and free from harmful chemicals. They also said they love their products because they have a long-lasting effect, and you only use a little, which goes a long way. 
Popular Alternatives to Camille Rose Naturals
Further customer reviews
Another customer from Amazon complimented the Camille Rose Refreshing Moisture Mist. She praised the product for refreshing, nourishing, and detangling her hair. The customer also loved how the company moistened the silkened texture with droplets and beautiful scents that left her feeling fresh all day. 
Our team also came across a few negative comments. Most customers were not happy with the returning policy since the company operates on an All Sales are Final policy. Some also complained about the lengthy procedures involved after receiving the wrong product. 
Camille Rose capitalizes on modern beauty standards. It is rare to come across a negative comment since the positive comments outweigh the negative ones. We also have reviews of great brands such as MoroccanOil.
Sign Up for Camille Rose
To get started with Camille Rose products, visit their website and click on the sign-up page to create an account. You'll have to provide the required basic details to create your account. Subscribe to their newsletter and save 15% on your next order. 
Where to Buy
If you want to buy Camille Rose products, head to the company's website CamilleRose.com. Their products are also available at select retailers. These include:
Whole Foods

Duane Reade

Walgreens

CVS Pharmacy

Sally Beauty

Walmart

Target
Shipping and Return Policy
Shipping:
Camille Rose ships goods locally and internationally. International shipping costs will be available at checkout. 
Be sure to provide the correct details when placing your orders to avoid the reship charge fee of $8.00. Other shipping terms include 2-day shipping and USPS Priority Mail.
Return Policy:

 
Camille Rose operates on an All Sales are Final policy. The company offers freshly mixed products and does not offer refunds or exchanges. They only accept exchanges when you have received an incorrect order. 
Promotions & Discounts

 
Camille Rose offers several promotions and discounts to customers that will help you save money when shopping for their products. Customers will receive 15% off on any order after subscribing to their newsletter. You will enjoy up to 50% off on Camille Rose Naturals when you use the promo code PUCKEREDUP at checkout.
Contact Camille Rose

 
For more information about Camille Rose, their customer support team is ready to answer any questions about the products, orders, or delivery. You can reach out to them via email at [email protected]. 
You can also fill out the contact form on the brand's website. Alternatively, you can send a direct message to the Camille Rose Instagram or Facebook page. 
Camille Rose Reviews: Editor's Verdict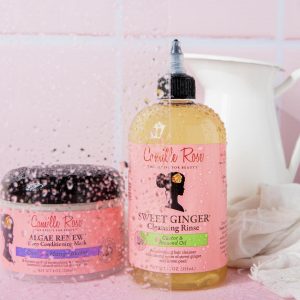 Based on the many positive Camille Rose reviews we saw online, we find this hair and skin care brand worthwhile. Camille Rose products are made plant-based and chemical-free, making them suitable for use on all types of hair. The products are safe, as you can even use them on your baby's hair because they are organic. 
The company provides a wide range of organic hair, skin, and body care products. The products are also unique because few hair companies provide consumers with 100% vegan products. They also cater to the needs of kinky hair since many companies produce products for individuals with straight and curly hair.  
The numerous positive reviews from customers show that the products are high-quality and effective. Our team recommends their products, especially to people who have kinky hair. 
Looking for other beauty brands to try out? Read our reviews of Cantu, EvolvH, xMondo Hair, and Clairol.
Camille Rose FAQ
Is Camille Rose only for Black Hair?
No. Camille Rose has different products for different hair textures. They have products formulated for wavy hair, kinky hair, coily hair, curly hair, and straight hair.
How long does Camille Rose products last?
Camille Rose products are long-lasting. The products are made from genuine plant-based ingredients and are freshly mixed upon receiving an order.
Does Camille Rose work on 4C hair?
Yes. Camille Rose offers a wide variety of products that are good for 4C hair, such as Curl Love Moisture Milk and Lavender Shaken Hair Spritzer. 4C hair needs to be hydrated and moisturized, and this brand offers products suitable for this type of hair.
Are Camille Rose Products Color Safe?
Yes. Their products are free from harsh chemicals that can fade your hair color. The ingredients used in Camille Rose products are gentle to ensure the color of your hair looks vibrant for a long period, as they do not remove the color deposits from your hair.