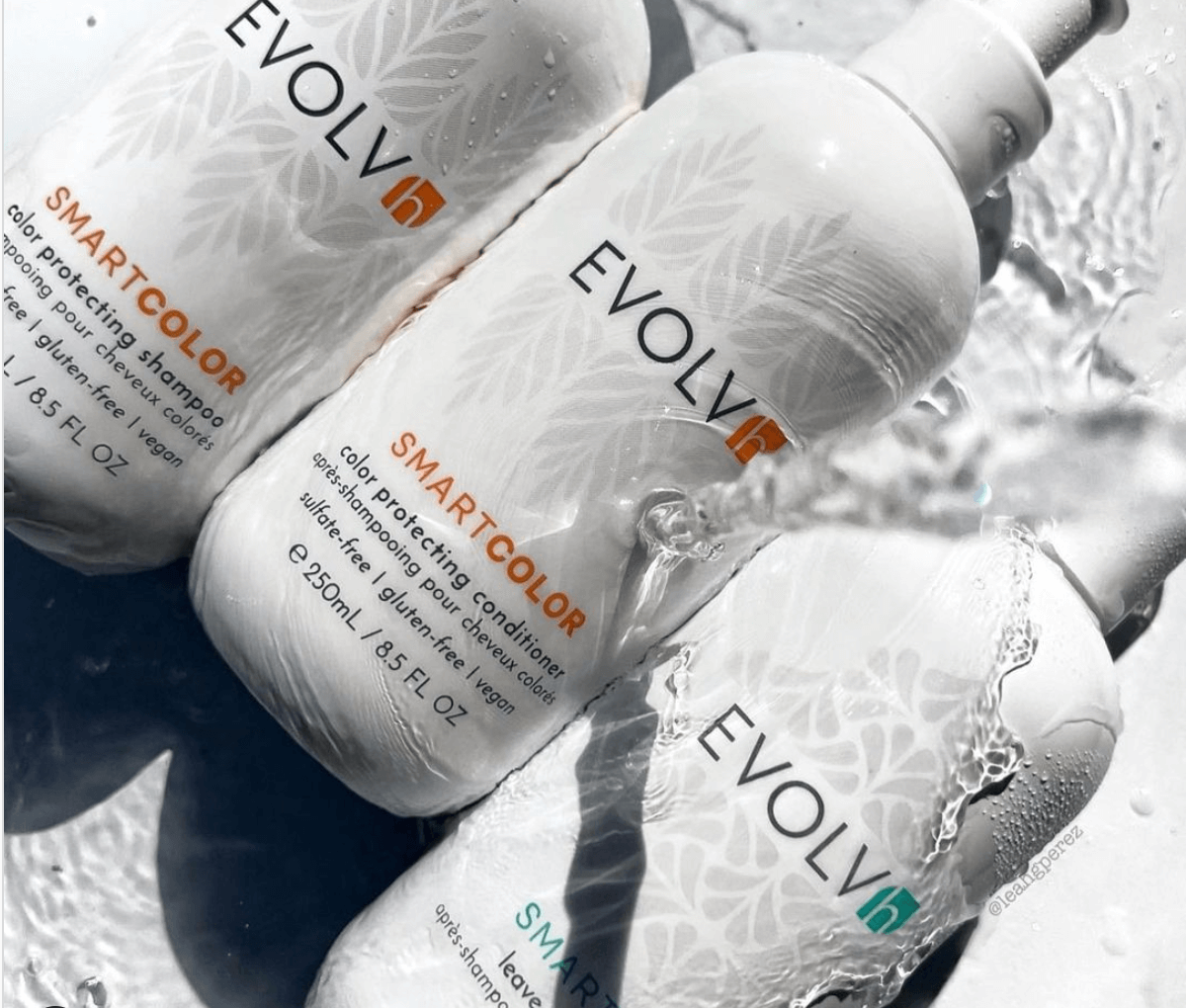 Hair is your crowning glory, and the secret to having great, healthy hair is establishing a good haircare routine with quality products. You must always consider what you put in your hair. Whether you have wavy hair, textured, curly, or straight hair, you should use products with natural ingredients. In turn, your locks will thank you with radiant shine. As pioneers in clean haircare, EVOLVh has delivered science-based, biology-driven, high-performance haircare products using natural, organic ingredients that leave users with super shiny and healthy hair. We'll look at EVOLVh reviews to help you determine if this natural and organic haircare brand is worth checking out.
About EVOLVh Haircare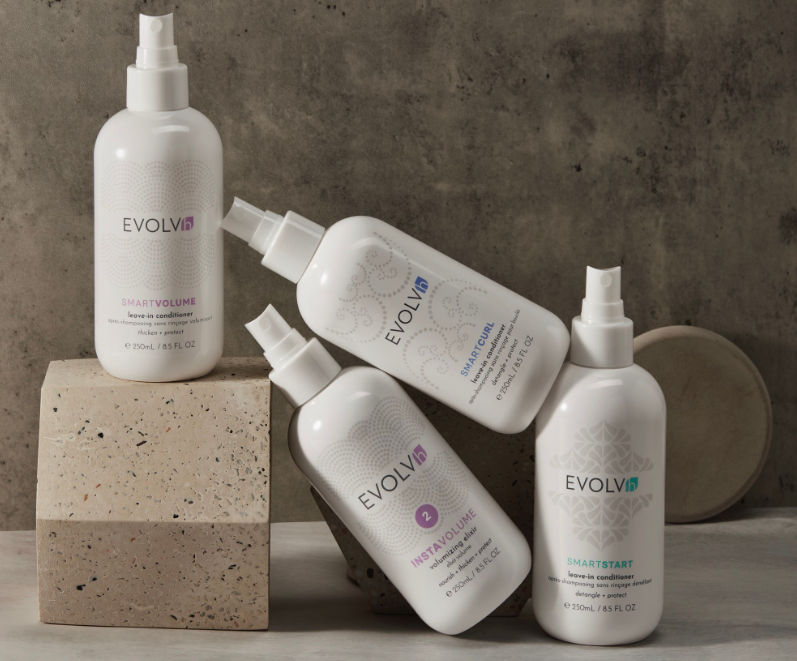 Founded in 2009 by Boris Oak, EVOLVh is a hair care line that believes every hair journey is personal and unique. The founder has been a hair enthusiast ever since he was young; he entered the industry when he was a 12-year-old boy after his immigrant mother opened a hair salon.
When his family was still new immigrants from the former Soviet Union (USSR), Oak spent most of his time mixing mousses, swirling gels, and playing with a range of products. Twenty years later, he helped to transform a small shop into a big salon with a retail culture that was strong and effective.
Spurred by his interest in health and wellness and high level of knowledge on products, Boris saw the need for a haircare company that offers clean, effective products. And that is when he launched EVOLVh, which has since paved the way with its advanced, high-quality, vegan formulations.
The meaning of EVOLVh is "the evolution of hair care," and it aims to fulfill the need for green haircare that works while offering a thrilling, luxurious experience.
The mission of this brand is to rewrite the narrative of Clean Beauty Hair by creating an unparalleled science-backed line and removing the need to choose between cutting-edge and clean. The brand meets the highest standard to ensure the products it offers positively impact customers and our planet.
Their products are suitable for all hair types, and they follow transformational product performance, as they have science and biology at the center of the formulation. Additionally, the haircare brand offers online hair consultations and has a team that helps customers select products that suit their hair needs.
Pros
Offers online hair consultations to help you find the right product
Their products are gentler, safer, and healthier
Well-established haircare brand with a good reputation
They offer a 30-day money-back guarantee
Free standard shipping on orders that amount to $75
Accepts multiple payment methods
Cons
Only ships to two countries: the U.S. and Canada
They don't guarantee the arrival date with their free shipping option
You cannot return some specific items
EVOLVh Haircare Products Review
To prevent hair loss, dry and rough hair, you need to use products that make your hair healthier and shinier. That's why our team of experts reviewed the top-selling EVOLVh hair products to help you in your purchase decision.
EVOLVh Ultrashine Moisture Shampoo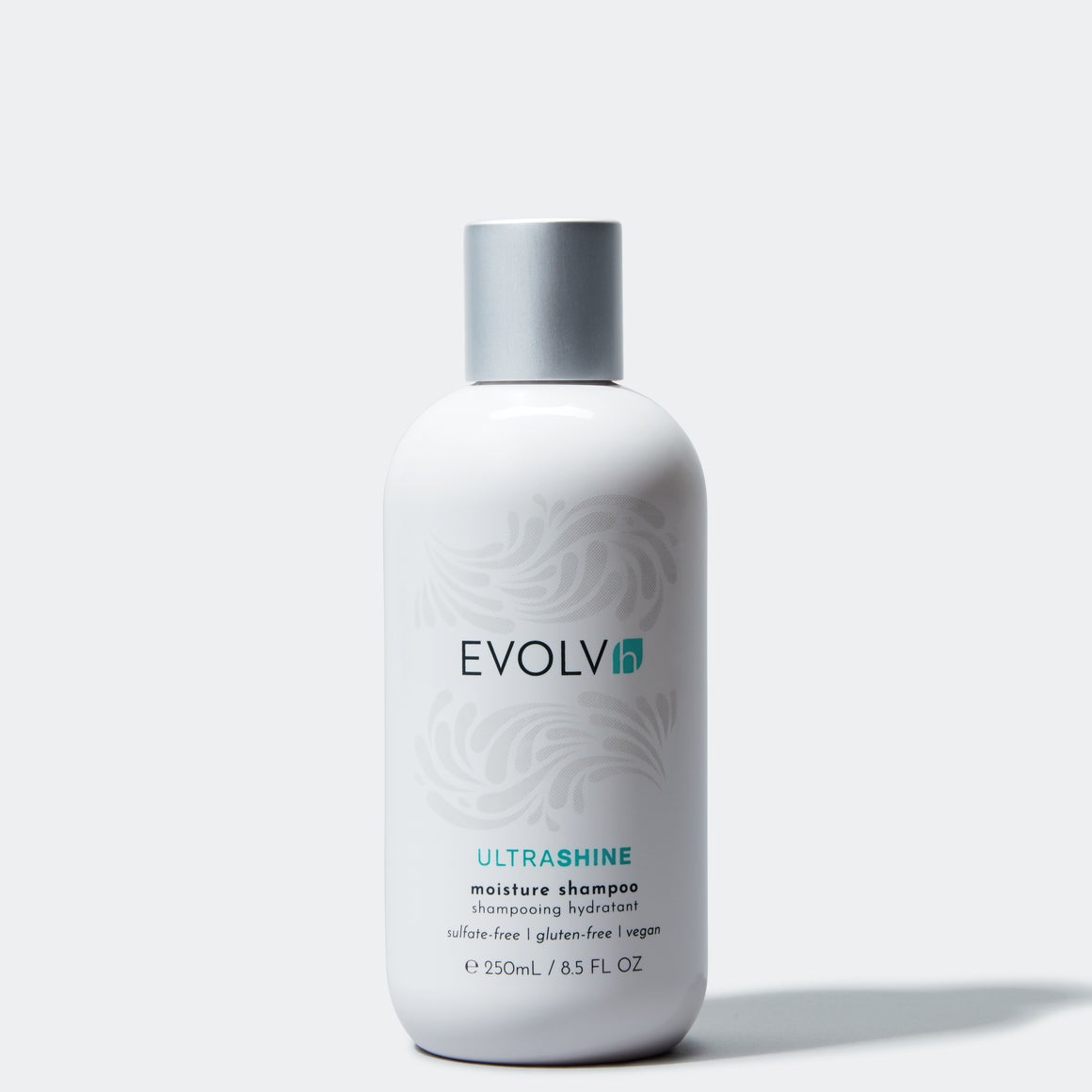 Suitable for all hair types, EVOLVh Ultrashine Moisture Shampoo helps keep your color-treated hair from fading and allows it to maintain its color.
Formulated to give your color-treated hair a healthy shine while keeping it moisturized and well-nourished, this EVOLVh shampoo also repairs, restores, and prevents splits-ends and breakage.
Designed for coarse, thick, and curly hair that needs less frizz, manageability, and softness, this cruelty-free EVOLVh shampoo contains safflower oil.
This ingredient enhances circulation and contributes shine, and it also moisturizes your scalp and hair while promoting vasodilation for improved scalp health. The nourishing and antioxidant properties of this oil provide UV protection.
Additionally, this shampoo features amino acids that help restore the strength and health of your hair while boosting its elasticity. Because this product contains seaweed extract, it can stimulate your follicles to encourage hair growth.
Also, it rehydrates and moisturizes your existing hair, allowing it to shine.
EVOLVh shampoo reviews reveal that many customers love this product because it is gluten-free, sulfate-free, paraben-free, and vegan. It is available in 8.5-oz, 2-oz, and 1-liter bottles and features sunflower oil, which moisturizes your hair and scalp, provides UV protection, and promotes hair growth.
Sunflower oil also stops hair breakage and has anti-inflammatory properties that help relieve your itchy scalp and calm dandruff.
Elle Magazine named EVOLVh Ultrashine Moisture Shampoo the best organic shampoo for all hair types. Byrdi also praised this haircare product and considered it the Best Natural Shampoo that works like traditional formulas.
EVOLVh Wonderbalm Magic For Curls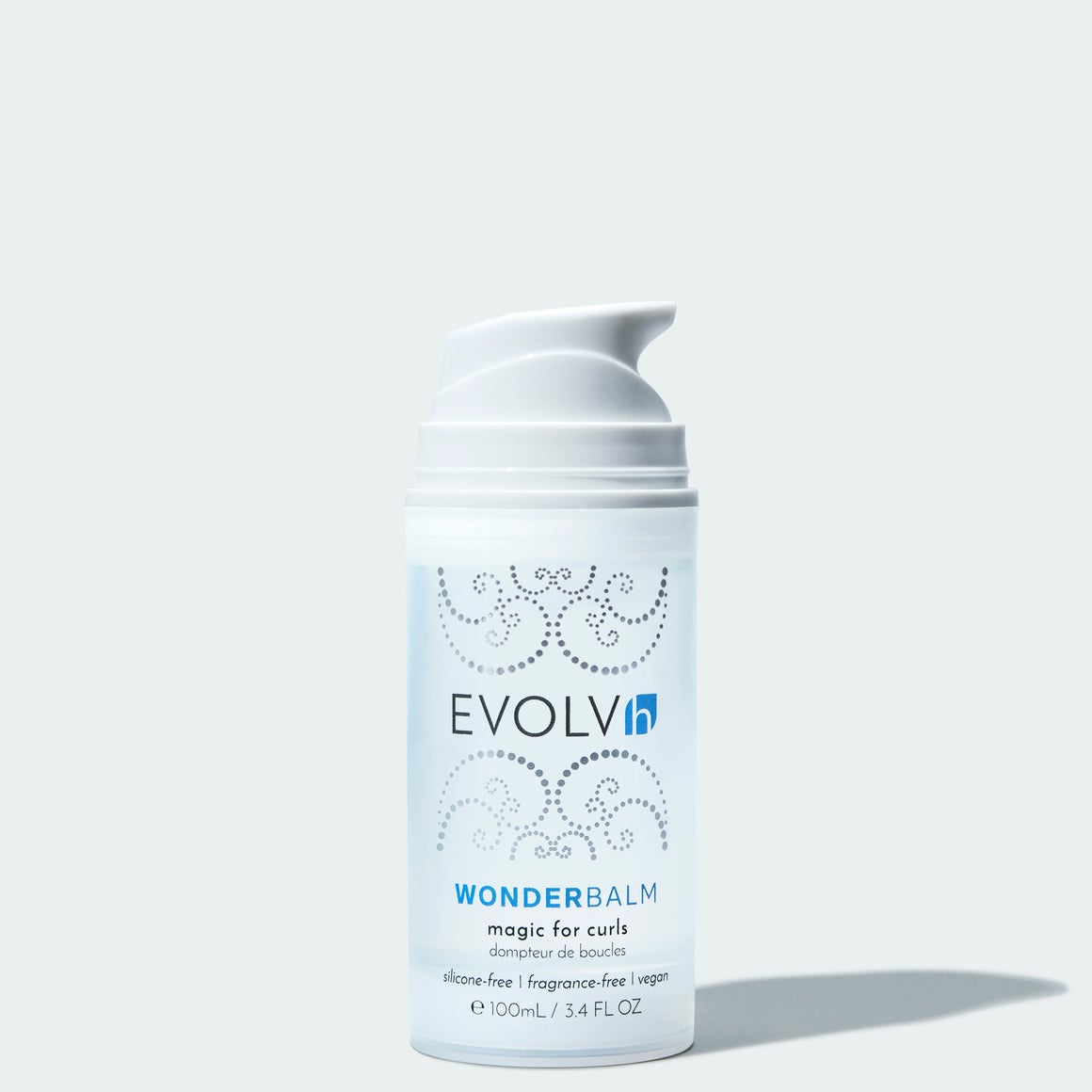 If you have dull, unruly, shapeless hair, you can use EVOLVh Wonderbalm to transform it into next-level silky soft, hydrated curls. This product defines curls without the crunch and straightens your hair. Say goodbye to wavy hair and hello to beautiful curls.
Wonderbalm Magic For Curls contains kiwi seed oil, an ingredient that essential nutrients to be absorbed faster for maximum hydration and softness. Moreover, it features castor oil, which helps lubricate your hair shaft to increase flexibility and decrease the chances of breakage.
This ingredient is also the curly hair miracle for having shiny, healthy scalp and hair.
Completely natural and eco-friendly, Capryloyl Glycerin/Sebacic Acid is another ingredient in this hair care product. It plays the role of paving your way to enjoying the ultimate smoothing sensation.
Based on EVOLVh reviews, customers love Wonderbalm Magic For Curls because it protects them against UV and heat damage and helps them style their hair, allowing it to stay flat and smooth.
Rapeseed oil is another ingredient you'll find in this product, and it has moisturizing properties that coat your hair and penetrate your shaft and scalp with ease.
With its excellent ratio of omega-3 to omega-6 fats, it's considered to have anti-inflammatory effects that can soothe an irritated scalp.
Available in a 100-ml bottle, EVOLVh Wonderbalm Magic For Curls contains sweet almond oil, an ingredient with nourishing and hydrating properties that make your hair. In turn, they will become lustrous and shinier.
Almond oil provides moisture to your scalp and hair, reducing dry roots, itchy scalp, split ends, and breakage. Pure Wow named it one of the Game-Changing Beauty Products, and it appeared in Top Green Beauty Pick by Insiders Guide to Spas.
EVOLVh Leave In Conditioner Reviews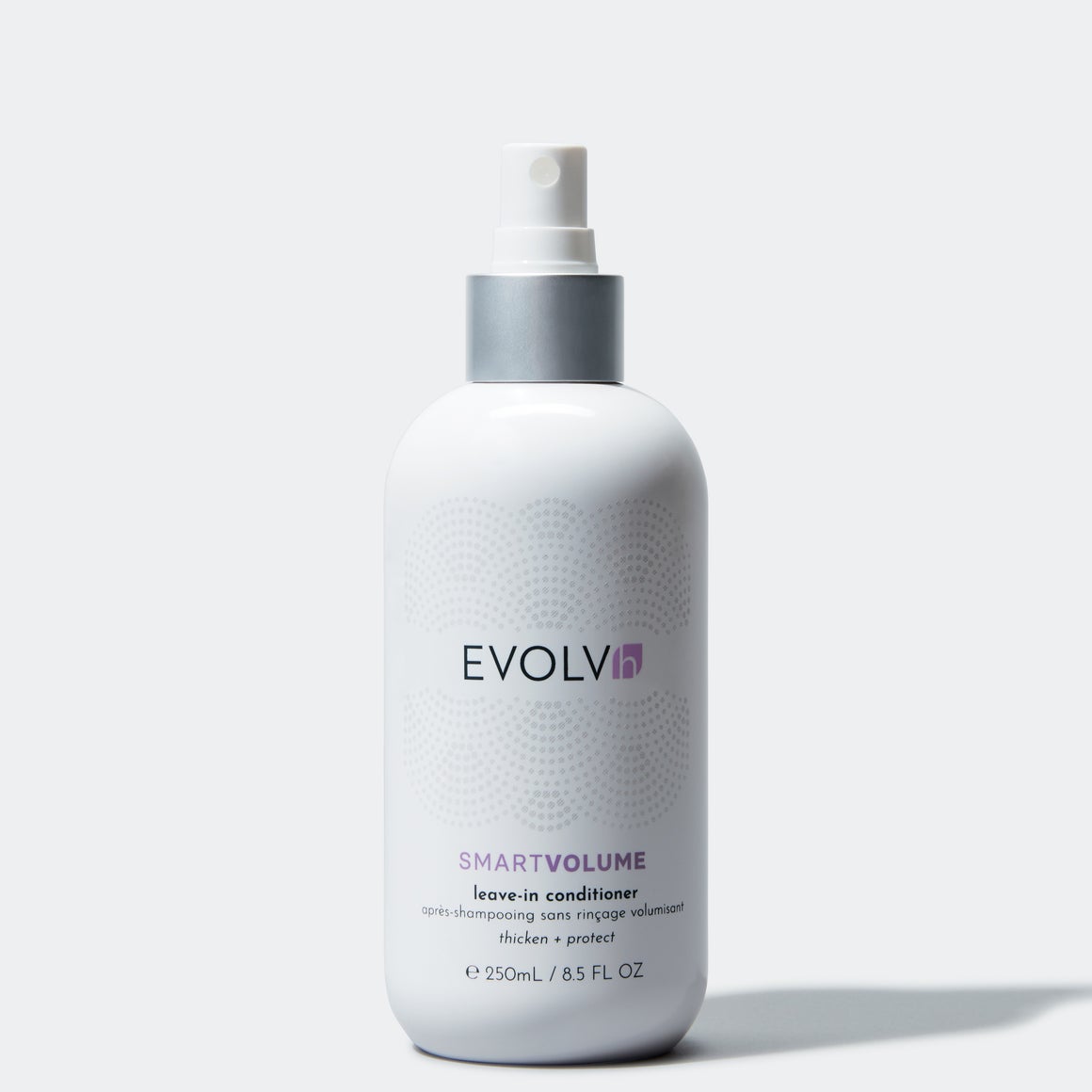 Formulated with gentle, natural hydrating ingredients, EVOLVh Leave-In Conditioner provides extra moisture to your hair, helps detangle the strands, and protects it from damage.
EVOLVh Leave-In Conditioner reviews show that buyers love this high-performance, low maintenance, volumizing leave-in conditioner because it leaves their hair super shiny, extra soft, and beautifully bouncy.
Based on EVOLVh reviews, this leave-in conditioner thickens the hair and adds fullness without drying. It also does a great job of protecting the hair from external damage, such as changing weather, pollution, and sun rays.
EVOLVh Leave-In Conditioner contains cumin seed oil and rice bran extract. These ingredients provide UV protection and protect your skin against heat damage. Rice bran oil is packed with omega 6 and 3 fatty acids, which help to nourish your hair.
This ingredient also makes frizzy hair thicker and easily manageable. Because it has a high concentration of thymoquinone, Cumin seed oil restores hair growth in thinning areas.
Available in 8.5-and 2-oz bottles, this leave-in conditioner features bergamot fruit oil, an ingredient that's rich in antimicrobials and antioxidants that help shield your scalp and hair against the effects of oxidative stress.
Also, the antioxidants strip off the chemicals and dirt causing your hair to dry out, leaving you with healthier and shiny hair.
Red raspberry seed oil is another ingredient in this leave-in conditioner, and it helps moisturize and strengthen your scalp and hair while providing UV protection.
The oil promotes silky soft hair, helps to mend split ends, provides sparkle and shine, prevents moisture loss, and adds suppleness and elasticity.
EVOLVh Smart Curl Review Hydrating Conditioner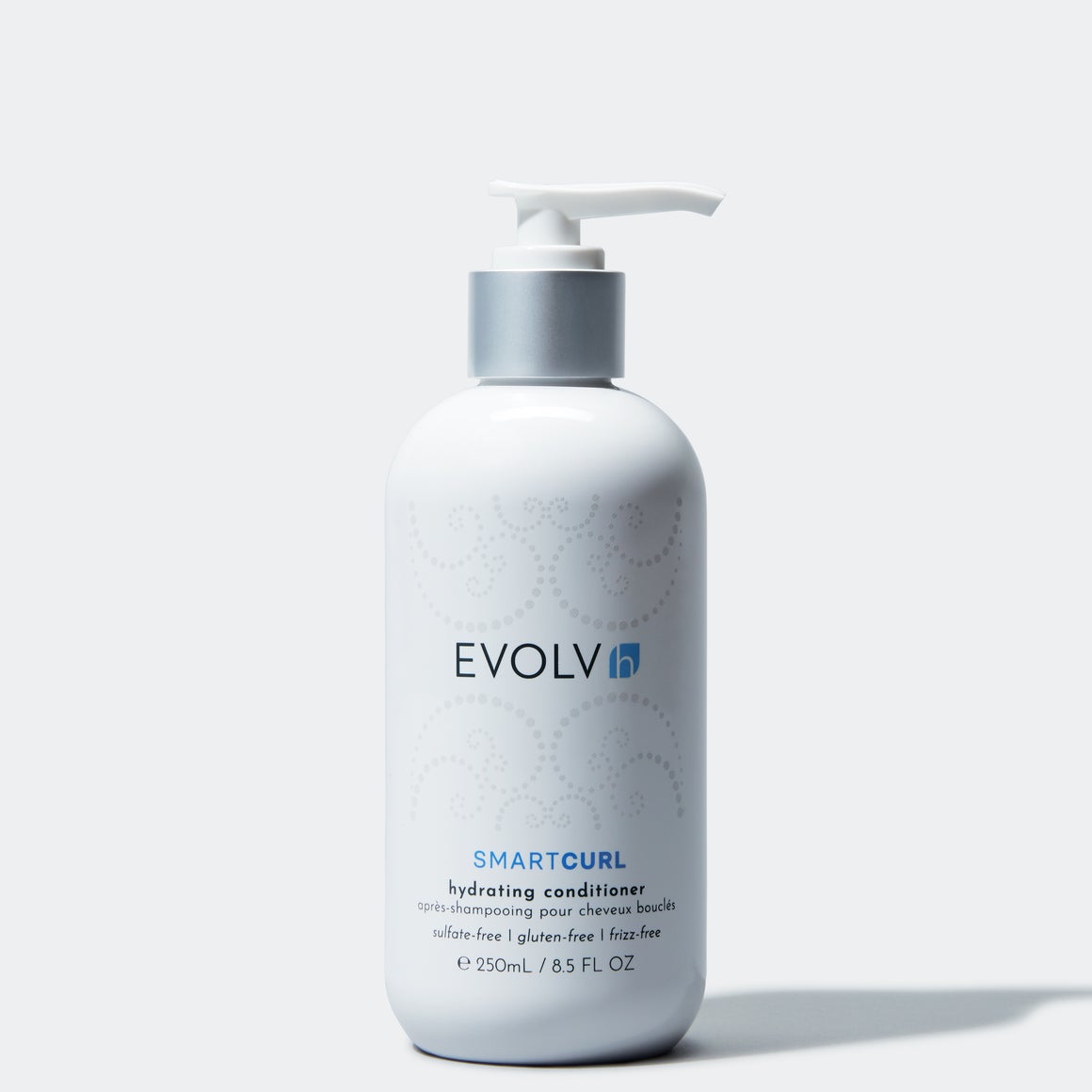 Designed to wash away clean while effectively providing moisture and shine, this ultimate hydrating conditioner is suitable for every curl type.
Our EVOLVh Smart Curl review discovered that this product restores, revives, and repairs dry or damaged hair. In addition to increasing color retention, it minimizes breakage and maximizes growth.
Smart Curl Review Hydrating Conditioner features kiwi seed oil, which helps maintain moisture while preventing scaling and drying due to its high concentration of Alpha-Linolenic acid. The castor oil in this hydrating conditioner penetrates deep into your scalp and makes rough hair cuticles smooth.
Additionally, this hair care product features Urtica Dioica (Nettle) extract, and this ingredient helps in hair re-growth and combats hair loss. Nettle extract is also rich in sulfur and silica, which help to make your hair healthier and shinier.
Rich in numerous minerals, including potassium, copper, calcium, and zinc, Aspalathus Linearis Leaf extract is one of the ingredients in this vegan and gluten-free hydrating conditioner.
These minerals are essential for hair growth, and the polyphenols (antioxidants) found in this ingredient promote shiny and soft hair.
Moreover, this EVOLVh Curl review found that this hydrating conditioner contains rosehip oil, an ingredient with healthy fatty acids like oleic and linoleic acids. Oleic acid controls water loss in your strands and makes your hair soft and more pliable.
In addition to controlling water loss in the hair, linoleic acid stimulates hair growth and helps you maintain a healthy scalp condition.
Rosehip oil also features Vitamin C, an antioxidant that boosts collagen, reduces hair loss, promotes hair health, and improves hair growth. This product is available in three sizes: 8.5oz, 2oz, and 1 liter.
DreamGel Strong Hold Styler
Powered by amino acids to protect and make your strands strong, DreamGel Strong Hold Styler adds texture to styles and leaves your hair shiny and soft. You can use this hair care product before or after shampoo.
According to EVOLVh hair care reviews, customers love this cruelty-free nourishing cream-gel because it offers an all-day hold, soft curls, and fights frizz. Doesn't matter if you apply it on wet hair or dry hair.
EVOLVh DreamGel Strong Hold Styler contains amino acids, which help to moisturize dry cuticles, strengthen strands and protect against hair breakage.
It also features tapioca root, an ingredient that nourishes your hair, hydrates it and controls hair fall. Because it contains soy amino acids, nourishing cream-gel helps promote hair growth.
Popular Alternatives to EvolvH
Jojoba seed oil is another ingredient that DreamGel Strong Hold Styler packs, which nourishes your hair because it is rich in copper, zinc, and Vitamins B, C, and E. This oil also makes your hair thick and prevents hair loss.
This haircare product features cedarwood oil, which cleanses your scalp and removes dandruff, dirt, and oil. The oil enhances circulation to your scalp while tightening the follicles; this helps stimulate healthy growth, thereby reducing thinning by slowing hair loss.
Available in a 4-oz tube, this nourishing cream-gel contains Passion Flower extract that plays a role in ensuring your hair has a shiny and healthy appearance.
Best of all, it is easy to use this product: you only need to apply 1-2 pea-sized amounts to your dry or wet hair and style as you wish. To refresh your hairstyle, you only have to spritz your hair with water.
EVOLVh Reviews from Customers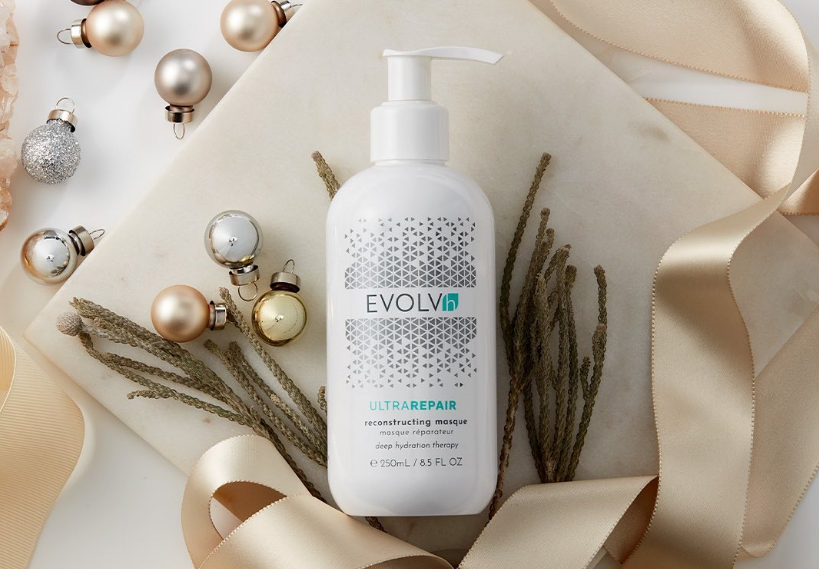 More than 70% of consumers state they look at reviews on hair care products to help them make a purchase decision. Customer feedback appears on each EVOLVh product's page, and most buyers had good things to say about this haircare brand and its products. Some of them say they have the best shampoo while others love the styling products they have.
A high percentage of customers said that their products are effective, safe to use, and they would be glad to recommend them to their families and friends.
Most of their products on Amazon have an average rating of 4 or 4.5 out of 5, with the majority of buyers saying they love them because they use clean, non-toxic ingredients. However, a few customers complained that their haircare products are expensive.
Sign Up for EVOLVh
Signing up for EVOLVh is a breeze; you only need to visit their site and provide your email address and names. You'll then have to create a password and hit the Sign-Up button to complete the process.
The site will grant you 15% off the first purchase you make on EVOLVh. You'll also receive news about new products and surprises.
By giving a friend $20 off of their purchase, you will receive $20 in the form of EVOLVh points when they make their first purchase. We also have reviews of similar brands like Bumble and Bumble.
Where to Buy EVOLVh
You can purchase EVOLVh hair care products on their website Evolvh.com and Amazon. You will also find their products at select premier salons, beauty boutiques, and online retailers in Canada and the U.S. Be sure to check their Store Locator page to find a store near you.
EVOLVh Shipping and Return Policy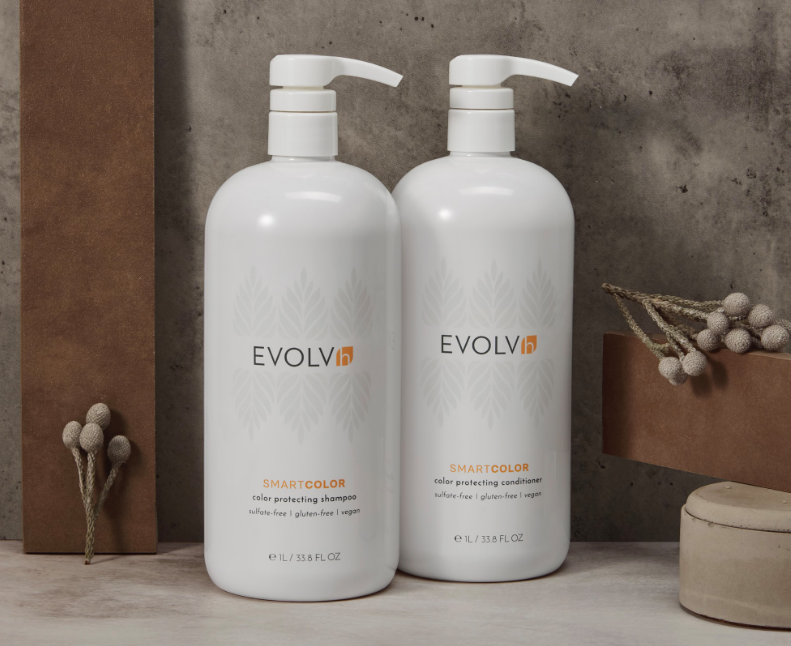 Shipping 
This hair care company ships to Canada and the United States. However, some of their partners ship worldwide. The brand standard shipping on orders worth at least $75 is free of charge.
This amount is after promo codes and discounts, and it excludes taxes. They estimate shipping charges based on destination and weight.
If you purchase products worth $0-$50, you'll pay $5.95 as the shipping fee. Those who buy items costing between $50.01 and $74.99 will pay a shipping fee of $8.95.
Canadian customers enjoy free shipping on orders of $250 and over, with the shipping rate for orders valued at $249.99 or less being 25 USD.
Orders take between 1 and 7 business days once the company processes and ships them out. EVOLVh processes standard shipping options in 1 to 3 business days.
Return Policy
You can return items within 30 days of receipt and get a refund, except for samples, bundles, and kits as indicated, accessories, travel size, and 2oz products. Refunds are applied to the original payment you use when for purchase.
EVOLVh Promotions & Discounts
The company has a rewards program where customers earn 10 points for every $ they spend on their site. You'll get 300 points when you follow EVOLVh on Instagram, and visit or share their Facebook page.
Creating an account will give you 200 points, and reviewing EVOLVh products gives you 500 points. Additionally, adding a photo or a video will earn you 400 and 600 points, respectively. You can use these points to buy haircare products are discounted prices.
Contact EVOLVh
If you have any questions about EVOLVh or their haircare products, you can reach out to their support team using the following methods:
Phone: 1.866.851.9411
Email: [email protected]
Live chat function
You can use the contact form
EVOLVh Reviews: Editor's Verdict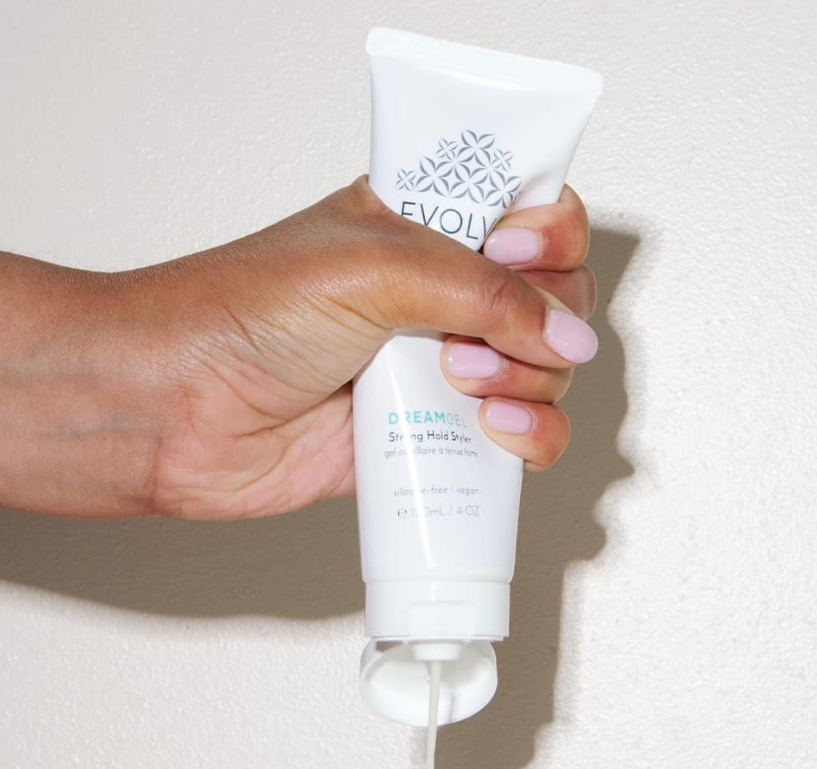 Based on EVOLVh reviews, this brand offers effective haircare products with clean, natural, and organic ingredients. Most customers left positive feedback, praising the brand and its products.
The company also provides top-notch customer service available around the clock. They also accept numerous payment methods, including Afterpay North America, PayPal Express Checkout, and Shopify Payments. Additionally, their support team assists their customers in choosing products suitable for their hair.
For these reasons, we recommend this company to anyone looking for natural, organic hair care products that are vegan, gluten-free, and cruelty-free.
Looking for more healthy hair and skin care products? Check out our beauty brands' reviews of 4C Only Hair Products, Coco & Eve, Function of Beauty, and Credo.
EVOLVh FAQ
Are EVOLVh products for all hair types?
Yes, EVOLVh products contain 100% natural and non-toxic ingredients, making them ideal for all hair types, including coarse, fine, and straight hair.
Are EVOLVh products free of harmful ingredients?
Yes. EVOLVh products are 100% clean, which means they are free from hormone disruptors and harmful chemicals.
Are EVOLVh products gluten free?
Yes, EVOLVh products are manufactured in a gluten-free facility.
What is the shelf life of EVOLVh products?
Your EVOLVh products have a shelf life of 36 months from the moment they are manufactured. They recommend keeping them away from heat and store in cool to moderate temperatures to extend the shelf life.
Does EVOLVh source from sustainable growers?
EVOLVh will only source from sustainable supplies that are RSPO certified as they are also concerned about the impact of Palm Oil harvesting.