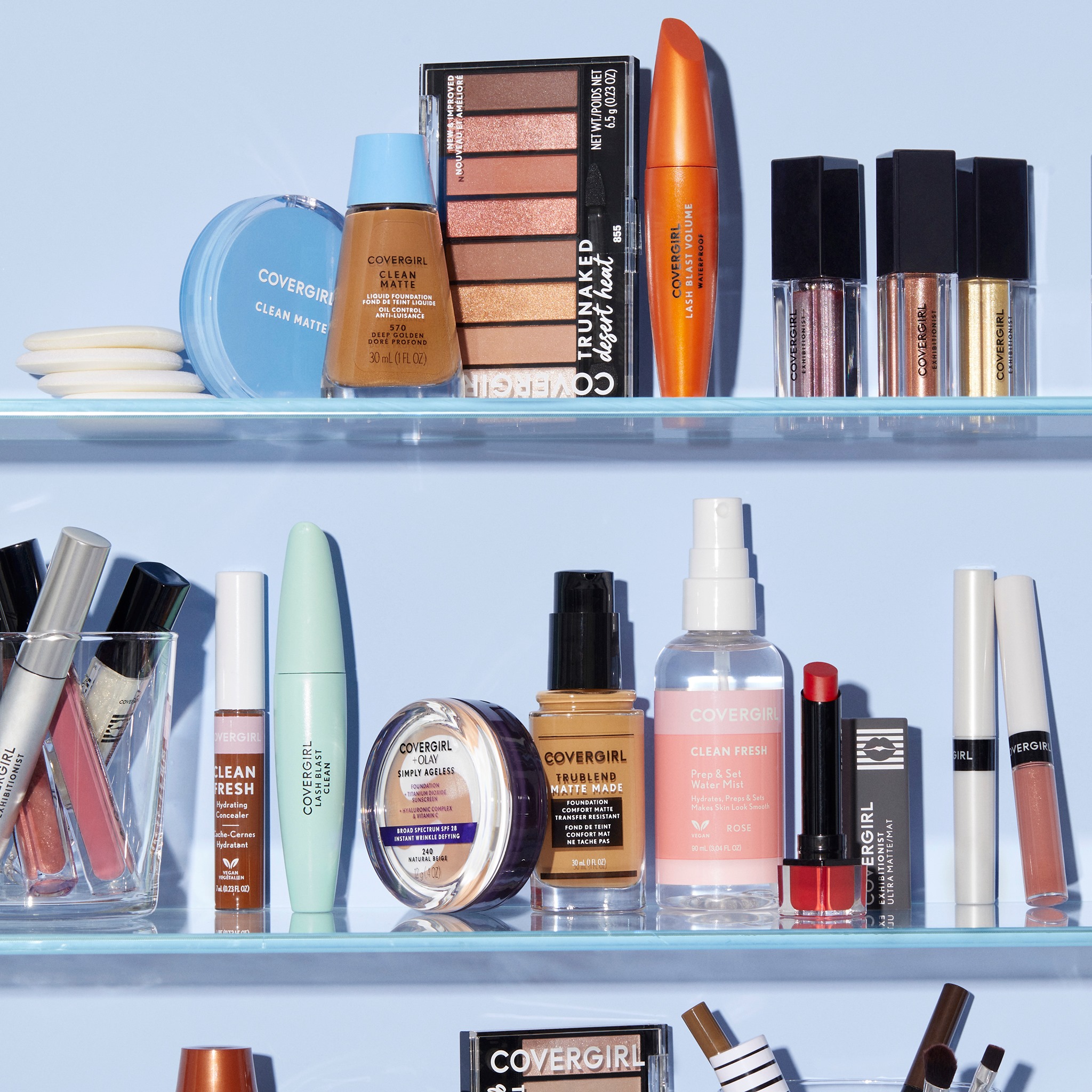 CoverGirl has been making cosmetics since 1961 and after 60 years can truly be considered a household name. You can find CoverGirl cosmetics in nearly every independent drugstore and many big-box stores countrywide… But you might not have thought much about where this brand has come from or how they've changed over the years. Has CoverGirl moved with the times? Or is it the same powder as in mom's old compacts? In our thorough and unbiased CoverGirl review, we'll find out if the CoverGirl of today is fit for tomorrow.
About CoverGirl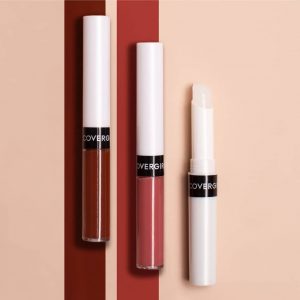 CoverGirl products first graced drugstore shelves as a line of medicated cosmetics, created to diversify the portfolio of the well-known Noxzema Chemical Company of Baltimore.
These first liquid and powder foundation products contained some pretty hefty chemicals, designed to provide some of the benefits of currently available skin creams in a makeup product. It was an innovative idea at the time.
The easy-to-use products were marketed to girls and young women with a series of highly successful magazine and TV campaigns. This left the brand firmly planted in the public consciousness.
CoverGirl hasn't stopped innovating and their list of 'firsts' is pretty impressive. As well as the first woman of color and the first male spokesmodels in the cosmetic industry, CoverGirl can also boast of having popularized contouring as early as the 60s.
The majority of customers are as pleased with their products as they were in the 60s and 70s, with only the occasional negative CoverGirl review, usually from someone experiencing a negative reaction or disliking a new formulation. We've not found much negativity at all other than these occasional can't-be-avoided incompatibilities.
It's worth noting that you can't buy any products on the CoverGirl website and will instead be linked to a range of suppliers you can purchase from on each product page. Have they missed the boat on taking advantage of online sales? Or was concentrating on the products and letting them sell themselves (as they have in the past) the smart choice?
Pros
A household name with a good reputation.
An easy brand to find, with stockists including Target, Walmart, and most independent drugstores.
Wide range of beauty and skincare staples.
The entire range is cruelty-free.
Vegan products are available.
Leaping Bunny Certified: free from animal-tested ingredients.
Great after-sale customer service.
Tutorials, ideas, and beauty blogs are available with no sign-up.
Cons
Considered old-fashioned by some.
Occasional poor batches or a lack of quality control.
Has been associated with some questionable celebrities.
CoverGirl Products Review
We've looked at the history of CoverGirl, so it's time to examine some selected products and consider what the company produces today vs how CoverGirl products compare to competitors.
By and large, customers think that CoverGirl products present good value for money, work as described, and are backed up by a high level of customer service.
Perhaps, by focussing less on fulfillment and delivering their products through pre-existing stockists, CoverGirl has created space to focus on product development and the customer experience.
CoverGirl Trueblend Matte Liquid Foundation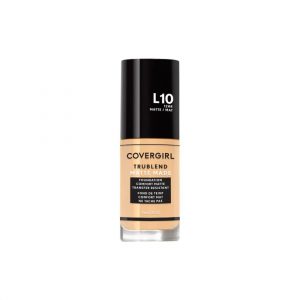 The Trueblend Matte Liquid is one of a range of CoverGirl foundation products available in their widest range of skin tone options.
This matte foundation will reduce the appearance of pores and absorb excess oils while creating a flawless canvas for your makeup or a shine-free natural look.
CoverGirl hosts thousands of reviews on its website for each product. The majority of customers have stated this foundation works well on their skin and lasts for a reasonable amount of time without reapplication.
Some customers have complained about a change in the shade of particular colors of this product or found that the expected shade did not match their skin color well enough. Customer support has responded to nearly every one of these reviews asking the person leaving it to get in touch for help choosing the right shade or to replace incorrect bottles.
As well as a range of tutorials and blogs to help you choose the right products for your shade and skin type, it's reassuring to see that CoverGirl will help to support customers in finding the exact right products for them after the point of sale.
CoverGirl Trueblend Full Coverage Concealer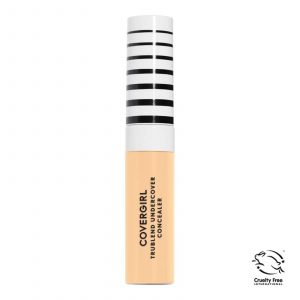 This CoverGirl concealer is designed for everyday wear and has a low price point to match. Created with under-eye use in mind, the matte finish will conceal dark circles and uneven skin while helping to brighten eye appearance.
The fluffy applicator is designed to help with blending without irritation to delicate eye skin and will enable you to get every last drop from the sleek bottle.
Customers have generally positive things to say about this product, with a handful stating it wasn't ideal for their purposes or the shades were not the expected match.
Once again, CoverGirl customer services have been quick to step in on the majority of negative reviews, offering advice where applicable or asking customers to get in touch with more information.
CoverGirl Smoothers BB Cream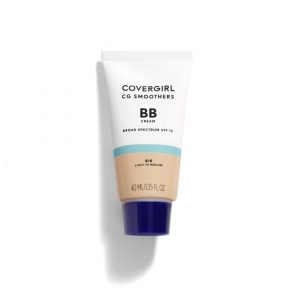 CoverGirl Smoothers BB Cream is part of a wide range of CoverGirl BB cream products available to provide moisturization, sun protection, and a gentle concealing tint in a single product.
The term 'BB cream', meaning 'blemish balm', is a fairly recent marketing invention and usually applies to an all-in-one tinted moisturizer product with added SPF protection.
CoverGirl was ahead of the game in this area and the Smoothers BB cream uses a similar formulation to its older (and well-loved) tinted moisturizer products. Many returning customers are keen to point out they have been using the same product with great success for many years.
The negative reviews are mostly from customers who don't like the finish produced by the product or have found it causes breakouts or pimples on their skin. As with other cosmetic products, there can often be an element of trial and error in finding the right one for you.
CoverGirl Trueblend Pressed Powder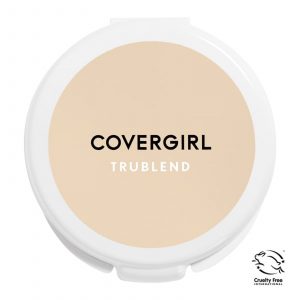 CoverGirl Trueblend Pressed Powder is a classic finishing powder, designed to give a translucent, setting finish to makeup looks or reduce the appearance of pores and imperfections directly on the skin.
The pressed powder foundation was one of the very first products the company produced. While the formula has been refined over the years, it is still as popular with customers looking for a no-nonsense, easy-to-use makeup product they can buy in any local drugstore.
Most customers rate this product highly with many mentioning that it does as good a job as the more expensive big-name versions for a fraction of the cost.
CoverGirl Clump Crusher Water Resistant Mascara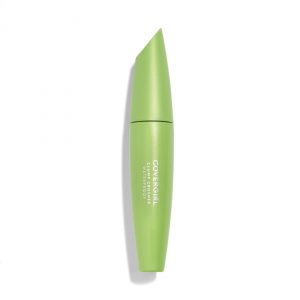 CoverGirl mascara has a longstanding reputation for great coverage. This product represents a breakthrough in clump-free formulations while retaining the waterproof properties and other highlights of the original products.
The new brush design for this mascara improves coverage and allows you to coat even the longest lashes from root to tip in a single stroke. A fantastic step forward for the brand.
Once again, reviews are mostly positive, though quite a few customers have found the new brush design difficult to use or said that it doesn't provide the coverage they are used to, compared to a more conventional brush design.
Several customers also mentioned that the product doesn't seem to respond well to heat, and can struggle to hold the shape created using a lash curler.
CoverGirl Exhibitions Lipstick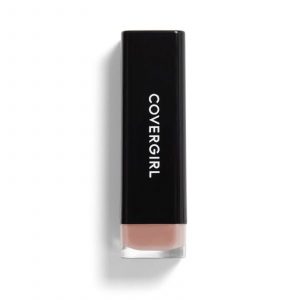 The Exhibitions CoverGirl lipstick is made with a moisturizing cream blend to provide a hydrating feel alongside the slick pop of color you would expect from this type of product.
Choose from nearly 50 shades ranging from the striking 'bubblegum pink' to the muted 'tempting toffee' and three types of finish.
Nearly all the negative reviews for this product concerned badly matched colors, changes in color formulation, or unreliable color guides on tubes and online. Many customers found that the lipstick was a very different color once applied than they expected.
Future disappointment could perhaps be avoided with the including of product photos showing the lipstick applied on various skin colors and types to give customers a better idea of what to expect.
CoverGirl Lash Blast Lash & Brow Serum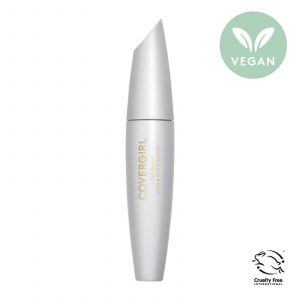 CoverGirl lash serum is clinically proven to strengthen lashes and help them appear longer and thicker over time.
This paraben and sulfate-free conditioning gel coats the full length of lashes and the all-natural ingredients promote healthy growth to provide a stronger base for mascara products. It also protects from the potential damage of glues and curlers.
While customers seem to love this product when they actually use it, the reviews are dragged down by a recent problem causing a huge number of tubes to be sold empty. Multiple customers have complained about purchasing sealed tubes only to find there is no product inside.
CoverGirl has responded to the majority of these complaints, inviting customers to get in touch, and many have reported back that they were sent vouchers for a new tube. However, this problem seems to have been going on for some time. We can't help but wonder why CoverGirl hasn't issued a recall on the faulty batch to reduce the rate of complaints.
CoverGirl Review from Customers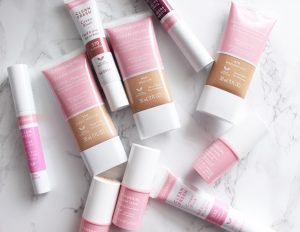 Reviews of CoverGirl products are mostly positive and it's a testament to their quality and customer service that they have retained such a good reputation since the company was created in 1961. Many positive reviews and resolved complaints feature customers raving about the prompt and generous responses of customer service agents to problems and queries.
We noticed that some people experienced breakouts or a bad reaction to CoverGirl foundation products. In each case, CoverGirl customer services responded to the review by asking the customer to get in touch with the safety team to discuss their experience.
Along with the reviews we've seen elsewhere stating that customers received vouchers from the company when they bought a faulty product, we think this shows a great commitment to customer experience and retention. CoverGirl continues to care about its customers and products even after the money has changed hands.
Popular Alternatives to Covergirl
Another negative we saw repeatedly was complaints about the new brush design for CoverGirl mascara and lash serums. The new brush is a unique shape and is made of firmer material than more conventional brushes.
Some customers have struggled to use this design or simply prefer a more traditional mascara brush. CoverGirl agents have, again, been very responsive to these complaints. They invite customers to get in touch with the team for more advice and to pass their experiences on to the design team.
As with many cosmetic and skincare items, skin is variable and no product can be just right for everyone. There is the usual smattering of customers who found the product didn't work well for them or they simply didn't like the smell or texture of it.
Sign Up for CoverGirl
You can't sign up on the CoverGirl website because they don't sell any products directly. However, you may be able to sign up for loyalty programs or ongoing discounts and deals with some of their stockists.
Where to Buy
You can buy CoverGirl products in a wide range of big-box stores and independent drugstores nationwide, as well as from a wide range of online retailers and marketplaces.
Each product on the CoverGirl website features a handy price comparison drop-down allowing you to compare the price across various platforms… Meaning you're likely to get the best deals by checking out the CoverGirl website first for your favorite products.
CoverGirl also recently opened a flagship store in Times Square, New York, where you can browse and try out the entire range in the 1,000-square-foot cosmetics playground.
CoverGirl Shipping and Return Policy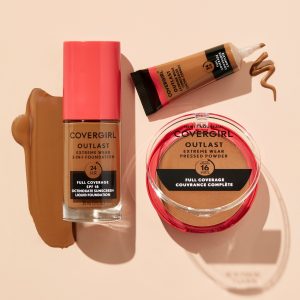 Because CoverGirl does not sell its own products, there is no overarching shipping and returns policy, and you should consult the policy provided by the retailer you choose to shop with.
Despite being under no obligation to do so, CoverGirl has been known to provide vouchers or replacement products in instances where there was an issue and, so long as a reason is given for the negative review, they seem eager to work with customers who weren't completely satisfied.
Promotions & Discounts
CoverGirl doesn't run promotions or discounts themselves, but you will often find that their products are covered by store discounts or promotions at your favorite stockist.
You can use the built-in price comparison tool on the CoverGirl website to check where to get the best price before you buy.
Contact CoverGirl
CoverGirl has a simple contact form on its website where you can get in touch about a variety of issues and leave your preferred contact details.
In many cases, they have provided phone numbers or email addresses for relevant departments to individual reviewers if they feel that they can help or that the customer experience can provide useful information.
Overall, CoverGirl seems to be extremely responsive to customer complaints and queries from a wide range of sources.
CoverGirl Review: Editors' Verdict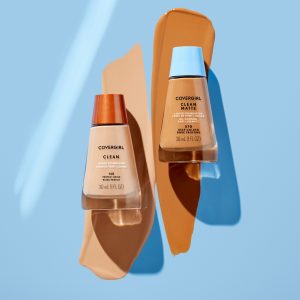 Because no products are sold on the CoverGirl website, they don't suffer from any of the logistic and return issues we see with a lot of brands. You won't find a CoverGirl review complaining about long shipping times!
This has allowed their customer service team to focus on customer experience and satisfaction and the refinement of products and packaging.
It's clear that CoverGirl products are as popular now as they have been since the 60s as a drugstore staple that covers the basics in a budget-friendly and no-frills way.
It's no small feat to obtain leaping bunny certification for such a large range and, with so many customers now more conscious of their impact on the planet and the animals in it, this is yet another factor in their favor.
We can't argue with over 60 years of continued innovation and positive customer experience. So, our verdict is that CoverGirl cosmetics are a great choice that will work as promised without breaking the bank.
Are you on the lookout for other makeup brands like Covergirl? Read our honest reviews of Pat McGrath, Morphe, Elf Cosmetics, and Beauty Blender.
Covergirl FAQ
Is CoverGirl Organic?
CoverGirl products are not certified as organic but their other certifications show that they have high-quality standards for their ingredients and nothing is tested on animals.
Does CoverGirl have a Leaping Bunny Certification?
CoverGirl has Leaping Bunny Certification. This means that one of their products or any of the ingredients in them are tested on animals.
This certification is only provided after a rigorous investigation of the entire supply chain so you can be confident that every ingredient in their products is cruelty-free.
Is CoverGirl a cruelty-free brand?
The Leaping Bunny Certification means that all CoverGirl products and all of their ingredients are cruelty-free.
Which CoverGirl products are vegan?
All products in the CoverGirl Clean and Fresh range are vegan as well as cruelty-free.
Do CoverGirl products contain sulfates and parabens?
The entire CoverGirl range is free from sulfates, parabens, formaldehyde, phthalates, and talc.