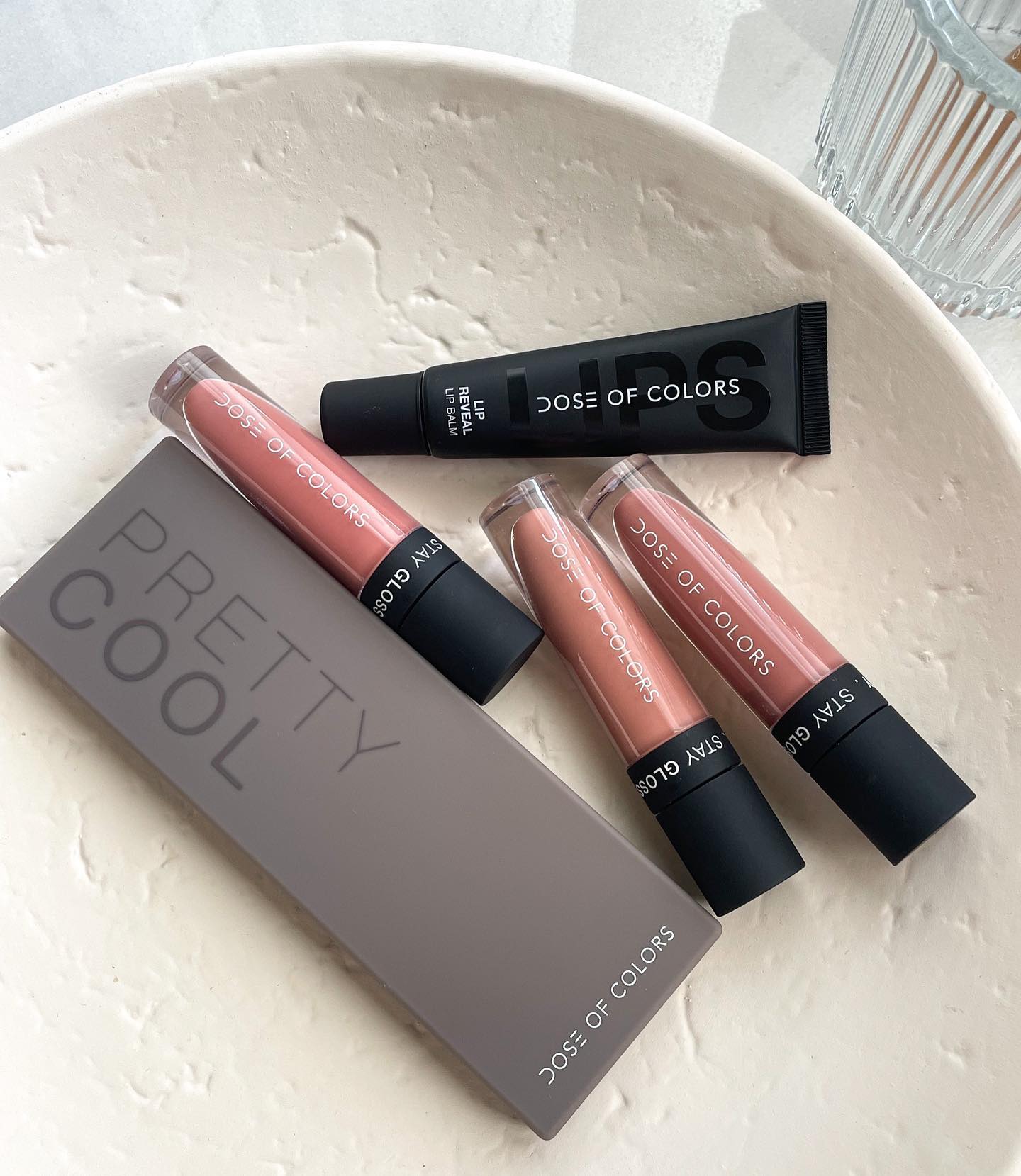 When searching for a makeup brand, looking good is not the only factor you should consider. The best makeup products should last all day and be gentle on the skin. Dose of Colors is an American makeup brand that prides itself on producing cruelty-free beauty and skincare products. The company celebrates diversity and originality by offering a wide range of makeup products in different shades and colors. We'll examine Dose of Colors reviews from customers, its best-selling products, promotions, discounts, and more; this will help you decide if this beauty brand is worthwhile.
About Dose of Colors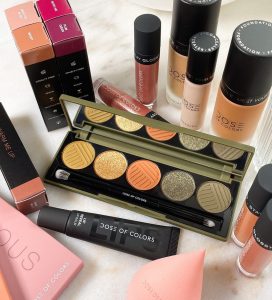 Dose of Colors is the brainchild of Anna Petrosian, an American makeup artist who has had a passion for fashion and modeling since childhood. Anna began her career on Instagram and became famous for creating and sharing makeup tutorials on the platform. After successfully creating a name for herself in the makeup industry for ten years, she created Dose of Colors in 2013. 
Anna's main aim in creating the brand was to offer consumers an inclusive makeup brand to celebrate the diversity of beauty. Dose of Colors reviews show that customers love this brand because it offers a wide selection of makeup products in different shades suitable for more than 42 skin tones. It also produces 41 different shades of lipsticks, concealers, serums, and other makeup and skincare products that are PETA-approved. 
The company has earned features in major publications like Teen Vogue, StyleCaster, and Allure. The brand has also gained a massive following on social media platforms, with 264K Facebook followers and over 3.2 million followers on Instagram.
Pros
They offer makeup products in more than 42 shades
Provides a wide range of beauty and skincare products
The company offers cruelty-free and vegan products
Afterpay services are available to facilitate flexible payment
Free shipping option is available, and they also ship internationally
Customers get to enjoy discounts and promotions
Cons
The brand offers a short return window of only 14 days
Some products don't have a wide range of shades to choose from
You cannot exchange or return final sale items, such as promotional sales, bundles, and sets
Dose of Colors Products Review
Dose of Colors shades might create an assumption that the products are suitable for a specific age group and class, as the majority of them are young adults ready to experiment with makeup. However, this might not be the case. Let us dive into their best-selling products to help you learn more about them in terms of quality, skin tone, availability, and cost.
Dose of Colors Meet Your Hue Foundation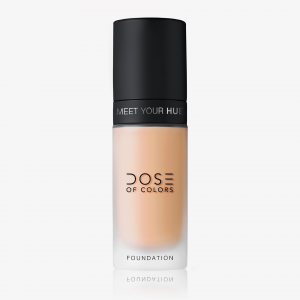 If you are a makeup lover, you probably feel lucky when you come across a foundation that leaves your face even. This hue foundation for Dose of Colors has been made to match the diversity of beauty of any skin tone. The foundation offers 42 unique shades in several complexions: medium tan, dark, fair, light, light-medium, and deep. Using this foundation will only need you to swipe on a little sheer coverage for a complete shine-free look.
The foundation contains Cyclopentasiloxane, an ingredient that works as a solvent, lubricant, and emollient. It gives the products a silky texture and seals in hydration while dissolving heavier ingredients in the formula. Due to the properties of this ingredient, it leaves your skin softer.
It also features Trimethylsiloxysilicate, which holds pigments in place and provides water resistance in this product. This ingredient also brings a long-lasting effect. Additionally, Butylene glycol is present in the formula, and it boosts your skin's capability of retaining moisture from the air.
Available in a 1fl oz bottle, you can get this foundation for $36.
Dose of Colors Meet Your Hue Concealer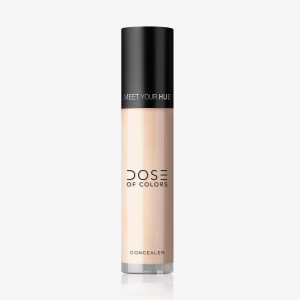 Concealers are used to cover flaws and give your face a smooth tone. Creating a flawless canvas on your face means the correct choice of concealer. As part of this review, we'll examine the available concealers from Meet Your Hue.
Our differences in skin tone require keenness when applying a concealer. If the concealer does not match your skin undertone, you may end up having an unsatisfying look. But the Dose of Colors Concealer specifies what kind of undertones are included to match yours correctly.
Dose of Colors Meet Your Hue Concealer, a cruelty-free and vegan product, is popular among customers because it contains natural ingredients that are kind to all skin types.
It features the best skin-nourishing ingredients, such as sunflower seed oil, Shea butter, vitamin E, among others. These ingredients will ensure your face remains hydrated in all conditions. The brand offers 30 Dose of Colors Concealer Swatch varieties, and you can get a 0.25 oZ tube for $24 only!
Baked Browns Eyeshadow Palette by Dose of Colors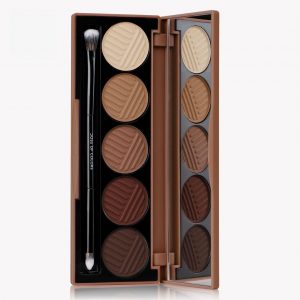 Whether you are an expert or a beginner in the makeup scene, eyeshadows are a must-have to complete your look. Eyeshadows allow you to explore your creativity in creating different looks with endless color options. They allow you to express yourself and your style and personality, although it may take some time to master the skill. Dose of Colors offers different eyeshadow pallets to suit every consumer.
If you love neutral shades in your eyebrow pallets, the baked brown eyeshadow pallet got you covered. Dose of Colors Baked Browns is a warmed tone eyeshadow palette with five different matte brown shades.
The palette comes with a mini double-ended brush suitable for applying the eyeshadow, ideally over the crease and lower lash line of the eye. The eyeshadow is made of nourishing ingredients like mica, hydrogenated lecithin, synthetic wax, among others. You can get this fantastic matte eyeshadow pallet for $32.
Dose of Colors Lip Gloss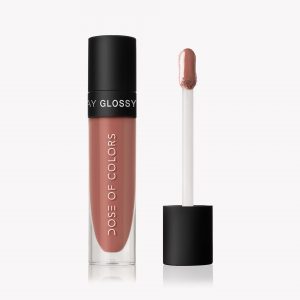 When picking a lip gloss, you first need to figure out how you'll wear it. You may wear it either on top of your lipstick or on its own. Colored lip gloss is excellent on its own. While transparent lip gloss may be worn on its own, it is perfect on top of lipstick. Dose of Colors Lip Gloss provides shine, sheer, and full colors.
Suppose you are looking for a lip gloss that can be worn on its own and also over your lipstick, then you should consider trying Seriously. This Dose of Color Lip Gloss is a rich brown taupe ultra-glossy non-sticky formula perfect for any occasion, as it has a uniquely smooth feel. Seriously is formulated as a cruelty-free, vegan product that is very kind to your lips. The key ingredients of this lip gloss include rosemary leaf extract, which helps protect the skin from sun rays.
It also contains coconut oil, an ingredient best known for its anti-aging properties due to vitamin E, which helps slow the aging process. The other nourishing ingredient in lip gloss is apricot oil, which contains fatty acids that moisturize dry lips. For only $17, this lip gloss can be yours.
Dose of Colors Nyma's Nue Lip Set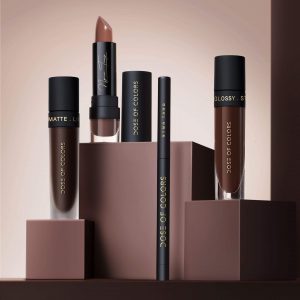 Limited edition Lip Set by Nyma Tang is created for nude and coral lips enthusiasts. Many women have struggled to find Nude Lip products that fit their complexion perfectly. Most Nude Lip products on the market are tan in color, and the deepest color you can find is caramel. As a result, this motivated Nyma Tang to partner with Dose of Colors to create the Nue Lip Set.
The partnership started with nude lipstick, gloss, and liners for tang skin tones. It progressed to develop the new lip set that can be used all year round. The Nue Lip set is an inclusive lip set that caters to all your needs by providing different lip products suitable for different occasions.
Details about the set
The set contains four outstanding lip products that help you create the perfect nude lip look. They are:
Classic lipstick penny (Cool Brown): This classic lipstick delivers a creamy color with a satin finish.
Liquid Matte Lipstick Like to see It (Deep Brown): The liquid matte lipstick is super comfortable on the lips and weightless. It applies as a liquid then dries to give an excellent matte finish; it is long-lasting and will stay on your lips for an entire day.
 Lip Liner Chocolate Chip (Black Brown): This Dose of Colors Lip Liner delivers a rich black-brown color that is simply breathtaking. It is designed to complement all other products in the Nue lip set.
 Lip Gloss E-Jen (Cocoa brown): If you are looking for a standalone lip gloss or one to complement your lipstick, this gloss is perfect for you. It delivers a smooth, silky feel that is always shiny and not sticky.
The color results for each product in the Nue Lip Set may vary due to lighting, skin tone, and resolution settings. You can add Dose of Colors Lip to your beauty routine for $49.
Dose of Colors Reviews from Customers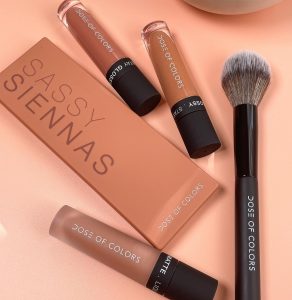 We checked Dose of Colors reviews to learn what customers think about this beauty brand and its products. We went through several web pages to find out what was relevant for the customers before purchasing specific products from the brand and gathered several reviews from their best sellers on their website. Most of its products received positive reviews, with customers saying they love how they are sensitive to their skin.
A positive foundation review mentioned how the product blended well in the skin. The review also praised their customer service, stating they like how the company sends several shades in case what you ordered does not suit your skin.
Popular Alternatives to Dose of Colors
On Influenster, the Dose of Colors matte liquid lipstick is rated 4.6/ 5 stars. This was an average gathered from 5,137 shoppers. The lipstick was ranked as the best, and most of the reviewers said it was long-lasting and very soft, making it easier to apply. Other customers praised the lipstick, saying it does not bleed around the lips.
We could not lack a negative review on the lipstick review. Some customers claimed to have experienced patchiness and dryness from the lipstick. Some also claimed that the texture was not good and transferred easily. This surprised us since it was the total opposite of what most customers claimed.
On TrustPilot, 73% reviewers would recommend any Dose of Colors product any day or night.
Sign Up for Dose of Colors
Do you want to be part of the Dose and Colors family? All you have to do is visit their website DoseofColors.com and create an account on their sign-up page. Click on the get started and fill out the required details. The details include your active mail and contact information that the company will often use to notify you of the available discounts, promotions, and coupons.
Once you have signed up, you can start sifting through the available beauty and skincare products and enjoy fast checkouts. You'll also be able to track your orders through your Dose and Colors account.
Where to Buy
For the best prices and variety, you can always buy Dose of Colors products from their website DoseofColors.com. Their products are also available on the following retailers:
Fashion Noma
Salon provider
Amazon
Lipstick shop online
Feel unique
Boozy shop
Camera Ready Cosmetics
Dose of Colors Shipping and Return Policy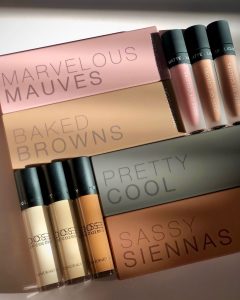 Dose of Colors ships in the United States and internationally. US customers have various shipping options: They include:
Express – next day delivery (the price is determined by the location)
Upgraded- delivered in 2 days for $10
Standard in 5-7 business days for $ 6
International customers will have to choose between FedEx and USPS, whereby the rates are calculated at the checkout and delivery can be done between 10-14 business days.
If you are not satisfied with the items you have purchased, the brand accepts returns and exchanges. However, your items need to be in the original form that you bought them, and they should not have been refilled or modified
Just send an email at [email protected] within 14 days of product delivery, and the support team will review your issue. Keep in mind that you will incur all costs involved during shipping.
Promotions & Discounts
The brand's Final Sale section offers an expansive selection of discounted products. They also have a Rewards program that allows you to earn points known as Doses. You can use them to get perks such as gifts and coupon codes. Customers enjoy free shipping if they spend over $50 on domestic orders or $60 on international orders. Subscribing to their newsletter will grant you a 20-percent Dose of Colors discount code; you can use it during checkout to save money.
Contact Dose of Colors
If you would like to contact Dose of Colors Customer Service representatives for inquiries, you can always reach out to them through the following contact methods:
Dose of Colors Reviews: Editors Verdict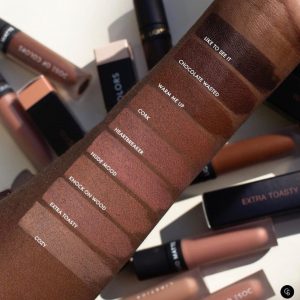 Based on the positive Dose of Colors reviews that customers left, we conclude that the brand is worth checking out. Most customers love the way their products are cruelty-free and vegan. There are no major complaints that customers have raised. Most buyers were satisfied with the products they purchased.
We found that the brand is highly-rated, and it does not have a lot of issues to make you stop buying from them. The minor flaws are manageable, and most of the reviews refer to the project as the deliverer in that it does what it claims to do.
The company offers a wide variety of makeup items in a diverse selection of shades, and you'll undoubtedly get the perfect product for your skin tone. The brand's products, including Dose of Colors Concealer, offer huge discounts and promotions, giving you all the reasons to give it a try. 
Looking for more ways to build your makeup routine? Check out these cosmetic reviews of Benefit Cosmetics, Anastasia Beverly Hills, Rare Beauty, and Makeup Geek.
Dose of Colors FAQ
Are all Dose of Colors products vegan?
Most of their products are vegan. You can check the ingredients listed on each product page.
Are all the products that Dose of Colors offer cruelty-free?
Yes, this is one of the leading beauty brands that observe humanity at all costs. The products from Dose of Colors are not tested on animals and the ingredients used to make the products are not derived from animals. They have a cruelty-free sign on all their products to assure you that: The brand is Peta and Leaping Bunny certified.
Why is there a purchase limit of two?
The brand emphasizes that each customer buys a maximum of 2 of the same item for fairness, as it allows every customer to enjoy their products.
Why does my product look different from the photos online?
Although there might be a slight color variation on what you ordered, the brand tries as much as it can to represent close colors. The colors may differ due to the different lighting, monotone resolution, camera, and color setting. The effect of color variation is solved by delivering several close shades just in case what you ordered is not what you thought it was.
Where is the Dose of Colors made?
Their products are made in the United States, and the company has its headquarters in Burbank, California.