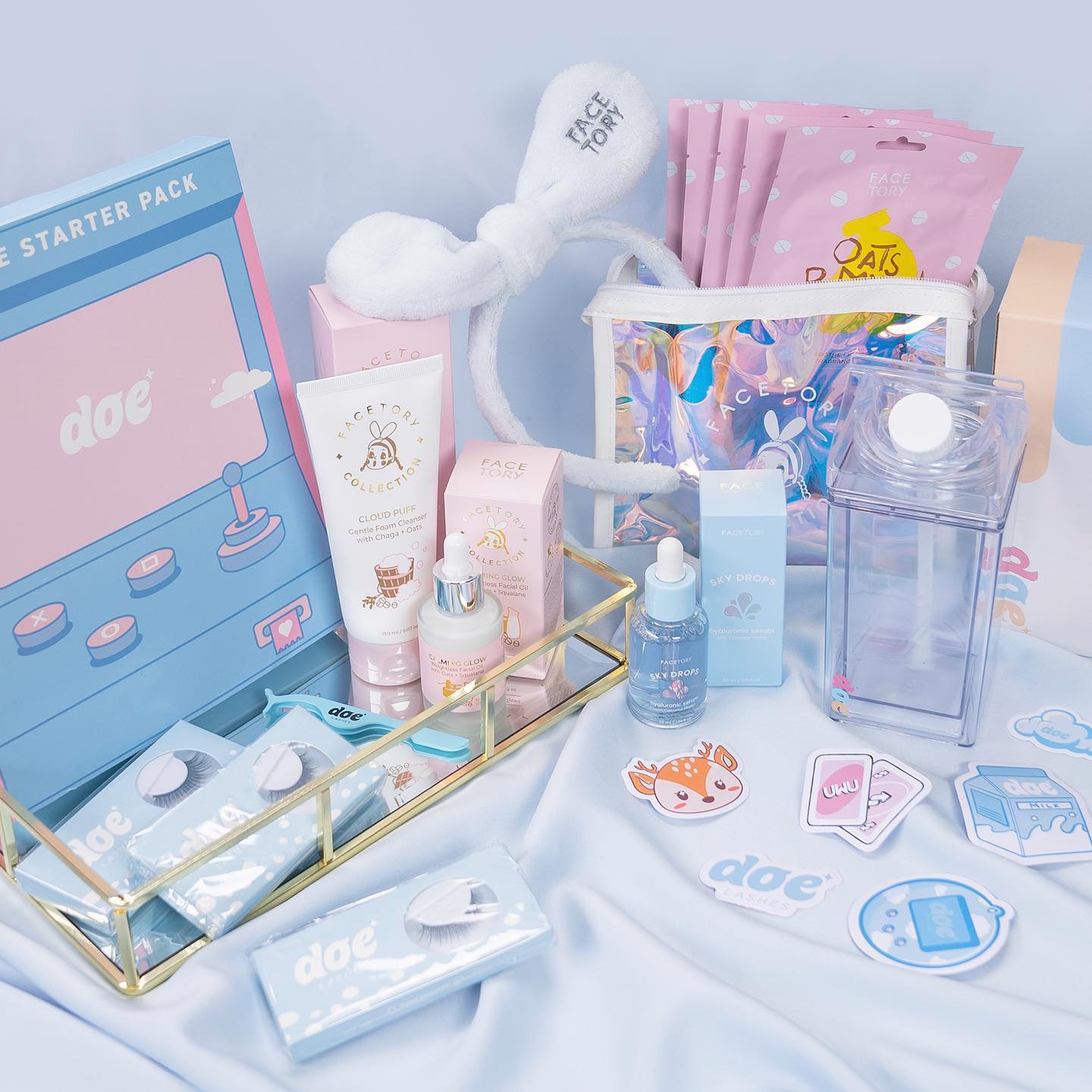 If you are into false lashes, you might want to check out Doe Lashes, a company aiming to create beautiful, handcrafted lashes made of Korean vegan silk fiber that extend your beauty and give your makeup the final touch you need. Lightness and comfort are crucial when it comes to lashes, and Doe Lashes knows this well. But are the lashes truly as durable and high-quality as they say? In today's Doe Lashes review, we are going to get behind the brand and answer all the questions you might have on your mind.
To give you our honest and unbiased review, we are going to analyze the products, look at customer reviews, and see how customer-friendly the company's values and policies are. Ready? Let's get into it!
About Doe Lashes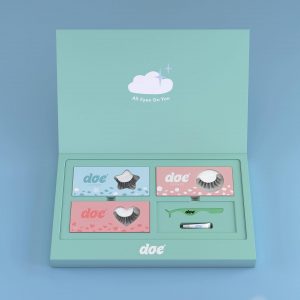 According to the company, "makeup should be an extension of your beauty", and this belief perfectly describes how Doe Lashes approaches the beauty industry. Their lashes are inspired by the motivation of the founder, Jason Wong to create a quality pair of lashes that are lightweight and comfortable to wear.
To him, the challenge was personal. After he watched his girlfriend struggle with discomfort and other issues when wearing lashes, he decided to create a more comfortable alternative. In 2019, Wong founded Doe Lashes and set the company on one simple value: his mission was to create a product that gives all-day comfort. 
Did he succeed? Undoubtedly, yes, as over the past few years Doe lashes has grown into a legit and reliable company that offers reusable, weightless lashes to customers all over the world. 
The brand was featured in Vogue, InStyle, and Beauty Independent.
But before we dive deeper into our Doe Lashes review, let's take a quick look at the most important pros and cons of the brand you should know about:
Pros
The company offers a wide variety of lashes with different hair lengths, so everybody can easily find a comfortable fit

Affordable prices

A large selection of product bundles that allow you to save money on your order and try out new products, too

Great magnetic hold, the lashes stay on all-day

Cruelty-free production

A decent selection of beauty accessories that can come in handy when applying your lashes
Cons
Some of the previous customers say that the lashes are too long

Some people find the band too thick
Doe Lashes Products Review
In the next section of our Doe Lashes review, we are going to take a closer look at the Doe eye lashes and catch a glimpse of what previous customers have to say about their experience with the company. Let's see now what are the most popular products and how they perform quality and price-wise. 
Doe Lashes Morning Dew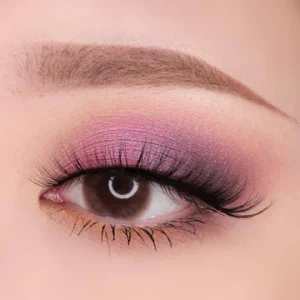 The Doe Lashes Morning Dew is one of the most popular best sellers on the company's website. This new item includes 2.0 cruelty-free vegan silk lashes that are handcrafted and offer weightless comfort. The lashes are made to be light and allow the customer to apply them easier than previous products.
The lashes are made of ultra-fine Korean silk fiber and come with a lightweight cotton band. In terms of the band, the band length is 35 mm, while the hair length ranges from 7 mm to 12 mm. 
Price-wise, our impression is that the lashes are reasonably priced, a one-pack of Morning Dew lashes costs $14.5, but if you subscribe for monthly delivery you can buy them for $13.05. You can also save some money if you purchase a three-pack: a one-time purchase will cost you $40, while with a monthly subscription you will be able to purchase your three-pack Doe Lashes Morning Dew for only $36.
Doe Lashes Really Really Lowkey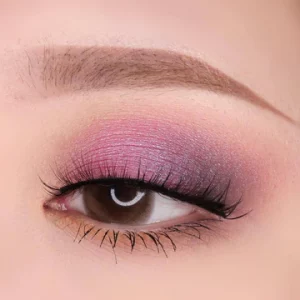 To quote Doe Lashes, the Really Really Lowkey lashes are perfect for you if you want to make people wonder whether or not you did something different with your makeup. They give you a natural, subtle look, yet emphasize your eyes and give your makeup the extra boost that makes it more special. They work like a final touch, they add volume and length to your lashes and create a no-makeup makeup look. 
The band length is 32 mm, and the hair length ranges from 3 mm to 7 mm. Looking at the price point, the Really Really Lowkey lashes cost the same amount as the Morning Dew lashes, but you can always look for a Doe Lashes promo code to save some money. 
Doe Lashes Neo Lashes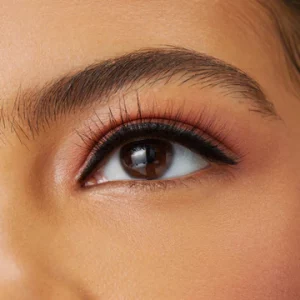 The Doe Lashes Neo Lashes are part of the brand's newest Neo collection which includes 5 types of lashes: the Butterfly Kiss, the Love Spell, the Old School, the Misty-Eyed, and the Soulmate lashes.
All lashes are magnetic, the company used 10 small magnets to help the lashes stay on for a long time. The lashes are made of ultra-fine Korean vegan silk fiber, and they can be worn over 60 times! Looking at the prices, we have to say that either individual lashes or bundles, Doe eye lashes are not a bad investment, to be fair.
Especially if you really can wear them for such a long term. The price of the Neo Lashes starts from $25, but if you want to save money, you can purchase the two-pack Dream Lash Duo for only $45 or buy the full Neo Collection for $110. This bundle includes 4 lashes (the Butterfly Kiss, the Love Spell, the Old School, the Misty-Eyed) and a full-size Neo liner that help you complete your flawless look.
If you are not sure which lashes are the best fit for you, you can take the Doe Lashes Quiz on the company's website. By answering some simple questions, they will recommend products that most likely will fit your style and needs.  
Doe Lashes Bundles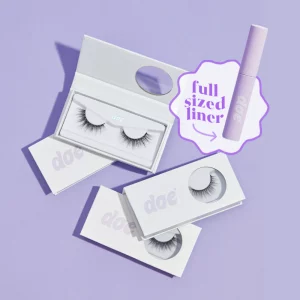 Once you visit the official website to buy some Doe eye lashes, you will immediately be met by a wide selection of product bundles. These have many benefits, but one of the most significant is that they come at a better price.
For example, the Sweetheart 2-pack bundle includes two pairs of lashes, the Love Spell and the limited edition Soulmate lashes. It also comes with the smudge-proof, easy-to-apply mini Neo liner. 
The bundle costs you $45, which is undoubtedly a great price for 3 items. Bundles are very popular and they not only allow you to save some money on your order, but also give you the opportunity to try out more products. It is a win-win for everyone. 
Accessories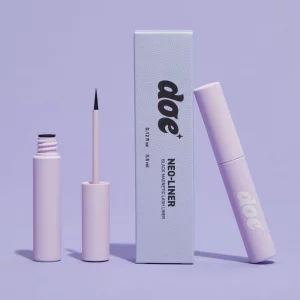 Before we take a look at the customer reviews, let's see what is happening in the Accessories section. The selection is not so large, but it gives you everything you need to apply your lashes easily and even more. You can purchase a Doe applicator for $5, a tweezer for $5, or scissors for $8. These prices are reasonable. 
There are other makeup or lifestyle-related items, too, such as the Doe Travel Bag which costs you $15, or the Doe Milk Carton Bottle which you can buy for $12. Or you can choose the accessories bundle, the well-named Lash Survival Kit.
The baby blue travel bag comes with the most important accessories you need to apply your Doe eye lashes: the applicator, the tweezer, the scissors, and the Doe Lash Fluffer which gives your lashes a flawless, natural finish.
The original price of the kit is $40, but at the time of writing our review, shoppers can benefit from a 20% discount and get the bag with all the accessories for only $32. If you choose to skip buying the bag and purchase the tools only, you can do that too for $25. 
Doe Lashes Review from Customers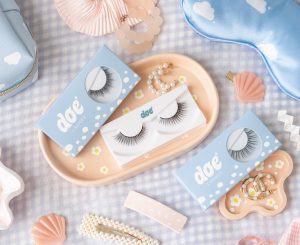 Our goal with this Doe Lashes review is to give you our unbiased opinion. To be able to do this, we looked into some customer reviews from different sources such as the company's website and Amazon. Our overall impression is that people are more than satisfied with the Doe eye lashes, both the website and the Amazon profile have great reviews.
On Amazon, 68% of previous customers gave the brand 5 stars, 13% 4 stars and only 2% of the buyers rated their experience with 1 star.
Popular Alternatives to Doe Lashes
People confirm the quality of the lashes, saying that they "don't cause any irritation and are very flattering." They describe the lashes as "The most amazing, comfortable, not-too-natural-not-too-glamorous lashes". If you are worried about how strong the magnets are, people say that the magnets hold very well and the lashes stay on all day without any issues. 
Those shoppers who did not give 5-star reviews say that their main issue is with the length of the lashes. They are slightly disappointed in the length and the lack of natural effect of the lashes, saying that even the 3 mm – 7 mm lashes seem to be too long for them.
Unfortunately, there are 0 reviews on independent review websites such as TrustPilot. 
Sign Up for Doe Lashes
If you want to sign in for Doe Lashes, you will need to create an account on the official website of the company. The process is simple and straightforward, and it takes only a few minutes to complete. You will be asked to fill out the form with your first name, last name, and email, and create a password for your account. Once you are done, you can immediately access your account and start shopping. 
By signing up you will be able to track your orders, earn rewards and learn about ongoing sales and promotions. You can also subscribe to the newsletter with your email address to get early access to new products and upcoming deals. 
Where to Buy
Continuing our Doe Lashes review, now let's see where you can purchase your Doe eye lashes. First, you can purchase them from the official Doe Lashes website, where you can find all products and product bundles. Another option is Handshake, a wholesale marketplace. Here you can mostly find lashes and some accessories, so if you are after bundles, we recommend checking the company's official website. 
Shipping and Return Policy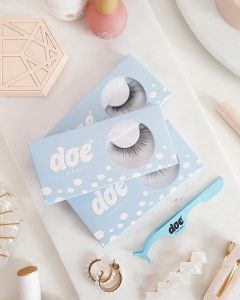 We also looked into the shipping policy of the company. Shoppers from the US can choose from 3 shipping types:
First Class or Free Shipping: This shipping type is considered the most affordable option you can opt for. It includes 1-2 days of handling period from the part of the company. At the same time, 1-3 additional days until you will receive your order. There is no fixed fee for this type of shipping. Free shipping may apply if your order value is over $60. No insurance included. 

Priority Mail: If you opt for priority mail shipping, the handling period will be reduced to 1 da. Your order will arrive within 1-3 days after being shipped. This shipping type includes $50 insurance. 

Priority Mail Express: Priority Mail Express allows you to receive your order the next day as it includes the same business day handling period. Also, if you choose this shipping type, you will benefit from $100 insurance.  
According to the website, Doe Lashes also ships to the UK and other European and Asian countries like Australia, Belgium, Canada, Croatia, Denmark, Estonia, Finland, France, Germany, Gibraltar, Hungary, Ireland, Israel, Italy, Latvia, Lithuania, Luxembourg, Malaysia, Malta, Netherlands, New Zealand, Portugal, Singapore, Spain, Sweden, Switzerland, etc. In the case of international orders, similar to domestic orders, you can choose from First Class, Priority Mail, and Priority Mail Express shipping types. 
Return policy
When it comes to the company's return policy, the communication is quite straightforward. All unused and undamaged items can be returned in their original condition and packages. If you received a damaged order, you are instructed to email the company within 24 hours at [email protected] using the "DAMAGED ITEM" subject line. Once you return an item, you will get a full refund minus the postage charge.  
Promotions & Discounts
In case you are looking for a Doe Lashes promo code or a Doe Lashes coupon, chances are you might find a way to save some money on your order. Undoubtedly, the company doesn't offer a large number of promo codes through their marketing. If you check the website, usually there are ongoing sales available for a few items. Also, if you really don't want to miss your chance on a Doe Lashes discount code, follow the social media pages of the company as they might announce them there from time to time. 
Contact Doe Lashes
If you want to contact Doe Lashes, you have 4 different options to do so:
Send an email to the

[email protected]

email address

Fill out the contact form on the official Doe Lashes website 

Call the company at the 949-566-3353 phone number

Visit the Doe Lashes office at the following address: 4590 Macarthur Blvd, #500, Newport Beach, CA 92660
You can also find the company on Instagram, Facebook, Twitter, and TikTok. 
Doe Lashes Review: Editor's Verdict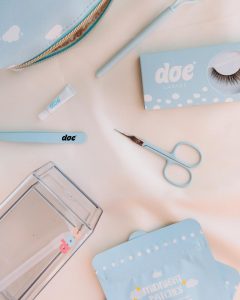 Now that we got to the end of our Doe Lashes review, it is time to give you our honest opinion and answer the most important question of all: is Doe Lashes worth your money?
After diving into the company's values, motivations, and production, and also taking a close look at the products and customer reviews, we can confidently say that yes, Doe Lashes is worth your money and trust. The company succeeds in creating weightless false lashes made of fine silk fibers that are durable and comfortable to wear. 
The majority of previous customers seem more than happy with both the products and the customer service, saying that the lashes are of great quality and last for a long time. So if you are looking for some false lashes to boost your look or take your makeup to the next level, Doe Lashes is definitely a go-to place that won't leave you disappointed.
If you are still searching for other beauty brands, check out our brand reviews of 100% Pure Cosmetics, MakeUp Eraser, Glossier, and Cult Beauty. 
Doe Lashes FAQ
Why are false lashes so popular?
As the company's founder, Jason Wong explains, makeup should be "an extension of your natural beauty". False lashes work the same way. They add the final little touch to your look, they accentuate your eyes and make you feel more confident even without applying heavy makeup.
What are false lashes made of?
The Doe false lashes are made of two components. To create the lashes, the company uses ultra-fine premium Korean silk fiber. For the cotton band that keeps the lashes together, they use a light cotton blend that gives the signature weightless feeling of the Doe eye lashes.
How long can you wear false eyelashes?
According to the brand, you can wear false eyelashes over 16 times. However, make sure you wear them properly by following the care instructions posted on the website and Youtube channel of the company.
Are the lashes cruelty free?
If you are looking for cruelty free false eyelashes, Doe Lashes has got you covered! To make the lashes, the company uses premium silk fiber and cotton stripes. They also emphasize that they only work with suppliers and vendors that are up to the ethical and environmental standards Doe Lashes represents.
What's the Doe Difference?
Doe Difference is the company's mission to create a collection of handmade, high-quality, and durable false lashes that are easy to apply and comfortable to wear for a long time.