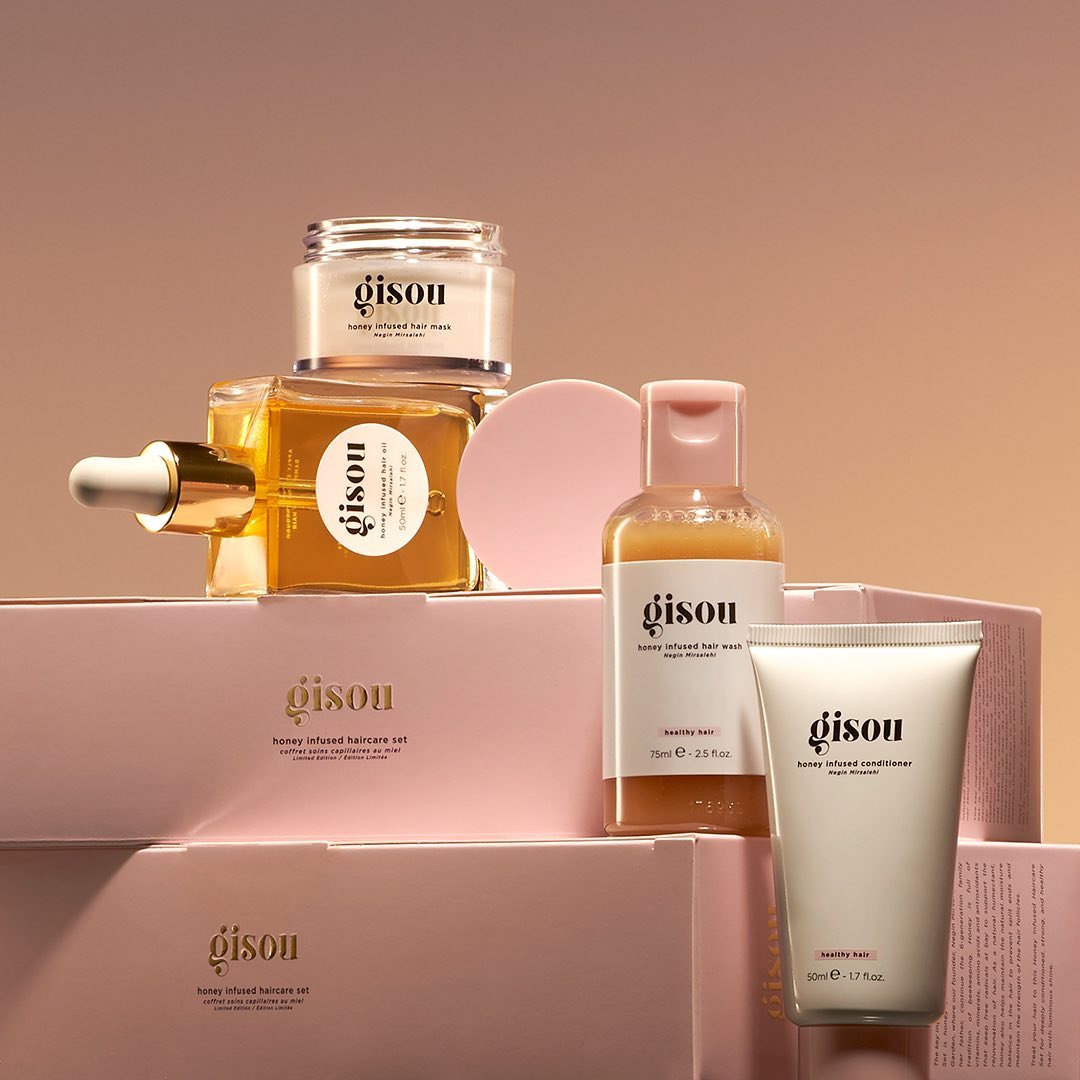 If you have not heard about Gisou then you might have been living under a rock. This honey infused hair oil has been so popular on the internet, across various social platforms and they just keep coming out with banging products. We had to come to you with a Gisou hair oil review as that was their first ever product and it's still very much loved on the market.
Since then Gisou expanded, and they now have hair care tools as well as skincare! If that wasn't enough, Gisou also has dreamy packaging that looks amazing in any bathroom. If you're interested in our unbiased Gisou hair oil review, then keep on reading!
About Gisou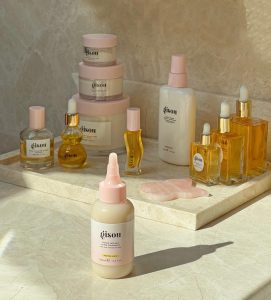 The founder of Gisou is the one and only Negin Mirsalehi. Wonder who she is? Well, she's a fashion and beauty enthusiast as well as a bee-keeper. Negin was born into a family of beekeepers, it is pretty much in her blood. Furthermore, her mom is also a hairdresser so thanks to her super parents, she was passionate about both hair and bees, thus creating the Gisou hair oil. 
Gisou was founded in 2013 and since then they have expanded its range with other honey-based products. Negin has a social media following of 7 million and she is sharing her beauty and fashion secrets with the world. We have to say, her hair is truly beautiful so before even reading our Gisou hair oil review, you'll surely be curious to see whether these products work on your hair or not. 
The Honey Infused Hair Oil was a pretty big deal back when it launched, now it's complemented by other hair and skincare products. Although the brand is not vegan, it's clear that they love bees and care for them.
Pros
Beautiful products formulated with honey or propolis

Cruelty-free brand

Free samples with each order

Multiple bundles available

Free shipping on orders over $50

Available in Sephora worldwide
Cons
Prices are higher than of similar brands

The brand is not vegan, which might be a problem for some
Gisou Products Review
Gisou products are really hot on the internet now, especially since they have been introduced to Sephora too. One important factor to mention before we dive into the description is that they are cruelty-free. One might ask how are they cruelty-free if the base of each product is produced by bees? 
Gisou explained on their website that they only use the surpluses left by the bees, they do not take away anything from them. They also plan the release of products based on harvesting cycles, so the bees are never lacking anything and they do not have to produce extra just so the brand can make more products. 
Gisou Hair Oil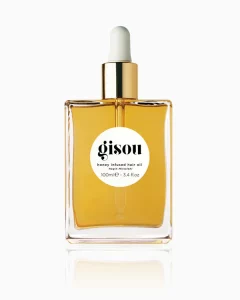 We had to start our product review with the Gisou hair oil. The first-ever product released by Negin and the one that is loved by so many. It is formulated from Mirsalehi Honey from their very own Mirsalehi Bee Garden. Honey is known to maintain the hair's moisture balance, thus creating beautiful locks and making the hair extra shiny. 
The Gisou honey-infused hair oil is also a multitasker. You can use it before styling, after styling, and also as a hair mask or overnight treatment. You just have to alter the amount you use.
What about the ingredients? The base is the Mirsalehi Honey which is rich in vitamins, minerals, amino acids as well as antioxidants. You should only use about 1-2 drops on fine hair or 3-4 drops on thicker hair. It is also safe to use on colored hair!
The Gisou honey-infused hair oil costs $87 for a 3.4-ounce bottle. Yes, it is very pricy, but at the same time, you get a lot of product. If you only need a maximum of 4 drops, you can imagine how long it will last you. Gisou does mention that you shouldn't use it excessively, as a little goes a long way. 
If you do not want to commit to the full size, the travel size is available for $46. That is in a 1.7-ounce bottle. Out of 145 reviews on the website, the oil receives 4.9 stars. 
Gisou Face Oil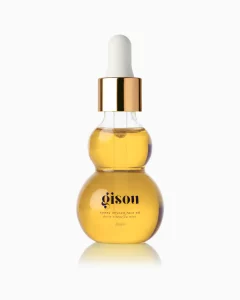 Gisou recently dropped a new product, the Gisou face oil. Once again honey-infused, by the Mirsalehi Honey. It is a face oil rich in antioxidants, absorbs quickly, and is formulated to nourish your skin. 
The oil contains about 95.7% of cold-pressed botanical oils. To be more exact, let's see the full ingredients list:
Mirsalehi Honey and Safflower oil moisturizes the skin from within

Grapeseed oil, even outs your skin tone

Sunflower oil, a nourishing ingredient

Primrose, works as a skin barrier. They regenerate and even out your skin tone as well as reduce the appearance of fine lines

Jojoba oil balances the skin and regulates oil overproduction

Macadamia is good for an overall beautiful complexion

Natural Vitamin E is a commonly used ingredient that strengthens the skin barrier 
The face oil retails for $60 and you get 0.8 ounces of product (26 ml). As you only need about 2 drops for your face, this should also last quite a while. 
Gisou Hair Perfume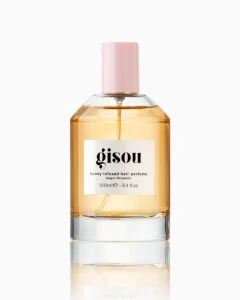 If you already love the scent of the products, then you'll be in love with the Gisou hair perfume. It is not just a hair perfume, it's also packed with all of the goodies. Firstly, the Mirsalehi Honey from the Mirsalehi Bee Garden. It will leave your hair smelling unreal, with floral notes included.
Secondly, it is also rich in vitamins, minerals, amino acids, and antioxidants that will protect and repair your hair from damage. There are days when you don't feel like washing your hair as it is still clean, but you wish it smelled good again. Those are the days when you can just spray your Gisou hair perfume and smell like a fresh garden. 
The product retails for $83 and you'll get 3.4 ounces, just like in the hair oil. There's also a pocket-size perfume, which retails for $44 and it's 1.7 ounces. Thankfully Gisou thought about bringing out smaller versions so people can try out the products before committing to the full size.
The hair perfume received 4.8/5 stars from a total of 433 reviews. People from all over the world commented on how amazing this product smells. 
Gisou Hair Mask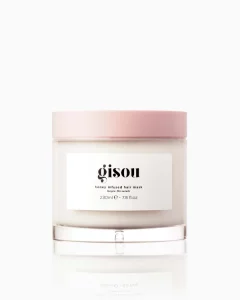 We are really excited about the Gisou Honey infused hair mask. A good hair mask is a must in every haircare routine. It helps the scalp, helps the ends and it leaves your hair shiny and healthy. 
Needless to say that the Gisou honey infused hair mask ingredients are the same as in the previous products. What it does is hydrate and replenish your hair. Furthermore, it's a multipurpose hair mask which means whether your use it on wet damp, or dry hair, you'll get the same results. You can also use it as an overnight treatment! 
The hair mask has 7.8 ounces and retails for $57. It's been reviewed by only 43 customers so far on the official Gisou website. But, those 43 reviews gave it an overall 4.9 stars! 
Gisou Honey Infused Leave-in-Conditioner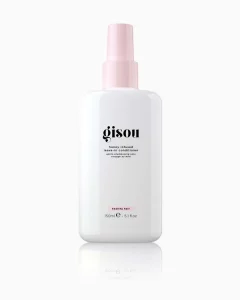 Next, we have the Gisou honey infused leave-in conditioner. It comes in a 5.1-ounce spray bottle and retails for $34. That is a pretty decent price if you ask us. This product is once again a multi-tasking spray. 
What does it promise to do? It detangles, smooths, hydrates, and protects the hair from heat damage, pollution, and breakage. 
There's a beautiful blend of Honey, Baobab Extract, Argan Oil, and Panthenol. These are all amazing ingredients that leave the hair healthy. You can use it as a leave-in conditioner after and between your washes. 
There have only been 40 reviews of the product and it was rated 4.7 stars.
Gisou Heat Protectant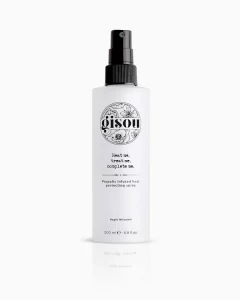 Lastly, we want to include the Gisou heat protectant spray in our review. After all, this isn't just about the Gisou hair oil review, we also had to include another customer's favorite product. 
The heat protectant comes in a 6.8-ounce bottle and retails for $41. It's supposed to help you style your hair by protecting it from heat damage. The spray also protects it from styling tools and the sun. 
Gisou heat protectant spray contains a lot of different oils, vitamins, and minerals to keep your hair healthy. The key ingredient, however, is propolis. This is used to build strong beehives so it will also keep your hair strong. 
The spray protects hair from heat up to 230ᵒC/446ᵒF and also contains a UV filter to prevent sun damage. 
From 43 reviews across the globe, the heat protectant spray received 4.9/5 stars. 
Gisou Hair Oil Reviews from Customers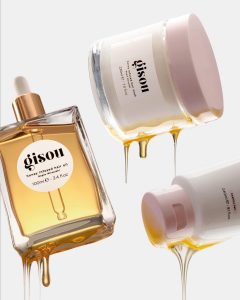 This review wouldn't be complete without a Gisou hair oil review from the customers. We have already mentioned the reviews from customers on the website, but we also wanted to look into further ones on different trusted sites.
First, we had to go on Influenster. The hair oil received 4.5/5 stars but only from 333 reviews. It seems like on their main page there are more positive reviews than on other pages. 
One customer said: "I have tried many different hair oils that needed to be reapplied throughout the day. Using Gisou I only need it once a day and I can feel my hair keeps the hydration and shine! It always feels like a small luxury every time I use it, the packaging and the consistency are something else!!"
While others were not that impressed, leaving the product three stars. 
"I can say I have enjoy using this oil for my hair but it has delivered the minimum for me. Would I buy it again? Probably not. It doesn't make my hair shine and it helps with my ends just for a few hours."
Surprisingly there weren't any reviews on Trustpilot. Well, 3 in total, but we don't consider that enough to talk about it. 
Gisou has been introduced to Sephora as well in August 2020. Since then 47.1k people liked a product and 1.4k customers rated it an overall of 4.3 stars. About 83% would recommend the hair oil. 
We would say that overall the feedback is amazing. As with any beauty product, not everything will be suitable for everyone, which is why we need to test them and see if they fit our needs. 
Popular Alternatives to Gisou
Sign Up for Gisou
Signing up for Gisou is very simple. You just need to include a few details, create a password and choose whether you wish to subscribe to their newsletter or not. If you are ordering from the main website then it is important to sign up.
Where to Buy
Gisou is a well-respected brand and is now available in multiple different stores. First of all, their main website is gisou.com, and depending on your location, the page will automatically filter your country. If you are in the USA for example, you'll see the USA/CA website.
Besides their own page, Gisou is also available in Sephora worldwide, including in the USA. Don't forget that you can buy bundles from both of the sites!
For UK customers, they can purchase Gisou from Cult Beauty and Selfridges as Sephora is not available in the UK. And you should also check out our review of Madison Reed vs eSalon.
Gisou Shipping and Return Policy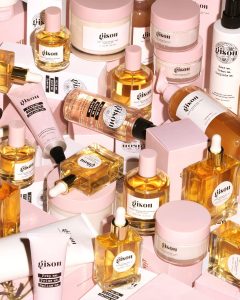 If you wish to purchase any Gisou product from gisou.com then each order is free above $50. If you do not spend this amount, then it will depend on your country and how much you spend on shipping. To be fair, it is very easy to spend this amount on Gisou, whether you do that on one product or a set. 
The delivery times will also be different. For example, to the UK the delivery is 1-2 business days, while for the USA it is 2-5 business days, this includes Hawaii, Puerto Rico, and Canada. 
Please be careful that sales tax, customs fees, or duties are not included in the price. You might be receiving additional invoices from FedEx if you order through the website. 
As far as returns, you'll have 14 days to return your product if you do not wish to use it. These products should not be opened, damages and should be in their original packaging which should be sealed and unopened. That being said, unless you can get your hands on a small tester you will not be able to try out the products. 
Promotions & Discounts
Gisou also has a Collectors Club. What does this mean? After you signed up and created an account, each time you purchase you'll receive points. 
To understand it easier, this is how much discount you'll receive:
$5 OFF – 125 COLLECTOR CREDITS

$10 OFF – 250 COLLECTOR CREDITS

$15 OFF – 375 COLLECTOR CREDITS

$20 OFF – 500 COLLECTOR CREDITS

$25 OFF – 625 COLLECTOR CREDITS
Gisou will also give you credit if you sign up for their newsletter, follow them on social media, for your birthday, and even for leaving a review. 
You'll also receive $10 if you refer a friend! Otherwise, follow their social media accounts for further promotions and discounts. 
Contact Gisou
How do you contact Gisou? There are a few ways:
Gisou Hair Oil Review: Editors' Verdict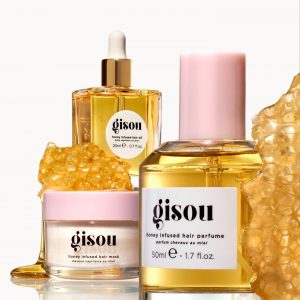 We are ready to give our final verdict for this Gisou hair oil review. After reading through the products, checking customers' feedback as well as reading reviews on external websites such as Infuenster, we believe the brand is worth it. 
The hair oil received the most amount of reviews from customers as that was one of the very first products released. It is no question that Negin is loved and respected in the social media community and she managed to do the same with her brand. 
Are these the best products on the market for your hair? We wouldn't say that. At the end of the day, Gisou is a bit pricy, although you get a lot of products, if you're not too fussed about hair oil, you can probably get one for a lower price that will do the same. We'll let you be the judge of that! 
Looking for other haircare products? Check out our reviews of Hairburts, Hairstory, Cantu, and Kerastase. 
Gisou FAQ
What does Gisou mean?
Negin Mirsalehi has a Persian background so she chose to represent this through the name, Gisou means women's hair in Persian.
Is the packaging made of sustainable materials?
All of the paper-based packagings is made out of FSC-certified paper. Although not all of the packaging is recyclable, the brand is working hard to ensure these changes in the future.
Where are the ingredients sourced?
The key ingredient, honey, is sourced from the Mirsalehi Bee Garden. The beekeeping tradition has been passed down for 6 generations now.
Where are Gisou products manufactured?
Negin's Bee Garden and home are in the Netherlands. All of their products are manufactured there. The website says that only the honey-infused hair perfume is not made in the Netherlands, but it doesn't disclose where is it made.
Are Gisou products cruelty-free?
Gisou is cruelty-free. Although the products are sourced from bees, they do not harm them. Only the surplus gets taken away and Gisou respects the harvesting cycle of the bees and releases products based on that.