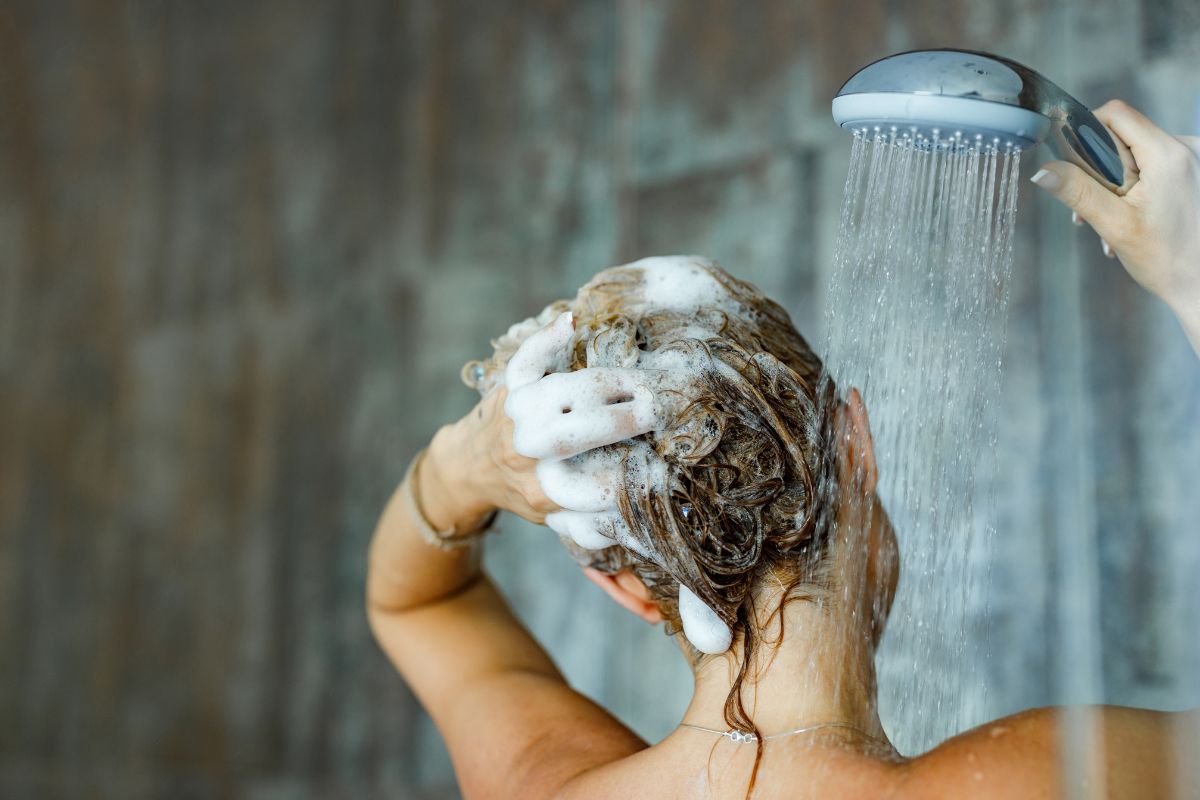 You don't need to be a hairdresser or hairstylist to know that healthy hair starts with a good hair care routine. No matter what you are after, a voluminous long hair with non-broken strands or bouncy curls, you need to build a routine. However, when it comes to figuring out your routine and more importantly, finding the right products, you need to keep in mind the type and texture of your hair. Also, you need to define the issue you deal with and find solutions for it, for instance, broken ends. In today's article, we are going to share with you some basic, stylist-approved hair care tips that no matter what type of hair you have, you need to keep in mind.
10 best hair care routine tips
When it comes to taking care of your hair, there are many important steps you should follow. From nourishing it from the scalp to the ends to protecting your hair while styling, the way you do each thing makes a huge difference. First of all, you need to treat your hair gently and use the right tools and products. This is crucial in order to ensure that you avoid any damage and improve your hair. To help you build a routine, we collected 10 hair care routine tips. Now, without further ado, let's quickly take a close look at each.
1. Cleansing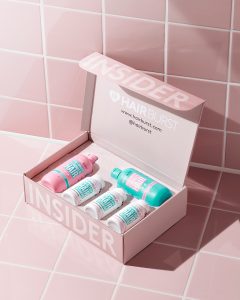 To start our list of the best hair care tips, let's take a look at one of the most important steps of a hair care routine. Cleansing is key and by cleansing, we mean scalp-centric cleansing. The reason for this is simple, healthy hair starts at the scalp, which means that when you build your hair care routine you shouldn't forget about cleansing your scalp. It is crucial to clean the build-up.
To clean your scalp always make sure to shampoo it properly from your forehead to the back of your neck. It is essential to take your time and even double cleans your scalp and hair if needed. In case you feel you need some extra cleansing, you can apply a scalp scrub from time to time. This can make a huge difference when it comes to removing build-up. Hairburst has an impressive scalp scrub that has a great reputation according to customer feedback. This product is not only affordable but is made of natural ingredients. It removes dead skin cells and product build-up, this way boosting hair growth. Adding a scrub to your hair care routine is one of the best things you can do for a healthier scalp and hair growth.
2. Conditioning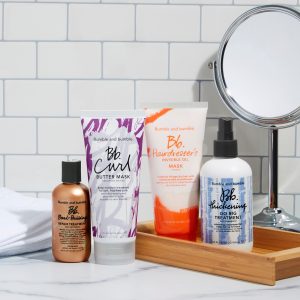 Conditioning is another important step of every hair care routine. Now, this one is a must. You should always with no exception apply conditioner to your hair after you are done shampooing. The reason why this is so important is that shampooing will open up your hair cuticle, while conditioning has the ability to close it. Let's see the scientific explanation first. The shampoo contains sulfates with a negative charge. This has a raising or opening effect on your hair cuticle. Conditioners on the other hand contain positively charged sulfates which have a counteracting effect. This way when you apply conditioner, it will smooth down the cuticles making them less likely to chip. Also, it will restore the moisture the shampooing takes out of your hair structure.
In case you are looking for a reliable conditioner, Bumble and Bumble has some great options for all hair types. This brand is devoted to supporting you through your hair health journey and nothing proves this better than their extraordinary products. These conditioners will nourish and moisturize your hair and give them a silky, smooth finish without weighing it down.
3. Heat-styling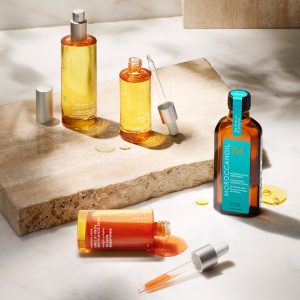 It is best to avoid using heat on your hair in order to protect it. However, if you prefer straight hair, curls, and waves, you should add heat protectors to your hair care routine. Before you use flat irons, styling brushes, curling irons, diffusers, and hair dryers you should definitely apply some type of thermal protection. MoroccanOil is famous for its multi-award-winning hair care products for all types of hair textures. If you are looking for some strong and reliable heat protectors look no further, this brand has one of the best products you can purchase. Alongside its thermal protecting abilities, the MoroccanOil Heat Styling Cream provides fullness, volume, and natural shine to your hair. It is rich in vitamin E, and antioxidants which will make your locks soft and frizz-free. It is definitely one of the best heat protectants to add to your wavy hair care routine.
Last, but not least, always keep in mind heat styling rules to lower the chance of damage. For instance, you should always try to use these heated tools at the lowest heat possible, even when using thermal protection.
4. Air drying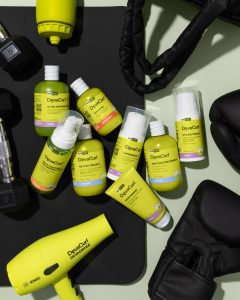 Speaking of heat, when it comes to tips for hair care at home, air drying is one of the best things you can do for healthy hair. If you listen to any healthy hair care tips from this collection, make it this one. If you want to avoid broken ends and you want to give your hair a break from treating it with heat, one of the simplest things you can do is to switch your hair drier to air drying. However, this doesn't have to mean that your hair will look boring. You can add special products that will not only look in moisture but also help you achieve the style you want. But without using heat.
Deva Curl offers a large array of styling products that are specifically developed for curly hair. Applying these can give your hair the volume and frizz-free smoothness it needs to achieve your favorite curly look. And the best is that with these you don't need to use a hairdryer to maximize their effects.  So in case you are after products with detangling, easy-combing, and slip benefits, make sure to take a look at the broad selection of conditioners, oils, and other styling products the company offers.
5. Dry shampoo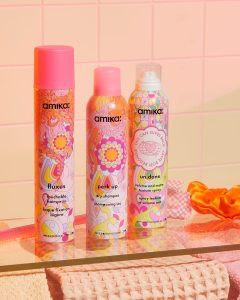 Next on our best hair care tips is dry shampooing. You most likely have dry shampoo in your bathroom, but do you use it properly? The problem with dry shampoo and other aerosol products is that most people do not use them as they should. Commonly, people apply dry shampoo by holding the can too close to their heads. The correct way to apply it is to give it a good shake before you push the spraying button, then extend your arm out all the way. Now you can hit the spray button and apply the product. This way the shampoo will be exposed to air before reaching your head which is essential considering the final effect.
Among the Amika hair care products, you can find their extraordinary dry shampoo. With this, you can say goodbye to dirty and greasy hair and get through the day effortlessly. This product was developed to absorb all oils produced by the scalp. The can includes a fine mist that you can easily apply to all types and colors of hair.
6. Detangling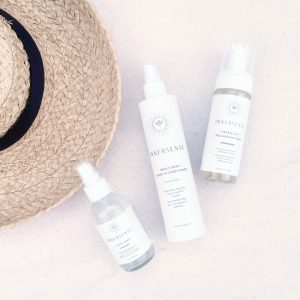 If you have a wavy hair care routine, you might have some issues with getting your hair detangled. Unfortunately, along with heat styling, detangling is another reason behind seriously damaged hair. There are so many wrong ways to brush your hair. And if you pay some attention to how people usually brush their hair, you will see it immediately. Most people start brushing their hair from top to bottom. However, the right way to do it is to start from the bottom and gently go up. When you start at the roots, the ends will get tangled, and you will need to force the brush through a big ball of messy hair. If you work your way up towards the roots you can reduce by a lot the chance of broken ends and also hair fall.
Obviously, you need a good detangling product that will make brushing a smoother and effortless experience for your hair. The Innersense hair care products were developed with the goal to provide nourishing and protecting conditioners, oils, masks, and other hair essentials that support easy brushing and long-lasting hair health. Regardless of your hair type, you should definitely give these goodies a try!
7. Applying products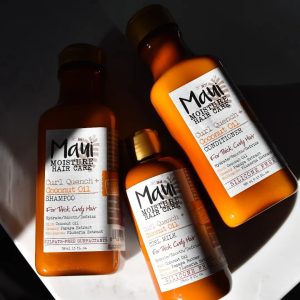 Next, our hair care tips consider applying products. Starting with shampooing your scalp to applying nourishing oils to the ends, applying the hair care products properly is key. As we have mentioned, shampooing won't do any good if you skip washing your scalp with it. Similarly, when you apply oils, you should never go up to the roots, as this will weigh down your hair and make it look greasy.
To make sure that you apply hair care products correctly, always read the instructions first. Maui Moisture is a brand that pays lots of attention to quality, but the company also finds it important to educate people on how to use these products properly. This is key if you want to make sure that the purchased products are effective.
8. Choose the right products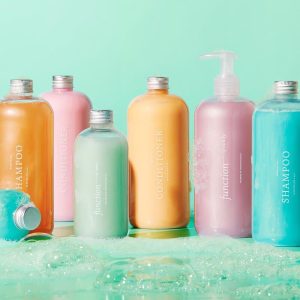 Also, we shouldn't forget about one of the best hair care routine tips which are choosing the right products. For this step, you need to consider the type and texture of your hair, and also the scalp moisture. If you have color-treated hair and your goal is to make it last longer and also provide your hair moisture, you need to choose products that have these essential properties.
Now, a great example is the Function of Beauty. This brand does this so well that it is not surprising how popular they become in a short manner of time. The brand offers custom formulas for each hair type and issue you can imagine. Before you order your personalized shampoo and conditioner, you need to fill in a quiz. This allows you to select your natural hair type, hair structure, and scalp moisture. Also, you can define your hair goals and preferred fragrances. The last step is to personalize the bottles and colors of the products. It's a fun, yet useful solution that will get you closer to your hair goals.
9. Using different tools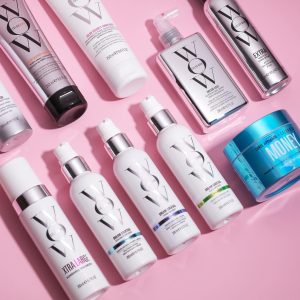 We have already mentioned that heat styling can be quite damaging to your hair. But unfortunately, for most of us, using heat to style our hair is a regular part of our hair care routine. Luckily, there are things you can do to avoid serious damage. Applying thermal protectors and using these tools on the lowest heat possible are some examples. However, that is not all. If you use some specifically developed hair styling products combined with the power of tools on a lower heat, you won't need to compromise on the final result.
While Color Wow doesn't sell hairstyling tools, they have a wide array of famous and high-quality styling products that can help you achieve your dream look when using tools. For instance, the Color Wow Style On Steriods offers instant volume and a thick and full result that will elevate your hair.
10. Frequency of cutting hair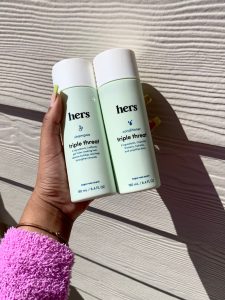 Last, but not least our collection of healthy hair care tips is getting regular trims. Even if your goal is to grow your hair and simply keep its length, it is key to cut the ends frequently. This will not only remove broken and damaged ends, but it will refresh the entire look of your hair, too. You might find it confusing, but getting regular trims is an essential part of a hair care routine for hair growth. This will improve the health of your hair, as you won't do further damage to your ends.
For Hers is a company that offers science-backed hair care products for some of the most common hair issues. Their most popular products as their hair growth pills target hair growth and regrowth. The Hers Biotin Gummies, for example, are rich in nutrients and vitamins that support not only hair growth and health but have beneficial properties for your skin, nails, and body.
Hair Care Tips: Editor's Verdict
Now that we got to the end of our list of the best hair care tips, let's wrap up the most important advice you should take with you. As you could see your hair care routine doesn't necessarily have to be evolved around expensive shampoos and conditioners. Sometimes the simplest things can be the biggest differences. For example, being gentle with your hair is key, as even the most common things like brushing can be damaging too.
Proper cleansing, moisturizing and nourishing is also crucial. Always make sure to choose products that do best to your hair type and apply them according to the user's instructions. When using any heat styling tools, always use heat protectors first and try to lower the heat as much as you can. And last, but not least, one of the most important healthy hair care tips is to go and see your hairdresser regularly to give your hair a refreshing cut. With these tips and tricks in mind achieving your hair goals is no longer impossible, but something you can do easily. It just requires a little bit more attention and effort.
If you are still looking for other haircare brands, check out our reviews of Kerastase, eSalon, Vegamour, and Aquis.