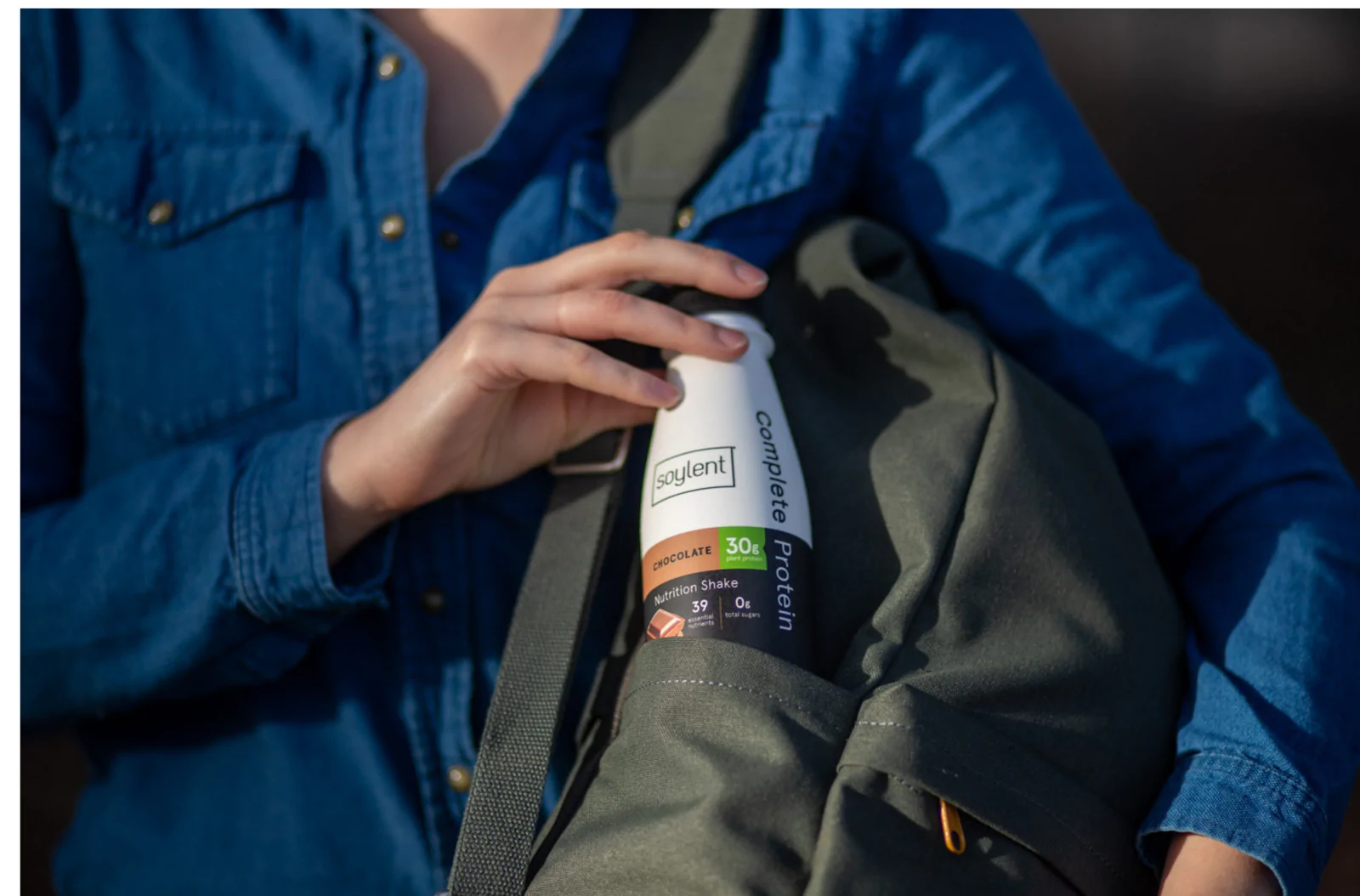 While many people are willing to adopt a healthy lifestyle, barriers like lack of time, taste, and daily routine keep them from achieving this goal. Solvent emerged as an excellent option to replace non-nutritious meals people have to eat because of lack of time or their daily routine. The company offers meal replacement products in bar, shake, and powder form. They carefully select quality ingredients to ensure their products provide complete nutrition. This in-depth Soylent review will look at the brand's history, customer testimonials, and 25 of the most common questions about this company and its meal replacement products; this will allow you to decide if it's worth the hype.
About Soylent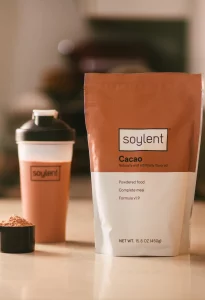 Soylent was founded in 2012 by David Renteln, John Coogan, and Rob Rhinehart after getting tired of living off a diet of frozen meals and ramen. The group believed food could be made simple for the better. The group believed food could be made simple for the better. Using their background in software engineering, the team began their journey to reinvent how people think about eating.
With headquarters in Los Angeles, California, the company drew inspiration from the 1966 dystopian sci-fi novel Make Room! Make Room! written by Harry Harrison. Solvent focuses on trying to make nutrition affordable and accessible to everyone. The brand wants the products it offers to make an impact on global malnutrition, the homeless crisis, and student food insecurity.
Solvent launched physical retail stores in 20,000 locations in the U.S. The company has used its popularity for good; they have developed #SoylentForGood, a program that donates meals to individuals who are in need. Many media outlets have featured the brand, including Forbes Magazine, The New York Times, and Vox. Soylent has more than 97k Facebook followers and 46.7k followers on Instagram. Before we delve further into our Soylent review, check out the company's pros and cons.
Pros
They have an immense range of meal replacement options, including drinks, powders, and bars

The company offers affordable and nutritious food

You don't have to refrigerate their products, and they can last for one year

The 30-day subscription option allows you to save each order

Free shipping on US orders worth $25 and above
Cons
Their meal replacement products contain soy protein isolate

The Soylent powder only has a few flavor options

The company does not accept returns or exchanges
Soylent Reviews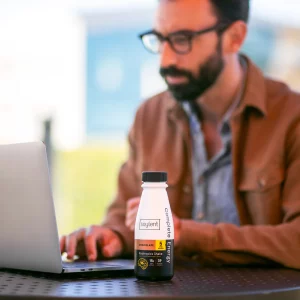 When doing this Soylent review, we browsed the internet to see what buyers wrote about their meal replacement products and the brand itself. We checked reviews on the brand's website and Amazon.
Reviews from Soylent's website show that people love most of their bestsellers, including powder packs and drinks. They have hundreds of comments and positive ratings. The brand's best-selling products scored a 4.2/5-star rating or higher. Most buyers liked the taste of their products, with many customers stating they use their formulas for healthy weight loss.
Popular Alternatives to Soylent
Reviews from Amazon reveal that most customers use Soylent powders and drinks to help them lose some extra pounds. A high percentage of customers rated their meal replacement products 4/5 stars or higher.
Soylent FAQ
1. What is Soylent?
It's a meal replacement company that makes delicious and nutrient-dense pre-made drinks, meal replacement powders, and bars. Soylent products are chock full of fatty acids, vitamins, and minerals. The company markets it as affordable, accessible, and convenient for all walks of life.
2. How does Soylent taste?
This Soylent review found that it's creamy and has a texture similar to cream or whole milk. It has a mild, bland flavor, and most customers describe the taste as oatmeal with oil or butter added to it. Soylent drink is not sweet or savory, and there is not much aftertaste.
3. How does Soylent compare to other meal replacement options?
Soylent nutritional facts make it different from other similar options. Unlike other meal replacement products, the protein in Soylent products comes from soy protein isolate. Because they formulate their products with soy, they contain all the essential amino acids and are easily digested. They also provide a smooth drink consistency.
The brand also has the best ready-to-drink offering, both in flavors and variety. Additionally, Soylent meal replacements are considered safe and well tolerated.
4. How much does Soylent cost? 
The original Soylent Drink will cost you between $2.69 and $3.25 per bottle. Soylent Complete Energy and Soylent Complete Protein need $2.48-$2.75 a bottle, while Soylent Powder (Cacao and Original) retails between $1.50 and $1.82 a meal. Keep in mind that you will get 35 meals per pouch.
5. How easy is it to make Soylent?
Preparing Soylent is a breeze: for an 8-ounce serving, mix half a cup of Soylent with one cup of water. Use a blender to mix your Soylent powder for the best texture and taste. You can then chill it for about 20 minutes before enjoying it. Using a shaker bottle also works well.
6. Is Soylent really a sustainable food source?
This Soylent review found that this brand is an environmental paragon; it reduces energy and food expenditure. Their soy protein also uses soy protein ingredients derived from a sustainable raw material, which is soybean.
7. What are the ingredients in Soylent?
If you are wondering: Is Soylent healthy? The answer is yes. Soylent bars, protein, and shakes are full of healthy polyunsaturated fats and Monounsaturated fatty acids found in regular food. Canola Oil and High Oleic Sunflower Oil are healthy oils, and they make up most of the fat intake you'll get from Soylent Powder.
Their powder comes in chocolate or original flavor and contains 330 milligrams of omega-3s, 3.5 grams BCAAs, 39 nutrients, 20 grams of protein, and 400 calories. Soylent Energy Drink is packed with L-tyrosine, L-theanine, caffeine, B vitamins, and alpha-GPC for focus and energy. Additionally, Soylent products are vegan, nut-free, and lactose-free.
8. What are the benefits of Soylent?
The Soylent nutritional facts of drinking five drinks every day are about 15 grams of fiber, 2 000 calories, and 100% of the number of essential micronutrients you need. In addition to nutrients, Soylent cafe drinks contain L-theanine and caffeine. That means it increases energy levels while helping you feel less tired.
Soylent meal replacement products improve your diet quality. If you're on a low-calorie diet or are short on time and always find yourself taking junk food, switching to Soylent meal replacement products could make your diet more nutritious. Their shakes are enriched with adequate levels of essential vitamins, fiber, and minerals, which most people do not get enough.
9. What are the side effects of Soylent?
This Soylent review found that their meal replacement products
are well tolerated and safe. However, Soylent replacement meal products contain soy protein isolate, meaning they are not safe for anyone with a soy allergy. Additionally, one or two people reported experiencing some side effects after drinking Soylent, including bloating and excessive gas.
Other people claimed that Soylent lacks insoluble fiber, which has reduced their bowel movement frequency. But, this is all anecdotal, and there's no evidence to back up that claim.
10. Who created Soylent
Soylent was created by David Renteln, Rob Rhinehart, and John Coogan. The group made sure that their products use simple and sustainably sourced Soylent ingredients to make them better.
11. Who manufactures Soylent?
Soylent powder is produced by the American company Soylent Nutrition, Inc. The brand is based in Silicon Valley, CA, where its meal replacement products are manufactured.
12. Where can I buy Soylent?
This Soylent review found that you can purchase their meal replacement products directly from their website Soylent.com — either as a subscription or a one-time purchase. Their products are also available at Target, Walmart, and Amazon. Check their Store Locator to find retailers near you.
13. Where does Soylent get its ingredients?
Soylent ingredients are derived from plant sources from farms worldwide. Soylent nutritional facts show that the brand uses high-quality ingredients to ensure their products contain all the nutrients your body needs to stay healthy.
14. Where does the name "Soylent" come from?
Soylent got its name from a dish in the 1966 novel Make Room! Make Room! written by Harry Harrison. Most soylent types are made with soy and lentils, and that's how the product got its name, a combination of the words soy and lent.
15. Where does Soylent ship to? What is the returns policy?
This Soylent review discovered that this company ships its meal replacement product to Canada and the United States. They offer free shipping on US orders worth $25 or more. They also provide expedited shipping, and the brand sells through Amazon Prime.
Due to the nature of the meal replacement products, you cannot exchange or return items for a refund. However, you may make a case if the product you bought is damaged or defective. If you are eligible for a return, you have two weeks to submit a claim. Reach out to their support team to initiate this process.
On the lookout for other popular brands that have delicious meal replacement options? Check out our reviews of Garden of Life, Ample Meal, OWYN, and Keto Function.