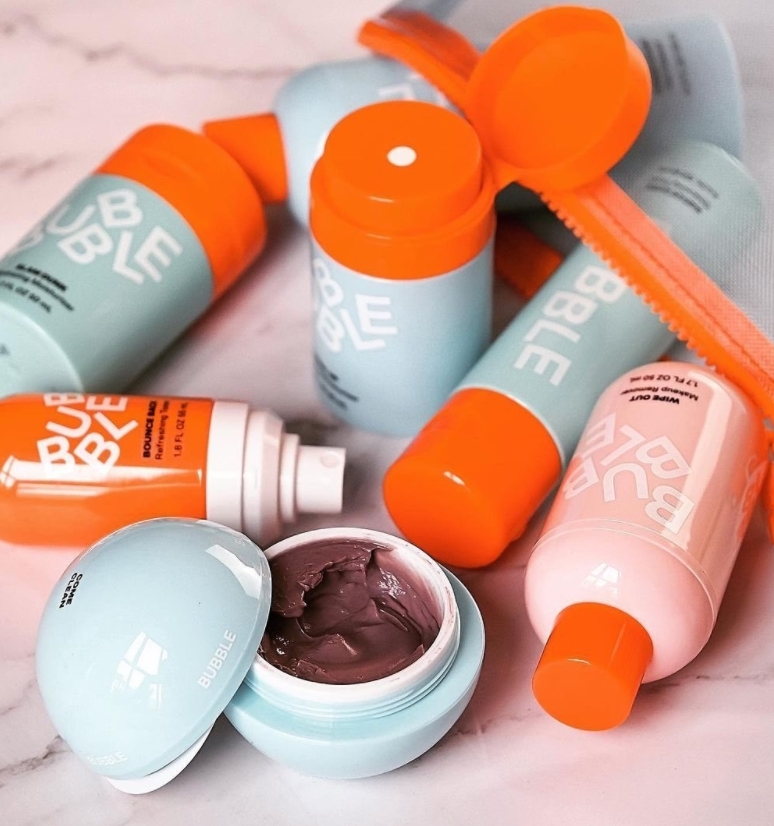 Skincare is a perplexing and fraught affair among many teenagers going to puberty and dealing with breakouts. Bubble skincare is a sensitive skincare brand aimed at teenagers and Gen Z individuals. Their range of products is specially prepared for those just starting out in the skincare world. Several influencers support Bubble, and it has been endorsed by Olympian Laurie Hernandez, Hyram Yarbro, a Gen-Z skincare whisperer, Tiktok celebrity, and esthetician. The brand also has 1.2m followers on TikTok, and it has several reviews all over the internet. From our extensive Bubble skincare reviews,  you'll learn more about this brand and the services they offer.
About Bubble Skincare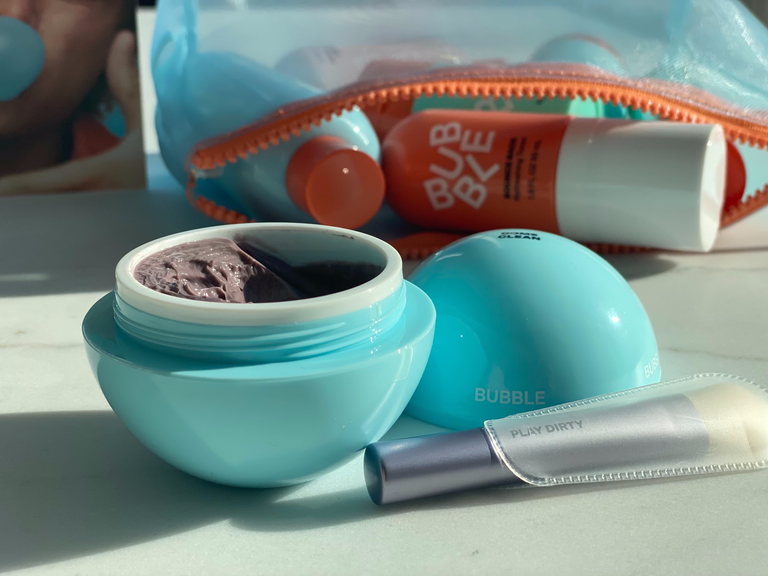 The company was founded by Shai Eisenman in November 2020. Since its leap into the skincare market, Bubble has created quite a buzz. The company uses lighthearted and 'bubbly' marketing and promotions to appeal to young teenagers. It is also very popular among Gen Z and young teens all over social media with support from celebrities and influencers.
The 'Bubble' was specially built to cater to teenagers who are developing sensitive skin and have more delicate needs. The brand provides a wide range of products that do not involve stripping the brand. On the website, Bubble is described as "Skincare that builds you up instead of helping you blend in."
It also focuses on wellness and offers healthier options for its audience instead of regular products with harsh chemicals. They offer plant-based formulas and scientifically proven products to be gentle on sensitive skin. Bubble is also vegan and cruelty-free, and its collection includes an option for people with special dietary preferences.
Bubble Skincare Overview
The website is full of advice for young adults who are just starting their skincare journey. They also have an online survey that asks about the users' skin types and skin concerns. Bubble was established as a teen-centered community. They give 1% of their profits to welfare organizations that help young adults with mental health issues.
Following its establishment in 2020, the brand has become a major success despite being a new face competing with major skincare brands. It has a whopping 259k on Instagram, where it describes itself as "New-school skincare fixing old-school skincare problems." It is dermatologist tested, and it also comes with great recommendations from people in the industry.
The brand was featured in many influential publications such as Beauty Matter, Forbes, Woman Wear Daily , SheKnows, Market Sale, Allure, Business of Fashion, Teen Magazine, and many more.
Pros
Transparent skincare products specially formulated for young adults
Suitable for all skin types and textures, including sensitive skin
Expert skincare advice and resources for teenagers
Offers seven products made with natural and safe ingredients
Vegan and Cruelty-free components
Offer international shipping and Free shipping for orders above $39
10% discount when you sign up for the mailing list
Bubble Skincare Products Review
Bubble launched its skincare line with seven products: cleanser, makeup remover, toner, two moisturizers, a face mask, and a face mist. One of the perks that attract many young people is their affordable prices under $20 and bright, colorful designs. The brand gives fun energy, and they collect feedback and customer opinions on how to improve their service.
The company also partnered with Hyram Yarbro, a famous skincare expert on social media, to develop its formulas. You'll learn more about the brand's bestseller products from our bubble products review with full information about the ingredients they use. You'll also find reviews from customers who have tried the items listed below!
Bubble Balancing Moisturizer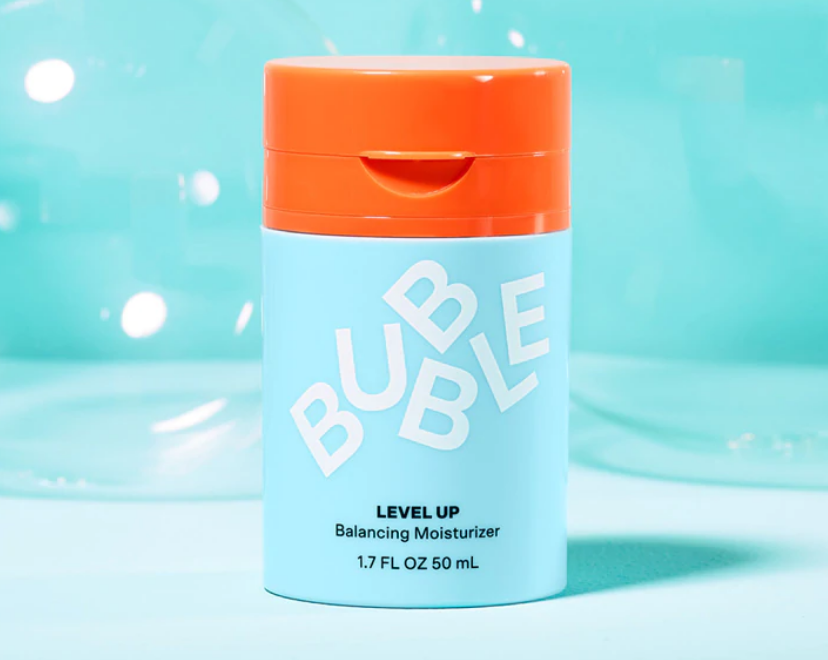 If you have oily or combination skin types, you can add the Bubble balancing moisturizer to your routine. It is a gel-based component that helps to keep the skin moisturized without adding any extra shine. The Bubble Balancing Moisturizer leaves the skin refreshed, and it contains a blend of Zinc PCA and Vitamin B3, which keeps the skin looking fresh and moisturized. It also contains a Yellow Extract which offers hydration and prevents dryness.
This moisturizer also offers blue-light protection due to a combination of superfoods proteins that repair the skin from solar damage. The product is also free of parabens, denatured alcohols, artificial color, or fragrance. It contains familiar ingredients that are cruelty-free and vegan. For effective results, the recommended daily use is recommended both morning and night.
It also offers anti-aging benefits, which is an added bonus for older buyers. You're expected to use this moisturizer after cleansing and toning before using your SPF. If you're interested in the Level-Up Balancing moisturizer so far, you can get the product for $15.
Bubble Fresh Start Gel Cleanser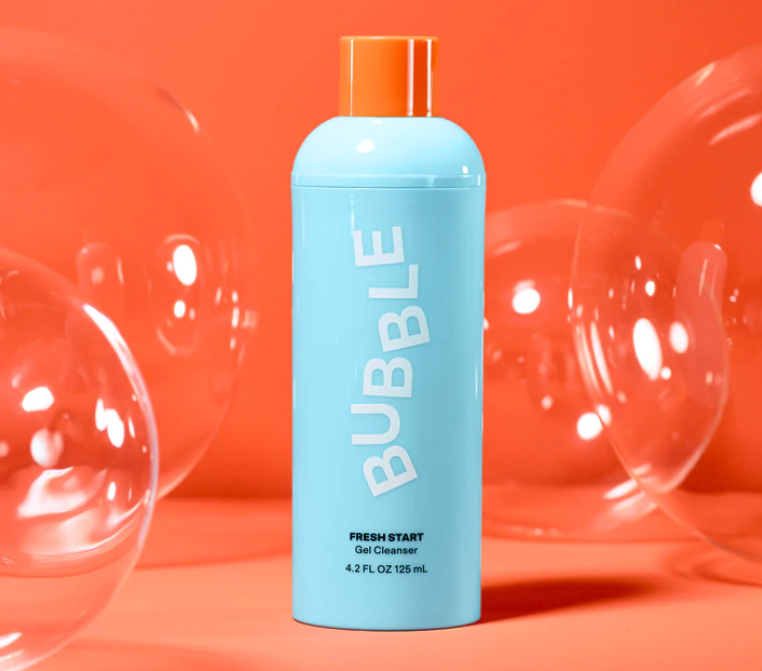 When starting your skincare routine, it's important to pick a cleanser that doesn't dry out your skin. The Bubble Fresh Start Gel purifies and cleans out all the impurities clogging your pores while also providing moisture. It helps soothe your skin and remove oil build-up while retaining the natural glow. After use, you can expect a clean and properly refreshed feel with an even-toned complexion.
The Bubble Fresh Start cleanser's key ingredients include Spearmint and red algae extracts that help calm the skin and reduce oil production. It also contains Aloe Leaf Juice, a powerful agent for antioxidant protection. Gluconolactone, Lavender Flower Water, and Caffeine also combine with refreshing, reducing puffiness and giving an overall calm look.
You can also check the package for the full list of ingredients in case of any possible allergens. However, all the components in the product are vegan and cruelty-free without any artificial fragrance. The formula is perfect for sensitive skin textures, including acne and combination skin. You can expect a clean and properly refreshed feel with an even-toned complexion after using this product.
More Details
The key ingredients in the Bubble Fresh Start cleanser include Spearmint and red algae extracts that help to calm the skin and reduce oil production. It also contains Aloe Leaf Juice, a powerful agent for antioxidant protection. Gluconolactone, Lavender Flower Water, and Caffeine also combine with refreshing, reducing puffiness and giving an overall calm look.
You can also check the package for the full list of ingredients in case of any possible allergens. However, all the components in the product are vegan and cruelty-free without any artificial fragrance. The formula is perfect for sensitive skin textures, including acne and combination skin. Its application is very easy, and it doesn't leave any residues on your skin, as noted by a customer. You can get this gel cleanser on the Bubble website for $16.
Bubble Slam Dunk Moisturizer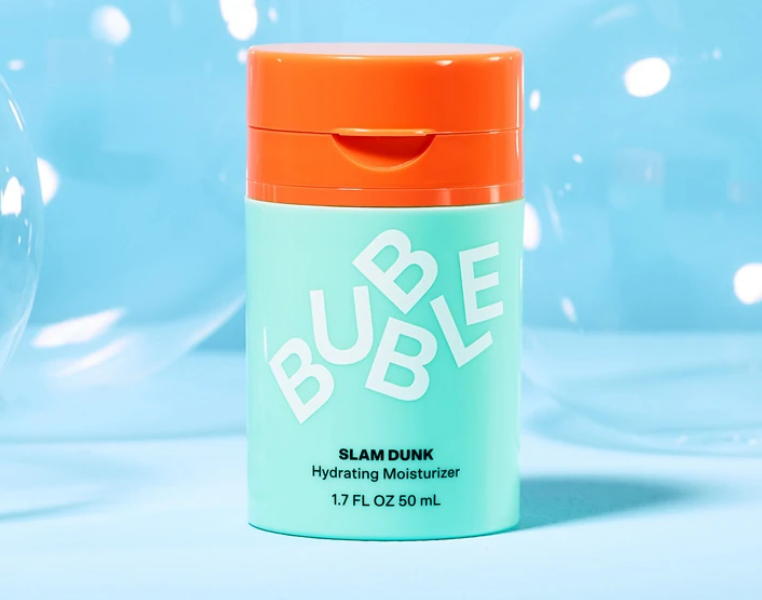 Dry skin can be very unpleasant, especially if you have to battle with constantly flaky skin. The Bubble slam dunk moisturizer is a creamy substance that reactivates your skin cells and hydrates the skin. The key ingredients include Aloe vera and Vitamin E, which are powerful antioxidants that protect the skin from environmental stressors, and simultaneously soothe and moisturize.
It also includes Avocado oil Hoya Lucunosa Flower extract, which blends with all the superfoods proteins to moisturize the skin and offer Blue light protection. This moisturizer will give nourishment and leave your skin soft and glowing. It is suitable for all skin types, and it'll prevent peeling, scaling, or itchiness as you use it. You can purchase the slam dunk hydrating moisturizer for $15, and it comes with many positive reviews from customers.
Bubble Bounce Back Toner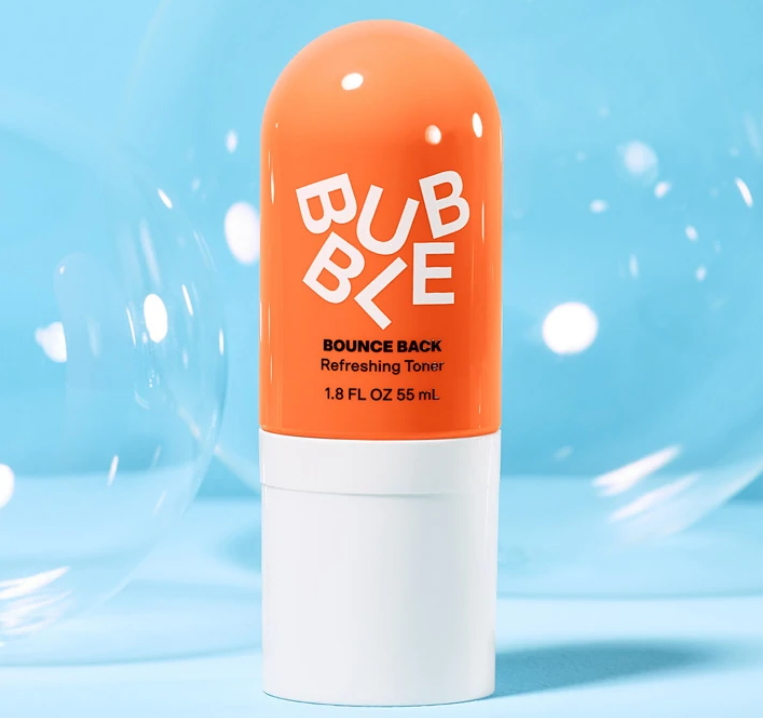 You can get this Bounce Back Toner from Bubble skincare for an instant radiant and smooth look. It helps to refresh the skin by removing any excess oils or shine. The toner helps balance your complexion and improves the skin texture due to the mixture of Sodium PCA and Vitamin B3. It also contains Green Tea extracts, a strong antioxidant that calms and protects the skin from environmental stressors.
Niacinamide and sodium PCA work together to balance the skin tone and provide a supple appearance. The formula consists of nontoxic properties that aid in treating acne and greasy skin. The brand also recommends that you use the toner any time of the day to keep your skin refreshed and hydrated all day long. The Bubble Bounce Back Toner costs $12, and a simple spritz is all you need to apply the product.
Bubble Come Clean Mask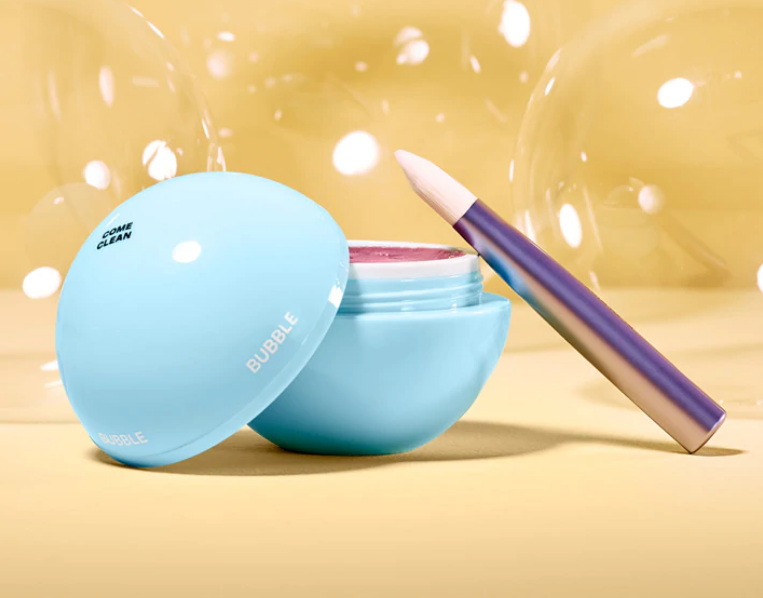 If you're struggling with acne, there are different techniques you can try to reduce breakouts, such as reducing stress and practicing self-care. The Bubble Come Clean Face Mask draws out all the impurities and pollutants that clog your pores. It contains Vitamin E and azelaic acid, which are helpful components.
Vitamin E is antioxidant and fat-soluble, making it easily absorbed into the skin. It is also a great moisturizer, and it helps reduce dryness and improve sensitive skin. Azelaic acid offers antibacterial and anti-inflammatory benefits, which help to make your skin look more even and youthful.
Bubble provides this detoxifying clay mask that contains Monorillonite (mineral-rich clay) that seeps into your pores to offer a deep cleanse. The recommended use is once or twice a week, and it has to be applied to clean skin. Bubble skincare offers this product for $19.
Bubble Skincare Reviews From Customers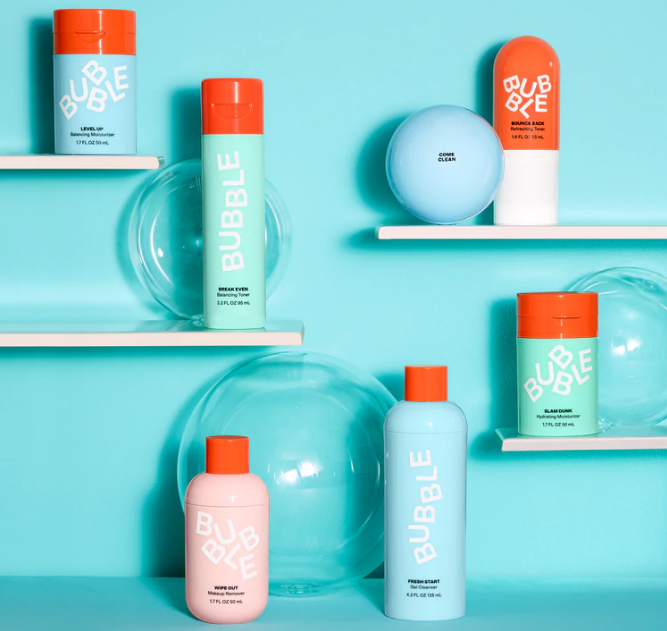 We have some customer testimonials about Bubble Skincare to show you what customers think about the product. Bubble skincare offers customers ratings and reviews on each product to reassure potential buyers. The average rating on the brand's website is 4.8/5 stars from the overall customer feedback. The Bubble Slam Dunk Hydrating moisturizer has 4.9/5 stars from 152 customer reviews.
A customer stated, "I like this moisturizer because it really hydrates the skin and makes your skin softer. Your skin will not feel dry at all. It spreads easily on the skin as well." Similarly, the Fresh start gel cleanser has 4.9/5 stars with raving reviews from about 155 customers. A reviewer commented that they got results only a few weeks after using the product.
The Level Up Balancing moisturizer has 4.7/5 reviews from 279 customers who mostly loved their purchase. However, one customer wished that the item came in a larger size. On Influenster, the Bubble skincare reviews mirror those on the brand's website. The Slam Dunk Hydrating moisturizer has 4.4 /5 stars with amazing reviews from customers.
Popular Alternatives to Bubble Skincare
More Reviews
However, some buyers were unimpressed with the quality of the product compared to other brands. We also looked at Reddit to see more unbiased and unsponsored customer reviews on Bubble skincare. A Reddit custom talking about the brand said, "10/10 great products. Loved everything about them and can't even think of anything I'd improve. They're simple but fun to use, effective and unproblematic."
We could not find any negative reviews on Bubble Skincare despite a long search, neither on TrustPilot. One Reddit reviewer scored the Slam Dunk Moisturizer 5/10 because it didn't work well with their skin and left it greasy and oily. Other buyers criticized the brand based on their individual results. However, most of the complaints received prompt responses from the Bubble customer service team.
Sign Up For Bubble Skincare
You can sign up for Bubble skincare newsletters to get 10% off your next purchase. When you sign up, you also get rewards referral credit. It will be easier to manage your orders and payment information.
Where Can I Buy Bubble Skincare?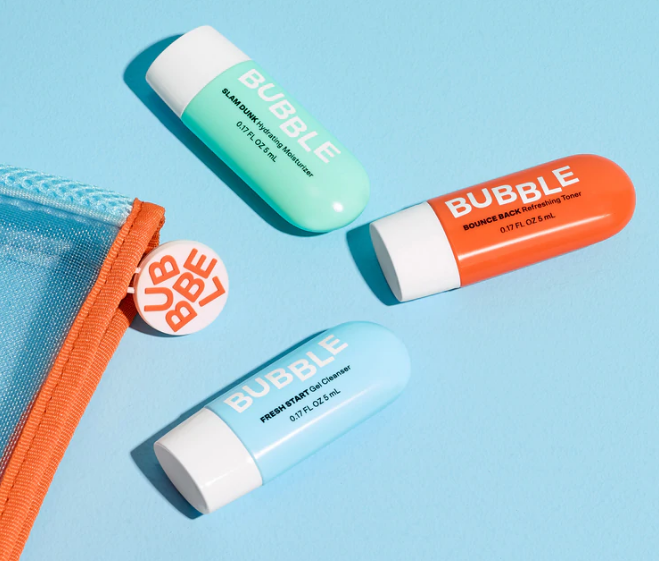 You can buy Bubble Skincare products directly on the brand's website at hellobubble.com. Walmart also offers Bubble skincare products in their different stores across the world. If you also check Amazon, you'll find some Bubble products that you can purchase.
Bubble Skincare Shipping and Return Policy
Bubble Skin Care is based in the United States but the brand ships to different locations around the world. Once your order has been shipped, you'll receive a confirmation mail in your email so you can track your order. Bubble offers free shipping on all domestic US orders over $39. The different shipping options for US orders include:
Continental US Standards – shipping times are 3-7 business days and shipping cost is $5
2-day shipping: shipping period is 2 business days, and the full delivery cost is $18 for domestic US orders
Overnight: The delivery time only takes 1-business day and it costs $35
International Shipping: delivery times and cost are estimated at checkout
Shipping to Alaska, Hawaii, Puerto Rico, and other military bases takes 5-10 business days for $45.
The brand does not offer any options for returns or exchanges on its website. You can only purchase a full-sized product since there is no sample or mini-sized offer. So if you're not satisfied with your order, you will have to contact the customer care service for assistance.
Bubble Promotions and Discounts
There is currently a special promo celebrating 'Happy Mascara Day' that offers 30% off the normal price of Bubble Wipe Out. However, they offer free shipping on US orders above $39. If you sign up for their mailing list, you'll get 10% off your next order. You can follow the brand's Instagram to get quick updates on upcoming promos and discounts.
Contact Bubble Skincare
Contact the brand's customer care service through:
Text – 1(573)415-0678
Website – Online contact form
Is Bubble Skincare Good: Editor's Verdict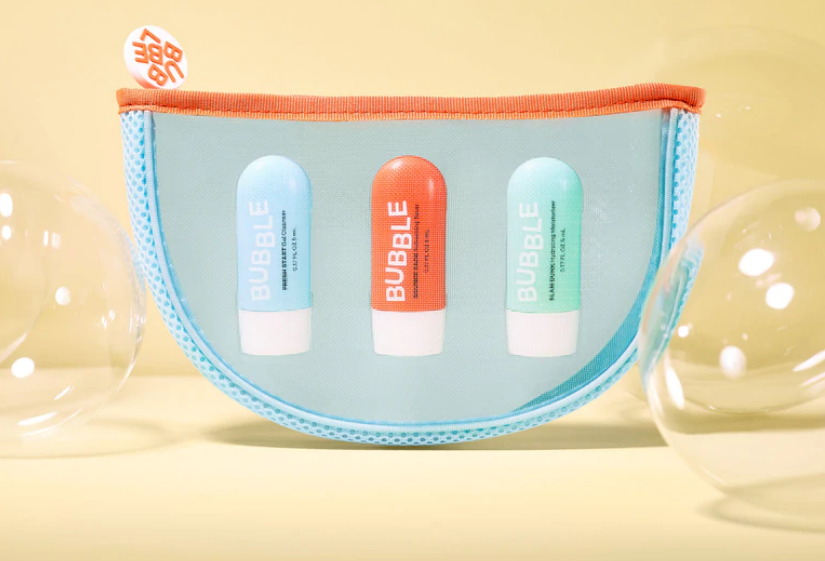 Bubble Skincare was formulated with teenagers in mind. They offer transparent skincare with simple but effective ingredients suitable for all skin types. Gen Z is becoming more interested in skincare. This is obvious from social media trends and the growing number of teenage beauty influencers on TikTok and Instagram.
While other skincare brands direct their market towards teenagers and young adults, we have wondered what makes Bubble special. The company describes itself as "the first modern, affordable, science-backed skincare formulated specially to clean, balance, and hydrate teenage skin," It has huge followings on Instagram, Facebook, and TikTok.
The brand has also been featured on media publications including Allure, GirlsLife, Glossy, and Teen Vogue. Many people love this brand for its transparency with its ingredients and values from the customer reviews. All their products are free of parabens, denatured alcohol, artificial color, or fragrance. It is also strictly cruelty-free and vegan.
The brand also uses colorful and eye-catching promotions to attract a younger audience. They also use fun and whimsical designs on their packaging to create a light, playful feel. Asides from this, they offer expert advice on the best skincare routine and products suitable for your skin type. Overall, we rate Bubble 4.5/5 stars, and we consider it a brand worth trying.
Explore more skincare options with these popular beauty brands reviews of The Truth Beauty Company, Apivita, Dermalogica, and Laurel Cosmetics.
Bubble Skincare FAQ
Do your products have expiration dates?
All Bubble products come with a one-year lasting period after opening.
How do I store my products?
The brand recommends storing your products in a cool, dry place.
Do you carry any products with SPF?
No, but the brand has stated that this option is being considered.
Do You Test Your Products on animals?
Bubble markets itself as a cruelty-free brand that does not conduct animal testing on its products. However, it does not explain their cruelty-free practices and whether or not they work with suppliers that do not have the same values.
Is it safe to use your products while pregnant and/or nursing?
Bubble skincare formula contains clean and safe ingredients suitable for both young people and adults. There is no reason why a pregnant or nursing woman cannot use their products. However, we recommend consulting with your doctor for more information about this.