Getting your daily dose of vitamins and nutrients is crucial for daily energy creation, long-term health, and a general feeling of well-being and balance. Integrating healthy snacks into your diet is a great way to provide your body with the nutrients, vitamins, and energy to enhance productivity. Rhythm Superfoods sells a wide range of healthy snacks packed with protein, antioxidants, and fiber to fuel your life. They have over 65k followers on Facebook and 37k on Instagram. This Rhythm review will look at customer testimonials and answer some of the questions people often ask about this natural food brand and its products.
About Rhythm Foods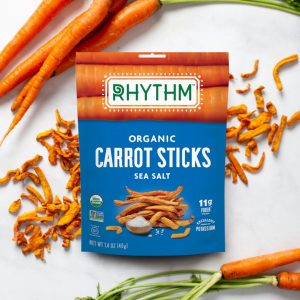 Rhythm Foods was founded in 2009 by Scott Jensen, Keith Wahrer, and Clayton Christopher. The company is at the forefront when it comes to the healthy food movement; it responded to the public demand for plant-based, innovative, nutrient-dense snacks with its Kale Chips, its first product to market. They later started to offer Carrot Sticks, Beet Chips, Broccoli Bites, and Roasted Kale. Their snacks get their goodness from nourishing vegetables and fruits. 
The company is dedicated to using the best ingredients to produce its great-tasting superfood snacks applicable to a strict gluten-free and plant-based diet and a more traditional food regime. They are always looking for new ways to offer consumers original and delicious snacks that provide them with nutritional benefits without sacrificing taste. The company believes food is supposed to bring out the best in someone. That's why they put the best into their food.  
It was also featured in Food Navigator, Chic Vegan, and Food Business News, all praising their products.
Rhythm Foods love our planet, hunger relief, food education, and entrepreneurship: they help organizations that support the environment, empower business thinkers and new brands, and create access to healthy eating and food education. Before we delve further into this Rhythm review, check out the pros and cons of this natural food brand.
Pros
They offer a range of delicious, ready-to-eat superfoods in different addictive flavors

Their products are vegan and don't contain gluten, or GMO

All their products are Kosher-certified, except Broccoli Bites and Cauliflower Bites

Free shipping on orders over $50

Their products are available online and nationally in retail outlets
Cons
Shipping is limited to only the contiguous United States

You cannot cancel an order after placing it

No Live Chat function on their website
Rhythm Review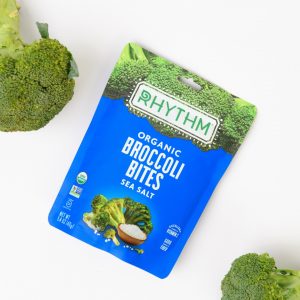 This Rhythm review wouldn't be complete without checking customer testimonials. We combed the web to see what buyers think of this natural food brand and its ready-to-eat superfoods. 
Popular Alternatives to Rhythm
Rhythm reviews from Amazon show that people are big fans of the brand's nutritious treats. Their products had an average rating of 4/5 stars. Most customers stated they love how their snacks taste. The delicious flavor and crunchy texture made Rhythm superfoods their favorite snacks.
A high percentage of customers praised their plant-based snacks because they do not contain GMOs, dairy, or cholesterol. Some customers raved about how most of their products are certified Kosher, which means they comply with the strict policy of kosher food laws like purity and quality. 
Most customers also had good things to say about the Rhythm customer support team. They said they are responsive and solve issues swiftly to ensure everyone has a thrilling shopping experience. Additionally, buyers loved how easy it is to access their snacks since they are available online and in over 5,000 retail outlets.
Rjhythm superfoods also received some great reviews on Influenster.
Rhythm FAQ
1. What are the benefits of Rhythm Superfoods?
Packed with vitamins and nutrients, Rhythm superfoods boost your energy and help you curb your appetite to prevent overeating when you eat your next meal. Their superfoods also boost your brain power by helping you concentrate at work and feel alert during the afternoon.
Rhythm Superfoods Kale Chips are rich in fiber and fresh flavor. They are gently dehydrated under low heat, allowing them to keep in the goodness, mineral, and nourishing vitamins A, B, C, and K. These crunchy kale chips are also packed with antioxidants. For instance, beta-carotene and carotenoids lutein are associated with a lower risk of cataracts, chronic obstructive pulmonary disease, and atherosclerosis. They also contain over 45 types of antioxidant flavonoids that can prevent cellular damage.
2. What are the side effects of Rhythm superfoods?
While their superfoods do wonders to your body, consuming one type of superfood in huge quantities can be harmful to your health. It can also prevent your body from receiving the nutrients it needs. Some people may also experience excessive gas when they take Rhythm Superfoods Cauliflower Bites because it features the complex sugar raffinose, which is hard for your body to break down.
This sugar will travel to your large intestine undigested, and bacteria will ferment it. In turn, this will lead to possible bloat and gas. Because Cauliflower Bites contain vitamin K, eating this superfood should be monitored when taking blood-thinning drugs to avoid unwanted interactions and the risk of getting a dangerous blood clot.
3. What are the ingredients in Rhythm superfoods?
The brand's superfoods contain plant-based ingredients; its products do not contain calories, gluten, or GMOs. The brand's Organic Rhythm Cauliflower Bites are enriched with vitamin C, which is necessary for the development, growth, and repair of your body tissues.
Bursting with savory flavor, the Cauliflower Bites also feature fiber, which helps maintain bowel health, control blood sugar levels, and lower cholesterol levels. It also allows you to achieve a healthy weight and live longer. Additionally, this superfood contains potassium, which is crucial for the normal functioning of your cells.
4. Is Rhythm superfood safe for long-term consumption?
Yes. Their superfood contains natural, plant-based ingredients. For instance, Rhythm Superfoods Kale Chips feature organic ingredients like lemon juice, kale, sunflower seeds, and carrots.
These organic ingredients help prevent the allergies associated with preservatives, chemicals, and foods. Therefore, this makes them safe for long-term consumption.
5. What are the storage instructions for Rhythm superfood?
The brand's superfoods are designed to be fuss-free and convenient. You don't need to refrigerate Rhythm Organic Cauliflower Bites or the other products they offer. However, you might want to store them in a cool, dark, dry place. Be sure to seal the packaging after every use for maximum freshness.
6. Who created Rhythm Superfoods?
This Rhythm review found that Scott Jensen, Keith Wahrer, and Clayton Christopher created this brand. They launched the company in 2009 to focus on healthy food and make healthy snack food. In addition to being the co-founder of the company, Jensen also serves as the CEO of Rhythm.
7. What are the quality standards for the products Rhythm Superfoods offers?
All their products are certified gluten-free, dairy-free, 100% plant-based, and certified vegan. They are also USDA-certified organic and non-GMO verified. Additionally, all Rhythm Superfoods products are organic, except for watermelon and mushrooms.
8. Do Rhythm products contain allergens?
No. As claimed in its packaging, Rhythm manufactures its products in a facility that processes the flowering plant sesame. Their Kale Chips contain ground sesame seed or tahini. Rhythm Cauliflower Bites Sea Salt and the other snacks the brand offers do not feature nuts as ingredients, which can cause an allergic reaction.
9. What are the key ingredients in Rhythm superfood?
The key ingredients in Rhythm superfood are nutritious vegetables or fruits, sea salt, dietary fiber, and sesame seeds. Their superfoods also contain spices and sunflower seeds.
10. Where is the company headquartered?
Rhythm Superfoods has its headquarters in Austin, Texas, United States; this is where they make Rhythm Superfoods Cauliflower Bites and the rest of their healthy snacks.
11. Where do the ingredients come from?
This Rhythm review discovered that this company sources its ingredients from farmers in different parts of the world. However, they get most of their ingredients from Mexico.
12. Where can the products be purchased?
If you are wondering: How to make Rhythm Cauliflower Bites? You do not have to make them, as they are readily available on the brand's site RhythmFoods.com. Their products are also available at online retailers, including Amazon, Lucky Vitamin, Thrive Market, and Jet.
If you don't want to shop online, there are more than 5,000 physical stores nationally Rhythm products. These include Costco, Safeway, Publix, Giant, Stop & Shop, and Whole Foods.
13. Where does Rhythm ship to?
This Rhythm review found that this company ships its snacks to the contiguous United States. They don't ship to Hawaii, Alaska, or American Territories.
14. Does Rhythm refund on returns?
No. Rhythm does not refund, edit, or cancel orders once they leave their warehouses and are in transit to their final destination. If you have purchased Rhythm Organic Cauliflower Bites and it has defects, send an email to [email protected] to exchange the product.
The company doesn't offer exchanges or returns due to dislike of product texture or taste. Unless otherwise indicated, orders purchased through their site are non-refundable.
15. Are Rhythm foods available around the world?
Rhythm does not ship internationally. But If you live outside the United States and want to purchase Rhythm Organic Cauliflower Bites, you can place your order through LuckyVitamin, Vitacost, Thrive Market, Greenline, or Amazon.
If you live in Canada and need Rhythm snacks, call Left Coast Naturals at 604-879-9100.
Why not have a read about other superfood brands such as Suncore Foods, Shakeology, Navitas Organics, and Moon Juice?