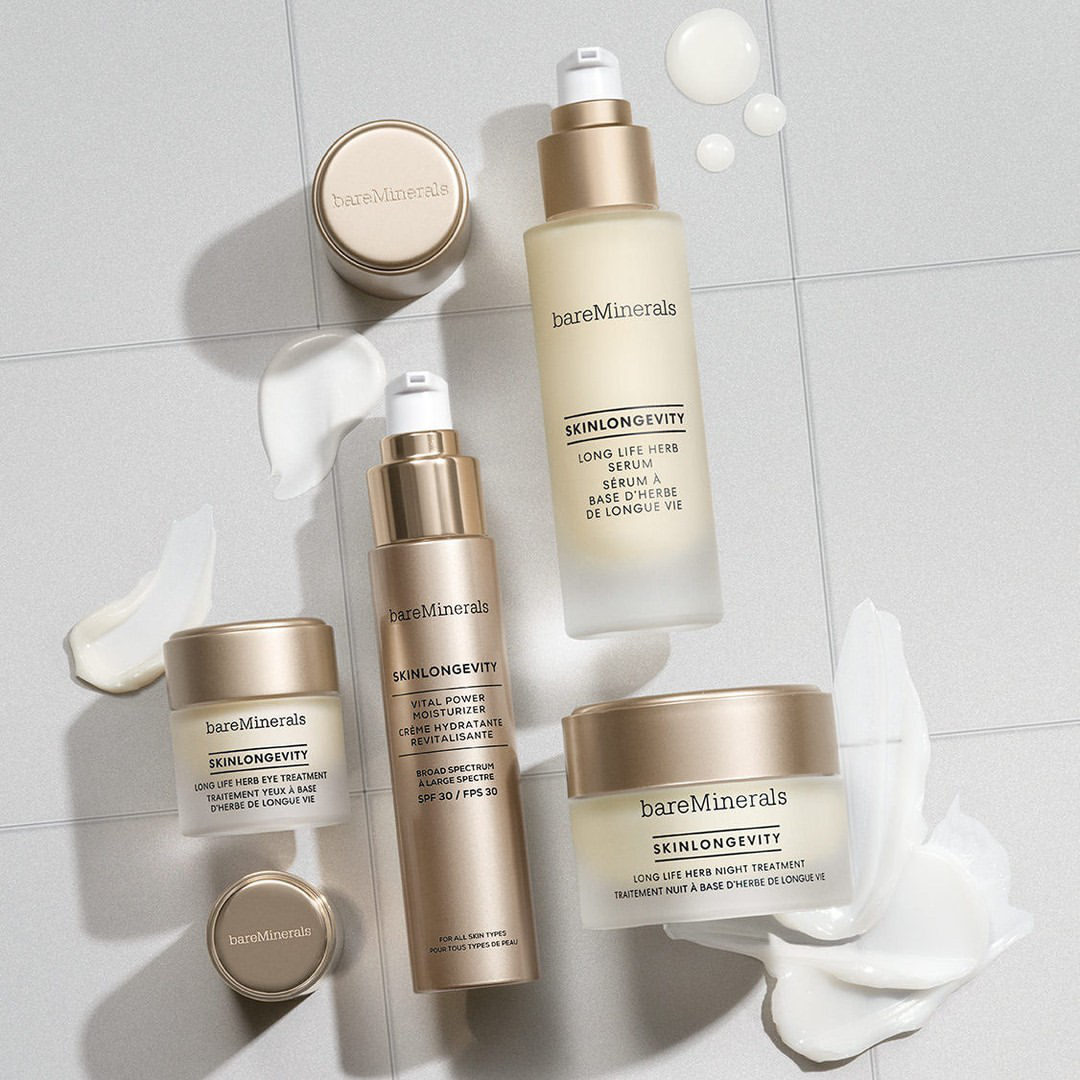 BareMinerals is known for its high-quality mineral-based products free of harsh chemicals and preservatives. The brand develops non-toxic formulas that solve skin concerns such as aging and acne using natural, clean, and skin-loving ingredients. They also apply cruelty-free practices and are a PETA-certified company. BareMinerals offers a wide range of products for the face, eyes, lips, and cheeks. This bare Minerals review will provide information about this brand, including its top-selling products, discounts, and customer ratings, to help you decide if you will use the company in your journey to clean beauty. 
About bareMinerals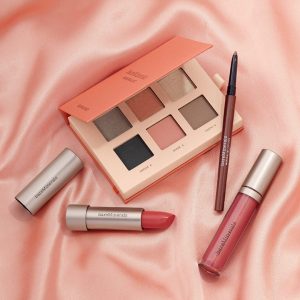 BareMinerals is a popular makeup and skincare brand developed by Leslie Blodgett. Blodgett founded the company in 1995 when the word non-toxic was not a household term as today. The brand was ahead of its time in offering safe, clean, and healthy products made with mineral-based ingredients. 
BareMinerals started on QVC before setting up shops all over the US and was one of the first companies to develop a mineral-based foundation. The Original Loose Powder Foundation became their signature product and has remained the same since the day they launched it. Developers created the foundation to deliver skin-boosting effects and flawless coverage using five mineral ingredients.
The foundation became an overnight sensation and is still one of the brand's best-selling products. Today, they sell one such product every 18 seconds. Besides the sales and popularity, the brand also has 19 award-winning products that contributed to its frequent appearance in renowned publications like Beauty Bible, Glamour, and Allure. The brand has also amassed a significant social media presence, with more than 1.2 million Facebook followers and over 1.1 million followers on Instagram. 
With such achievements, it is clear that bareMinerals is not a stranger to attention and praise. Blodgett attributes the success of bareMinerals to how the brand was able to connect with women. She notes that holding numerous seminars that teach women how to get the desired complexion helped the brand establish a reliable and consistent customer base.
Pros
They offer an extensive selection of skincare and makeup products

Their foundation provides 30 inclusive shades

Most products are vegan, and the entire collection is cruelty-free

All their ingredients are clean and free from harmful chemicals like parabens, sulfates, and talc.

They offer free samples with every order, and you can easily access their products from thousands of retailers

They provide customers with numerous ways to save, and their return policy allows you to return items even after opening
Cons
Their collection is not vegan

No live chat function

They only ship within Canada and the U.S.
bareMinerals Products Review
In this section of the bare-minerals review, we will be discussing some of their best-selling and most popular products. The brand offers numerous products, so we will only highlight its bestsellers:
bareMinerals Mineral Veil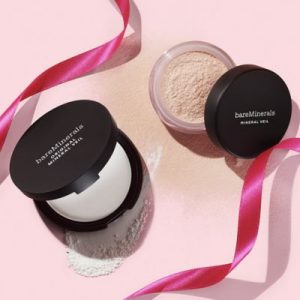 Formulated to offer a weightless and translucent finish, the bareMinerals Mineral Veil is perfect for setting makeup in place and minimizing the appearance of pores and fine lines. It comes in two different types, the original Loose Setting Powder and the original Pressed Setting Powder.
The loose setting powder comes in a 0.3 oz bottle carrying 9g of product. Its main objective is to keep the skin looking fresh at all times by absorbing excess oils. It also minimizes the visibility of imperfections and pores while providing a soft-focus, filtered finish. 
The original pressed setting powder comes in a 0.3 oz of product with 9g and a translucent shade. This powder sets and extends your makeup wear by providing a soft, sheer finish. Dermatologists have proven that over time it reduces the look of your pores. Additionally, it also visibly smoothens your skin texture by absorbing excess oils.
Mineral Veil is one of the most popular products from the brand, and many makeup artists use it as a finishing touch after applying foundation. It is cruelty-free, dermatologist-tested, and vegan. It is also clean and safe for all skin tones and types. 
For $19.20, you can get the bareMinerals Mineral Veil in a recyclable, plastic-free box.
bareMinerals Barepro Performance Wear Powder Foundation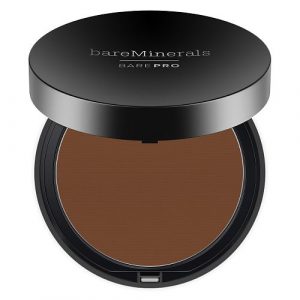 Designed to provide all-day coverage, bareMinerals Barepro Performance Wear Powder Foundation is a long-lasting foundation that helps users reduce pore size and control shine while building a breathable full coverage. It also comes in many different shades to suit your skin tone and complexion. 
The foundation is paraben-free, vegan, cruelty-free, gluten-free, synthetic-fragrance-free, SLS-free, tree-nut-free, and PEG-free. It serves four main functions. 
The bareMinerals Barepro Performance Wear Powder Foundation stays on for 12 hours after you apply it. Its formula contains 90% natural ingredients, which include minerals and vitamins. The foundation is also transfer-resistant, waterproof, and suitable for all skin types. 
This bare Minerals review found that its natural matte finish offers a demi-matte powder foundation that helps reduce shine and ensures a buildable, long-wearing full coverage. You can get it in 35 shades that are true to you, accompanied by a silky, ultra-smooth texture. It does not cause breakouts or clog pores due to its breathable formula. 
Get the Barepro Performance Wear Powder Foundation at a $26.40 price tag. Visit the official website to make your purchase and learn more about using the product. 
bareMinerals Skinlongevity Vital Power Infusion Reviews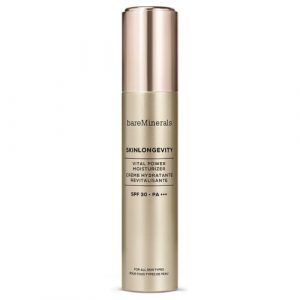 Like the Barepro Performance Wear Powder Foundation, bareMinerals Skinlongevity Vital Power Infusion is also a long-wearing makeup formula that helps to revitalize dull skin. It promotes smooth and youthful skin due to its blend of essential minerals, vitamins, and other natural ingredients. 
bareMinerals Skinlongevity Vital Power Infusion reviews show that customers trust this product because it is clinically proven to enhance the appearance of your skin over time. It also has a silky, ultra-smooth texture, which comes with a matte finish designed to give you a natural makeup look. Additionally, the product works to improve your skin's clarity while reducing the visibility of pores.
Suitable for all skin types, the bareMinerals Skinlongevity is oil-free, vegan, cruelty-free, gluten-free, fragrance-free, hypoallergenic, and dermatologist-tested. It is also safe for all skin types and comes in a recyclable, plastic-free flip-pack. 
To apply, tap the coverage brush on the pressed powder and gently glide it onto your face using long, graceful strokes. You can also repeat the process numerous times to move from medium to full coverage. The brand recommends pairing Core Coverage Brush with the pressed powder foundation to achieve the perfect airbrush finish. This move will create the desired coverage level.
For $26.40, you can buy the Skinlongevity Vital Power Infusion from the brand's official website. 
bareMinerals Blush Bounce & Blur Powder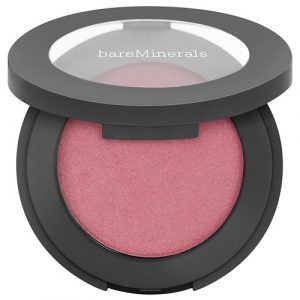 Designed to give you a natural-looking flush of color, the bareMinerals Blush Bounce & Blur Powder is a soft, airy powder blush; It contains mineral pigments that are known to deliver long-lasting color and stay on for up to 12 hours. The bouncy powder blush comes in four shades that blend and build effortlessly for an impeccable-looking flush.
Our bare Minerals review discovered that The blur powder is gluten-free, paraben-free, talc-free, cruelty-free, SLS-free, PEG-free, synthetic fragrance-free, and tree nut-free. It also contains skin-soothing ingredients that work to keep your skin feeling fresh and looking healthy. You can apply it with any brush, but the brand recommends using their Blush Bounce & Blur Brush for a flawless finish. 
The face powder serves various functions in your makeup routine. Examples of these include:
The complex creates a diffused and soft-focus finish while blurring the appearance of imperfections and pores. 

 Its color pearls refract and reflect light for radiant color applicable to all skin tones

Its Botanical Blend, extracted naturally from Moss, helps smoothen the skin and provides a blendable, bouncy texture
The hypoallergenic and dermatologist-tested blush is good for your skin and safe to use. It is fingertip-friendly and easy to apply on the go. Additionally, the brand assures no fallout or dusting. You can buy the bareMinerals Barepro for $29.00 from the brand's website. You can browse through their selection and choose among the four shades available.
BareMinerals Concealer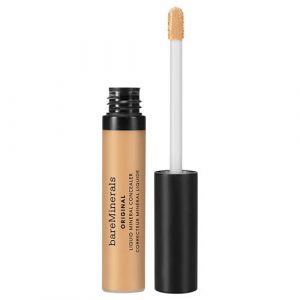 Offering full coverage with a natural finish, the bareMinerals concealer is a long-wearing, hydrating concealer that brightens the under-eye area and covers blemishes, dark spots, and other skin imperfections. Additionally, it comes in various forms like liquid mineral, 16-hour full coverage, loose powder concealer, and under-eye brightener.
It is dermatologist-tested and suitable for all skin types. You can use it along with the brand's award-winning maximum coverage concealer Brush to create a flawless finish in one single swipe. You can also pair it up with other products in the brand's line for a complete makeup look. 
The liquid bareMinerals Serum Concealer is available in 17 shades. 90% of its constituent ingredients are natural and brighten dark circles to reduce the appearance of fine lines. The 16-hour full coverage concealer, on the other hand, comes in 15 shades. This product is waterproof and crease-proof for long-lasting and skin-improving coverage.
The loose powder concealer comes in 4 shades made using five mineral-based ingredients. It is vegan, clean, and effortlessly conceals imperfections, blemishes, and redness. Its weightless formula gives off a no-makeup feel that stays put all day long.
bareMinerals Reviews from Customers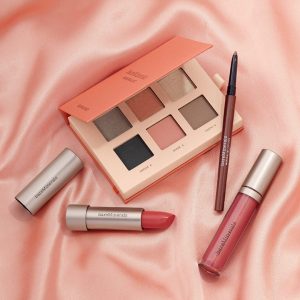 The company has a vast fan base, with many customers testifying to the quality of their products. Bareminerals skin longevity vital power infusion reviews show that many shoppers praise the brand for its lightweight and highly blendable makeup products. Others love that they do not experience breakouts and irritation when using mineral-based products.
bareMinerals Eye Cream is one of the products with high ratings, and most customers say they love it because it is effective at reducing puffiness and fine lines. The bareMinerals Concealer has also won over many customers. They are happy with the quality of coverage, longevity of this product, and its affordability. 
One such customer said that the concealer brightened her under-eyes and minimized the appearance of her fine lines. She stated that the concealer has a creamy texture that glides on smoothly and blends effortlessly into her skin. She also loved the vast array of shades available to suit all skin tones.
Popular Alternatives to bareMinerals
Another customer commended other products saying that the foundation gave her skin a flawless finish that lasted all day long. Another reviewer with dry skin loved how the foundation did not cling to dry patches or emphasize lines and wrinkles.
The loose powder blush was also a hit with many customers who loved its natural flush of color. One customer said it was the perfect everyday shade, while another loved how buildable the color was.
There were a few complaints about the products as well. Some customers had an issue with the collection not being fully vegan, while others complained about the lack of international shipping services. However, these are relatively minor issues, and overly, customers are pleased with how well bareMinerals cover up imperfections while maintaining a natural look. They highly recommend the range to anyone looking for high-performance makeup products.
Sign Up for bareMinerals
Sign up for a bareMinerals account to enjoy exclusive benefits and perks. As a member, you will be the first to know about product launches and special events and receive insider tips and tricks from the brand. You will also get access to exclusive sales and discounts. Create the account by filling in your email address and password on the signup page.
By joining their mailing list, you'll receive 15% off your next purchase. 
Where to Buy bareMinerals
You can purchase bareMinerals products from the brand's website bareMinerals.com and authorized online retailers. Alternatively, you can get them from local retailers and department stores. Use their store locator tool to find the nearest bareMinerals stockist near you.
bareMinerals Shipping and Return Policy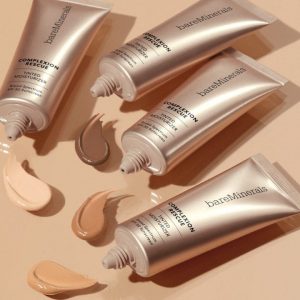 Shipping Policy:
At the moment, bareMinerals only offers shipping within the U.S., its territories, and Canada. Below are their shipping cost estimates:
Standard takes 3-10 working days with a $6 fee. However, it is free when the order amounts to $50 or more

2-Day shipping takes 2-3 days with an $11 fee

Overnight shipping takes 1-2 workdays with a $22 fee

Shipping to Canada takes 2-7 workdays with a $26 fee or free on orders amounting to $50 or more
Once an order ships, the brand sends a confirmation email containing tracking information that helps customers track their order's progress.
Return Policy:
BareMinerals accepts returns on all unopened and unused products within 30 days of purchase. Customers must attach a prepaid label to the package. Also, note that gift cards are not refundable, and returns can only return to the original form of payment after ten days of processing. 
bareMinerals Promotions & Discounts
bareMinerals occasionally runs special promotions and offers discounts on select products. You can earn 10 points by referring the brand to a friend, and they purchase on the brand's site. The company offers free shipping to customers who order items that total $50 or more. You will also receive a free full-size eye cream when your purchases are worth more than $75. 
Contact bareMinerals
Customers can contact their customer care team through the following communication channels if they have inquiries:
bare Minerals Review: Editors' Verdict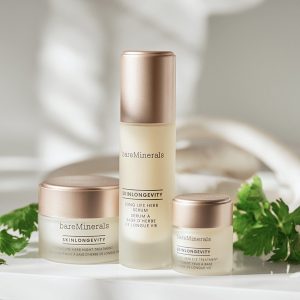 Looking at this bare Minerals review, it is clear that the brand offers high-quality makeup products. The array of shades and textures they have are perfect for any skin tone or texture. They also provide excellent coverage and stay on throughout the day without looking cakey. 
Customers also love how the products are vegan and cruelty-free. The only downside is that the brand does not ship internationally. Overall, we think bareMinerals is a great brand and worth trying out. We highly recommend bareMinerals to anyone who needs high-quality makeup and skincare products.
Are you looking for other beauty products? Check out our reviews of Leahlani, Apostrophe, Babor, and SACHEU.
bareMinerals FAQ
Does bareMinerals test on animals?
No, bareMinerals does not condone testing on animals. The brand does not engage in such acts and does not work with partners or manufacturers who conduct animal testing. They do all their testing using technologically advanced methods that ensure the products are safe for use and remain innovative.
Which bareMinerals products contain soy?
Many cosmetic ingredients used by bareMinerals come from soy. Check the ingredient list on the product packaging to see if your favorite products contain soy or soy-derived ingredients. Contact their customer service team for more information.
Are bareMinerals products free of wheat, oat, and rye?
Most of their products are free of barley, rye, oats, or wheat-derived ingredients, a common source of gluten. However, they cannot ascertain that all products are gluten-free due to the extensive range of equipment and raw materials used in manufacturing. Consult with a physician if you have any concerns.
Do bareMinerals products contain peanuts?
No, their products do not contain peanuts. The brand tries to ensure that its products are as clean as possible. However, due to the extensive range of equipment and raw materials used in manufacturing, they can not guarantee that all products are peanut-free. Consult with a physician if you have any concerns