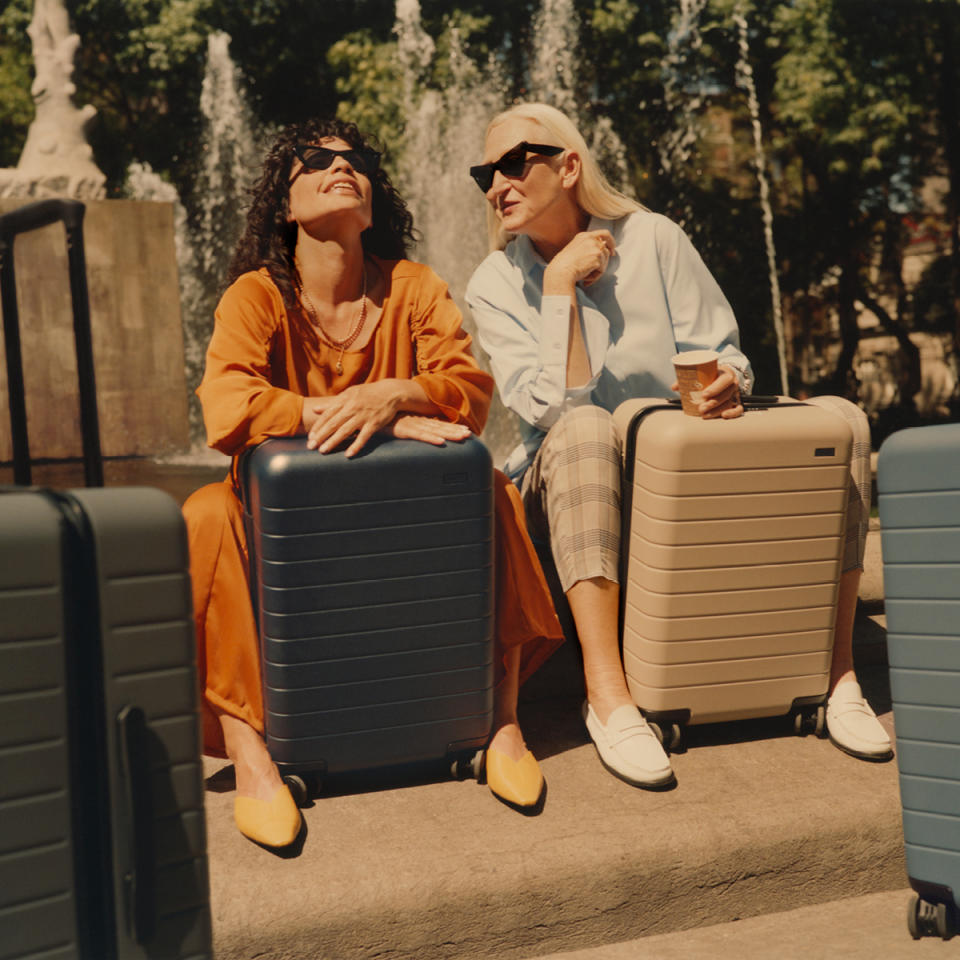 As one of the leading luggage and travel accessories retailers, Away designs suitcases for kids, women, and men with features addressing real-life travel issues. They use premium materials to make luggage durable and elegant. We'll check Away Luggage reviews from customers to help figure out if their products are worth your money.
Because it's a direct-to-consumer retailer, the brand sells directly to consumers without distributors or third-party wholesalers. The company believes that the more people travel, the better they become. For this reason, they partner with different organizations to create fair access to the transformative advantages of travel.
Read on to learn more about Away to decide if it's right for your travel needs.
About Away Travel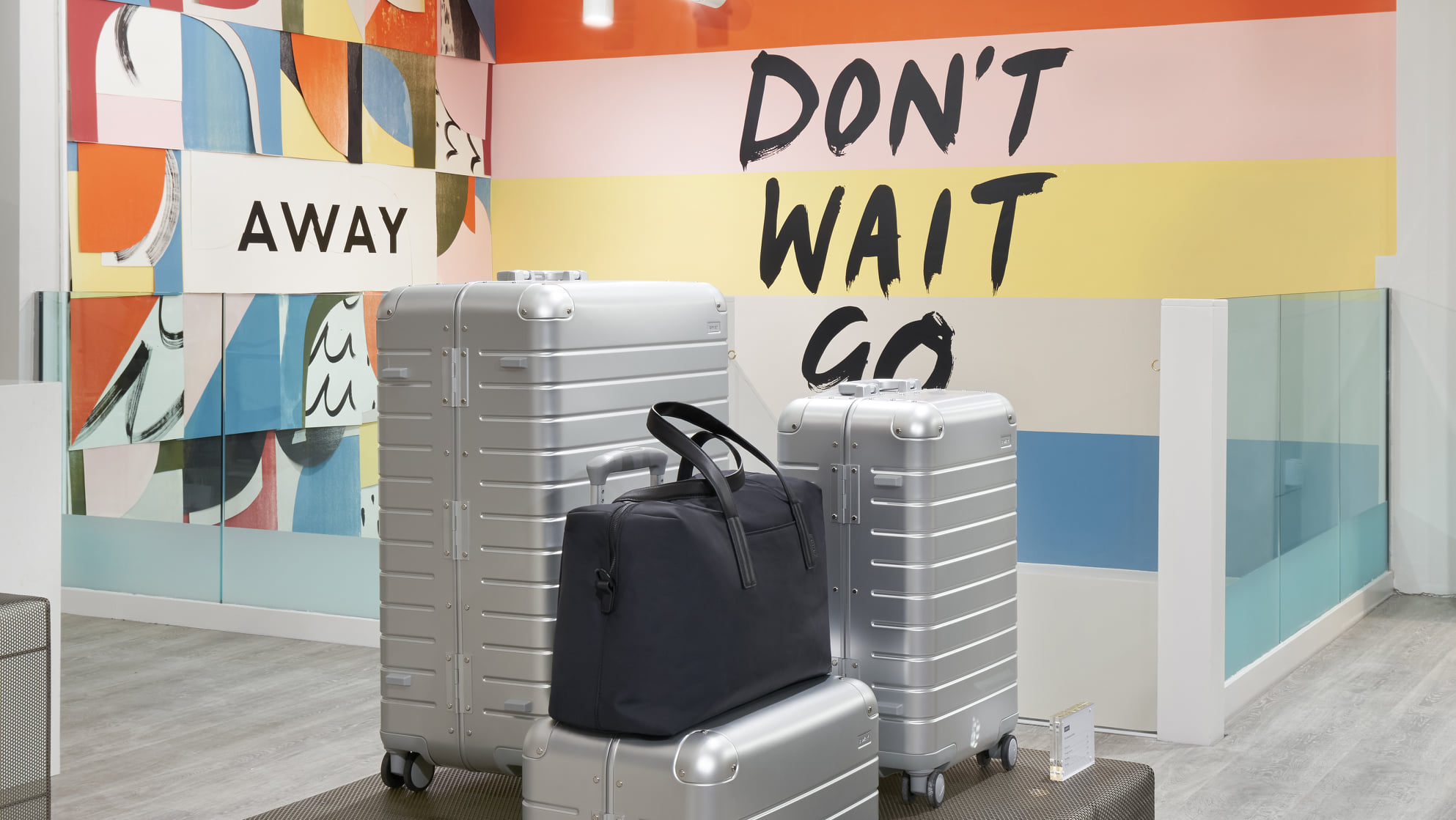 With its headquarters in New York City, Away was established in 2015 by Warby Parker's two former executives, Jennifer Rubio and Stephanie Korey.
The company brought a significant wave of revolution in the market by perceiving itself as a travel brand offering more than an ordinary suitcase.
Upon its establishment, the brand garnered endorsements from favorite celebrities, including Dwyane Wade, Rashida Jones, and Karlie Kloss.
Away's products quickly gained popularity among millennial travelers, thanks to the top-notch products that come with sleek designs and other numerous features that consumers cannot find in an ordinary luggage carry-on or suitcase.
One of such features is the TSA-approved removable chargers, besides various color options.
Away has the traditional and outdated notions that have long been used to define luggage brands. It has weaved carry on bags into an inclusive lifestyle using clever and well-structured social media marketing campaigns and strategies appealing to the elusive millennial.
The brand combines fashion, aesthetics, and quality to offer products that meet consumer demands. The company's products lean towards fitting clients' lifestyles rather than fulfilling their need for products.
Away Luggage Overview
During one of her interviews on what inspired the duo to establish the company, Rubio recounted her experience with traditional nylon carry-on and the embarrassment that she had to endure.
She said that there was a time that her carry-on's zipper burst and spilled her clothes in Zurich airport, making her the center of unwanted attention.
The incident prompted Rubio to think about creating a luggage brand whose products clients would depend on at all times. She joined forces with Korey to create Away Start-up, a direct-to-consumer that would meet the travel needs of millennials.
From pet carriers to tots, Away brand offers a vast collection of chic and essential travel bags to cater to clients' needs from all walks of life.
The company aims to make your trips seamless and hassle-free. It also wants to impact the lives of frequent travelers positively.
Pros
Lightweight luggage carry-ons and suitcases
The interior has a flexible compression creating more packing space
Water-resistant products
Easy to maneuver
Responsive customer care
Good return policy
Cons
Expensive but worthwhile
They don't offer phone support
They don't ship to P.O. Boxes
No live chat function
Away Products Review
Away has proved itself a master in the industry by going back to the basics to produce suitcases and bags designed to offer solutions to every traveler besides helping them have a rewarding travel experience.
The brand has tailored each piece in its vast collection to function perfectly and beyond the travel's expectations. Our Away luggage review will look into some of the top picks from the company's vast collection and explore the features that make them stand out.
 Away Travel Luggage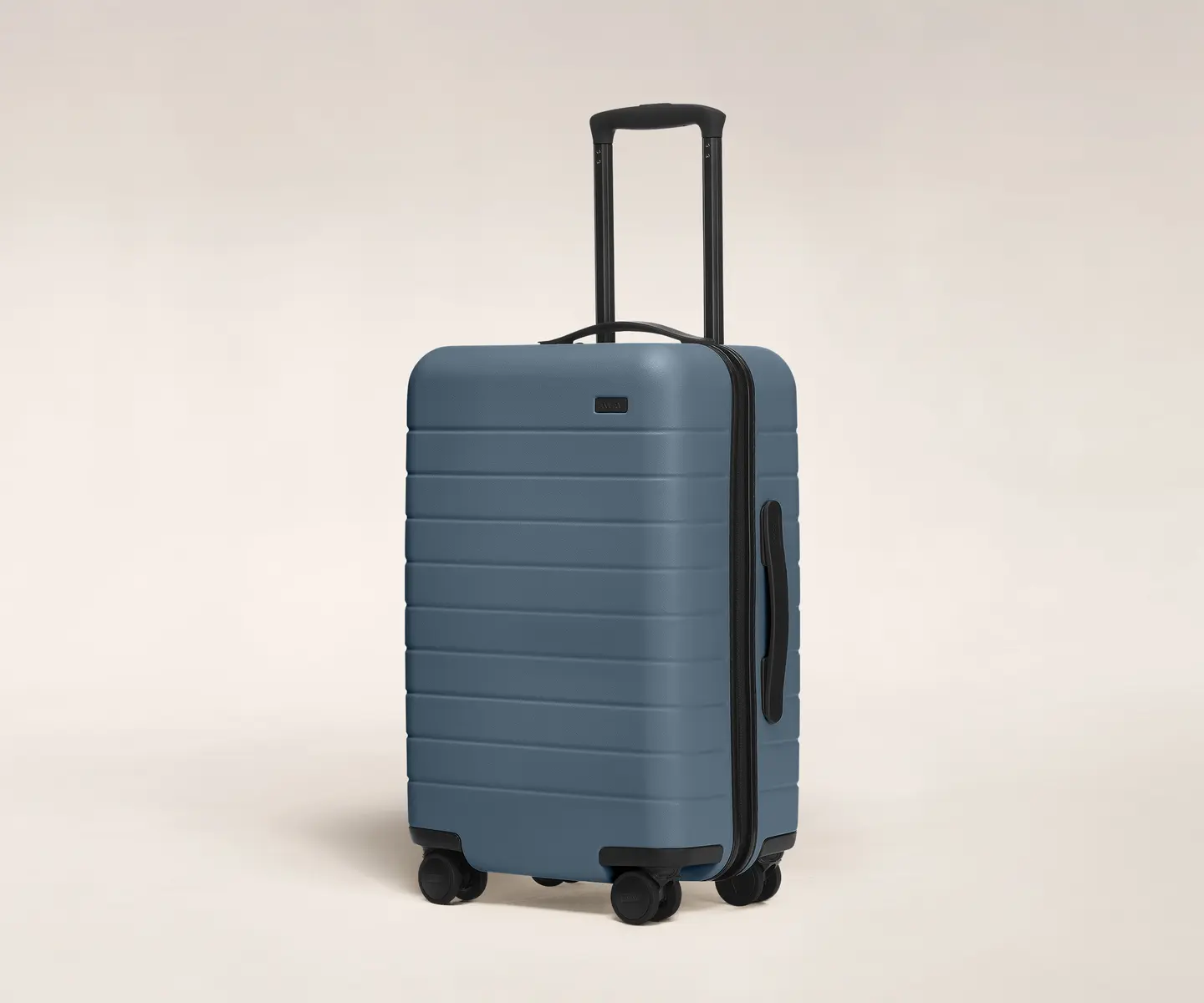 Available in 13 different colors, the Away Travel Luggage collection is designed to ensure you have an exhilarating traveling experience. These color options include various limited-edition and most sought colorways. A typical carry-on fits in airplanes in a hassle-free manner.
It also comes equipped with a 34-watt removable lithium-ion battery to save you the stress and worry of wear to recharge your devices while on transit.
Based on Away Luggage reviews, the battery backup is one of the top reasons the millennial and internet-centric generation has fallen in love with the products that this brand offers.
Would you like to stay connected everywhere you go? The Away carry on collection suitcases boast of injectable USB to charge your device up to four times faster.
One of the top products in this category is the standard carry-on with pockets whose exterior measurement is 21.7″ x 13.7″ x 9″ while the interior measurement is 20″ x 13.5."
The Away carry on pocket features an exterior soft pebbled or nylon zip pocket equipped with a lockable zipper. Furthermore, the lock is a TSA approved combination lock.
More Details About Away Travel Luggage
Moreover, it has a conveniently-accessible exterior pocket and other interior pockets that you can use to keep essential items such as your passport or mobile phone. Your 15-inch laptop can also fit in the pocket.
The hard polycarbonate shell is specially made for you to ensure that the bag continues serving you as long as you need it. You don't have to worry about the Away carry on safety standards as its features comply with TSA's safety standards.
The bigger carry-on shares several similarities with the standard carry-on but measures 22.7 x 14.7 x 9.6 inches, making it slightly larger. Its design still allows you to squeeze it into the check-in cabin containers and have the internal space by yourself.
Besides, the bag's space is approximately 8 liters over the standard-size carry-on.
The medium carry-on measures 26 x 18.5 x 11 inches, and its storage capacity is 68.8 liters, making it bigger than the standard carry-ons. This carry-on is ideal for travelers who need extra space for more outfits and other journey essentials.
The large carry-on is the biggest suitcase in Away's carry-on collection, enough to meet your family's travel needs. It's amazing how this family-size suitcase maintains the durable and attractive polycarbonate shell together with the sleek interior compression.
Another remarkable feature, in this case, is the removable laundry bag to help you separate all your dirty laundry from clean ones. The bag measures 29 x 20.5 x 12.5 inches with 99.2 liters of storage capacity.
Away Travel Bag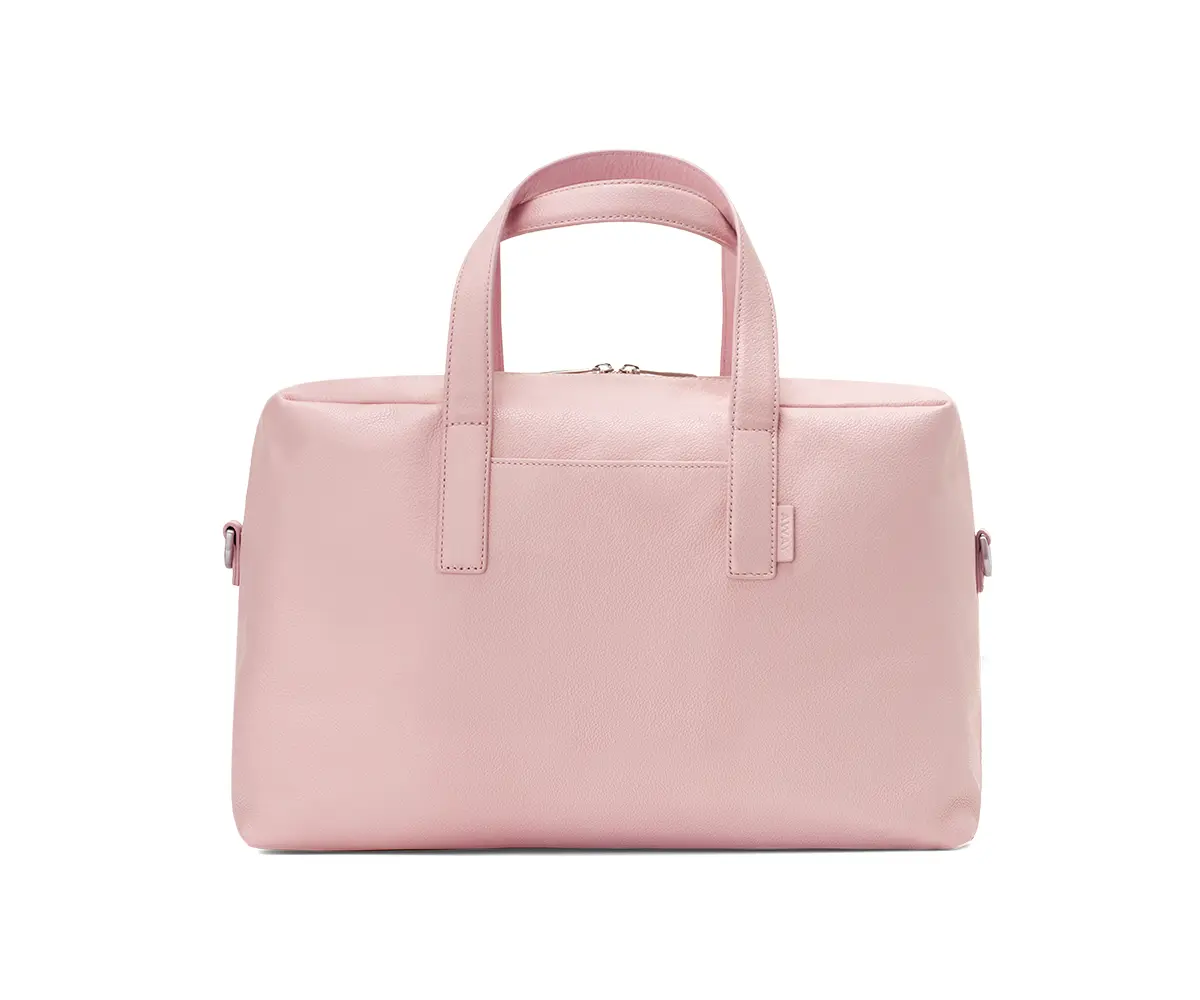 Designed to keep you organized when traveling, the Away Travel Bag is available in durable pebbled leather and nylon. It has user-friendly features incorporating taste, fashion, and style.
The travel bag boasts thoughtful compartments, including a zippered waterproof umbrella pocket, a 15-inch laptop pocket, and a spacious interior where you can stuff anything, ranging from in-flight essentials to extra pairs of clothes.
This bag measures 16.3″ x 7.3″ x 10.2," with a recommended capacity of 20 liters and a weight of 3.4lbs. It features six interior pockets, including a padded laptop sleeve that can carry a 15-inch laptop.
The manufacturer also did a wonderful job designing the bag with a trolley sleeve to secure it conveniently with an Away suitcase or Away carry on. You can fit the bag underneath the seat in front of you or the overhead carriers., making it convenient while traveling.
Buyers love the numerous functions that the bag can serve besides traveling. For instance, you can use it as a daily work or gym bag to carry your workout gear. You also get to enjoy multiple carrying options since it features adjustable shoulder straps.
The hidden water zippered pocket to carry your umbrella ensures that you can walk stress-free without soaking if it rains.
Away Travel Backpack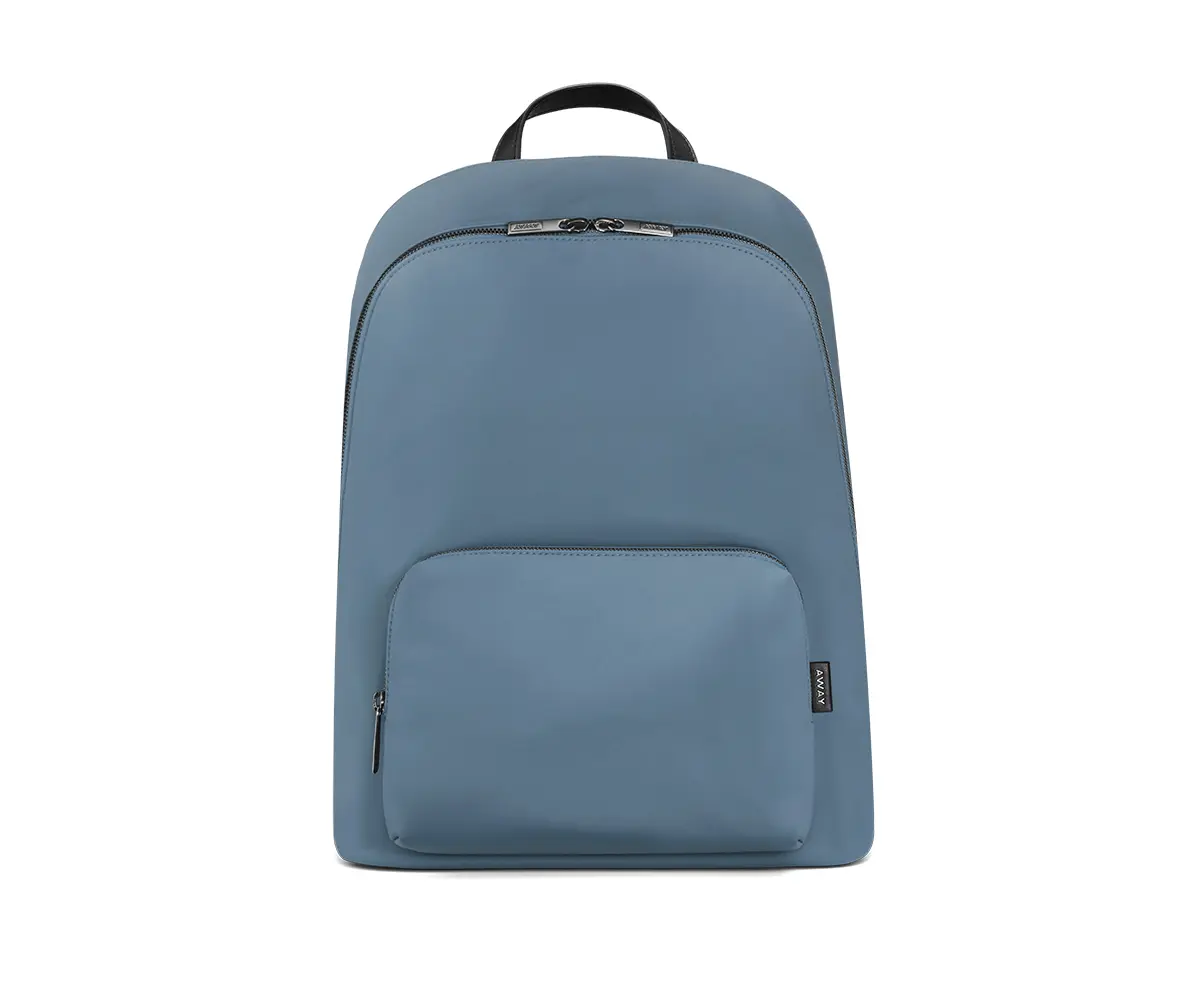 Designed to meet the needs of a modern traveler who has a special taste for fashion and style, Away Travel Backpack is bigger than its deceiving exterior appearance.
The bag, which weighs 2.9 pounds, measures 12.4 x 7.2 x 17.5 inches and features a nylon construction. It has a claimed storage capacity of 2.5 liters, which is just enough for your one-day excursion or night-long camping experience in the mountains.
You can stuff the bag under the seat when traveling on a plane and conveniently retrieve it to remove any essential item you need. Thanks to the perfectly flat bottom, the backpack is secure, and you won't be afraid of spilling the contents.
Traditional packs can topple over easily; they are happier if you place them on their sides, limiting your convenience if you want to poke inside the bag to pick one item, especially when you are on transit. Luckily, this pack solves the problem for you.
The backpack is made from smooth nylon to protect you from abrasive rubbing, especially when carrying it while wearing a light T-shirt. It is a game-changer for backpack lovers looking for something that embraces technology, style, and modern fashion taste.
The Away backpack is also equipped with an external bottle sleeve to ensure that you carry sufficient water to keep you hydrated. All you need to do is get a water bottle, fill it with water, and tuck it into the bottle sleeve, and you are good to go.
Away Pet Carrier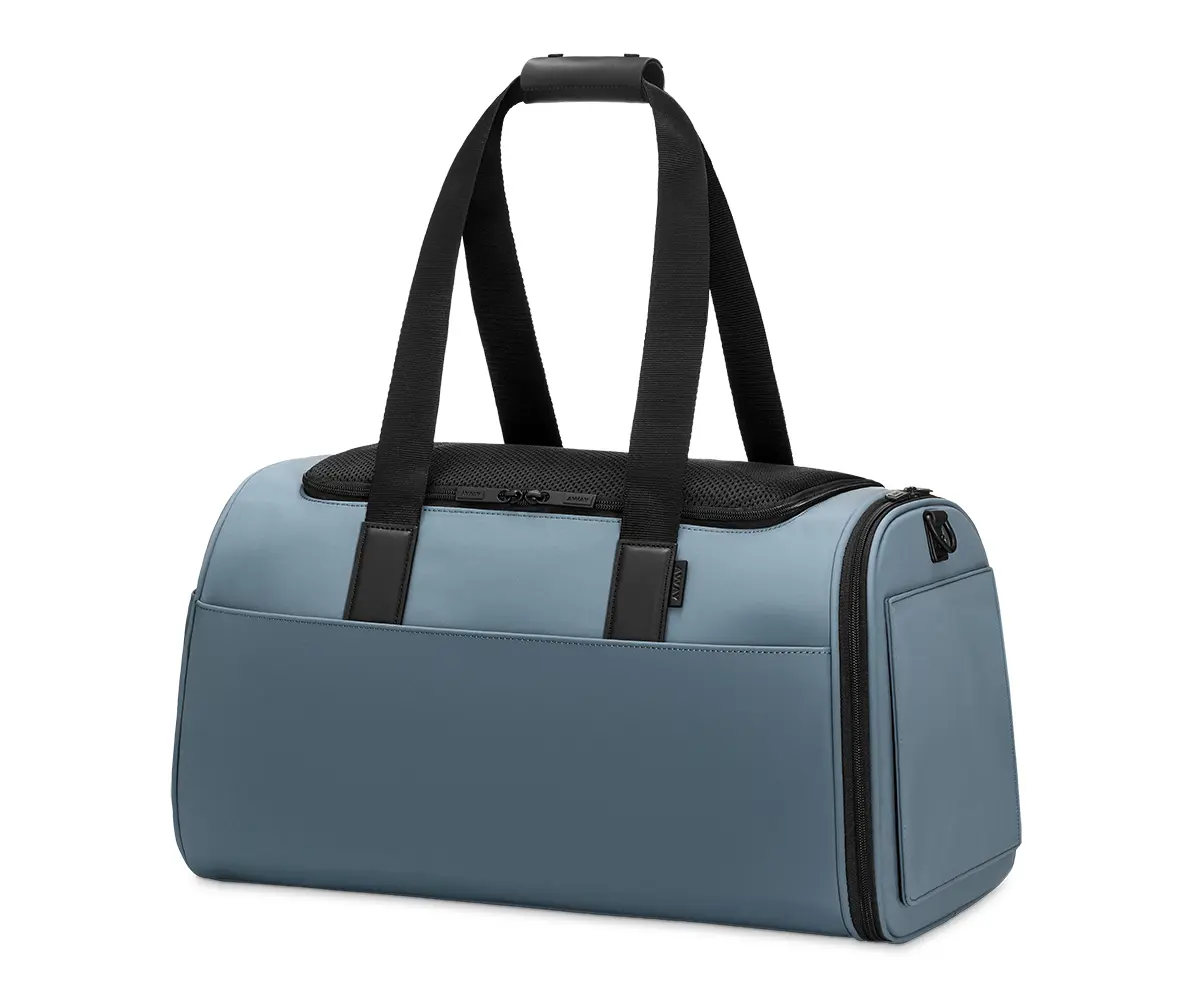 Carrying pets to your adventure spree has never been this convenient. The Away Pet Carrier allows you to take your furry friend with you everywhere you go.
Based on Away Luggage reviews, customers love this carrier because it has been designed to work seamlessly to enrich their traveling experience.
The nylon carrier is approved by the Center for Pet Safety and complies with the Federal Aviation Administration's (FAA) requirement.
It is equipped with removable and easily-washable plush Sherpa bedding to ensure that your favorite pet travels in a clean environment at all times.
Other outstanding features of Away Pet Carrier include the water-resistant lining and safety collar clip to keep the pet in place and prevent it from escaping while on transit.
Popular Alternatives to Away Travel
The exterior also features water-resistant nylon with leather trim, increasing its durability. The carrier has latches that you can comfortably fasten to your SUV's seat belt and let your pet enjoy the outside scenery as you cruise the countryside roads.
You can also secure the carrier to any Away Luggage using the straps for a hassle-free travel experience. The 18.7″ x 10.8″ x 10.75″ pet carrier weighs 4.3lbs, and it comes with a shoulder strap and can carry pets to a maximum weight of 18lbs.
The three sides' ventilation mesh panels ensure your pet is fresh and free of suffocation. The side pocket with a waterproof lining and drainage holes creates enough space to store the pet's collapsible water bowl.
Away Luggage Accessories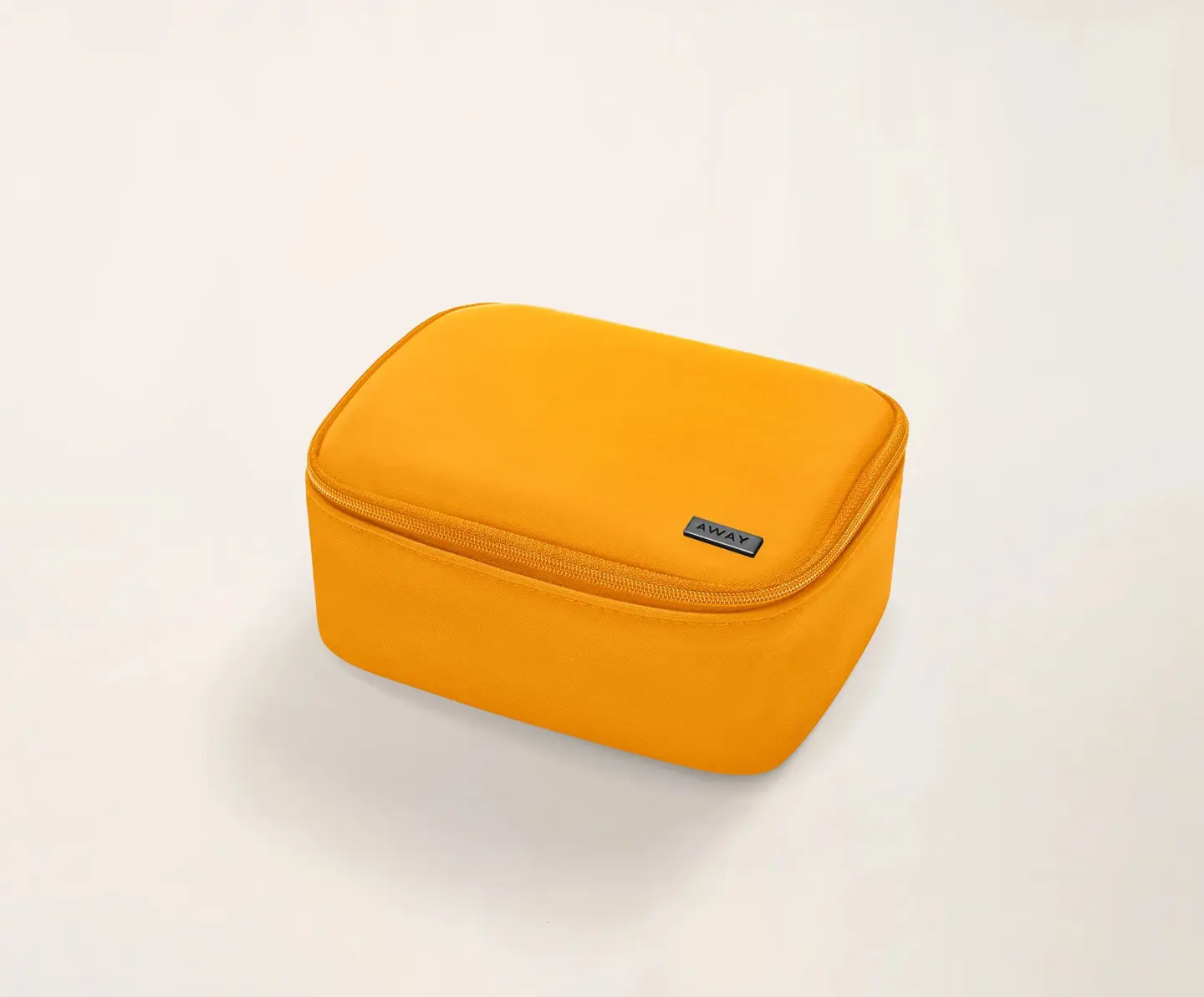 Your travel packing list is incomplete without travel accessories. Away Luggage Accessories offer you an extensive selection of these accessories to complete your trip. There are several accessories to assist you in getting as organized as possible at every step of your journey.
Away's Saffron Nylon Tech Case is among the top accessories that conveniently help you carry all your daily tech devices. The case is made from water-resistant nylon to secure your electronics safely.
You have sufficient space with the 6.3″ x 4.7″ x 2.95″ featuring a spacious bottom compartment. The case weighs 3.7oz with a capacity of 1.4 liters, and it can fit in your Away suitcase or backpack.
Away Luggage Cover is designed to protect your suitcase against stains, scratches, liquid spills, dents, and more. It can also help you spot your luggage swiftly and prevent your suitcase from busting up.
Away's Small Toiletry Bag is made of a water-resistant nylon body. Furthermore, it weighs 6oz with a carrying capacity of 2.3 liters. It is a perfect companion to carry toiletry essentials for short trips in its multiple interior compartments.
Thanks to the separate transparent interior pockets, the bag's structure keeps your things as organized as possible.
A modern lady's day is incomplete without make-ups and other beauty necessities. Away Cosmetics Bag ensures you have all your make-up essentials on the go.
The bag's interior organization is designed to store your essentials and retrieve them conveniently. With a 3.3L carrying capacity, the bag measures 8.3″ x 6.3″ x 3.9″ and weighs 8oz. That means it can seamlessly fit in your Away Luggage Carry-on.
Away Luggage Reviews from Customers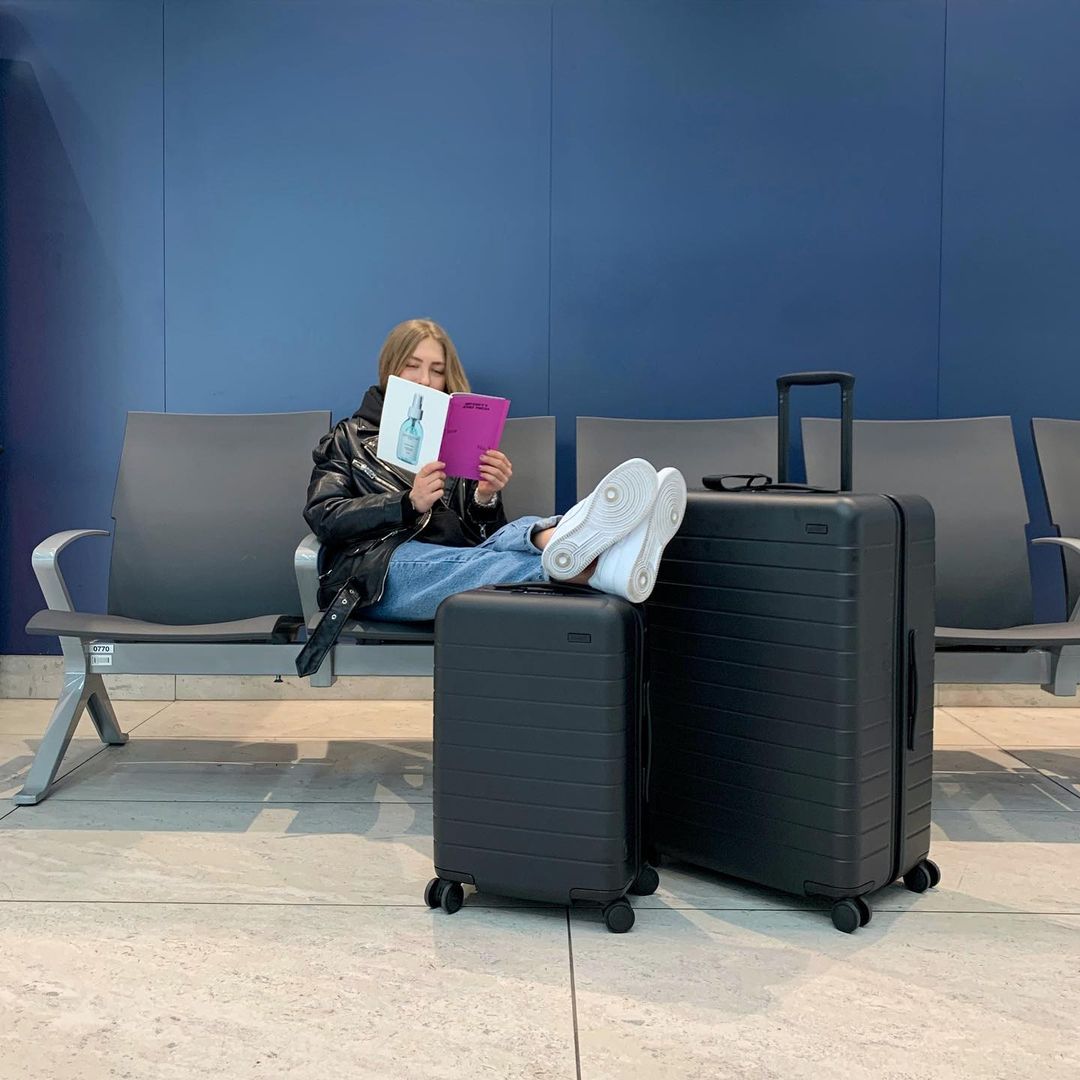 Our Away luggage reviews cannot be complete without honest customer reviews. Away's fast growth is one of the indications that the brand offers decent products and services to its customers. Trustpilot gave Away an average rating of 3.8 out of 5 stars from 564 reviews.
One client said that she had recently bought Away suitcases for his daughters, and they were pleased with the quality and design. The client noted that the suitcases looked lovely and sturdy enough to withstand harsh conditions.
Away carry on scored 4.7 out of 5 stars on Godsavethepoints.com. Most customers praised the brand for quick delivery and outstanding customer service.
However, a few clients complained about the high prices and lack of wholesale discounts. Other customers also said that returns took more time than they had anticipated.
Sign Up for Away
You need to register an account to get updates on everything Away offers and enjoy fast checkouts.
You only need to submit your email and create a password. The company's terms and conditions apply.
Where to Buy Away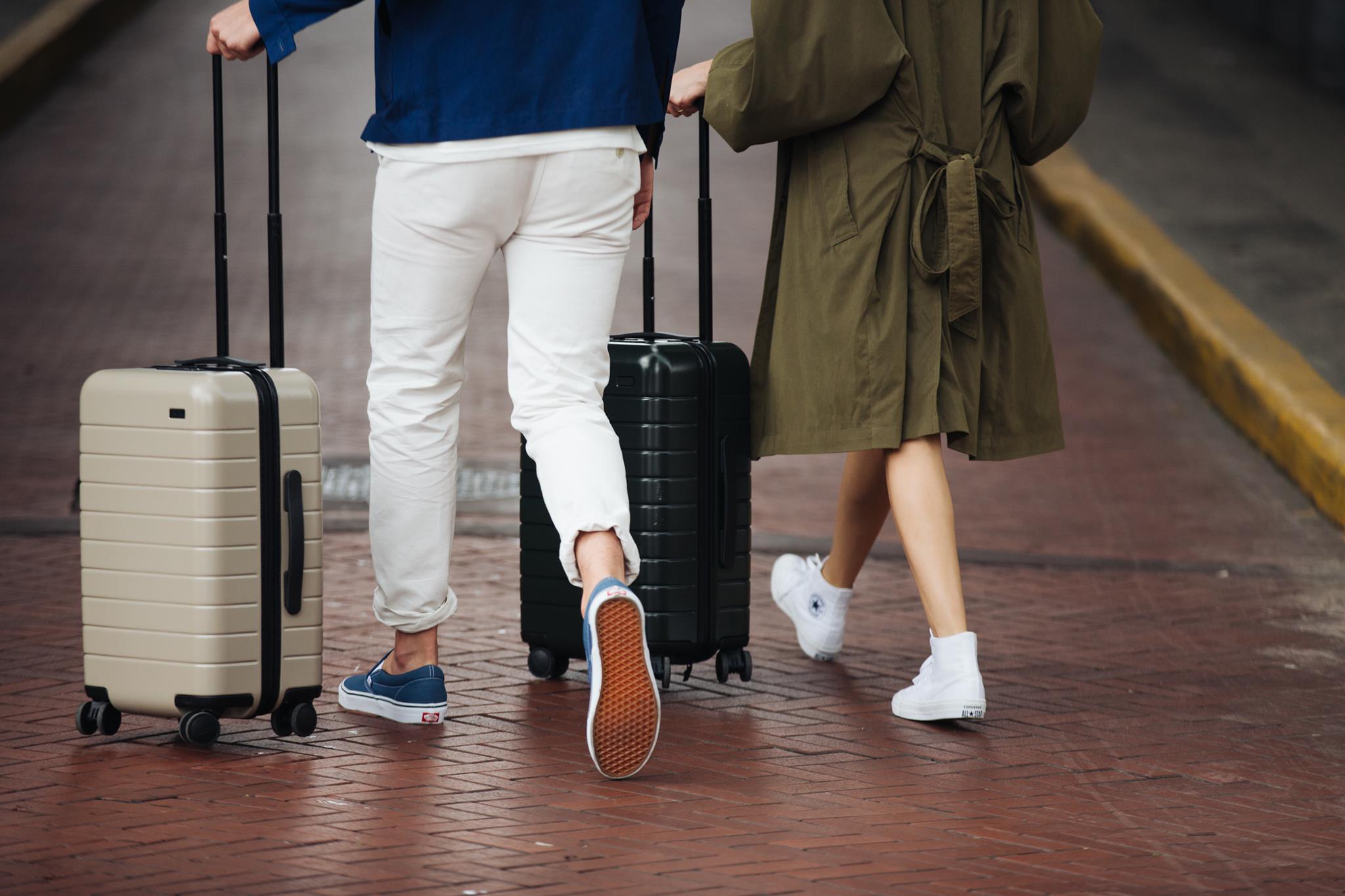 You can purchase Away products on their site AwayTravel.com and through Away Travel Luggage on Amazon.
They also have physical stores in Austin, Boston, Chicago, Dallas, Los Angeles, San Francisco, NYC, Houston, and Brooklyn.
Away Shipping and Return Policy
Shipping
The company ships products to different locations in Canada, the United Kingdom, and the U.S. It takes about 2 days before the shipment process begins and five more business days for the shipment to reach you.
However, delivery of personalized items takes longer, and orders placed during weekends and holidays will be shipped upon business resumption.
Return Policy
The company offers returns and exchanges for non-personalized items. You have 100 days from the day of delivery to submit your return request. Unsatisfied buyers can fill out the return forms on their website and wait for the next steps. The brand does not refund shipping fees.
Away Promotions & Discounts
Away offers promo codes and coupons for different products.
You must know that Away Travel promo code enables you to enjoy up to 30% discounts when you use them during checkout.
Contact Away
Still need help after reading our Away Luggage Reviews? You can contact Away by filling out the contact form available on their official website.
You can also send the support team an email via [email protected] or drop them a line on any of their social media accounts.
Away Luggage Reviews: Editor's Verdict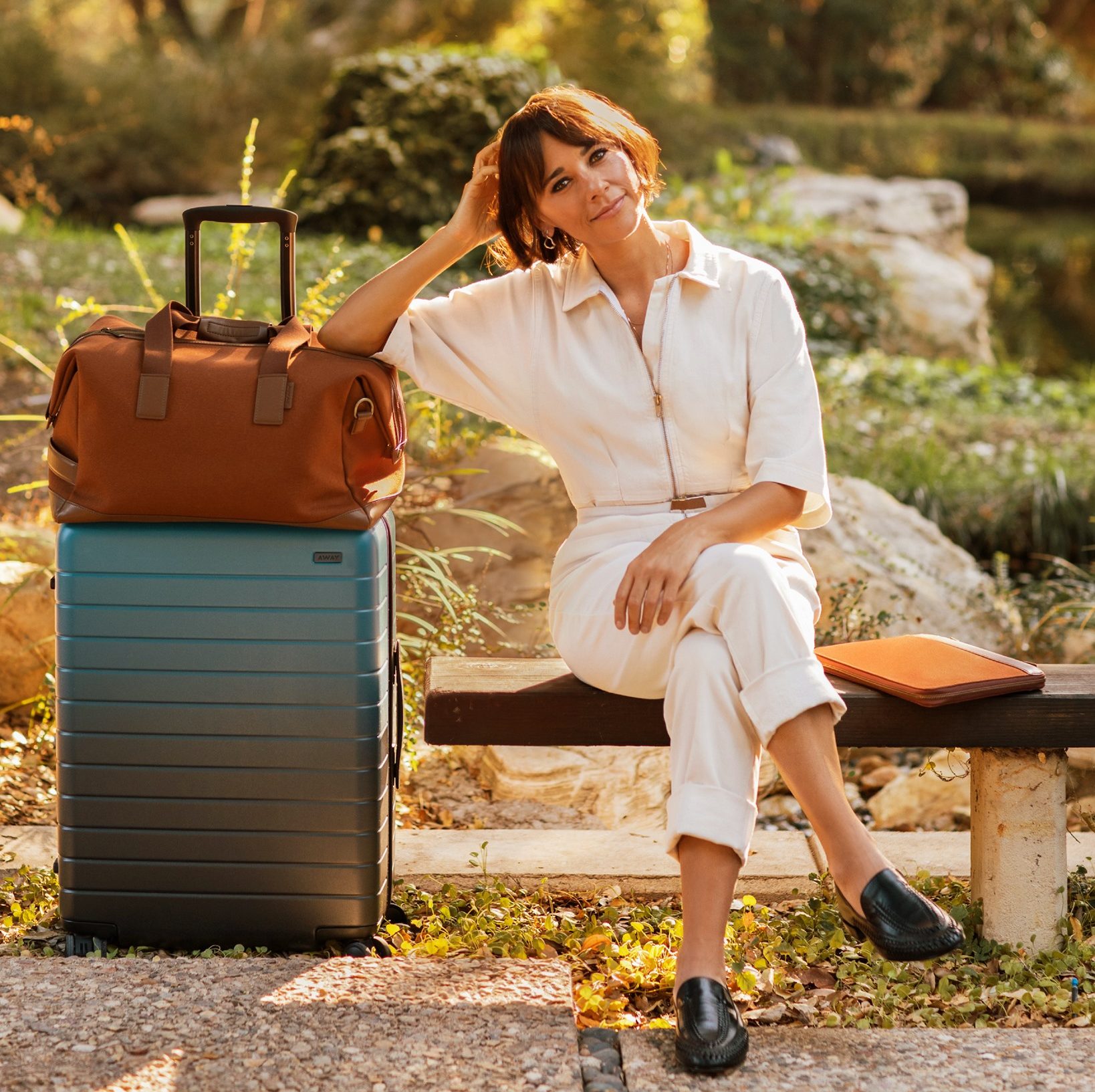 Modern luggage has become a significant reflection of our travel needs and where one wants to go. After checking Away Luggage reviews, I believe their products are worth the buy.
The brand crafts beautiful and thoughtfully designed bags and suitcases that meet your holistic travel needs. Away's luggage will undoubtedly take care of all your travel details, including keeping items secure and charging your phone.
The Away Luggage set meets the expectations of the typical traveler more than most traditional carriers. The company also consults its customers regarding their travel to make luggage reflecting usual experiences and thoughtful problem-solving.
Lastly, Away is customer-facing and offers a 100-day trial, allowing you to live with your luggage before deciding if it is the right fit.
Still on the search for stylish accessories to follow the latest fashion trends? Make sure to take a look at our brand reviews of Beis Travel, Rebag, Senreve, and Bellroy.
Away FAQ
Do Away suitcases have a warranty?
Yes. The suitcases have a limited lifetime warranty. The Away luggage warranty covers functional damages.
Which Carry-On fits in the airline's overhead storage?
All carry-ons fit in the airline overhead storage. The compact and bigger carry-ons are designed to fit airline overhead irrespective of their measurements.
How do I recharge the battery in the Away suitcase?
Carry-ons with ejectable batteries have micro-USB cords for battery recharge.
Is Away luggage waterproof?
Nylon, canvas, and leather are water-resistant but not 100% waterproof. However, the products are safe if you are caught in the rain.
How long does it take to get your personalized piece?
The piece takes between 1 and 4 weeks before shipment. Personalized items take time before they are tailored to your specific needs.