Don't be too alarmed if you find yourself losing hair; this is actually the norm. Regardless of age or sex, a large portion of the global population suffers from hair loss at a point in their lifetimes. The key to maintaining a full head of hair is tackling this hair loss as early as possible. You can achieve this by watching out for signs of hair loss and seeking advice on how to reverse it and eventually finding the best hair loss treatment.
Even if your treatment plan fails to yield rewards, do not be depressed by this fact. At the end of the day, this is a natural phenomenon causable by many factors beyond your control. So, once it gets going, it might be difficult to stop. Some of these hair loss causes include lack of sleep, stress, increased DHT levels, vitamin deficiencies, hormonal changes, impaired scalp health, etc. The diversity of these causes is why holistic hair loss treatments and hair wellness solutions are necessary to prevent hair loss.
Keep reading to find out the best hair loss treatments that meet this standard and are safe enough to be used.
Top 10 Best Hair Loss Treatment
We have searched far and wide and settled on 10 brands offering hair loss treatments. The order in which we would cover these brands does not denote any endorsement of relative efficacy. Instead, we aim to show you the best sources of treatment around. So, read on and be empowered on how you can overcome the shame of hair loss.
1. Keeps Hair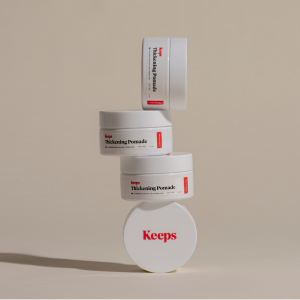 Keeps Hair is a more recent company than most of the brands you would encounter on this list, but they are not any less effective as a result. It's fair to say that being a victim strengthens the importance of the fight in a person, which is true of Keeps Hair's founders. It was started in 2018 by Steve Gutentag and Demetri Karagas after both had suffered from hair loss. Today Keeps hair loss treatment has been featured in prestigious publications like the Wall Street Journal and is considered one of the best hair loss treatments around.
This brand's operation is also different from that of some of the others you'd encounter in this piece. For starters, they do not simply stock up on products. Instead, they offer a subscription healthcare service and supply their solutions through one of three subscriptions. The treatments are in two forms; topical treatment using minoxidil and oral treatment using finasteride.
The treatment plan recommended for receding hairlines is the oral treatment; that of initial hair loss at the crown of the head is the topical treatment, and complete all-round thinning and hair loss combines both treatments. Besides the hair loss treatments, Keeps Hair also offers other products, including the thickening conditioner, thickening shampoo, and a ketoconazole shampoo for dandruff. Read our reviews of Keeps.
2. For Hims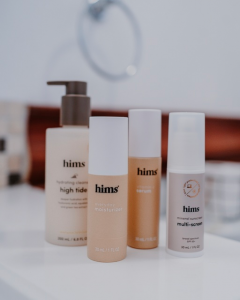 As the name implies, this brand is targeted at men and provides medical advice, affordable prescriptions, and some of the best hair loss treatments for men. However, the brand is not involved with hair loss or hair care alone. Its services are more holistic, intended to cover wide-ranging aspects of health like erectile dysfunction, mental health, and skincare. The most popular, though, are the treatments for hair loss and erectile dysfunction.
For Hims was founded by Andrew Dudum and Hilary Coles, and they run a 100% telehealth service. Their treatments are mostly generic, but they offer direct consultation with medical practitioners and experts. The benefit of easy-to-attain private consultations is backed up by the relative cheapness and convenience of making purchases through their online service. For starters, the absence of middlemen in their supply chain means men in need of healthcare products pay less and receive their orders in discreet packages without leaving their homes.
The famous hair loss products available at For Hims online store include topical minoxidil and oral finasteride. So far, so good; the online reviews of the products confirm them as being of good quality, but you should note that not all their products have been approved by the FDA. In other words, do some research of your own before buying from them. Consider reading our review of For Hims.
3. For Hers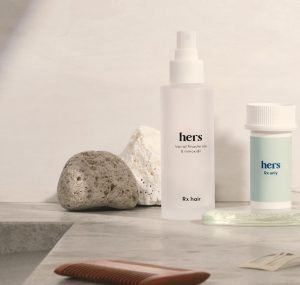 Telemedicine has become more popular in the last few years, and just like the brand above caters to the health needs of men online, For Hers does the same for women. Similarly, the brand focuses on increasing access to prescriptions, medical advice, and holistic healthcare services, including hair loss treatment for women.
For Hers products also include skincare products, sexual wellness products, and mental health products. Some others in their online store help treat allergies and infections. To obtain treatment, a patient would need to create a profile with the platform, speak to a medical professional about their health concerns, and get a recommended treatment plan. Where the treatment plan includes prescriptions, the medications would be delivered to patients' homes in discreet packages.
Some of For Hers hair loss and hair care products include Rapid Repair Hair Mask, Detox Scalp Scrub, Eyelash Serum, and minoxidil/finasteride-based products. The brand and product reviews are mainly positive, and its services are on offer in all 50 American states. However, if you're going to be patronizing this company, you should note that they do not accept health insurance. Also, beyond the health concerns they list on their website, they may not have solutions for other health problems. Read our review of For Hers.
4. Nutrafol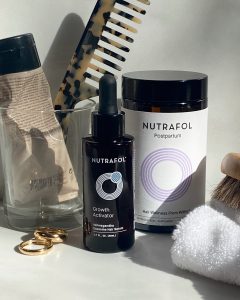 Since creating this brand in 2013 by Giorgos Tsetis, Roland Peralta, and Dr. Sophia Kogan, it has won many prestigious awards and has been featured on Forbes. These awards include the Top Breakout Beauty and Wellness Brand and the Top Nutraceutical at the Aesthetic and Cosmetic Awards (2019). Both awards solidified the company's reputation as one of the most respected nutraceuticals around.
Of focus to us, though, is the effectiveness of Nutrafol services and products. Its business is a supplement subscription that aims to provide the best hair loss treatment for men and women. Like some brands on our list, a subscription to the Nutrafol service grants customers accesses to a specialist who helps personalize hair treatment plans. This is particularly necessary as the products for men and women are separated.
The most popular products under the Nutrafol name are the Nutrafol Men and Nutrafol Women supplements. Both are intended to improve hair growth and strength by targeting some underlying causes like stress or hormonal imbalances. In the case of the female supplement, this has been made possible using the company's patented Synergen Complex. According to the brand, the male supplement doesn't impact sexual performance negatively despite its effects on hormones.
Outside of follicles, scalp, and hair, the brand prides itself on its sustainability as it sources ingredients responsibly and gives back to society via its initiative targeting people suffering from mental health issues.
5. Keranique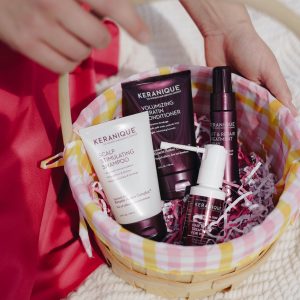 Keranique has been featured by the New York Times, NBC, and Modern Salon, and they have a lot of positives to celebrate. The brand is 12 years old, founded in 2009 by Tom Shipley and Andrew Surwilo, and proudly proclaims that it is trusted by over 2 million women globally. If they live up to their clinically-proven claims of regrowing, strengthening, and repairing hair, those are some excellent results.
The name "Keranique" is obviously a reference to Keratin, a protein found in the hair. The products on offer here are marketed as very effective hair loss treatments for women, and the company believes enough in the success of their formulations to implement a 120-day money-back guarantee for dissatisfied customers.
In terms of sales, the most popular of their products happen to be the Keranique Hair Regrowth Treatment. This product reactivates and reinvigorates the hair follicles, thus, making them stronger and positively influencing hair growth. Other than the Regrowth Treatment, the Keranique brand also rolls out shampoos, conditioners, and hair styling products that would be a great addition to any woman's hair wellness regimen.
6. DS Laboratories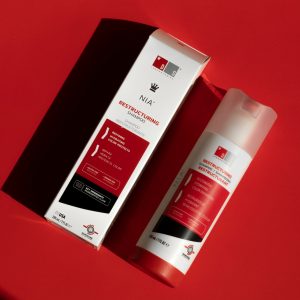 DS Laboratories facts read 2 million global customers, over 10 thousand five star reviews, and operations in 46 countries. Founded about 15 years ago by Daniel Khensin, DS laboratories have adopted an entirely scientific approach to developing the best hair loss treatments for men and women. Effectiveness is their goal, and they spare no cost in rolling out the best possible products.
Their approach means that there is a significant focus on research and innovation to discover new hair loss solutions. However, this isn't done without regard for the environment. If anything, they have simply adapted their research to improve their sustainability. An example of such an innovation in their packaging is the OxO biodegradable plastic they employ.
The DS Laboratories hair care line consists of shampoos, conditioners, revitalizing systems, redensifying treatments, hair growth tablets, eyelash stimulators, and CBD-based hair loss treatments. Of the products in the line, the Revita Hair Growth Stimulating Shampoo is arguably the most popular. The shampoo is yet to have a review under 5 stars, and It has proven particularly effective in treating hair loss, androgenic alopecia, and thinning hair.
Excellent average reviews are not limited to the Revita Hair Growth Shampoo, though; many other products average 5 stars and many more with very positive average ratings. We can easily say the Miami-based company's reputation is not in doubt on the back of this.
7. Alterna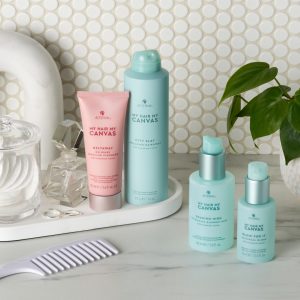 As far as brand effectiveness goes, Alterna seems to be up there with the best providers of pro treatment for hair loss. That's the opinion that their reviews support with an average of 4.5 stars across the brand's entire range of products. Their effectiveness isn't the only reason to be optimistic about Alterna, though; the products available are also 100% Vegan. If you still have reservations about them, you would love to know that this brand has been featured on ENews and Forbes.
There are quality hair care products to be obtained from Alterna but bear in mind that this is a luxury haircare brand and their prices reflect that. Good caviar doesn't come cheap, and seeing as the best of their products belong to the caviar collection, the prices are a little on the prohibitive side. Products within this collection range from hair styling and smoothing solutions to hair multiplying and clinically densifying treatments. Whatever your needs are, the reviews and prevalent online option is that Alterna is an excellent brand to provide your hair care products.
8. Nioxin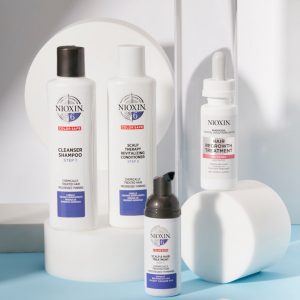 Nioxin has been in the thick of the hair-saving battle for the better part of four decades now. The brand was founded in 1987 after Eva Graham couldn't come to terms with her pregnancy-induced hair loss and had an idea of how she could rectify it. Today, the California-based company provides services in multiple countries and has won the Stylist Choice Award 16 times. It's no surprise that it has been featured on Allure and Forbes.
Despite having a female founder, this brand doesn't exclusively target women. Instead, the products they offer are also popular hair loss treatments for men. Although the brand uses mainly natural ingredients in its formulations, it is pricier (by virtue of its age) than many of its competitors. Nioxin manufactures conditioners, shampoos, and leave-ins, but the hair loss products under their hair care line are categorized as light thinning or progressed thinning products.
The most popular among the light thinning products has to be the Nioxin System 1 Kit, while the most popular progressed thinning product is the Nioxin System 2 Kit. Their popularity is due to their holistic approach to hair care, as represented by the all-considering range of products they contain. Check out the kit relevant to your hair concern and determine for yourself if the largely positive reviews are the real deal.
9. Vegamour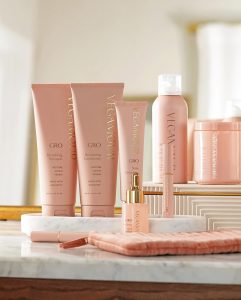 Vegamour wants everyone to have full, beautiful hair and not just on their heads. The products in their collection are intended to combat hair loss, enhance eyelashes, and promote eyebrow growth depending on the effect you are aiming for. That's good enough, but even more impressive is that all these are achieved using plant-based formulas and no synthetic hormones.
Specific products on offer from Vegamour include GRO Hair Serum, GRO More Kit, GRO Revitalizing Shampoo and Conditioner Kit, GRO Scalp Detoxifying Serum, etc. By the size of their collections alone, it should be evident that Vegamour offers some of the best hair loss treatments around. If you doubt this fact, a glance at the reviews of its bestsellers (the GRO Hair Serum and Good to GRO Kit) should be enough proof. The hair serum has racked up over 3000 reviews and has an average rating above 4 stars.
Besides specific reviews, general survey results on different pages of the Vegamour website prove customer satisfaction with the products. Today, the brand created by Dan Hodgdon can boast of a cruelty-free status to go with its products' effectiveness. However, their operations are best summarized by the four pillars of their process; bioavailability, clean 100% vegan ingredients, holistic hair wellness, and science-backed results.
10. Collective Laboratories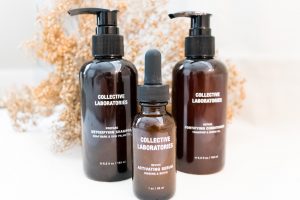 There's no fancy reference to hairstyles or glamour in this name. That's mainly because functionality, more than anything else, is their calling card. According to the website, Collective Laboratories was created to help people solve their hair loss issues and overcome the shame associated with its occurrence. Today, the brand is among the leading providers of pro treatment for hair loss.
In the case of the founders here, the mission was a personal one that has proven very profitable so far. This profitability and success have been achieved in a responsible manner. Collective Laboratories uses mainly natural ingredients in its products. Its most popular product, The Activating Serum, contains ingredients that took as many as 20 years to discover. Such is their devotion to quality.
As a result, the Activating Serum is effective in improving scalp health, enhancing follicle function, and consequently promoting hair growth. The ingredients in this serum include lilac stem cells, ginseng root, burdock root, etc. So far, so good; the product has won over many customers, garnering 326 primarily positive reviews. The company also makes other products, including its Fortifying Conditioner and Detoxifying Shampoo. Beyond returning a full crown of hair to people's heads, Collective Laboratories is also cruelty-free and holds sustainability as one of its guiding principles.
Best hair loss treatment: Editor's Verdict
The best hair loss treatment brands are represented in this piece, but this isn't a recommendation. Instead, we have compiled this to help streamline your search for quality hair loss treatments. By extension, you would need to conduct a little bit of research before making any purchase.
For instance, you might start product research by checking out their FDA approval. While most of these products may be approved as safe by the regulatory body, their efficacy is another issue. That said, we were sure to include something for everyone, from gender-specific brands to professional and sustainable treatment options. On the back of our research, reclaim your full head of hair and self-esteem. Ciao!
Are you looking for other hair care products that make your hair beautiful and shiny? Read our reviews of Gisou, Function of Beauty, Giovanni Cosmetics, and Deva Curl.