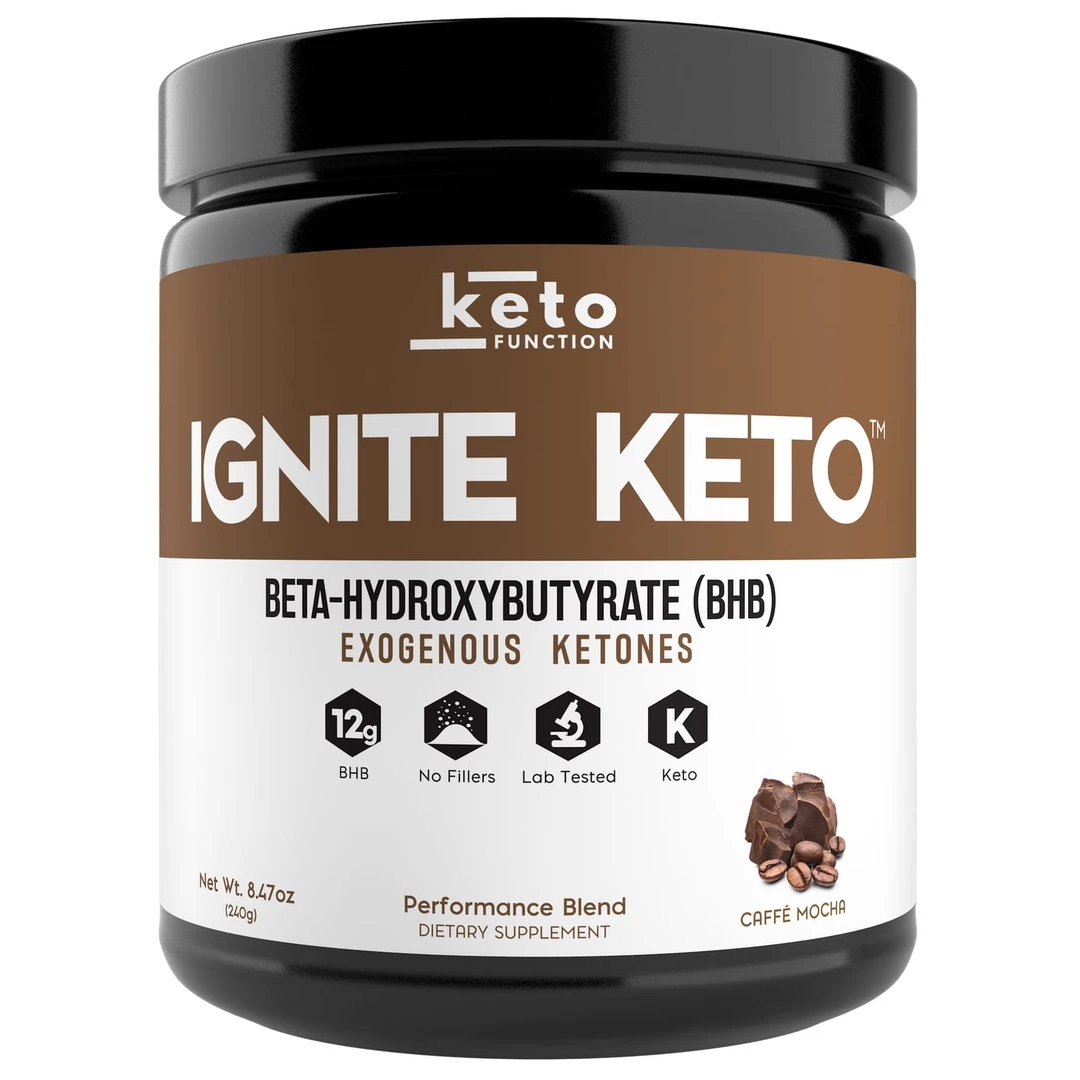 The keto diet can transform lives for the better. Studies reveal that low-carb and ketogenic diets help people lose weight while reducing the risk factors for heart disease. Keto Function offers products that improve your results when on a keto diet or help your body go into ketosis. Their products also curb cravings, boost energy, and help you crush your performance and weight goals. We'll look at Keto Function reviews from buyers and highlight some commonly asked questions to help you decide if the brand's keto-friendly products are worth purchasing.
About Keto Function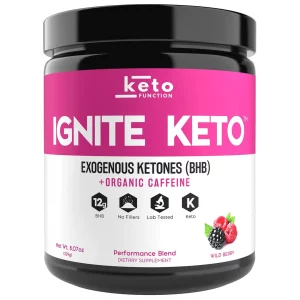 Founded in 2017, Keto Function's goal is to help people get into ketosis, burn fat for fuel, and crush cravings. Their supplements are clean-label, contain zero fillers, use patented and premium ingredients, and are custom-made to help users get into ketosis and stay to burn fat for fuel. 
Thousands of people have chosen this brand to help them be at their best in their keto journey by becoming a fat-burning machine. The company has its headquarters in California, and all its products are manufactured in the United States.
Before we get to Keto Function reviews to see what users say about their keto products, check out its pros and cons.
Pros
They offer a range of high-quality keto-friendly products

Their products use premium ingredients

Hassle-free returns policy

100% money back guarantee

US customers enjoy free shipping on all orders
Cons
Some customers experienced side effects after taking their supplements

Their website does not have a Live Chat feature

Most products are sold out
Keto Function Reviews
Our team searched the web for Keto Function reviews to check what people think and say about this keto-friendly brand and its supplements. We found customer testimonials on Amazon and the brand's site.
Reviews from the brand's website show buyers cannot embark on their keto journey without Keto Function products. Customers stated they love the Ignite Keto because it makes them feel energized and the company uses patented goBHB®, which is GRAS-certified and clinically proven to increase blood ketone levels.
Others said they love the supplement since it is delicious, and they didn't experience any signs of the keto flu after taking it. Most buyers left a 5-star rating and recommended their products to anyone living the keto lifestyle.
Reviews from Amazon were also positive, and most customers said they love their keto-friendly product because they provide their bodies with a zero-carb fuel source to help them get into and remain in ketosis. In turn, this allowed their bodies to burn fat for fuel.
Popular Alternatives to Keto Function
Many college students, athletes, dads, and moms raved about how Ignite Keto made them less hungry throughout the day, which resulted in eating less, better performance, and high energy. Customers also love how the different flavors of Ignite Keto taste. 
Some buyers shared that they have noticed an improvement in their mental and physical health since they incorporated Keto Function products into their keto diet. They can now sleep better, wake up with ease, and their exercise programs are easier on them.
Keto Function FAQ
1. What is Keto Function?
Keto Function is a company that sells keto supplements with premium ingredients. Their product line includes exogenous ketones, MCT oil, and electrolyte supplements.
2. What are the benefits of Keto Function?
Keto Function Shake provides the body with extra ketones and helps in the transition to help you achieve a state of ketosis. If you are fasting, Keto Function can help alleviate cravings, low energy, and headaches that often accompany a fasting state.
If you have eaten many carbs, Keto Function can help you jump back to ketosis swiftly. You can also take the supplements anytime you need mental focus, a boost of energy, or to ignite ketosis. Essentially, you can take Keto Function products between meals, before workout sessions, during intermittent fasting, or first thing in the morning.
3. How does Keto Function work?
Keto Function is designed to support people in their keto lifestyle, as it induces a state of ketosis in the body. It accomplishes this with BHB salts, supplements that raise your blood ketone levels. BHB salts provide instant ketone to help your body shift into ketosis and maintain a ketogenic state.
4. What are the side effects of Keto Function?
Based on Keto Function reviews, some customers experienced low blood sugar, bad breath, gas, stomach pains, diarrhea, and upset stomach. However, this only happens in the first few days or weeks. If you're experiencing these side effects after taking Keto Function, consider reducing the amount or consult your doctor.
5. How long does Keto Function last?
The effects of Keto Function Ignite Keto last for a couple of hours. As such, to stay in ketosis, you might want to take doses repeatedly throughout the day.
6. How much does Keto Function cost?
The Ignite Keto retails at $49.75 on Keto Function's website. With each bottle, you will get high-quality and effective doses of BHB to increase your blood ketone levels.
7. How does the keto diet work? How does Keto Function help with that?
A keto diet works by restricting protein and carbohydrates, meaning you eat a diet high in fat. Inadequate protein or carbs mean you do not have much glucose for fuel, a process known as ketosis. Your body will rely on ketone bodies, which is a type of fuel your liver produces from stored fat. That means your body will convert body fat and the fat you eat into ketones.
Keto Function Shake provides your body with additional ketones and helps you to stay in ketosis to burn more fats. It also gives you energy while helping you fight cravings during intermittent fasting. Additionally, it allows you to get back into the state of ketosis fast after eating too many carbs.
8. What is the recommended dosage of Keto Function?
Ignite Keto contains 32 half-scoop servings or 16 full-scoop servings, with each scoop containing 12 grams of high-quality BHB. You should start with a 1/2 scoop to check your tolerance. Once your body has adapted to using ketones for fuel, increase your dosage to one scoop.
9. Who is the founder of Keto Function?
Jordon and Amber are the founders of Keto Function. They created Keto Function Ignite Keto to help you get into and maintain a state of ketosis and get mental clarity, renewed energy, and achieve your weight loss goal.
10. Which are the best-selling products?
Keto Function reviews found that Ignite Keto BHB Exogenous Ketones is the brand's bestseller, particularly the Caffè Mocha, Wildberry + Caffeine, and Citrus Splash flavors. Other Keto Function bestselling products include MCT Oil Softgels and Keto Electrolytes with Trace Minerals.
Keto Function MCT Oil is made from organic coconut, and it provides your body and mind with a clean, efficient keto fuel, allowing you to crush cravings while maintaining ketosis. Keto Electrolytes with Trace Minerals is an electrolyte supplement that replaces the electrolytes you lose while on a keto diet. It promotes improved energy, sleep quality, mood, and more.
11. How does Keto Function compare to other brands?
Keto Function offers vegan and gluten-free keto supplements. Their products do not include fillers or flavors like those of other brands on the market. Ignite Keto also contains higher amounts of BHB at 12.0 grams per scoop. Their hassle-free guarantee covers the first bottle you purchase from their website, which makes them stand out from other keto-friendly brands.
12. Where is Keto Function made?
Keto Function makes the keto products they offer in their GMP-certified and FDA-registered facility based in the United States. The company uses patented and premium ingredients when creating its supplements to ensure they are high-quality.
13. Where can I buy Keto Function?
According to Keto Function reviews, you can purchase their products directly from their official website KetoFunction.com. Some Keto Function products are available on Amazon.
14. What is the shipping policy for Keto Function?
Keto Function ships its keto products within and outside the United States. They offer free 2-Day shipping on US orders, with orders being packaged and sent within 24 to 48 hours. You will get a tracking number once your order is shipped.
They ship orders to P.O. Boxes via USPS, and they may take longer to reach the destination. Orders to countries outside the United States have a shipping fee calculated during checkout.
15. What is the returns policy for Keto Function?
The brand offers a 100% Money Back Guarantee on all their products. Their returns policy allows you to get return items for a refund if you are not completely satisfied with your Keto Function order.
Send an email to [email protected] to start the return process, and they will be glad to process your refund promptly. Their hassle-free guarantee protects the first bottle of each product. For orders with numerous bottles of the same product, you'll have to physically return the sealed, unopened bottles to be eligible for a refund.
Check out our reviews of other amazing meal replacement brands such as PhenQ, Aloha Bars, Exante, and Orgain.