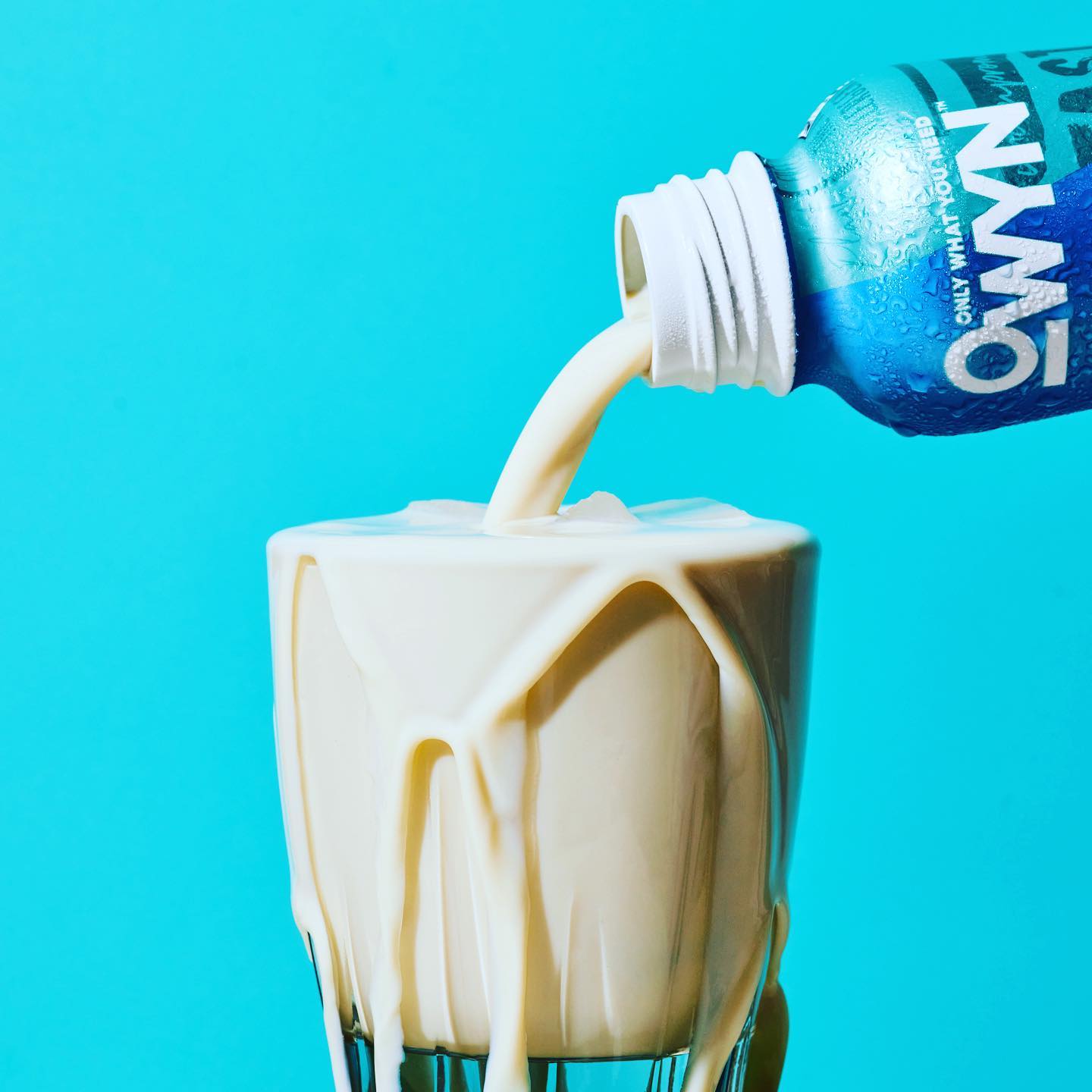 Meal replacements are unlike protein shakes which are merely dietary supplements. They offer a perfect substitute for traditional whole foods. Many people rely on junk and skip meals due to their hectic lifestyles. However, there might be a great solution with the increasing popularity of meal replacement brands.  Suppose you're looking out for high-quality meal replacement products in the market. You can read our objective review of the best health companies in the industry. We chose these brands based on their ingredient quality, nutritional profile, flavor, and sustainability. In addition, we'll check whether these brands are worth the media hype.
10 Best Meal Replacement Brands
Meal replacements may also be used by athletes and people who want to keep fit. It is used in many weight management routines as a healthier alternative to traditional dieting. Also, it is convenient for people who don't have time to go grocery shopping to discuss fewer meal preparations. Let's jump right in!
1. Ka'chava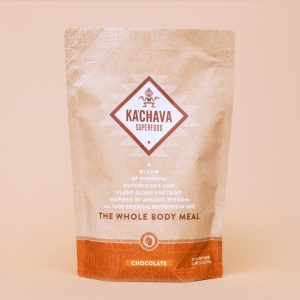 In terms of meal replacement shakes brands, Ka'chava has helped to change many lives. These ready-to-drink meal replacement shakes are highly nourishing and rich in vitamins and minerals. It can substitute a whole food meal at any time of the day and boost energy to encourage productivity.
Ka'chava is a health-specific brand that specializes in an enriching plant-based meal replacement formula. It consists of organic superfoods and proteins that offer many health benefits. The company works with nutritionists to create products that "bring people in harmony with the earth."
In addition, the brand offers value with various vitamins and minerals, proteins, and antioxidants. The Ka'chava meal shake also contains digestive enzymes and probiotics, which aid body repair and boost immune function. It is made from plant-based ingredients that offer all the essential nutrients your body needs to thrive.
Ka'chava protein meal replacement shakes offer all the important nutrients you need to maintain a healthy diet. It works in all meal settings, whether breakfast, lunch, or dinner, no matter how active your lifestyle is. And it works with vegan, keto-friendly, and low-calorie diets to ensure a well-balanced meal.
Ka'chava is among the few meal replacement shakes that are genuinely filling and satisfying. The company also frowns upon gluten, soy, and many unnatural or artificial products. It offers a rich source of superfoods that may be missing in your regular diet and allows you to incorporate healthy nutrients into your diet.
2. Huel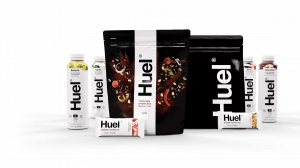 Huel is highly regarded among the world's best meal replacement shakes brands. Since its inception, the brand has sold over 200 million meal replacement shakes to buyers worldwide. It focuses on serving health-conscious consumers who want to commit to a healthy and clean dietary routine.
With Hueal meal replacement shakes, you can get enough carbs, protein, fiber, fats, and 27 essential vitamins and minerals in a complete meal. The brand works with a nutritionist team to focus on low-carb, vegan, and keto-friendly recipes for its meal replacement shakes. It also uses real whole food-based ingredients, so you don't miss out on essential nutrients.
For instance, unlike many diet drinks or protein shakes, Huel focuses on low-carb ingredients and adds enough protein and fat content. It uses plant-based protein and fat sources such as oats, rice, peas, coconut, and flaxseed. Overall, Huel promises complete nutrition from its meal replacement shakes.
Meanwhile, the brand has much media support and raving customer reviews for making high-quality products. It has been featured in notable publications such as WomensHealth, Men'sHealth, CNN, and Shape. The brand also welcomes different kinds of mindful consumers who want to develop healthy nutrition habits.
Additionally, Huel meal replacement shakes can help in weight management plans since the brand offers low-carb meals. It may work better than traditional weight loss teas stripped of essential nutrients and fats. You can also swap out your boring, unhealthy foods for Huel meal replacements to save time and money.
3. Soylent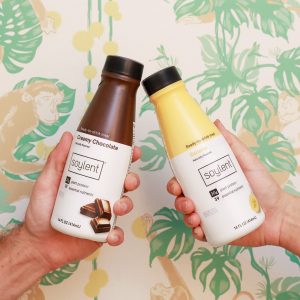 Soylent is a wellness brand that offers meal replacement shakes for weight loss and general immune function. The brand provides clean, safe meal replacement drinks and powders that are a quality substitute for complete meals. It caters to health-conscious consumers who also want a guilt-free diet routine.
Additionally, Soylent meal replacement shakes are made from plant-based protein, slow-burning carbs, healthy fats, and essential vitamins & minerals. With the Soylent meal replacement service, you can deliver your ready-to-drink meals to your doorstep. It also gives subscribers exclusive control in organizing their membership plans.
Regarding environmental protection, Soylent supports sustainable farming and uses ethical production processes to reduce its carbon footprints. The brand also provides science-backed formulas specifically tested to provide a wide range of functional health benefits. Soylent meal replacement shakes are also more affordable than many competing products.
In addition to ethical production, the brand is mindful of hunger and poverty cases worldwide and donates meals through its #SoylentForGood campaign. Soylent offers a variety of meal replacement products to suit your lifestyle. You can get ready-to-drink shakes or buy the meal replacement powder to make your drink.
It offers satisfying meals that will remove hunger and keep you full until your next meal. You will also appreciate Soylent meal replacements at the office or home when you're too busy preparing and trying recipes. The Soylent meal replacement shakes also come in various flavors to suit different tastes.
4. Keto Function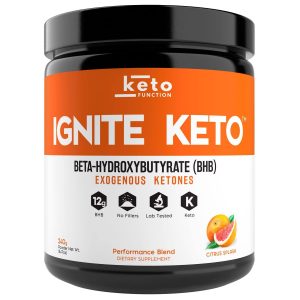 If you're on a keto diet, you can probably relate to the struggle of finding suitable meals and ingredients for guilt-free feeding. Enter Keto Function, a wellness food business that caters specifically to keto, gluten-free and vegan diets. The Keto Function meal replacement powder allows you to enjoy a complete meal in under 5 minutes.
The brand offers keto meals that can help to increase blood ketone levels and shift your body into ketosis. Its BHB Exogenous Ketones Performance blend aids increase in energy, improves mental health, and boosts physical performance. It can also help to burn fat for fuel, and it's designed to raise blood ketones to aid performance.
The Ignite Keto Function meal replacement powder is made with BHB (Beta-Hydroxybutyrate) salts, providing your mind and body with a carb-free energy source and increased performance. It helps to increase mitochondrial function and reduce radicals or toxins in the body that can affect your health.
In addition, the Ignite keto meal encourages your body to utilize oxygen efficiently to provide more energy at a cellular level. It caters to the health needs of people who desire low carb, healthy fats, and protein diets to maintain good health. The Keto Function meal replacement powder doesn't contain any fillers, additives, or junk such as gluten or parabens.
Meanwhile, the website shows thousands of positive user reviews, which confirm that this meal is satisfactory and offers a quality energy boost. You can swap your junk food for the Ignite keto meal, which comes in Caffè Mocha, Citrus Splash, and Wild Berry + Caffeine flavors. Keto Function also offers an MCT Oil softgel keto-friendly snack for customers' pleasure.
5. OWYN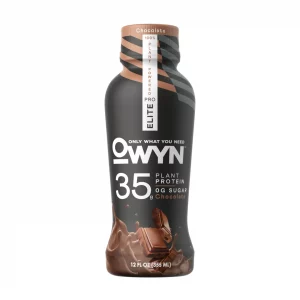 OWYN uses plant-based protein and junk-free ingredients to create meal replacement shakes for weight loss. When OWYN nutritionists discovered the dangers of traditional diet food, which is stripped of essential vitamins & nutrients, they decided to make a solution. OWYN meal replacement shakes are high in protein and healthy fats with few carb sources.
It is a convenient meal created for mid-day snacks or breakfast on the go. The product is made with high-quality protein, natural sugars, an excellent source of fiber, and prebiotics to protect gut health. In addition, the OWYN meal replacement shakes are free of top 8 allergens such as gluten, dairy, soy, eggs, fish, shellfish, nuts, and tree nuts.
Meanwhile, many health bloggers have confirmed that OWYN standout from other meal replacement competitors in terms of its ingredient quality. It has been featured in GQ, Forbes, Refinery 29, Greatist, and Byrdie magazines. On the website, you can choose your nutrition goals from healthy snacking, weight loss, fitness/muscle recovery, high protein & low sugar, and prebiotic smoothies.
Additionally, OWYN meal nutrition powder or protein powder can also supplement your whole foods, and you can add the product to your cooking recipe. It encourages consumers to meet their diet and nutrition goals with delicious meal shake that are filling and satisfying to reduce hunger and cravings. Based on the user reviews, we can confirm that OWYN meal replacement powders will keep you full until your next meal.
With these 5-star meal replacement shakes, you can avoid skipping breakfast meals or sharing with your family on evenings when you don't have the time or energy to cook. It has a rich, creamy texture and comes in distinct flavors to appeal to different tastes and encourage clean and sustainable diets.
6. Exante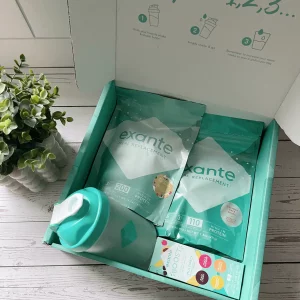 Exante offer nutritious meal replacement shakes to substitute regular one or two meals a day. It allows you to swap out your junk food with nourishing foods that help to maintain a healthy weight and provide lifestyle support. Whether you're trying to lose weight or keep fit, the Exante diet offers a variety of nutrition plans to suit your diet goals.
The brand is committed to ethical and fair wage policies as a business. Unlike many mainstream companies in the industry, it has a zero-tolerance policy against forced labor and unethical business strategies. Exante diet also offers straightforward pricing plans with a transparent ingredient list to show exactly what's in each product.
Exante diet allows customers to choose from specific diet plans depending on their body and health goals. The website offers a BMI calculator to ensure accurate diet planning. You can also read the blog articles for wellness tips. Overall, this health brand focuses on making nutrition and diet plans accessible to many individuals.
Exante meal replacement shakes come in cookies & cream, chocolate, mint chocolate, strawberry, and salted caramel products. Each shake is made with plant-based proteins and healthy fats derived from organic natural ingredients. It consists of just 120 calories and 26 vitamins which is effective for diet stabilization and weight management routines.
Meanwhile, Exante meal replacement shakes also contains nutrients like slendesta and digezyme, which works to reduce appetite or excess cravings for up to 3 hours. The formula is satisfying and can keep your stomach full until the next meal. It may also offer digestive support, lower your calorie intake, and aid body revitalization with essential vitamins and minerals.
7. Orgain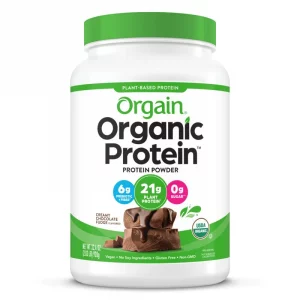 Orgain specializes in creating whole food-based diet formulas that offer a wide range of nutritional benefits to help your body function at its best. It is committed to clean and safe organic ingredients that work to support gut health, digestive support, boost energy, and repair body muscle. Like many meal replacement shakes brands, Orgain caters to general body wellness.
The brand prioritizes high-quality ingredients for vegan, keto, and low-carb diet plans to increase aid body repair and healthy weight loss routines. Unlike traditional diet plans, Orgain focuses on high plant-based protein content and healthy fats to ensure your body gets the essential micro and macronutrients for complete wellness.
In addition, Orgain protein shakes are made from organic superfoods that may be missing in your regular diet. The clean protein shake offers 20 grams of protein and 130 calories. It is prepared specially for consumers who want to enjoy a convenient on-the-go meal without any stress or fuss. Orgain protein shakes can complement your regular solid meals to ensure you get some essential nutrients.
It also has vanilla bean and creamy chocolate fudge flavors so that you can choose depending on your preference. Orgain protein meals exclude some essential nutrients and fats to make up a complete meal. However, this gluten-free, soy-free, dairy-free, vegan, kosher meal is USDA organic certified and will offer energy and muscle repair.
8. Garden of Life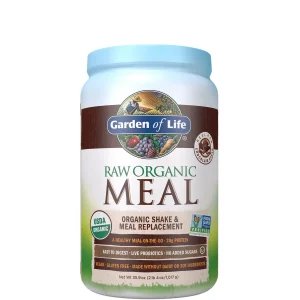 Garden of Life is a natural supplement company that offers a wide range of wellness products, including prebiotics, protein powder, and meal replacement powder. It is known for using organic superfoods and unique whole food ingredients for essential health benefits. The Garden of Life formula contains a wholesome blend of vitamins, minerals, and proteins.
In addition, Garden of Life also uses natural fruits and vegetables, including fermented whole grains and prebiotics, to provide a healthy source of essential micronutrients. It stands out from other brands by providing clean and safe foods without any synthetic preservatives or sugars to ensure good-quality whole-food supplements.
Meanwhile, Garden of Life has an ethical and transparent business campaign. It allows you to trace the origins of each ingredient so you can be sure of superior product quality. The brand also works with independent labs to confirm science-backed formulas that are safe and healthy for human consumption.
Garden of Life prides itself in being the first supplement company to be carbon-free certified by the Carbonfund.org Foundation. The Garden of life meal replacement shakes is plant-based, organic, raw, gluten-free, and non-GMO certified. It offers a proprietary blend of nutrients for weight loss, stress management, and total wellness.
9. Aloha Bars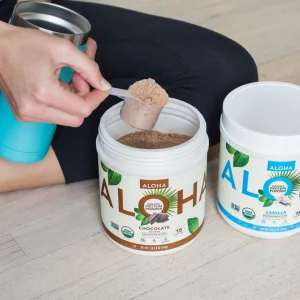 The company provides vegan, gluten-free meal replacement bars that will reduce hunger and satisfy snack cravings any time of the day. It is made up of a team of nutritionists that appreciate the function of protein and fats in active lifestyles. Aloha Bars are filling, nutritious, and delicious and come in affordable price options.
It is B-corp certified, an exceptional ethical/sustainable standard in the health and wellness industry. Aloha believes in the power of plants as the preeminent source of nutrition for general wellness and mental and physical performance. The Aloha bar is commonly used by athletes, personal trainers, or anyone concerned about keeping in good shape.
Aloha bars come in chocolate and vanilla flavor offerings. It is made from plant-based ingredients that offer high nutritional value and sometimes help substitute solid meals. The vegan protein bar is suitable for those who prefer healthy snack options. And, it is highly convenient when you need a quick meal at work or on a trip.
Meanwhile, for their low-calorie make-up, Aloha bars are often recommended for weight loss diets. The brand uses ingredients like tapioca fiber, pumpkin seeds, cocoa butter, sea salt, peanuts, and others to offer a superior nutritional value. It will provide the essential nutrients you need to stay healthy and maintain an active lifestyle.
10. GoMacro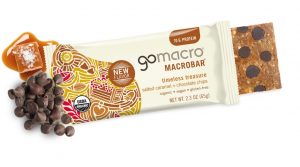 GoMacro is a nutritional supplement enterprise that offers organic, delicious meal replacement bars. These protein snack bars are formulated to provide macronutrients that the whole family can enjoy. It is infused with superfoods and organic ingredients for healthy, safe, plant-based nutrition with certified organic, vegan, gluten-free, kosher, and non-GMO products.
The brand is committed to sustainability with 100% renewable energy production and sustainable ingredient sourcing. GoMacro protein bars are free of dairy, preservatives, fructose, and artificial flavors. It provides a variety of healthy snack bars that work for all lifestyles and dietary preferences.
Meal Replacement Brands: Editor's Verdict
Whether you're an athlete, fitness trainer, or regular office worker, staying mindful of your health is important. Meal replacement brands offer convenient blends with superior nutritional value for weight management, gut health, and digestive support. You can also avoid skipping meals and swap out junk food for these healthy meal options.
However, there are many options in the market, so it may be hard to find legit products. Luckily with our list of the best protein powders or meal replacement shakes brands, you can make a more informed decision. You can also talk to a nutritionist to prepare a dietary goal before you begin your meal replacement routine.
Looking for other meal replacement brands that are not on the list? Check out our reviews of Huel vs Soylent, 10 Plant Based Protein Shakes, Ample Meal, and PhenQ.