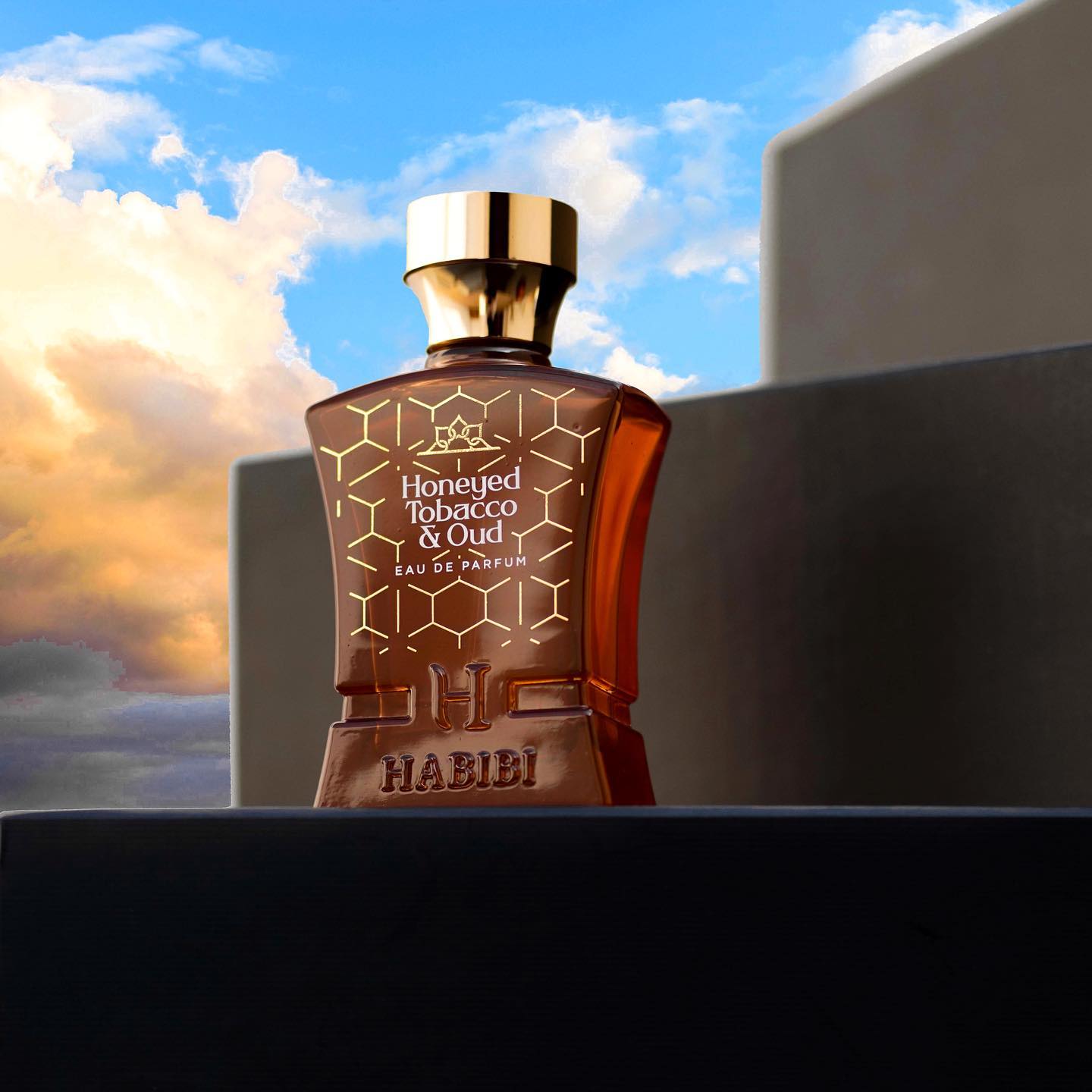 Smelling good is a luxury that anyone should not take for granted. HABIBI NY sells premium, affordable fragrances that last all day long while keeping you feeling confident and smelling great. Their products allow them to share and spread the love and pleasure they are experiencing. This HABIBI Perfume review will treat you with valuable nuggets of information about this brand, including its bestsellers, discounts, and customer ratings. You can then determine if their products will be your new signature scent.
About HABIBI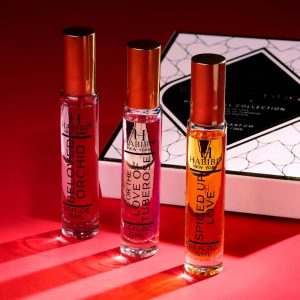 Founded in 2016 by Tabassum Khan and Shakir Ahmed, HABIBI New York combines scents of the East with American and modern European sensibilities. The brand accomplishes this in a way that does not compromise these three traditions. 
The word HABIBI is an Arabic word that means my Beloved. This word also means safety, trust, and affection.
This HABIBI perfume review found that their luxury fragrances have a sunlit quality evoking midday, the warm days, the sun rising in the sky, and cooling early evenings when the sun is stretching out.
Khan and Ahmed formed this brand to inspire love, unity, and diversity by providing long-lasting fragrances at affordable prices. Their core values are consistency, quality, originality, and affordability. A great scent should be able to last a long time on the skin without wearing off. The ingredients used in their great fragrances provide a strong odor without being too strong.
The company works with some of the world's best master perfumers to create fresh, nontoxic, and modern Oud-based fragrances with rare and exotic notes masterfully blended to perfection. 
HABIBI boasts over 37K Instagram followers and more than 5000+ verified 5-star reviews from customers. The nose behind their fragrances gives each of their scents outstanding composition and uniqueness. 
Years of experience, world travels, and continuous engagement in developing new fragrances allow their perfumers to take their scents to the next level.
Pros
They offer a range of fresh, clean, and high-quality oud-based fragrances

Habibi premium perfumes last all day long

A free sample vial of the fragrance is

always added with the order. No need to open the full size until you are 100% sure you love the scent

The company inspires love, happiness, and unity

They accept multiple payment methods, including PayPal, Discover, and Apple Pay

The company accepts returns and exchanges




Free and easy returns within the US
Cons
They have a short return window period

They do not accept returns on some items, including skin and hair care products

There is no information about their shipping policy
HABIBI Perfume Products Review
HABIBI has an expansive collection of perfumes that pleases women's and men's olfactory senses. Let's look at some of their signature scents. You'll surely find your favorite luxury fragrance here!
HABIBI Desert Oud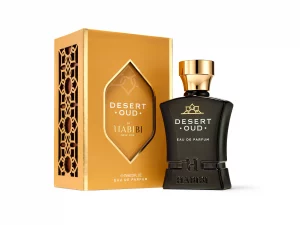 If you are looking for a new fragrance to add to your collection, the Habibi Desert Oud will take you on an Arabian journey. Ideal for adventurous and strong men, the woodsy notes in this perfume are sure to captivate those around you.
When you spritz this perfume, you will first smell a bold mixture of citruses. Its airy wood scent is similar to that of a campfire the next day after the embers have grown cold. 
Perfect for men who want to make a statement, this fragrance is strong and masculine but not overpowering. When you wear the Desert OUD Fragrance, you'll feel more confident.
It is also ideal for a night out on the town or a special occasion. The long-lasting formula ensures that you'll enjoy this luxury fragrance all day long.
In addition to the incredible scent, this HABIBI Oud perfume comes in a luxurious 2.5-o.z French glass bottle. The packaging is elegant and would look great on your dresser or nightstand.
You won't have to spend a lot of money to enjoy this luxurious fragrance, as it only costs $119. Best of all, you can also pay in four 29.75-dollar interest-free installments with Shop Pay.
HABIBI Jasmine Oud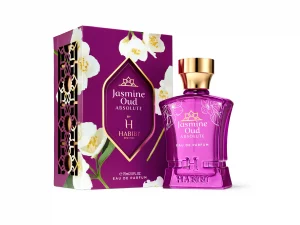 If you are looking for a woody floral fragrance for women, HABIBI Jasmine Oud is the ideal option. Dominique Bouley is the nose behind this iconic fragrance for women of elegant, timeless style and classic tastes.
Jasmine stands for a woman's regal and refined aura more interested in creating a lasting impression. This fragrance is a composition of exotic fruits, leather, flowers, and wood, blended impeccably for a modern, fresh, and clean scent.
Jasmine Oud Absolute is an iconic scent for the lady with traditional preferences and beautiful, timeless elegance. The fragrance provides a balance that builds perfection, softness, and strength. Delicate Jasmine is set against musky oud in a lovely feminine bouquet in this classic woody floral scent.
Many people know Jasmine for its seductive sweetness, and when appropriately derived from the blossom, it creates one of the best perfumes. Our HABIBI perfume review discovered that it is manufactured with a high-level technique that ensures that the fragrance warms the skin with the oud layers, contrasting different woody tones and warm depth. 
As Jasmine Oud Absolute warms on your skin, you'll notice golden notes of ylang-ylang and osmanthus unfolding into a polished fruity facet. The luxury fragrance ends on a soft note, with a bit of fruit trailing, a hint of rose, and some violet petals tossed in. Jasmine's volume gradually turns down, and the musk turns up, but a milky fruity smell with gentle oud will stay till the end.
HABIBI Embrace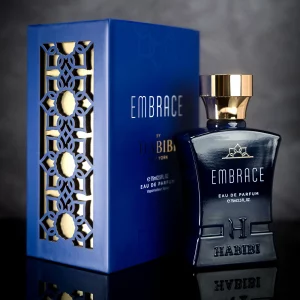 The best investments in every man's life are a custom-tailored suit and a luxurious cologne. It's like buying the best first impression. The right scent is powerful, and that is what the exquisite luxury fragrance HABIBI Embrace is all about.
The HABIBI fragrance label was born from the idea of being in love, feeling romance, passion, loyalty, and sensuality. It's the man's Eau de Cologne that never disappoints, and when he walks into a room, the seductive scent follows.
HABIBI New York perfume has created a luxury fragrance that men are raving about. The handsome scent opens with bold citrus and wraps the atmosphere with velvety notes of vanilla, amber, and sandalwood. The opening is very herbal and smoky but finishes with a musky rose note.
Embrace is undoubtedly a wonderful fragrance balanced by fruity notes that make it distinctive and masculine. The Eau de Cologne is a perfectly symmetrical fragrance. 
The masculine heart smoothly unfolds and shares its profile of lush greens and spicy black peppercorns. Woody base tones that finish with amber and vanilla linger, wrapping you in an exhilarating, warm Embrace that completes an irresistible seduction. 
The notes are a mixture of strong and soft smells like an embrace or a hug, making it unique and ideal for men looking for those moments every day.
This perfume does not just affect how others perceive you, but it also impacts how you see yourself. Wearing the HABIBI Embrace boosts your mental health by improving your mood and making you feel more confident.
Embrace has a presence, and you can make this perfume your new signature scent for only $109.
HABIBI First Glance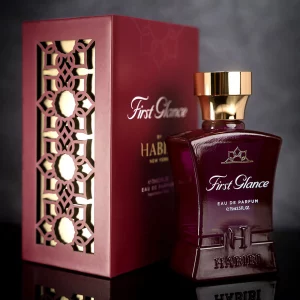 Ideal for confident, strong women who like sharing their emotions and thoughts, HABIBI First Glance helps lift your spirits. It boosts women's confidence, ensuring they get through the day with ease without making them feel conscious of their body odor. The light, fresh, jasmine fragrance will leave you with a heady floral smell. 
Because the opening has bright citrus, spice, and fresh and sweet fruits notes, this perfume offers relaxing and therapeutic benefits; it calms your mind while soothing your body, ensuring your stress levels remain in control. Wearing HABIBI First Glance can also help cure your nagging headache, and it can help you enjoy peaceful slumbers at night.
Suitable for any occasion, you can wear this fragrance every day, and it doesn't evaporate on your skin quickly. After making a statement, the notes transform and reveal a warm, romantic heart of green foliage, jasmine, and rose. These notes help your body unwind by alleviating stress and anxiety, and they can heighten your sexual desire. 
As the perfume mellows, its woody tones grace you with warmth while evoking a nostalgia that helps to remind you of old memories. First Glance can remind you of happy or comforting memories from your past. Its woody tones include powdery musks, amber, vanilla, patchouli, cedarwood, and vetiver.
Available in a 2.5 fl. oz bottle, you only need $109.00 to make First Glance your signature scent. 
HABIBI Santal Journey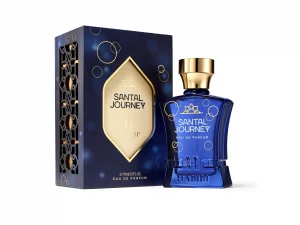 You know the classic song by the legendary rock band ZZ Top: "…crazy 'bout a sharp-dressed man." Everyone goes wild for the ultimate gentleman, and his fragrance also plays a crucial role as the icing on the cake. HABIBI Santal Journey Eau de Parfum should be part of your collection if you want an out-of-this-world scent. 
Santal Journey delivers that unforgettable fragrance, and people immediately notice when the scent surrounds them.
Perfumer Marion Costero has designed a sexy sandalwood fragrance featuring irresistible top notes of cardamom, violet, and pear. The company sources materials for this perfume from the East and West; this adventurous Eau de Parfum welcomes in the heart notes of transparent floral, orris, and cedarwood and blends it perfectly together with masculine base notes of sandalwood, amber, and oud wood.
Those who wear Santal Journey rave about its clear and fresh scent and how its powerful essence works uniquely with an individual's body chemistry. The fragrance also lasts all day and into the night, making it the perfect companion for men ready to leave ordinary life behind. 
Spicy, sweet, and everything romantic, Santal Journey is an Eau de Parfum that lingers in the best way; it has a beautifully balanced scent that is gaining popularity fast as a unisex fragrance.
HABIBI Perfume Review from Customers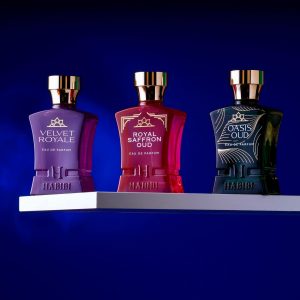 Our HABIBI perfume review checked what customers think of their signature scents. Most customers love how their perfumes smell and how long they last. 
Customers left feedback on each perfume on their site, with the products scoring high ratings. HABIBI Desert Oud had a 4.8 rating out of 639 reviews, while Embrace scored 4.9/5 stars out of 145 reviews. 
Most customers commended their quizzes, saying they helped match the right perfume to their personality. Other customers praised their outstanding customer service and attractive packaging. 
Popular Alternatives to HABIBI
Most of their perfumes have received 4-or-5-star ratings on Amazon. Some customers stated that they love how their head-turning perfumes have high concentration and feature a powerful scent that lasts all day with one application to their wrists or pulse points. One of the customers recommended the brand to their family members and friends because they are affordable. 
However, one or two customers complained about their short return window period. Overall, HABIBI New York has received positive feedback from customers. The brand seems to be doing an outstanding job of providing high-quality perfumes and excellent customer service.
Sign Up for HABIBI
To join HABIBI's family, head to their official site and find their sign-up page. Here, you'll find a registration form that requires you to provide your email and name. Do not forget to subscribe to their newsletter before hitting the Sign-Up button; this will allow you to know when they release new products, and you'll get updates on upcoming deals.
You'll also enjoy speedy checkouts and receive 15% off your first purchase when you sign up for HABIBI NY. To redeem this offer, you have to use the code you'll receive in your email and buy products worth $100 or more.
Where to Buy
If you are wondering: Where can I buy HABIBI New York perfume? You can purchase their products only from the brand's site ForHabibi.com. 
HABIBI Shipping and Return Policy
While doing our HABIBI perfume review, we did not find information about their shipping policy. However, the company ships internationally.
The company accepts returns within 14 days after receiving your order. They will then issue the refund within five business days. You also have to include gift products to get a full refund. If you have used the gifts, HABIBI will deduct their value from the refund amount.
The items you are returning should be in good condition and packed securely to avoid shipping damage. They do not offer refunds on their Everlasting Love Oil Rollerball Set due to COVID-19 protocols since it's applied directly to the skin. Their skin and hair care products are also non-refundable. 
Flash Sales items are not eligible for exchanges or returns, and international customers are responsible for the shipment fees
Promotions & Discounts
HABIBI NY offers promotions and discounts throughout the year. Currently, they have an annual spring sale that allows customers to enjoy 20% off when they buy perfume on their website.
New customers will also receive a 15-percent discount on their first order worth $100 and above. By using Habibi Parfums discount codes at check out, you will save money when purchasing your favorite scent.
Don't forget to visit their Sales page, where you'll find a range of products on sale. You will also receive gifts when you purchase items worth $200 or more.
Contact Habibi
If you have any questions that this review hasn't covered, reach out to the HABIBI customer support team. You can use the following methods to contact their support team:
Phone: +1 833-442-2424.

Email: [email protected].

Social media: send a message to HABIBI's Instagram or Facebook page.

Live chat feature: You can communicate with one of HABIBI's customer service representatives in real-time via the live chat function.
HABIBI Perfume Review: Editor's Verdict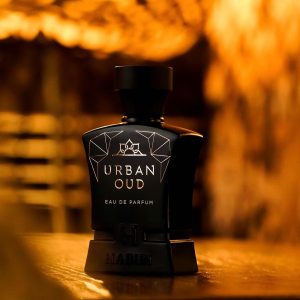 To conclude our Habibi perfume review, we find this fragrance brand worth checking out. Customers love their fresh, clean, and high-quality fragrances, and they have left numerous positive reviews.
This luxury fragrance company wants its customers to try out products risk-free while avoiding the cost of returns, and that's why they include a sample vial in each full-size fragrance. This allows customers to try out perfumes in the comfort of their homes and choose their favorite scents.
Their site also uses state-of-the-art Secure Sockets Layer technology to protect customers' information. That means customers always feel safe when they put their personal information on their website.
We, therefore, recommend HABIBI NY to men and women looking for premium fragrances at an affordable price.
Are you looking for other beauty brands? Consider reading our reviews of Caudalie, Glossier, Color WOW, and Gisou.
HABIBI FAQ
Where are HABIBI fragrances made?
HABIBI fragrances are proudly made in the US by renowned, award-winning perfumers. They masterfully blend the fragrances and bottle them in beautiful French glass bottles.
How do HABIBI perfumes compare with premium niche fragrances?
HABIBI's policy is to provide value to their customers by ensuring they have eliminated the high margins linked to retail stores. And this allows the company to offer affordable, high-quality fragrances since they don't have to markup their prices for middlemen in the retail chain.
Do HABIBI fragrances contain alcohol?
Yes. HABIBI fragrances feature Denatured Alcohol, a synthetic, inedible, and non-intoxicating ingredient. It's safe to use in household, pharmaceutical, and cosmetics products.
Are samples available?
HABIBI Discovery Sample Set includes their top-selling, luxurious fragrances in 6x3ml pump sprays; this allows you to try out their products and discover your new signature scent. The Discovery set comes with a $20 coupon to apply to a full-size fragrance of your choice making the sample set essentially cost $5.