No matter what clothing item or fashion accessory you're shopping for, it's always good to get a second opinion from objective experts on the best brands to look out for. What are the best leggings brands currently on the market? Our shopping guide will reveal what our fashion editors say about this. But first, why leggings? One of the most versatile clothing items in your wardrobe is leggings. In terms of functionality, it works for different occasions, from yoga class to market runs or as a stay in loungewear; leggings do it all. Another plus is that it curves your body and makes your butt look good, always a confidence boost.
15 Best Leggings Brands
It doesn't matter what function it's meant for; a good pair of leggings must be flexible, thick, stylish, and durable. So you have to be careful when shopping for your next pair to ensure you get your money's worth. You can also consider other factors like sustainability and fabric sourcing. With the growing concerns about environmental protection, more brands are also offering eco-friendly, ethically made leggings. Our top picks of the best leggings brands are based on affordability, fabric innovation, sustainability, and market reputation. Learn more below!
1. Buffbunny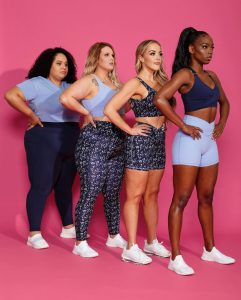 Buffbunny is clothing apparel that centers on fashion, passion, and fitness as its main qualities. It is women-owned fitness apparel founded by Heidi Somers, an infamous Youtube influencer, in 2016. Heide was displeased by the quality of fitness apparel in the market and created Buffbunny to fill the market gap.
The company boasts of a team of fashion enthusiasts, graphic designers, and creatives that work together to create stylish and diverse product collections. It captures different realities and backgrounds in all its creations to represent varieties of backgrounds and aesthetics. Buffbunny also ensures style, comfort, and performance support in all its creations.
It works with fair trade textile facilities in China, Turkey, and Vietnam to ensure high-quality fabrics in all their creations. Buffbunny designs also come with special details like zippers, buttons, varieties of prints, and customized colors. As part of the best leggings brands, the brand prioritizes sustainability and commits to a zero-waste production process.
It uses fabric leftovers to make fitness accessories like headbands and scrunchies. In addition, the company donates its excess products and defective samples to women's shelters and The Art Institute. Besides its leggings collection, Buffbunny offers other clothing options like high-impact bras, bike shorts, and breathable tank tops. Its booty-enhancing leggings are also a customer favorite piece. Read our review of Buffbunny.
2. Born Primitive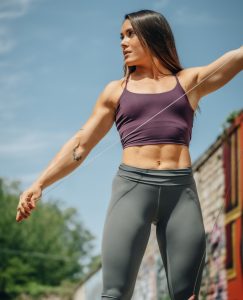 Born Primitive is featured on Forbes, USA Today, Bustle, and Morning Chalk Up, a leading athletic clothing brand. It produces high-quality athletic and workout gear for men and women to boost performance and productivity. The company seeks to inspire athletes and fitness enthusiasts to perform better with their comfortable pieces.
At Born Primitive, customers can choose from a wide range of size-inclusive clothing for individuals at all skill levels. It is a human-centered brand that highlights social impact as one of its core values. The company uses a portion of its proceeds to donate to cancer prevention charities, first responders, and military organizations.
The Born Primitive product line includes varieties of collections featuring athletic clothing for men and women of all skills and sizes. And the product line includes high-end leggings in different styles, colors, and sizes. Born Primitive leggings consist of form-fitting materials that offer a comfortable fit and work well for various activities.
For instance, The Rise and Grid Capris are stylish and aid performance with a snug fit. It offers dual side pockets with a wide waistband that ensures proper coverage and does not dig into your skin. Also, the capris are longer and extend mid-calf, unlike common leggings styles. The product line also features shorts, swimwear, sports bra, and more comfortable-to-wear pieces that work perfectly for athletic activities. Read our reviews of Born Primitive.
3. Alo Moves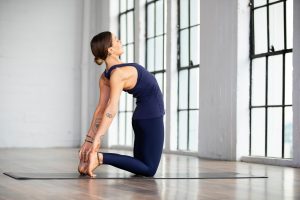 As a yoga master, you can't help but be attached to your leggings, especially one that is form-fitting, super stretchy, and hugs your curves comfortably. Alo Moves prides itself on being among the best yoga leggings brands, inspiring wellness, and community in its creations. It is a high-end lifestyle brand that offers activewear and premium yoga clothing collections.
Meanwhile, the company also provides various online mediation and video fitness classes through the Alo Move application. It connects members with over 60 fitness instructors and offers more than 2500 workout classes with different skill levels to provide a platform for professionals and amateurs. The mobile app records over 20 million completed courses since it introduced its yoga fitness classes.
In addition, Aloe Moves offers different categories of Yoga with all the essential elements to create a relaxing and pleasurable yoga experience for all customers. You can also browse the Aloe Moves clothing section to discover various categories of fitness clothing and accessories for men, women, and kids.
The Aloe Move clothing line features varieties of workout and fitness gear ranging from biker shorts to sports bras, tights, leggings, etc. Aloe Move leggings are comfortable to wear and offer premium comfort and relaxation through various activities. It ensures high-end fabrics in all its products to boost performance and promote wellness and good health. Read our extensive reviews of Alo Moves.
4. Carbon 38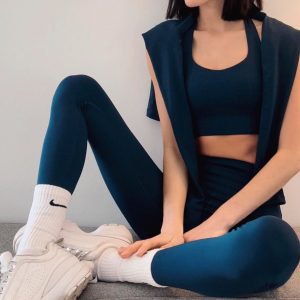 Carbon38 is a top, female-led athletic brand that seeks to dominate the best leggings brands in the sportswear industry. It introduced a women-focused fitness apparel brand to compete with the male-dominated companies in the industry. The brand serves as a one-stop shop where all kinds of women can shop for high fashion fitness clothing for all kinds of lifestyles.
After her long career in professional ballet and fitness training, Kate Warner Johnson founded it, motivated to open the brand. The brand's mission is to provide functional, high-end fitness and activewear that aids women's performance inside and outside the gym. Carbon38 is a retail outlet that offers high-quality, stylish designs that customers can feel good wearing.
Meanwhile, when it first launched its website, Carbon38 offered curations from five female-owned designer brands to encourage more CEOs in the activewear industry. It currently hosts over 80 brands and features original designs in various styles and sizes with a wide range of clothing options for diverse women.
In addition, the retail company features the best leggings brands for women, including original Carbon38 leggings in full ranges of sizes and colorways. It also states against fast fashion and disposable garments by providing sustainable, durable pieces that buyers can wear for years. The brand also offers a curated collection of clothing items for different activities and lifestyles. Read our reviews of Carbon 38.
5. Bandier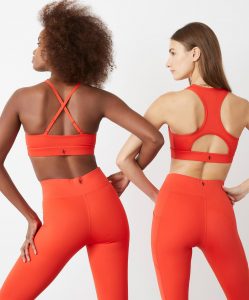 Bandier is a leading multi-brand luxury activewear retailer, providing buyers with modern and trendy high-end clothing in the fitness and sports industry. It allows customers to combine fashion and fitness by offering a one-stop outlet for the best women's fitness products. The brand houses a team of fashion and fitness enthusiasts who curate the best sports designers.
It collaborates with big athletic brands like Reebok and Nike to introduce high-end activewear collections and fashion-forward items. The company offers a full range of activewear designs that combine high fashion and fitness concepts. Bandier is also mentioned in Vogue as a stylish fitness emporium, and it has a mainly positive reputation in the industry.
In addition, the company offers different categories of clothing for both men and women in a wide selection of styles and color patterns. Bandier's clothing line features highly versatile and comfortable sweatshirts featuring innovative designs from various brands like All Access, 7 Days, etc. It also offers an impressive collection of sneakers from worldwide high-end shoe brands like Nike, Addidas, New Balance, etc.
Meanwhile, Bandier's activewear collection is its main selling point, with an extensive selection of comfortable sports or exercise clothing. It offers varieties of high-waisted leggings from the best sports leggings brands to provide enough coverage during high-performance activities. Bandier leggings have ideal designs that support your glutes, calves, and quads. If you wish to know more about the brand, read our reviews of Bandier.
6. Beyond Yoga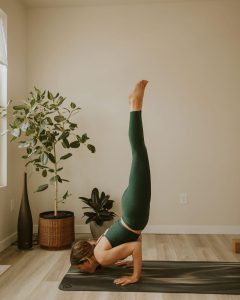 This brand is of the leading names in the activewear industry with a full range of womenswear and men's products with functional, high perfection clothing for different body types, beyond Yoga values inclusivity by offering stylish and practical yoga clothes for women of all body types and sizes. It is also highly regarded among the best yoga leggings brands worldwide.
The company aims to boost the wearer's confidence by offering high-quality, comfortable, and performance-enhancing activewear for all body types from sizes XXS to 4X. Beyond Yoga is also committed to ethical and sustainable values, ensuring all its products are made through eco-conscious methods. It also uses recycled materials to limit negative impacts on the planet.
In addition, the brand's signature fabrics which include Spacedye and Heather Rib, are Bluesign certified to comply with positive environmental standards. It has also been featured in Vogue, Women's Health, and Shape magazines for its impressive fitness and exercise gear collection. Beyond Yoga also offers an excellent range of products to support you at all levels on your fitness journey.
Beyond Yoga's product line features biker shorts, sports bras, yoga joggers, and leggings with five fabric options created with ethical and eco-friendly practices. In addition, Beyond Yoga leggings are designed for comfort and functionality to fit for intense activities like sports, weights, and cardio fitness routines.
It is made with breathable and lightweight fabrics with moisture-wicking features. And it's available in various inclusive sizes and colorways. Read our in-depth reviews of Beyond Yoga.
7. Lululemon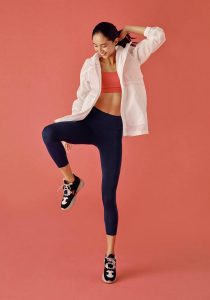 Lululemon markets trendy activewear and fitness clothing items produced with lightweight and fast-drying fabrics. It is a high-end sports apparel with varieties of technical athletic clothing that provide comfort and enhance performance for fitness and power exercises. The brand introduced designs that combine the concept of fashion and sports for fitness enthusiasts.
At Lululemon, the brand's objective is to empower diverse individuals to reach and celebrate their fitness goals by providing the right gear and accessories. It creates a community where members can learn about healthy living, mindfulness, and wellness development. The company also provides high-quality, durable, and breathable fabrics for various products.
It employs strategic, technical fabric development to support each activity type. Lululemon leggings are the brand's signature clothing, and it comes in 9 different fabric options, including Luxtreme, Nulux, Nulu, Everlux, Luon, Fleece, Mesh, Velvet, and Warpstreme. And each fabric works for different functions like running, hiking, cycling, Yoga, and more.
The Lululemon leggings also come with various features and various designs. It offers pocketed seamless, insulated, drawstring, reflective, lightweight, and water-resistant styles. Since it's one of the more expensive leggings brands, Lululemon ensures premium quality, lasting, durable fabrics in all their designs. Read our reviews of Lululemon.
8. Gymshark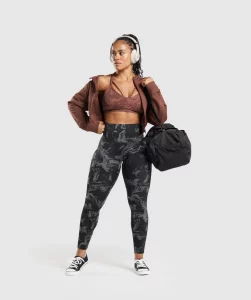 For most athletes, fitness clothes and workout gear go a long way in enhancing performance and boosting overall confidence. It helps you focus more effort on achieving your goals by empowering you with the best clothing tools for different high-impact activities. Enter Gymshark, fitness apparel that offers high-end workout gear for diverse routines.
Since its conception, Gymshark has earned its reputation as one of the best sports leggings brands with a decent selection of other sportswear and athletic accessories. It ensures that all their products fit comfortably and provide enough support for the workout routine. Gymshark training leggings are available in various shapes and fitness ranges.
The leggings feature a booty enhancing design with a thick waistband that ensures a secure fit. It also offers high-quality, moisture-wicking fabrics to prevent odor and repel sweat. Customers can also choose from a wide selection of designs and patterned prints, which is great for covering any sweat stains. There is also a collection of styles and features to suit diverse customer needs.
So you can choose from high-waisted designs, form-flattering silhouettes, and bold shapes to show off your natural curves. The fabric materials used for every production are super comfortable, smooth, and soft – It fits snugly like wearing a second skin and is suitable for casual lounging and leisure meditation. Read our reviews of Gymshark.
9. Athleta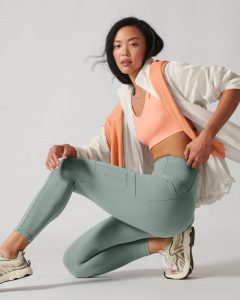 Athleta is a premium athleisure clothing brand that outshines other brands in terms of quality, craftsmanship, and affordability, providing comfortable pieces that give buyers the best confidence. Many fitness shoppers are used to compromising comfort and performance over style and fashion, but Athleta combines both concepts in all their designs.
It adopts innovative fabric technology to create advanced clothing that boosts your performance and allows you to surpass your workout goals with the best gear for every activity. And, being among the best leggings brands, it offers a high-quality, sustainable workout gear that is long-lasting. Aside from the leggings, Athleta bestsellers include tights, joggers, and seamless sportswear designs.
Athleta's core values focus on sustainability, ethical production, and women empowerment. It creates pieces for young female athletes to boost confidence and improve their performance across several sports. Sportswear shapes your body and comes in various styles and designs to represent your style and aesthetics.
In addition, Athleta offers a wide selection of athletic leggings in various designs and colorways. The brand also caters to both professional and rookie athletes with leggings and a range of sportswear that offers different levels of movement and versatility.
10. Aerie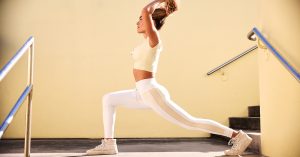 The best leggings brands in the industry are often expensive and most accessible to high-class fitness icons. But, Aerie seeks to change this narrative with their chic, high-end fitness gear for users from all walks of life, from athletes to casual gym buddies and yoga lovers. With top ratings on Yelp, Buzzfeed, Popsugar, and more, Aerie's products have a standard of good quality products.
Aerie offers a combination of fun, fit, and fabulous women's leggings in an expansive selection of styles and patterns. It offers creative inspirations of leggings for various functions, from loungewear to workout gear and casual outings. The brand encourages customers to pick from various designs and colorways based on their styles.
The Aerie Hugger High Waisted Foldover Flare Leggings are one of the brand's bestselling items. It comes in a form-fitting silhouette with flare ankle legs to give a wide bootleg appeal. And it's also available in multiple styles of crossover and slit flare designs. Also, the brand gives customers a choice of floral and colorblock patterns in different color tones.
All Aerie leggings are made with a soft, breathable, lightweight fabric that gives a lot of movement and helps to boost performance. The high waistline also offers full coverage, and it will not come down or ride up no matter the position. Also, it offers the staple black leggings, which is a timeless casual clothing piece that many women love. You can also shop for matching workout sets at budget-friendly prices.
11. Fabletics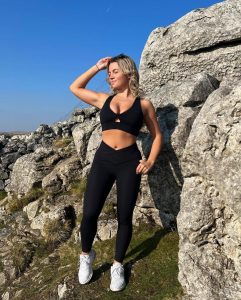 Fabletics is a modern activewear brand that supports wellness and healthy initiatives and high-quality fitness gear that builds your mindset and confidence as you get in shape. This world-famous gym clothes brand offers various coordinated fitness gear in the latest styles through its monthly subscription platform.
Members receive updated style ideas with clothes that focus on high-quality fit, function, and style every month. Fabletics wardrobe line features a large selection of leggings, sports bra designs, and more workout gear. Although it's among the expensive leggings brands, all Fabletic products come at affordable prices. And it offers various plus size options with a wide range of styles for men and women. Read our reviews of Fabletics.
12. Outdoor Voices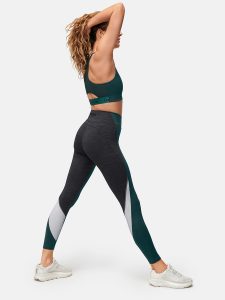 Outdoor Voices is sustainable recreational clothing apparel that creates products that inspire a 'motivation to do things.' It allows customers to commit to different activities out of pleasure and the desire to have fun instead of competition or obligation. The brand is top-rated with features on Vogue, Glamour, Self, Insider, and other media outlets.
All its products are made from bluesign certified fabrics and a high percentage of traceable fibers from recycled sources. Also, Outdoor Voices ensures comfort and ease of movement in all its creations by implementing sweat-wicking, thermoregulating and anti-odor properties. The product line features varieties of clothing, including leggings in diverse styles and sizes.
13. Oner Active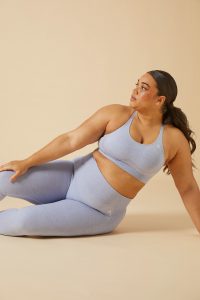 Oner Active is among the best ethical and sustainable athleisure brands worldwide. The brand seeks to empower women with activewear that helps to make fitness easier and more accessible with comfortable, confidence-boosting clothing. It offers premium services in colors, materials, comfort, and support levels with varieties of sleek yet durable activewear.
The brand highlights sustainability as one of its core values, ensuring that the fabric selection and manufacturing processes meet ethical and eco-conscious standards. Oner Active product line includes different kinds of breathable, lightweight activewear pieces for different activities. It also boasts high-quality leggings in various styles and designs with a lot of movement.
14. Ellie Activewear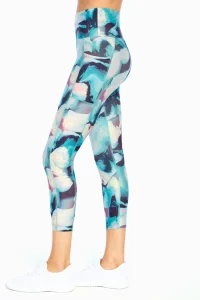 Ellie Activewear provides a stress-free way to stock the latest styles of all your fitness and workout gear. It is best known for its monthly subscription box that offers a selection of fashionable leggings and trendy sports bras for women. The company offers leggings at affordable price points without compromising style and comfort in all its pieces.
In addition, Ellie claims to be all about women empowerment, and it offers various styles of women's leggings and workout gear to build confidence during high-performance activities. It offers staple black leggings with multiple colors and pattern options to add more style and versatility to your wardrobe. Every month, the brand delivers members a box of workout clothes, from leggings and tops to bras.
15. AYBL Leggings
AYBL Leggings is an independent activewear brand that offers an impressive line of women's high-performance sportswear at budget-friendly prices. The clothing apparel provides leggings, bras, crop tops, shorts, and more products that you'd expect from any high-end fitness brand. It also competes with the best leggings brands by offering the same high-end cuts and designs at affordable prices.
All the products in the brand's collection fall between the $22-$40 price range. Also, AYBL values inclusivity and offers clothing options from sizes XS-XL. The AYBL leggings collection also features minimalistic cuts, monochromatic colors, subtle booty contours, and sleek cutouts. Every product is made from soft, breathable, lightweight materials to ensure comfort.
Best Leggings Brands: Editor's Verdict
Whether you're a workout guru, athlete, or yoga expert, you can't deny the joy of a comfortable pair of leggings during your exercise routines. Our 15 top choices of the best leggings brands ensure comfort and high-quality materials in all their products.
These brands offer varieties of leggings designs with different performance levels to support and boost confidence. You can try any of the brands above to discover your new favorite recreational and workout gear!
Are you still looking for other clothing brands? Check out our reviews of DoYouEven, Girlfriend Collective, Beyond Yoga, and Ten Thousand.