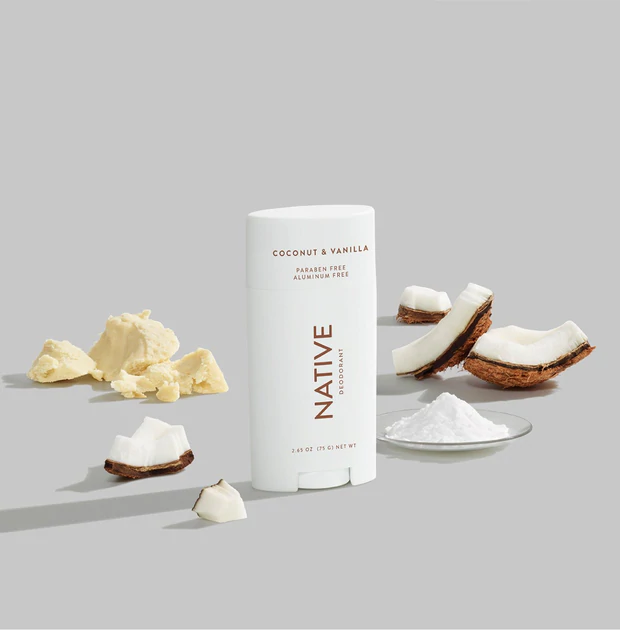 Recently, many brands have encouraged people to switch out the regular deodorant or antiperspirant for an all-natural version. Why? Unlike the go-to products, the best natural deodorants are free of aluminum salts, typically used to prevent the formation of sweats. It uses only all-natural ingredients which drive away bad bacteria to keep you smelling fresh all day long. 
Natural Deodorants allow you to embrace sweating which is a normal bodily function, yet it removes any bad odor and gives you a refreshing, natural scent. While there are different types of aluminum-free deodorants, some brands have a bad rep and are not always effective. Some natural deodorants don't provide day-long protection, especially during high-performance activities. 
10 Best Natural Deodorants
Fortunately, we have discovered the best brands that provide long-lasting, eco-friendly, natural deodorants for men and women with different lifestyles. In this list, you'll find affordable, unisex brands that help you stay confident and feel good throughout the day. You can swap your regular antiperspirants for any of the environmentally-conscious brands below! 
1. Native Deodorant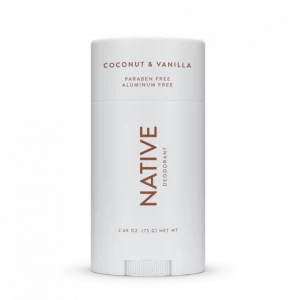 Native is an all natural deodorant brand that creates effective and cruelty-free skin and beauty products that work for different personal grooming routines. Moiz Ali launched this brand with a commitment and curiosity to clean skincare. It combines all-natural ingredients with sweet-smelling scents to create effective, long-lasting, aluminum-free deodorant. 
Through intense efforts to ensure quality and high-performance products, Native has a reputation for providing the best natural deodorants, clean body wash, shampoo, soap, and toothpaste products. It is a widely loved brand with features on Elle, Business Insider, Byrdie, and more media outlets. 
While Native competes with big names in the personal care industry, it is strongly committed to eco-friendly and sustainable production to reduce environmental impacts. In addition, Native aluminum, paraben-free deodorants are skin-friendly and enriching. The brand is also transparent about the substances its product contains. 
Additionally, Native Deodorant consists of 14 clean, natural ingredients and excludes other toxic/harmful chemicals typically used in mainstream brands. The moisturizing ingredients include coconut oil, shea butter, and beeswax, which enrich the skin. It also contains baking soda for odor protection and Vitamin E to leave a firming and tightening effect on the skin. 
Meanwhile, unlike most natural deodorants, Native has a solid texture for east application, and you can choose from various lovely scents. Native fragrances are all-natural and do not contain any artificial smells. It also consists of Acidophilus, a natural antibacterial to prevent ant irritation. You can shop for a wide range of natural body deodorants from the men, women, and teen categories. 
2. Each & Every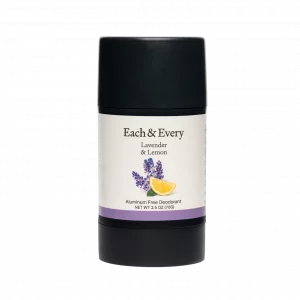 Lauren Lovelady and Mikah Coffindaffer launched this brand upon realizing the lack of natural deodorants in the market. Each & Every product is marketed toward everyone as the brand believes that the concept of feeling good has no gender. It has since expanded from natural deodorants into a clean, beauty, and self-care brand. 
Each & Every sets the bar for higher standards in the beauty industry from natural, eco-friendly personal care products. It discards the regular formula used in mainstream products and shows customers what they're using on their bodies. The brand commits to safety and sustainable standards by using ethically-sourced standards ingredients from hand-selected farms. 
In addition, Each & Every offers strong natural deodorant for men and women with features in major magazines like GQ, People, and more. The brand prides itself in ever-evolving formulas with effective research on the best ways of using natural ingredients. Each & Every product is clean, plant-based, and free of aluminum, parabens, and artificial fragrances. 
Better still, all their products are certified safe by the Environmental Working Group, 100% cruelty-free, and suitable for vegans. It provides plant-based sustainable packaging for safe and accessible self-care products for every gender. Each & Every deodorant is available in 10 scents, including Lavender, Lemon, Sandalwood, and Black Pepper. 
Additionally, the brand utilizes natural conditioners like coconut oil and tapioca starch to absorb wetness and enrich the skin. It uses dead sea minerals and essential oils to combat bad odor and provide a fresh scent. Unlike most natural deodorants, Each & Every doesn't use baking soda to prevent any possible irritation or skin rash. 
3. Lume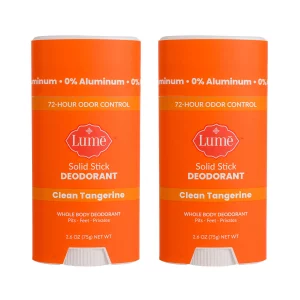 Lume natural deodorant is highly effective and keeps you feeling fresh and well-kept all day long. It consists of gentle natural ingredients that nourish your skin, leaving you radiant and fresh for long hours. Shannon Klingman was an OB/GYN when she realized many women have problems finding effective solutions for body odor. 
After years of research, she launched Lume, an all natural deodorant line that provides long-lasting 72-hour odor protection. Lume deodorants do not contain harsh chemicals that can harm the skin, and it's safe for all-over use. It uses a new technology that leaves your nether regions smelling like the back of your hand.  
Lume is suitable for use all over the body, including underarms, knees, neck, tone, elbow creases, and even the nether regions. It is aluminum-free which is a healthier and safer option for your skin. The team comprises medical professionals who use only science-backed ingredients in all their products. 
Additionally, Lume deodorants come in both the sticks and tubes options, or you can get bundles if you want to stock up on your deodorant products. It allows you to experience the feeling of clean, non-harmful deodorant that will keep you confident and healthy throughout the day. Lume's products are also gentle and suitable for all skin types. 
The Bay Rum Lume Deodorant is part of the brand's bestseller products. It is a cream stick deodorant that smoothly blends into your skin like a lotion. Lume deodorant doesn't leave any film skin residue, and it's completely free of parabens, aluminum, or baking soda. This Bay Rum deodorant has a strong spicy scent with hints of citrus and costs only $25.98. 
4. Green Goo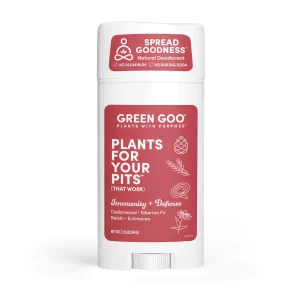 Green Goo creates topical skin and body products that mask issues and properly address various skin care concerns. In addition, it uses organic, vegan ingredients that work to repair dry skin and provide pain relief. The brand offers products specifically designed to solve your skin concerns. 
Since its conception in 2008, Green Goo has provided high-quality organic first aid and body care products for the environmentally-conscious consumer. It is a US-based company that promotes 100% vegan products with a reputation as one of the best natural deodorant brands. Green Goo prides itself as an inexpensive, viable solution to different skin concerns. 
In addition, all Green Goo products are slowly infused with essential oils to ensure high-quality, enriching standards. It creates natural salves and herbal remedies for cuts, abrasions, and different types of skin concerns. Green Goo's skin repair remedies stand out from other products due to its top-notch infusion process. 
The brand only uses ethically sourced herbs from organic farmers to increase the potency of every product. Additionally, Green Goo uses full-spectrum ingredients for its healthcare line that involves using the whole plant, which is more beneficial than a single part. It works with a fair-trade policy and openly advocates for positive and environmental standards. 
Some of the popular ingredients Green Goo offers include Aloe Vera, a natural moisturizer that provides a smooth, natural glow. Most Green Goo dry skin salves contain Chickweed that absorbs and soothes the skin. It also uses chamomile, comfrey, yarrow, and essential oils like Jojoba seed oil, Lavender, Olive Oil, and Sunflower. 
5. Schmidt's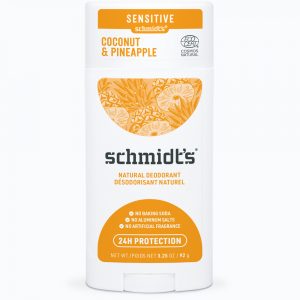 Schmidt's is a household name in the clean, natural deodorant market. It offers an award-winning line of natural deodorant, oral care, and soap products. Some of the brand's awards include the Allure 2020 Best of Beauty Award, Ask Men 2020 Grooming Award, Cosmopolitan 2020 Beauty Award, and GQ 2020 Grooming Award, among others. 
In 2010, pregnant Jamie Schmidt's created her flagship formula of a vegan, cruelty-free deodorant that consists of natural essential oils. However, it has since expanded to provide a huge natural deodorant line for men, women, and teens. Schmidt's offers a unique natural antiperspirant product free of aluminum and artificial fragrances. 
In addition, Schmidt's natural deodorant comes in a stick, sharp stick, and jar form with different lovely fragrances like lavender, sage, rose, lime and sandalwood. Schmidt's deodorant line features the Charcoal & Magnesium deodorant stick, Bergamot & lin, Lavender & Sage, Rose & Vanilla. The Schmidt's Here & Now stick is free of baking soda and works well for sensitive skin. 
Meanwhile, if you want a rustic, sophisticated & masculine scent, you can get Schmidt's Water & Wood deodorant stick. It is also free of propylene glycol, which can cause skin irritation for people with sensitive skin. Besides natural deodorant, Schmidt's also offers natural toothpaste and body soap. The toothpaste is free of SCS, PEG, SLS, or artificial sweeteners and dyes. 
You can also switch your regular body wash for Schmidt's healthy bar soap. It contains charcoal and bamboo exfoliants that have a great smell and helps to moisturize the skin. The activated charcoal is also useful for clearing breakouts and is highly suitable for people with acne-prone skin. Schmidt's activated bar soap doesn't contain any SCS, phthalates, SLS, or artificial fragrances. 
6. Kosas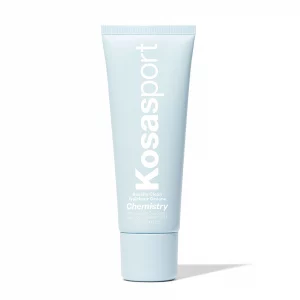 The problem with natural deodorant is that sometimes the scents are not strong enough, especially during the hot season or after an intense workout. Still, Kosas, a natural deodorant brand, promises an effective alternative to your regular first-gen and baking soda-free natural deodorant. Kosas's Chemistry AHA Serum stands out from other brands. 
Unlike other products, the brand specifically targets odor-causing bacteria through a formula of alpha-hydroxy acids such as lactic acid, mandelic acid, and shikimic acid, which have antimicrobial properties. These acids lower the PH levels, which wards off any bad bacteria. Kosas' natural deodorants also help to brighten dark underarms. 
It comes in a roll-on stick that glides smoothly against your skin and dries off quickly without leaving any dark residue. Kosas' deodorant comes in various lightly scented options and provides a fragrance-free option for more sensitive people. The product has been featured on Glamor, Shape, Refinery, Byrdie, and more as a natural deodorant that works.
Also, Kosas' natural deodorant helps remove ingrown hairs and soothes the skin. It is free of aluminum and baking soda and comprises simple, high-quality ingredients nourishing the skin. Many users also claim that Kosas not only mask the bad odor but also effectively drive bad odor away. In addition, it helps to reduce sweating and keeps you fresh all day long. 
7. Bite Refillable Deodorant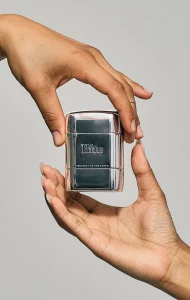 Bite is a natural, zero-waste health company that offers sustainable personal care products to prevent more damage to the planet. It has been featured in several popular media outlets like Cosmopolitan, WWD, Forbes, and more. Bite also moved further into the public limelight after appearing on Shark Tank and Oprah. 
It initially started as a natural toothpaste brand after Lindsay McCormick the damage that regular toothpaste caused the planet. She introduced the first cruelty-free and zero-waste mouth cleaning tablets free of harsh chemicals. The company has expanded to provide mouthwash bits and sustainable bamboo toothbrushes. 
Besides oral care products, Bite offers the first-ever refillable deodorant to prevent plastic waste in oceans and landfills from regular deodorant packaging. The deodorant is 100% plastic-free and comes with compostable refills. Bite natural deodorant for women and men comes in both scented and unscented options for your needs. 
In addition, it is free of aluminum and baking soda, vegan friendly, and 100% cruelty-free. The brand is also open to all the natural ingredients used in the formula, such as fractionated coconut oil, tapioca starch, ozokerite, castor seed oil, and six other essential substances. Bite refillable deodorant is perfect for any eco-conscious consumer. 
8. Boscia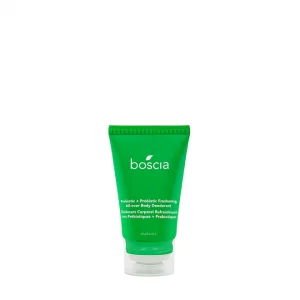 Boscia is a Japanese-inspired skincare line specializing in plant-to-bottle formulas, promoting only vegan and cruelty-free products. It markets gentle skincare products, naturally cleansing, exfoliating, and hydrating. The company believes in good-for-you ingredients that can also be good for your skin. 
In addition, it firmly supports environmental conservation and holds sustainable values. For instance, Boscia has a recycling program where customers send back empty packages for recycling to ensure a zero-waste structure. All Boscia products are also free of harsh chemicals, colorants, mineral oils, synthetic fragrances, and preservatives. 
It complies with EU standards, excluding 1,600 banned ingredients. Besides natural skin care products, Boscia provides the best natural deodorants for unisex consumers. The Boscia all-purpose deodorant combats odor-causing bacteria and keeps you smelling good all day. It contains plant-based ingredients that also have exfoliating and skin brightening properties. 
One of the key ingredients is Kaolin clay which purifies, detoxes, and gets rid of all impurities to prevent bad odor. Kaolin clay also helps absorb excess oil from the skin and works well with lemon oil to energize and rejuvenate the skin. Boscia's deodorant also comes with a rich, creamy texture that absorbs into the skin like a lotion. 
9. Kopari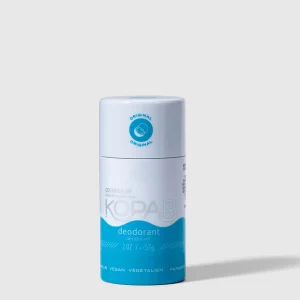 Kopari is an earth-friendly beauty company that comprises a line of skincare and makeup products that help to highlight your natural glow. Kiana Cabell and Gigi Goldman launched it in 2015 with the concept of 'cleanliness through purity.' The brand stands out from other companies by providing coconut oil-infused skincare, makeup, and deodorant products. 
All Kopari beauty products are founded on pure, organic coconut, which the brand gets from small, family-run farms in the Philippines. It is among the few eco-conscious brands that fully ensure sustainability throughout the production process. Kopari is also vegan and doesn't tolerate any form of animal testing to minimize environmental impacts. 
If there's one thing you can rely on, it's the quality and effectiveness of Kopari personal care products. The brand offers the best natural deodorants specifically formulated to provide long-lasting hygiene and comfort. It contains all-natural ingredients, excluding aluminum, baking sodas, and parabens, to pamper and protect the skin from damage. 
In addition, Kopari deodorant comes in five different options, including Original, Driftwood, Charcoal, Beach, Gardenia, and Tropical. All Kopari deodorants are made with the finest natural ingredients, including the special sage oil, a natural soothing agent that is perfect for sensitive skin. It also offers sustainable and recyclable packaging to limit waste. 
10. Real Purity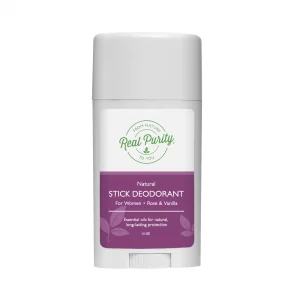 Real Purity creates effective beauty care products for women who are intentional about what goes on with their health. It offers all-natural, toxic-free ingredients as an alternative to the unhealthy mainstream standards in the beauty industry. Since the early '80s, the brand has filled the markets with original, healthy beauty products. 
It provides a range of natural body products, including shampoos and other non-toxic, non-GMO, hypoallergenic, and cruelty-free skincare or grooming kits. Real Purity's selling point is its natural antiperspirant deodorant that combats odor and reduces sweat for everybody, no matter their skin sensitivities. The deodorant has long-lasting odor protection with a clean natural scent. 
Real Purity deodorant consists of essential oils that help prevent itchiness or irritation after application and reduce excess oil production. It also contains organic aloe, which is a natural antiperspirant to keep the skin dry and free of residues. The deodorant also offers skin repair functions and soothes wounds or inflamed skin. 
All Natural Deodorant: Editor's Verdict
With the growing climate change concerns, you can practice a more forward-thinking and eco-friendly approach by switching to a natural deodorant.  From our list of the best natural deodorants, you can choose from these brands to begin a more sustainable personal care routine. 
These ten brands have earned global recognition for providing high-quality, odor and skin protection products. Some brands also cater to specific genders and skin sensitivities. Ultimately, the choice is yours, and can't go wrong with any of the brands above. 
Are you on the lookout for other natural skincare products? Check out our reviews of Facetheory, Glow Recipe, COSRX, and Espa Skincare.