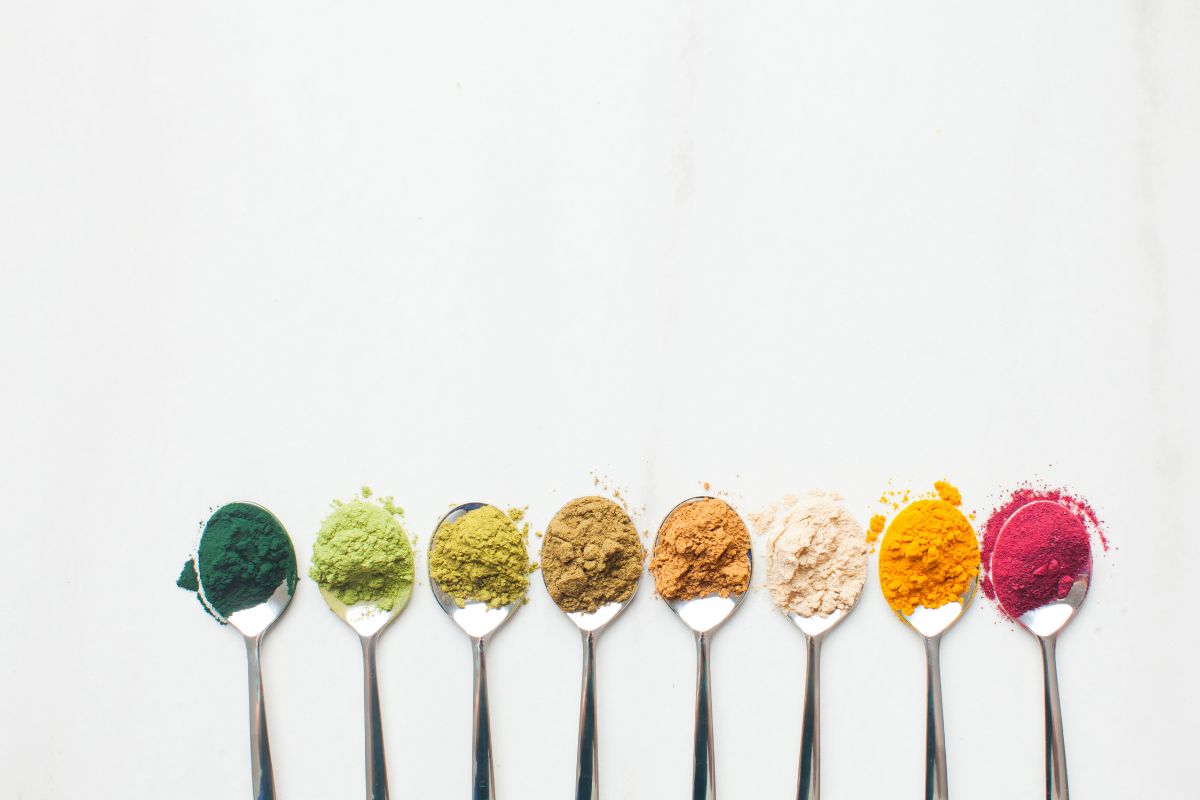 Boosting your diet with foods that are rich in nutrients and vitamins can be a headache. In the first place, you need to find the right fruits, vegetables, or leafy greens, then find ways to include them in your meals. Undoubtedly, it can be a hassle, especially if you've got a busy schedule to keep up with. Well, we've got good news! Superfood powders are here to save the day. They offer a quick and convenient solution to boost your meals with essential nutrients for a healthier life. If you want to learn about the best superfood powders, welcome, you landed on the right page.
10 Best Superfood Powders
Below, we collected the 10 best superfood powders based on the quality of the ingredients, the level of nutrition, and the reputation of the brand. Each of these powders is loaded with essential minerals, vitamins, antioxidants, and other goodies your body could need. Now, without further ado, let's take a close look at each!
1. Orgain Organic Superfoods Powder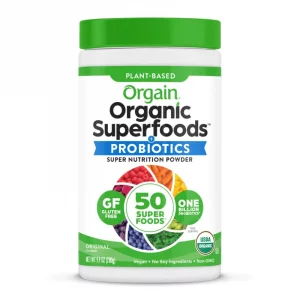 The very first star on our list of the best superfood powders is Orgain's Organic Superfood Powder. The name undoubtedly justifies itself as this product will surely supercharge your nutrition. This powder contains 50 different organic superfoods and one billion probiotics. This means that every scoop or serving is packed with phytonutrients and antioxidants. Looking at the ingredients, Orgain's superfoods powder contains such goodies as chia, turmeric, kale powder, quinoa sprout, spinach, broccoli, ginger root, celery, garlic, and many more. It is also rich in berries, such as acai, cranberry, blackberry, blueberry, etc.
Last, but not least the Orgain Organic Superfood Powder is gluten-free, sugar-free, kosher, vegan, non-GMO, USDA Organic, and is made without soy, lactose, or dairy ingredients. When it comes to how to include it in your diet, the limit is your own creativity. You can stir it into your shakes, smoothies, or lemonade, sprinkle some on top of your oatmeals or blend it with yogurt.
2. Kuli Kuli Organic Pure Moringa Powder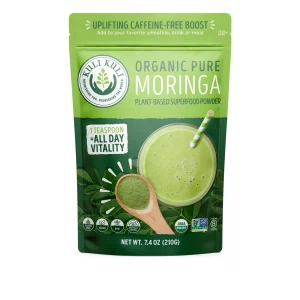 Among the top superfood powders, the Kuli Kuli Organic Pure Moringa Powder has a well-deserved place. Moringa is a nutrient-rich, revitalizing green loaded with antioxidants. This leafy green also has potent anti-inflammatory, antifungal, antiviral, and antidepressant properties. It is rich in vitamins and minerals such as Vitamin A, B1, B2, B3, B6, and C. Also, it contains lots of calcium, potassium, iron, magnesium, phosphorus, and zinc. The Kuli Kuli Moringa powder contains 100% pure organic moringa leaf powder, so you can enjoy the best properties of this superfood.
The powder is non-GMO certified, 100% organic, vegan, and naturally gluten-free, and last but not least, it contains no artificial flavors. According to the company, adding one teaspoon of moringa powder to your morning smoothie or tea can provide caffeine-free energy. Also, one tablespoon, which is the equivalent of 10 gr of moringa powder, is equal to two cups of leafy greens.
3. HumanN SuperBeets
Continuing our collection of the best superfood powders, let's take a look at   SuperBeets. If you are looking for a superfood powder that supports heart health and blood pressure, this might be the solution you're after. The HumanN SuperBeets powder is a clinically studied, plant-based formula developed to improve heart circulation, and blood flow, increase nitric oxide pressure, and maintain healthy blood pressure. It also provides heart-healthy energy and stamina.
The powder contains 100% non-GMO beets grown in the USA. Each ingredient and the powder itself is clinically researched and tested at the University of Iowa to make sure that the blend has the ideal beneficial effect on heart health and blood pressure. You can choose from two types of flavors, either black cherry or green apple. However, it is important to mention that HumanN SuperBeets powder does not contain any artificial flavor, sweeteners, or synthetic colors, only natural ingredients.
4. Anthony's Organic Maca Root Powder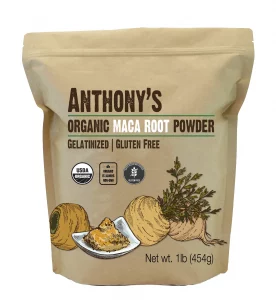 Originating from the mountains of Peru, the Amazon region, the Maca root has many medicinal properties. Peruvians use this root regularly due to its health benefits. It is known to improve skin complexion, have an energy boosting effect, and obviously, is rich in vitamins. Moreover, maca root is packed with plant sterols, amino acids, essential minerals, and fatty acids. Anthony's Organic Maca Root Powder offers a convenient solution to boost your diet and support your health. It contains gelatinized maca which is easier to digest and absorb than non-gelatinized versions.
It is verified vegan, gluten-free, and non-GMO. Also, the powder is USDA-certified organic by California Certified Organic Farmers (CCOF), and it is free of preservatives or artificial ingredients. When you taste this powder you will notice a delicate malted taste, which can remind you of the taste of toasted oats and butterscotch. This combination makes it easy to include this maca root powder in your meals.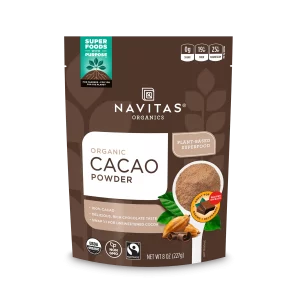 In case you are after superfood powders for weight loss, now is the time to pay close attention. Navitas Organic Cacao Powder is not only delicious but it is loaded with essential nutrients for a healthy life. Navitas Organics sources its cacao beans from Sierra Leone, where the company invests in cacao co-ops, cacao farms, and cacao field schools. The package includes 100% lightly roasted cacao that is high in fiber and minerals. Furthermore, cacao powder is one of the best antioxidants that protect the body from various diseases, including chronic diseases.
To maintain the superfood benefits and get the best properties out of cacao, the Navitas Organic Cacao Powder is non-alkalized. Finding ways to include cacao powder in your daily diet might be one of the simplest things to do, especially if you appreciate desserts. You can blend it in muffins, pancakes, brownies, homemade chocolate, or hot chocolate. If you prefer, you can add it to your smoothie or milkshake as well. The options are limitless!
6. Suncore Foods Supercolor Powders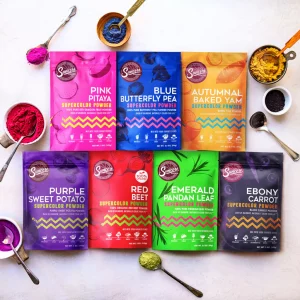 Next on our top superfood powders list is Sunscore Foods Supercolor Powders. The brand offers a collection of the best superfood powders you could wish for in colorful packages. All packages contain only 100% organic, non-GMO verified, and vegan ingredients. What makes this brand special is that you can purchase bundles and choose which products you would like to add to your order.
Currently, you can choose from 24 different types of Supercolor Powders. Among the options, you will find a broad range of powders made from superfood berries such as the Rhodolite Maqui Berry, the Sapphire Wolfberry, the Yellow Goldenberry, the Garnet Elderberry, and the Indigo Blueberry. In case you prefer powder extracted from roots, you will surely like the Red Beet, the Velvet Red Beet, or the Ruby Red Radish. For those who like the fruity taste, the Marigold Passion Fruit Supercolor Powder & Seeds or the Sparkly Passion Fruit Flakes might be the best choice.
7. Thrive Market Organic Maca Powder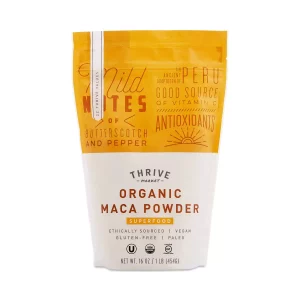 Now, when it comes to superfood powders for weight loss, we must mention Maca, too. The Maca plant, which is a root that grows in the Andes of Peru is well-known for its potent medicinal properties. It promotes healthy cells, supports brain and cognitive function, keeps metabolism on track, and helps maintain a healthy weight. Furthermore, maca is rich in calcium, amino acids, essential minerals, and vitamins.
Thrive Market offers a high-quality Organic Maca Powder that is made from 100% maca root. The fine-ground powder features a nutty taste with a hint of pepper and butterscotch. Needless to say, due to the nutty flavor, this powder can be a great addition to smoothies and shakes, but you can also add it to your hot chocolate or desserts if you will. Last, but not least, Thrive Market's Organic Maca Powder is dairy-free, vegetarian, certified organic, ethically sourced, cholesterol-free, and free of any dye or color additives.
8. Tropeaka Superfood Bundle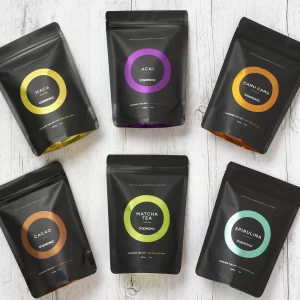 Another example of the best superfood powders we can totally recommend is sold by Tropeaka. What makes this brand outstanding is that it allows customers to purchase bundles for an affordable price. Needless to say, their Superfood Bundle gained high popularity, as many people prefer to try out more superfood powders, or even, vary them depending on the meal. This is especially true if you like to blend your superfood powders in your morning smoothie. You don't drink the same smoothie each morning, so you might want to switch to another powder from time to time.
Tropeaka Superfood Bundle comes with 6 of the best superfood powders sold by the company. Once you invest in this bundle, you can be sure that you won't run out of nutrient-rich superfood powders for a long time. The selection contains Maca, Cacao, Acai, Camu Camu, Spirulina, and Matcha Tea. Each one has impressive health-beneficial properties, so including any of them in your meals is 100% worth it. They are rich in antioxidants, essential minerals, amino acids, and vitamins, so they will not only boost your immune system but protect you from diseases. Some of these superfoods, like Maca, provide support through your weight loss journey, not to mention their anti-aging properties, which is also an important aspect when it comes to improving your eating habits and boosting your diet.
9. Athletic Greens AG1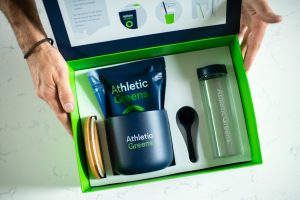 We are getting close to the end of our collection of the best superfood powders for smoothies, so it's time to take a look at another popular option, Athletic Greens AG1. This powder is made from the highest quality ingredients. It is whole food sourced and contains 75 essential vitamins, nutrients, and minerals. The company relies on research and studies to select the most effective and bioavailable form of each ingredient and maximize the quality and nutrient value of the final powder.
AG1 empowers the health of the gut, this way improving the health of the whole body. One scoop a day of this powder provides the necessary nutrients your body needs. It's undoubtedly a convenient solution to give your body what it needs and boost your diet. According to the company, all you need to do is to mix one scoop of AG1 with 8 ounces of cold water and drink it. This you can easily make a daily habit or part of your morning routine. Last, but not least, Athletic Greens superfood powder, AG1 is non-GMO verified, gluten-free, dairy-free, and nut-free, with no eggs or sugars added. Also, it contains no preservatives, sweeteners, artificial colors or flavors, pesticides, or herbicides.
10. Garden of Life Perfect Food Green Superfood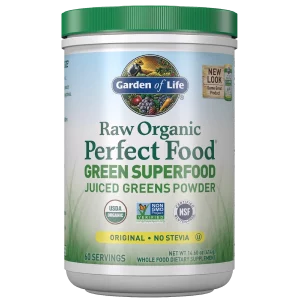 The last product on our selection of the top superfood powders is the Raw Organic Perfect Food Green Superfood from the brand Garden of Life. This product is kosher, vegan, vegetarian, raw, gluten-free, dairy-free, soy-free, and last, but not least, non-GMO certified. Looking at the ingredients, the powder is loaded with 34 organic nutrient-dense greens, sprouts, and vegetables. Straight after harvesting, all grasses and leafy greens are juiced locally at the farm at cold temperatures, then dried. The whole process is completed within one hour after harvesting.
Among the ingredients, you can find barley grass, oat grass, wheat grass, Kamut grass, brussel sprout leaf, broccoli, celery, asparagus, cucumber, tomato, parsley, and many more. It contains lots of fruits as well, such as blackberry, pineapple, apple, raspberry, strawberry, blueberry, etc. To consume it, you can mix one scoop with your favorite juice, smoothie, or shake. You can also stir it in a glass of water.
Best Superfood Powders: Editor's Verdict
So, do superfood powders work? At this point, we're sure you agree that thanks to their nutrient-dense formula, they do. Superfood powders offer a convenient solution to enrich your diet with vitamins, antioxidants, essential minerals, and all goodies your body and immune system could wish for. However, it is crucial to shop from brands that are trustworthy and offer reliable, clean products made from the highest-quality ingredients. Also, in case you have any medical condition, it is always a good idea to consult your medical advisor or doctor before taking any supplements. We hope our collection of the best superfood powders can help you find the powder you like the most and improve your diet successfully.
Are you still looking for other superfood brands? Check out our reviews of the 15 best Superfood brands, Pure Food Company, Moon Juice, and Ancient Nutrition.