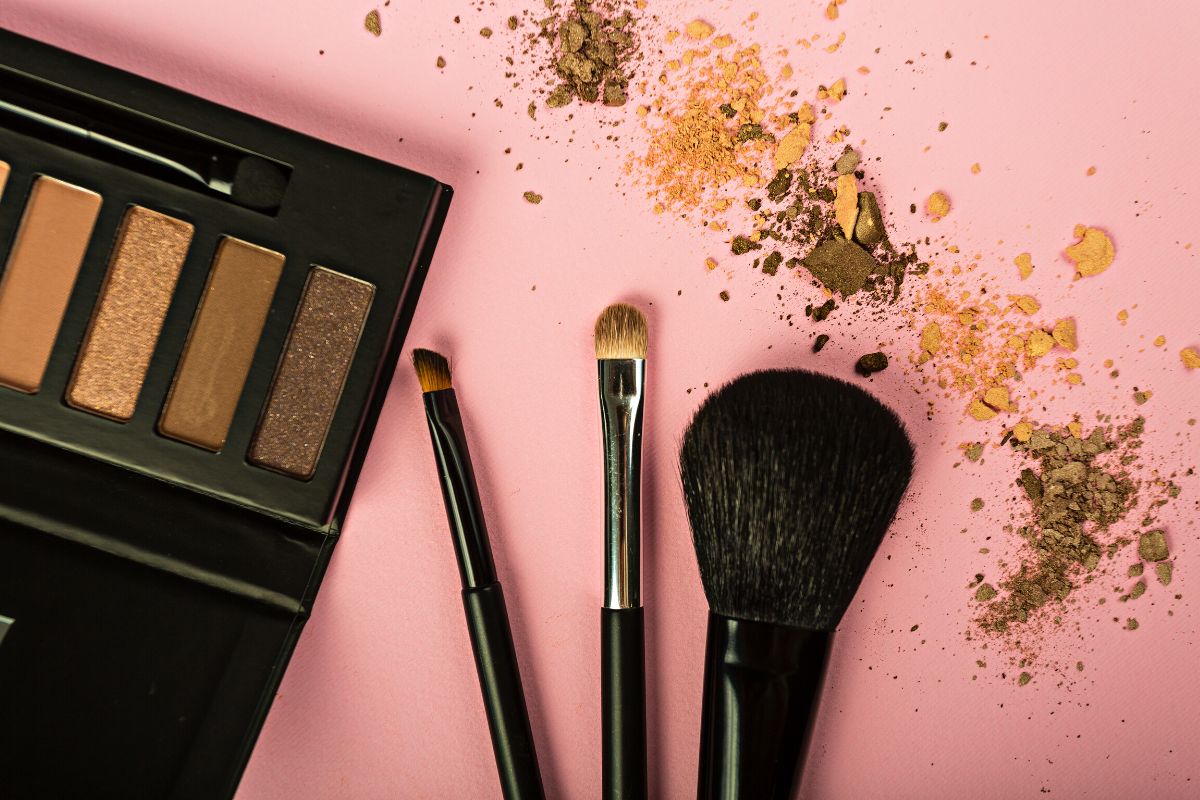 Are you passionate about taking your makeup to the next level? Do you need tips on how to create put-together, good-looking makeup easily? Regardless of the answer, if you are looking for some makeup essentials that will help you create a top-notch look, you have landed at the right place. The good news is that once you know what tools you need for the go-to look, nothing will stand in your way. To give you some help, you selected 10 makeup essentials you need to have in your makeup bag. With this at your fingertips, you will not only be able to create some quality, beautiful makeup but also save money.
Makeup essentials list
Putting on your makeup can be confusing. You might feel discouraged by the huge market of tools and products. Therefore, you might find it challenging to decide what things you actually need. Below, we are going to share with you our makeup essentials list with 10 must-have items. But now, without further ado, let's dive deep into the colorful world of eyeshadow palettes and lipsticks.
1. Primer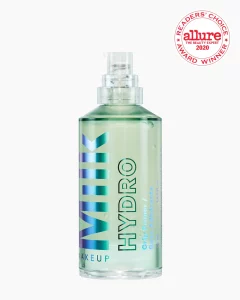 Even if we are talking about minimalist makeup essentials, we need to mention primer. Unfortunately, not many people use a primer before applying their makeup. However, this step is crucial, as it can make a huge difference to the final result. While many think that primer can be skipped, the thing is that it can help you a lot and you shouldn't ignore it. Depending on your skin type and the primer you apply, a good primer can hydrate your skin, blur your pores or create a mattifying effect. It can improve the look of your skin, and as a result, your foundation and other makeup products will sit better on your skin.
If you are after a good hydrating primer, the invisible Hydro Grip Hydrating Makeup Primer might be the one you are looking for from Milk Makeup. Nothing proves better how good-quality and popular this product is than the fact that the primer has won the 2020 Reader's Choice Allure The Beauty Expert award. The 94% natural gel formula smooths and hydrates the skin for up to 12 hours. It helps to apply makeup easier, make it last longer and gives your skin a healthy glow. Also, the Hydro Grip Primer is vegan, clean, cruelty-free, paraben-free, silicone-free, oil-free, fragrance-free, and gluten-free.
Check out these brands that sell primers.
2. Concealer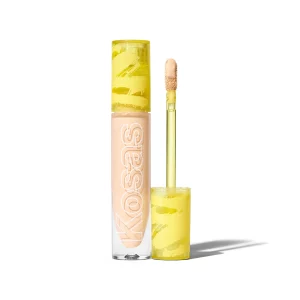 When looking for the most important makeup essentials for beginners, you should get your hands on a good concealer. A creamy concealer with good coverage can help you hide skin imperfections, such as redness. Applying it under your eyes, the concealer can visibly brighten your look.  Also, you can easily fit this tiny little makeup product in your everyday bag, so in case you get a pimple or get bothered by any skin imperfection during the day you can hide it immediately.
Kosas is famous for its high-quality cosmetics and the company's concealer is no exception. The Revealer Concealer provides medium coverage, so it's perfect if you don't have any major skin issues. In terms of ingredients, the concealer is rich in caffeine and Pink Algae, both well-known for their brightening properties. Another important ingredient is peptides and Hyaluronic Acid. These naturally plump the skin. Thanks to the super creamy formula, beginners find it effortless to apply it, and the result is almost immediate: a visibly brighter and improved skin with a smooth dewy finish.
3. Neutral Eyeshadow Palette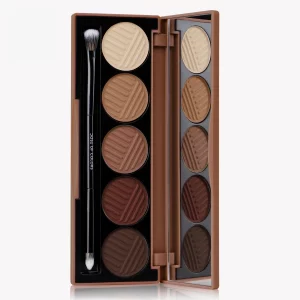 Among the minimalist makeup essentials, a must-have piece is a neutral eyeshadow palette. Think of this as something you will use each time you do your makeup. Choose an eyeshadow palette that has neutral colors that allow you to create mostly everyday looks. Don't go too extreme with shades and shiny colors, as you most likely won't be able to use them as much as you would like. Believe us, sometimes the less is more. Some brown or light pink shades can create a beautiful base on your eyelids and with a slightly darker color, you can easily add some color, too.  Also, make sure that the eyeshadow palette you buy is quality, with a creamy texture and rich pigments.
A good option is the Baked Browns 5 Pigment Eyeshadow Palette by Dose of Colors. This product comes in 5 matte brown shades with a smooth buttery feel. A palette like this one will give you the freedom to create everyday makeup looks that you can wear at the office, but you can also create darker smokey eyes.
4. Blush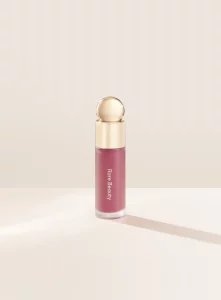 Next on our makeup essentials list is blush. When it comes to makeup bag essentials, a beautiful blush that complements your skin tone is a true jolly joker. Use a blush brush and gently apply some to your cheeks. This will give your skin a pop of color and refresh your look. Traditional blushes are usually powders, but liquid blushes are becoming more and more popular.
Rare Beauty has some excellent blushes. What sets this brand apart from other makeup brands is that Rare Beauty has an extensive selection of shades and colors for each of the product types. For instance, you can choose from 11 types of blush shades. These blushes are liquid. The airy and lightweight formula blends effortlessly and offers a soft and seamless flush of color on the cheeks.
5. Cream Bronzer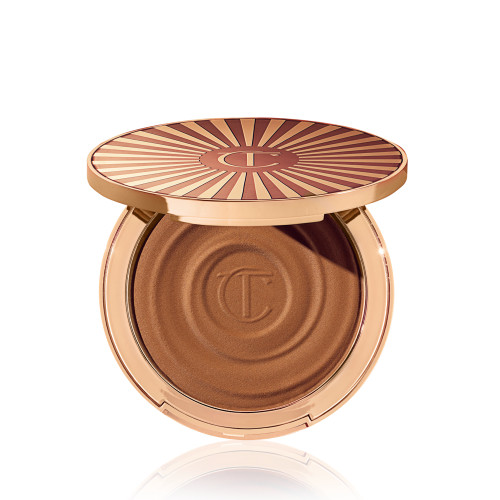 When it comes to selecting minimalist makeup essentials, don't forget to add a bronzer too. Applying a bronzer can do wonders, especially if you want to make your face look thinner or add a healthy sunkissed effect. Bronzers can also help you with contouring your face. But be careful when choosing the bronzer. Keep in mind your skin tone and try to find a shade that is not too strong. Also, adding too much bronzer can ruin your entire look, so make sure to use only a little, then add more, if you find it necessary.
Charlotte Tilbury is a name every makeup passionate is familiar with. Their Beautiful Skin Sun-Kissed Glow Bronzer 4 shades, from Fair to Deep. The formula is buildable, so apply only a small amount on your brush, then build up to the desired beachy sunkissed look. According to the company, this bronzer will last you for up to 16 hours. Also, it is sweat-proof and humidity proof and will make your skin look smooth, hydrated, and glowy.
6. Lash Curler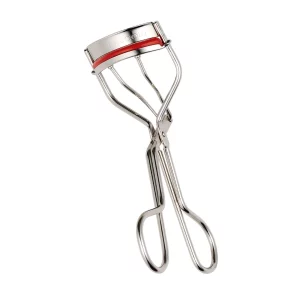 Lash curlers are undoubtedly popular makeup tools, but they are rarely found among makeup bag essentials. But the truth is that lash curlers are quite important makeup essentials for beginners, especially if they want to emphasize their long lashes. The good thing about these small tools is that they can be used on your natural lashes. In case you're wondering what difference they make, just try it and you will see. You will be amazed for sure. Curling your lashes will give volume and a beautiful curly shape to your lashes.
In case you want to add a lash curler to your makeup essentials, here's a good option. The Kevyn Aucoin Eyelash Curler offers big, bold, curled lashes that will elevate your entire look. It is made from stainless steel and features a unique wide-opening curve that can accommodate all eye shapes. For ultimate precision and perfection, the curler also comes with a red silicone pad that was specifically designed to contrast the lash line and lashes.
7. Mascara
The next item you should add to your makeup essentials list is mascara. Undoubtedly, there are so many options to choose from. Beauty and makeup brands constantly develop new formulas and create better and better brushes to give you the best mascara experience. A good mascara can change your entire look, emphasize your eyes, strengthen the colors of your eyes and boost your eyeshadow. There are also such good mascaras that will create a false lashes effect.
When it comes to buying mascara, Toofaced is a go-to brand that is worth your money and attention. Based on all the customer feedback, the company's Better Than Sex Volumizing Mascara is very popular and people are very happy with the look of their lashes after applying this product.
Check out these brands that sell mascaras.
8. Eyebrow Pencil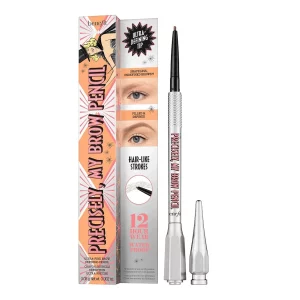 Our list of the most important makeup essentials for beginners could not be complete without a good eyebrow product. Unfortunately, not everyone has perfectly formed and perfectly dense eyebrows. Regardless of the event or occasion, fixing your eyebrows is most likely part of your daily makeup routine. We know the struggle, it is time-consuming, and let's be honest, there are days when things just won't work out and you leave the house with not-so-ideal eyebrows. Luckily, there are lots of solutions and tools that can help you give your eyebrows a beautiful shape and fullness.
Here is our recommendation. Based on all that we learned about the brand Benefit, including the very positive customer feedback, this company is a go-to place for high-quality, pigmented eyebrow products. For instance, their Precisely, My Brow Eyebrow Pencil offers natural-looking, hair-like strokes that can be beautifully mixed with the rest of your eyebrows. Also, this Benefit eyebrow pencil is available in 12 different colors. The brand promises that the product will last for up to 12 budge-proof hours. So, if you are not happy with your eyebrows, do not hesitate to make one of the first makeup bag essentials a good-quality eyebrow pencil.
9. Foundation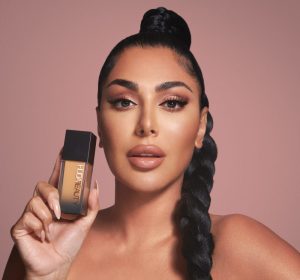 After applying your primer, the foundation is the second most important element of your makeup routine. For most people, especially beginners, finding the right foundation color is the biggest challenge. Not only does each brand have different shades, but the color of your skin is changing, too. Just think about it, if you live in a 4 season place, your skin tone in the summer is not the same as the color you have in the winter. Not to mention transition periods. Luckily, brands offer travel makeup kit essentials or mini versions that allow you to try foundations without investing lots of money. This is especially true in the case of high-end foundations.
If you are looking for some tips and inspiration about which foundation should you buy, we recommend you to check out the Huda Beauty brand. The brand has a very good reputation in the makeup industry and people are more than happy with Huda Beauty products. In case you are after a mattifying foundation that is creamy, long-lasting and offers good coverage, their #FauxFilter Luminous Matte Foundation might be the one you are looking for. Oh, and in case you are worried that you won't find a shade that fits your skin, forget about it. This foundation is available in more than 25 shades! The liquid, lightweight formula provides full coverage and a beautiful matte finish.
Check out these brands that sell foundations.
10. Lipstick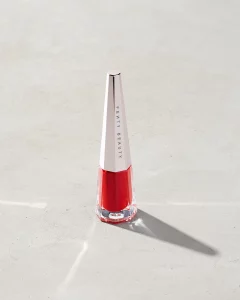 Last, but not least, on our makeup bag essentials list, we are going to take a look at lipsticks. At this point, we bet you are not surprised. After all, what else could be the last step of your makeup routine other than applying some lipstick to finish your look? When it comes to lipstick, the only limit is your imagination. You can stick to more nude shades, or take it to the extreme and put on purple or black lipstick. However, if you ask us, we recommend you buy a lipstick that you can use for an everyday look. A nude color might be the best, either brown or pink.
Fenty Beauty has some truly remarkable lipsticks in a broad range of colors. Their Stunna Lip Paint Longwear Fluid Lip Color delivers exactly what the name promises. A fluid lipstick that you can easily apply and simply forget about it. Thanks to the long-lasting formula you won't have to worry about your lips throughout the day or night.
Makeup Essentials for Beginners: Editor's Verdict
Now let's wrap up our list of the must-have makeup essentials you should add to your makeup bag. Primer, foundation, and concealer are the base of your makeup routine and the very first steps you should do. For primer, make sure to choose one that is hydrating. For foundation and concealer aim for colors that match your skin tone and are high quality.
Then you can continue with bronzer and blush, define your eyebrows with a good eyebrow pencil and add some color by applying eye shadow. When you are done with this, give that lash curler a try and finish the look with mascara. Last, but not least, as a final touch, put on some lipstick and enjoy wearing the beautiful makeup you have created using only 10 makeup essentials!
If you're crazy about makeup brands, check out our reviews of Kylie Cosmetics, Natasha Denona, MAC Cosmetics, and Pat McGrath.